Updated Rankings for the Best Dunks of the NBA Season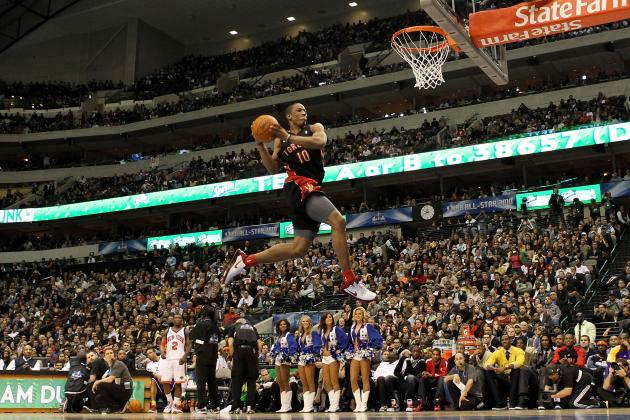 Ronald Martinez/Getty Images
DeMar DeRozan knows a thing or two about skywalking.
The dunks are piling up this year, and it's important to stay updated with new rankings for the best dunks of this NBA season.
Everybody's favorite high-fliers have been hard at work this season, delivering slams that are sure to impress even the most jaded of dunk fans. So kick back, relax and prepare for some sheer dunking amazement.
Begin Slideshow

»
Kevin C. Cox/Getty Images
Sorry, Jeff. Didn't quite make the cut this time.
Is this rating partially influenced by nostalgia? Maybe. Is this dunk still really awesome? Absolutely.
Jason Richardson can't quite throw down his signature 360 dunk with the same flair that he did back in his Golden State Warriors days—he just doesn't have the hops.
But it's still nice to know that 12 years into his NBA career, J-Rich still knows how to turn back the clock and bring a crowd to its feet.
The Toronto Raptors' camouflage uniforms are, shall we say, less than pretty, but DeMar DeRozan's dunk more than makes up for that.
The reverse windmill jam seems to be becoming DeRozan's signature dunk. He doesn't quite get up the way that he did in the dunk contest, but we'll forgive him since, you know, this was an actual basketball game.
The Raptors are having a pretty rough season, but DeRozan's high-flying act alone is enough to make for an entertaining year.
Danilo Gallinari isn't the athlete that most of the guys on this list are, but he makes up for his lack of hops with sheer ingenuity.
The best thing about this dunk is the fact that everyone just stood around and watched it happen. It honestly seems like they were so surprised by Gallo's straight-off-the-playground move that they just didn't know how to handle it.
Clearly, the lesson here is that we need more players throwing self-oops (JaVale McGee got the memo a long time ago).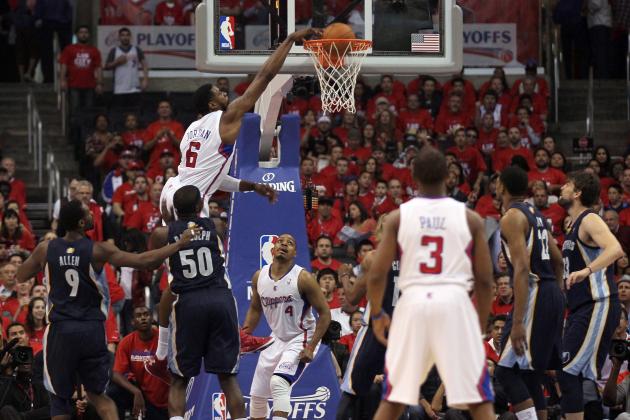 Stephen Dunn/Getty Images
DeAndre Jordan is no friend of the rim.
See the dunk here.
As the NBA.com Dunk Ladder pointed out, we're used to seeing this kind of cradle dunk from a different Jordan. They're not exactly the same, but they're certainly similar.
At some point over the past year or so, DeAndre Jordan joined his frontcourt mate Blake Griffin as a top-shelf dunker and an electrifying open-court player. A lot of that probably has to do with Chris Paul, but it seems like Jordan has been throwing down insane dunks at near the same rate as Griffin recently.
That's nothing but good news for dunk fans, especially if Jordan can keep delivering the goods with dunks like this one.
Honestly, Byron Mullens just looks thoroughly unathletic, and it makes his throwdown over (though it's really more like "through") LaMarcus Aldridge seem that much more impressive.
You know that this dunk was legitimately great because Portland Trail Blazers coach Terry Stotts had to call timeout partially because the crowd was going so nuts—even though there were around 30 people in the whole arena.
(Note: The funniest video of the dunk features the Trail Blazers announcers, who are far less enthusiastic and far more biased.)
DeMarcus Cousins' posterizer on Danny Green is impressive enough, but when you put the whole sequence together...wow.
Try to name another center in the league that could have made this play. Can't be done.
When most guys Cousins' size get a steal or a rebound, they instantly look around for a guard to pass to. But Cousins (who looks like a guard the way he handles the ball) opts instead to take off like a freight train and put it on Danny Green's head.
Well played, DeMarcus.
Over the past three or so years, the Boston Celtics have had one of the least-athletic teams in the league. Not anymore.
As Jeff Green demonstrated when he absolutely unloaded on Al Jefferson, the Celtics have a few young leapers now.
Really, it's Rajon Rondo's one-legged celebration (as well as the fact that he's actually leaping out of his chair well before the dunk happened) that makes the dunk. When injured teammates are celebrating a dunk, that's a sign that it was probably pretty good.
You didn't think you'd actually go the entire list without seeing a Blake Griffin dunk, did you?
Griffin's off-the-backboard oop is getting "Dunk of the Year" hype, and it's easy to see why. As always, he managed to find the perfect mix of athleticism, power and amazing and roll it all together in one neat little dunk.
One question remains: Why does the announcer sound like he'd rather be anywhere else in the world? His spectacularly dull monotone feels a wee bit out of place with a dunk like this.
This dunk hasn't gotten all that much recognition, which is weird considering it's pretty much the most amazing thing ever.
What separates Gerald Green from almost every other dunker in the league right now is that Green literally looks like he can fly. He gives meaning to the words "hang time."
Watch the dunk again. It looks like he jumps, simply pauses in mid-air as Earl Watson goes racing past him and then decides that it might be time to put the ball in the basket. Unbelievable.
You knew this would be No. 1. It had to be.
Harrison Barnes' utter destruction of Nikola Pekovic was perfect. Plain and simple.
The little stare down that Barnes gave Pek afterward, the bench's crazy reaction, the way that the crowd absolutely exploded—pretty much everything was in place here.
Does it rival Baron Davis' throwdown on Andrei Kirilenko in the 2007 playoffs? Not quite (though, to be fair, that crowd was incredible). But the fact that you could even make the argument speaks volumes about just how good this slam was.