It's never the most exciting week of the season, but Week 17 always promises at least a little bit of intrigue.
Ten of 12 playoff spots are filled, but the final two are still wanting for teams to come claim them. On top of that, a number of seeds are up for grabs, with teams vying to earn either home-field advantage, or, if they're super lucky, perhaps even a first-round bye.
With some fluidity still conceivable in the 2012 season, let's take a look at the current power rankings, with an emphasis on teams who will improve their position come Sunday.
*Note: Highlighted teams are pictured*
1. Denver Broncos (12-3)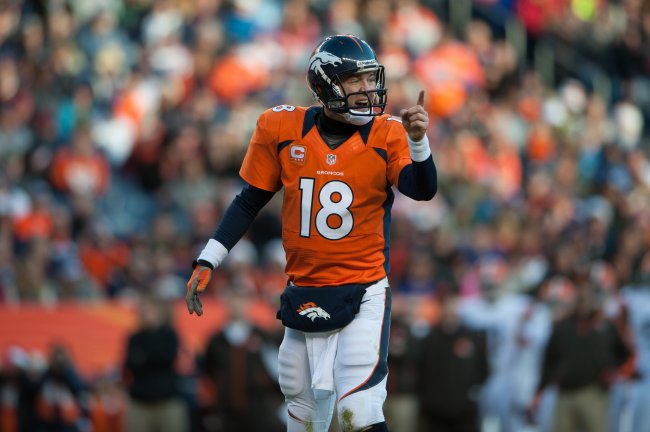 Dustin Bradford/Getty Images
Putting Denver atop the list was probably a long time coming. After this week, it might be atop the AFC standings, too.
A win combined with a Houston loss would vault Denver over the Texans, and clinch the Broncos home-field advantage throughout the playoffs. The Texans travel to Indianapolis this week, and although they're playing a far inferior team, it's a game they could easily lose. Especially in Lucas Oil Stadium.
Denver's been just as impressive on the road as it has at home, so maybe home-field won't be imperative. But if it means avoiding a trip to Foxborough, it certainly wouldn't hurt.
2. New England Patriots (11-4)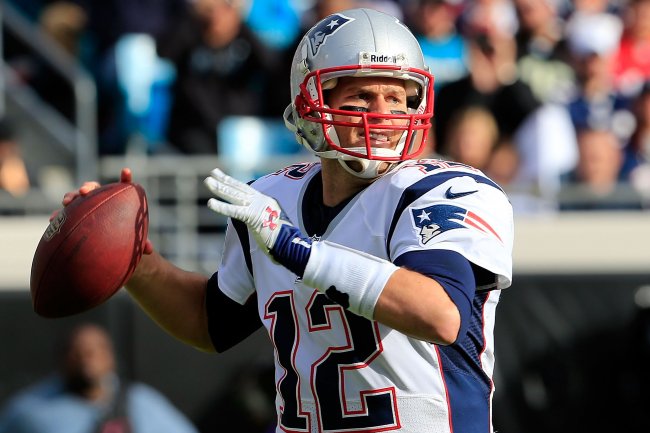 Sam Greenwood/Getty Images
Like Denver, the Patriots' ascension is dependent on a Colts victory. That and a home game against Miami.
The Dolphins haven't rolled over for anyone this year, and they likely won't start now. But if the Pats show up with even 90 percent focus, they should be able to win with a nice buffer.
If Houston subsequently loses, New England would secure a first-round bye and force the Texans to host Cincinnati for the second straight Wild Card weekend. More importantly, a Houston loss would prevent them from traveling to Denver in the Divisional Round.
3. Seattle Seahawks (10-5)
Wow. Just wow. What a game. If the Niners lose on Sunday, it will lock the Seattle into the five seed and likely prevent it from playing a home game in January. That's big news for the rest of the NFC because nobody is winning in that stadium.
4. Green Bay Packers (11-4)
Rounding into form at the most opportune time is nothing new to these Packers. It won them a Super Bowl a couple seasons ago, and it could do the same in 2012-13.
5. San Francisco 49ers (10-4-1)
The last six quarters haven't been pretty, but this team has still earned plenty of street cred in 2012. Justin Smith's health appears to be a keystone; if he can't play in January, this team might be in trouble.
6. Atlanta Falcons (13-2)
Atlanta got the ball rolling against the Giants in Week 15, and continued plowing along last Saturday. If the Giants are as fraudulent as they appear, however, those wins become much less impressive.
7. Houston Texans (12-3)
Things are spiraling out of control in Houston, where the Texans need to get their act together—like, now. They could relinquish their first-round bye with a loss at Indy this week.
8. Baltimore Ravens (10-5)
Much like the Falcons, the much-improved Ravens may just be the product of the Giants' incompetence. If nothing else, however, their home-field advantage looked plenty legit on Sunday.
9. Washington Redskins (9-6)
In six short weeks, the Redskins have gone from 3-6 to 9-6, playing what essentially amounts to a playoff game on their home field in Week 17. If that doesn't make Mike Shanahan a front-runner for Coach of the Year, I don't know what does.
10. Cincinnati Bengals (10-5)
How good would this team be with a better quarterback? The Bengals' relative success has given Andy Dalton respite from much of the criticism his play has warranted. But if Cincy fizzles out of the playoffs again, the team might be forced to address that issue.
11. Minnesota Vikings (9-6)
The Vikings are, in every conceivable way, deserving of a playoff spot this season. Unfortunately, it will take a(nother) Herculean effort from Adrian Peterson to get them past the Packers.
12. Chicago Bears (9-6)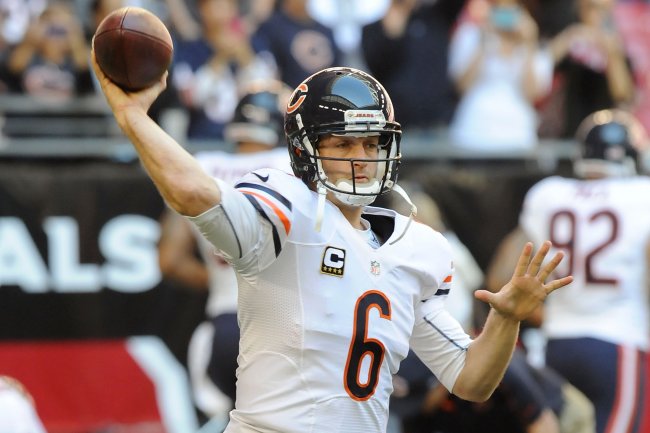 Norm Hall/Getty Images
The Bears could reap some serious benefits from San Francisco's loss in Seattle.
That loss vaulted the Packers into second place, allowing them to control their own fate in Week 17. All they need to do is beat Minnesota, and they earn a week off come January.
That added motivation should be enough to get them past the duly-motivated, but insufficiently-talented, Vikings in Minnesota. And that, in turn, would put the Bears one victory over Detroit from making the playoffs.
They've been a little off the past few weeks, but don't expect them to squander that opportunity.
13. Indianapolis Colts (10-5)
Another week, another close win over inferior competition. Andrew Luck's late-game aplomb deserves applause, but this team is a year away from serious contention.
14. Carolina Panthers (6-9)
The Panthers continue to play winning football, but it's too little, too late. On one hand, it's a shame they've cost themselves a high-end draft pick. But on the other, this draft is much deeper than it is top-heavy. They can still get an impact player in the mid-first round.
15. Miami Dolphins (7-8)
He's paled in comparison to his rookie contemporaries, but all in all, Ryan Tannehill's first year has to be considered a success. Now go get him someone to throw to, and let's see what he's really capable of.
16. New Orleans Saints (7-8)
The secondary looked like children covering Dez Bryant, but the rest of the team played like a genuine playoff squad. This year was doomed from the start, but they should be poised to compete again in 2013.
T-17. Dallas Cowboys (8-7)
The Cowboys have played with fire in all of their last three games, and it finally caught up with them on Sunday. Still, remarkably, they'll control their own fate when they travel to Washington.
T-18 New York Giants (8-7)
What in the heck happened here? Like Dallas, the Giants still have a remarkable shot at making the playoffs. But the way they've played lately, they might not even be able to get past Philadelphia.
19. Pittsburgh Steelers (7-8)
The Steelers were eliminated with a whimper last week, a macrocosm of many of their games. That offensive line has been far too bad for far too long.
20. St. Louis Rams (7-7-1)
It's almost poetic that, even after an odd number of games, the Rams still find themselves at .500. This team is average in every sense of the word.
21. San Diego Chargers (6-9)
It wasn't pretty for a while, but San Diego eventually pounded the Jets into (an admittedly gratifying) submission. They've looked better, but it shouldn't be enough to keep Norv in town. Then again, I've thought that before...
22. Detroit Lions (4-11)
Are they the best 4-11 team ever? There's not much competition, but maybe. Football Outsiders still ranks them in the top half of the league—ahead of two current playoff teams (Indianapolis and Minnesota).
23. Buffalo Bills (5-10)
Are things really as simple as replacing the quarterback in Buffalo? We'll probably find out next season; despite the contract extension he signed last year, Ryan Fitzpatrick will likely be released in the offseason.
24. Tampa Bay Buccaneers (6-9)
It feels like months since the Bucs were considered legitimate playoff contenders. In reality, it's been three weeks. I'm not sure any team has looked worse over that period.
25. Cleveland Browns (5-10)
Is it time to abandon the Brandon Weeden experiment? For a rookie, he hasn't been dreadful. But for a 29-year-old, it's a different story. Look for the Browns to bring in some legitimate competition.
26. Arizona Cardinals (5-10)
Always encouraging to see signs of life from Larry Fitzgerald. Especially against a good defense. There are plenty of other offensive holes to fill, but until they get a real quarterback, things will never change change in Arizona.
27. Philadelphia Eagles (4-11)
What a fitting end this would be to the Reid-Vick era, beating the Giants and crushing their (admittedly small) playoff hopes. Vick said the game won't be an audition to other teams, but that's the opposite of how GMs across the league feel. Remember the contract Matt Flynn got after a big performance in Week 17?
28. Jacksonville Jaguars (2-13)
Hard to say whether they caught the Pats sleeping or actually looked viable last week. Either way, there are pieces to build around in Jacksonville.
29. Tennessee Titans (5-10)
"Mr. Locker. I don't think we're playing the Jets anymore." Playing Aaron Rodgers after Mark Sanchez is like watching Avatar after A Trip to the Moon. Tennessee isn't quite as bad as it looked, but it never stood a chance.
30. New York Jets (6-9)
Apparently the issues on this offense run far deeper than the quarterback position. Either that or Greg McElroy is just as bad as Mark Sanchez. On second thought....maybe it's both.
31. Oakland Raiders (4-11)
What, exactly, is the benefit of playing Matt Leinart over Terrelle Pryor? Why not see what you've got in the latter instead of plodding along with the former? Pryor must be Tebow-esque in practice to warrant third-string.
32. Kansas City Chiefs (2-13)
Even 350 rushing yards weren't enough to get the Chiefs a victory. That says everything you need to know about their incompetence. Not a great year to have the top draft pick, either.