Real Madrid Report Card for 2012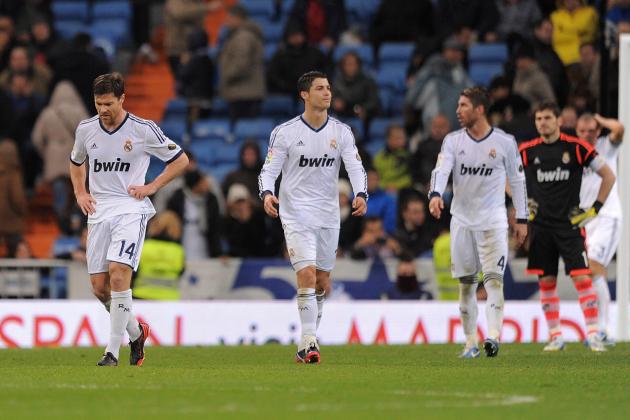 Denis Doyle/Getty Images

The first half of 2012 ended with Real Madrid winning their first La Liga title under Jose Mourinho with more points than any team had ever achieved in Spain.
The second half ended with another surprising loss that signaled the end of their title hopes.
The Euros tired some players in the summer, but it was a disjointed locker room that had the more harmful effect in the end.
What a bipolar year that saw some of the greatest highs and lowest lows in recent memory for this great club.
The great shift between halves will be how the year is remembered in the future.
Let's review the best and worst moments of the year now as 2012 nears its end.
Begin Slideshow

»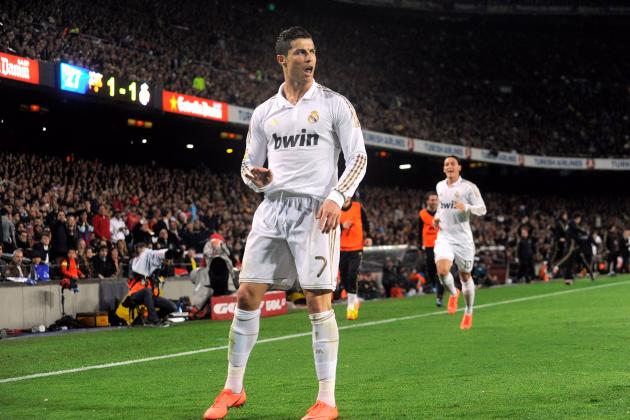 Denis Doyle/Getty Images

Cristiano Ronaldo's clinching goal at Camp Nou did not seal the league title for Real Madrid, but it essentially ended Pep Guardiola's hold of La Liga.
It was Mesut Ozil's perfect pass that did the work, but Ronaldo's goal came right after La Blaugrana had finally found a way to equalize and really killed the hosts' spirits.
Ronaldo & Co. held out for a huge victory and Barcelona had to watch their greatest rivals basically celebrate winning La Liga on their own pitch.
It was not the moment they officially won, but Ronaldo telling the Camp Nou crowd to calm down was the club's defining moment of 2012.
Honorable Mention: Clinching La Liga title against Athletic Bilbao.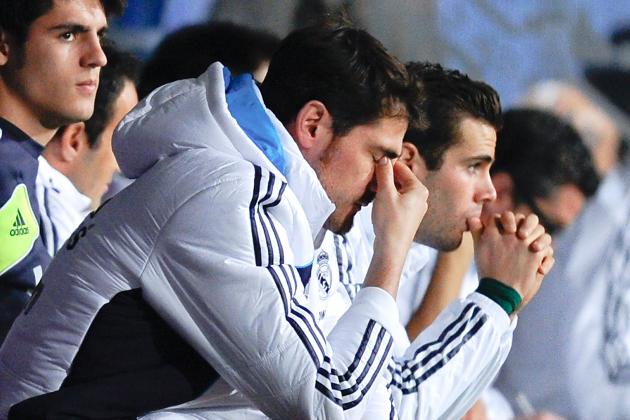 David Ramos/Getty Images

As Iker Casillas looked on from the bench in a key match for the first time in a decade, one can only imagine what was going through the Spanish legend's head.
The Real Madrid midfield that cost roughly 150 million euros to assemble was completely and thoroughly outplayed by Malaga's.
The most profitable club in Spain watched their title defense essentially lost at the hands of a team that couldn't even pay its own players.
And the worst part for Casillas was that there was nothing he could do to help his team.
Finishing on a Sour Note
Jose Mourinho's decision to bench his No. 1 was just a small symbol of how disjointed and broken the reigning champions of Spain had become.
With their loss in the final match of 2012, Real Madrid fell seven points behind Atletico Madrid in second place and 16 points behind their great rivals, Barcelona.
Before that loss, there was still the tiniest hope that a historic recovery could be had for Los Merengues.
Now the great club enters 2013 looking for leadership and forced to finish the league season knowing that there is almost no way they will finish anywhere near first.
Honorable Mention: Sergio Ramos' spot kick miss against Bayern Munich.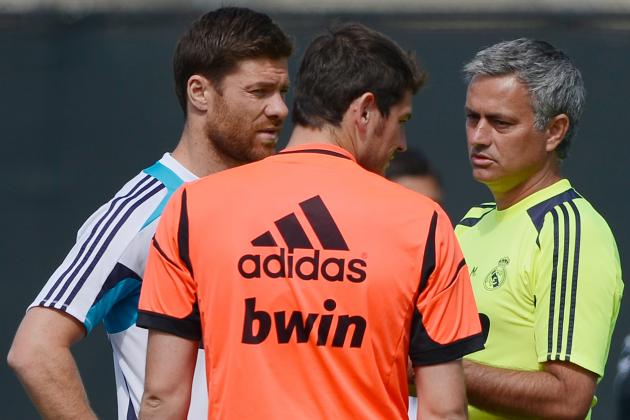 Kevork Djansezian/Getty Images

2012 started with Madrid getting knocked out of the Copa del Rey by Barcelona.
Two months later they dropped points in three matches in three weeks and were on the verge of losing their enormous lead in la Liga.
Cristiano Ronaldo rallied the team with a huge game against Atletico Madrid, but his streaky play has not created that same atmosphere this season.
Ronaldo the Savior?
The Portuguese has drawn plenty of attention to himself this season, sometimes at the expense of his teammates.
He started by saying he is unhappy at the club. Some thought the superstar might even leave. While those stories ended, the team never really improved on the pitch.
Then rumors spread that there was a divide between the Portuguese and Spanish players on the team—a rumor centered around Ronaldo's desire for support in the Ballon d'Or race.
Mourinho the Leader?
A string of losses, draws and disappointments in every competition has since pushed this team to the edge with the team looking for leadership.
It seems leadership is not being found at the top with Jose Mourinho having lost the locker room.
There is still a chance for Madrid to win their most-targeted prize, their 10th Champions League title, but someone needs to step up and rally the team again in order for that to happen.
Honorable Mention: Too much inconsistent play from the star players.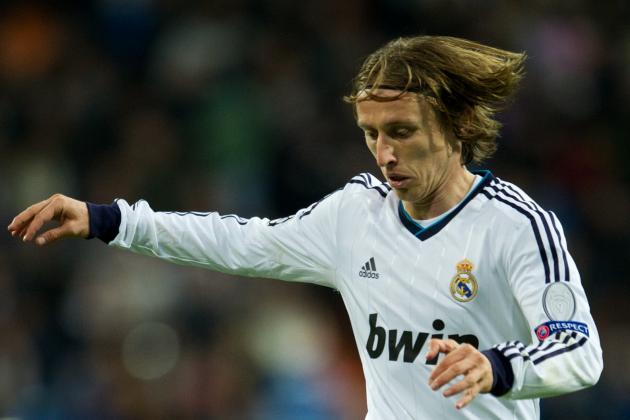 Jasper Juinen/Getty Images

The team may feel broken right now, but there is no questioning the amount of talent at Jose Mourinho's disposal.
Having enormous heart can make teams overachieve beyond their talent. Teams like Malaga, Newcastle and Borussia Dortmund have proven this in recent seasons.
At the same time, having an extremely talent group of individuals can unite just long enough to achieve great things, even historic things.
Look at the season Real Madrid had last season for proof of this. There is no reason to think they cannot do it again in the spring.
Los Galacticos
This team is simply loaded with talent—elite talent—at almost every position.
From the keeper, to the defense, on through midfield and into the attack, Los Merengues have many of the top players at their position.
The only real problem area for the team is at right-back, but the team chose to ignore the lack of depth there because of how reliable Alvaro Arbeloa has been in recent seasons.
This team is undoubtedly good enough to win Europe's biggest prize.
Will they be able to try and do this as a team, though? That is the question.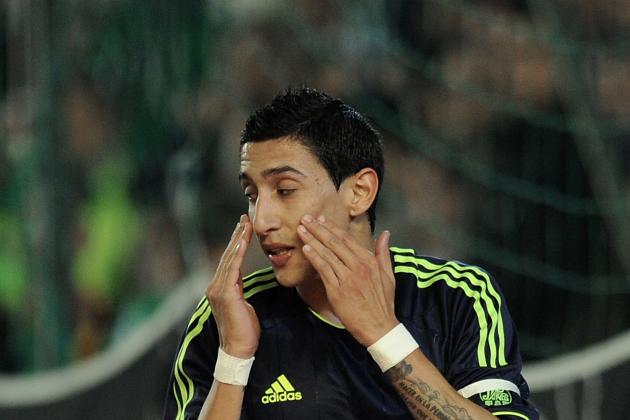 Denis Doyle/Getty Images

2012 was supposed to be the year Angel di Maria took that leap and became one of Europe's elite wide men.
Instead it was the year he took a step backwards and proved to be La Liga own version of Nani—a player with enormous talent, but also incredible inconsistencies.
The winger came back from a lengthy injury layoff in the spring and never really got going again last season.
Fans were willing to overlook his poor play then because of fitness problems, but they have been far less forgiving this season.
Enemy of the State
This year Di Maria has been one of the worst, most inconsistent players for Madrid.
He has been incredibly selfish, has failed in big games and has many Madridistas that he has gotten a bit too comfortable as a starter.
The Argentinian has sort of been the poster boy for the inward-looking actions and on-field struggles of the players this season.
2011 may have been a banner year for Angel di Maria, but 2012 was perhaps his worst year as a professional.
Honorable Mention: Alvaro Arbeloa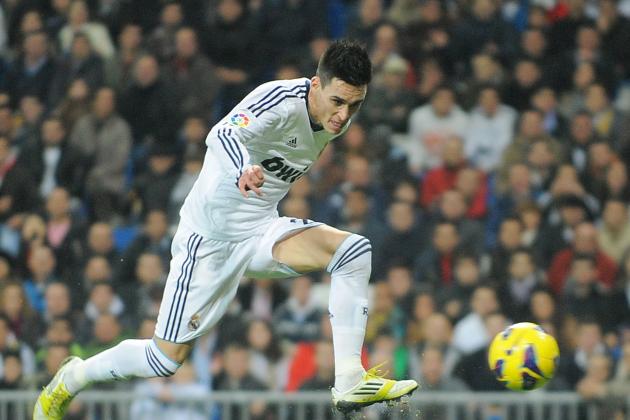 Denis Doyle/Getty Images

Rarely is a homegrown star one of the most important components of a Real Madrid team, but Jose Callejon is on his way to being just that over the next season or so.
2012 saw him finally win the respect of his coach and team supporters alike. He has made great strides as an attacking midfielder and striker this year and looks to have secured a spot in the team.
Over the last two season the Spaniard has learned to perform better as a wide man and has been at least as clinical as Gonzalo Higuain and Karim Benzema.
Each time he scores fans are reminded of just how much the historic white jersey means to this 25-year-old.
Most academy stars are shipped out almost as soon as they show real potential, but Jose Callejon might just last where past stars like Juan Mata and Roberto Soldado have failed.
Honorable Mention: Nacho Fernandez.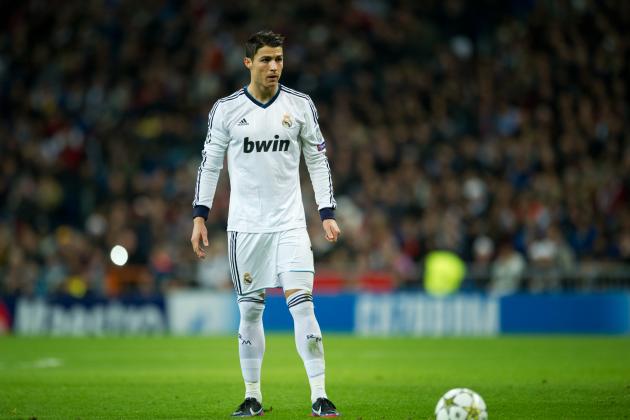 Jasper Juinen/Getty Images

When his team needed a big game to beat their city rivals and get mentally prepared for Barcelona, it was Cristiano Ronaldo who stepped up to become the hero.
When his teammates needed goals against a superior Bayern Munich side, it was once again the Portuguese superstar who provided two more, even with a rather poor overall performance in the match.
All of last season, CR7 played well when his team most needed clutch play.
As Ronaldo Lives, so will Madrid
This season he has also been the team's best player in big games against the likes of Barcelona, Manchester City and Borussia Dortmund.
Players like Xabi Alonso and Mesut Ozil are responsible for making Madrid run the way they do, but the success of the team still depends on Ronaldo.
The form and success of the team ebbs and flows in unison with that of Cristiano Ronaldo. If this team has any chance of turning the season around, it is him.
Honorable Mention: Xabi Alonso, Mesut Ozil
Please also check out my other recent columns:
FC Barcelona Report Card for 2012
La Liga Winners and Losers of 2012