Tottenham Hotspur's Ghosts of Christmas Past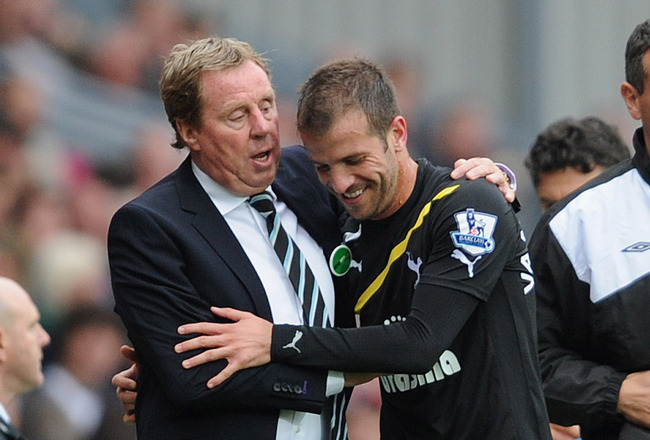 Harry Redknapp and Rafael van der Vaart, two influential figures in Tottenham Hotspur's recent past who left the club this past year.
Michael Regan/Getty Images
Full disclosure: despite its title, this article has almost nothing to with Christmas and is sadly not a clever parody of Tottenham Hotspur done in the style of Charles Dickens' A Christmas Carol.
It is a semi-shameless attempt to make the most of one of many cliches that abound this time of year and only loosely relates to "ghosts of Christmas past" in that it is a look back at some of the notable names that left White Hart Lane in 2012.
But in the best holiday spirit, it is an attempt to reminisce on three individuals in particular—Rafael van der Vaart, Luka Modric and Harry Redknapp—who, despite the contentious respective departures of the latter two, made a significant impact on the club in recent times.
With 2013 just days away there will be plenty of opportunity to look at Tottenham's present and future, but for now we take a trip down memory lane...
Rafael van der Vaart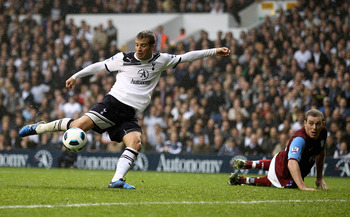 Rafael van der Vaart.
Paul Gilham/Getty Images
Unlike the two that will follow in this article, Rafael van der Vaart did not leave Tottenham under especially negative circumstances.
He was returning to a club that held a special place in his heart, partly in order to be close to his wife who was still based in Germany.
If anything there was greater disappointment with the club itself that they let such a popular figure go.
Mostly though, it was a shame that a player who had been an integral part of so many great moments in the preceding two seasons did not get a suitably fitting farewell and instead left in the last days of August with a new season having already begun.
Still, those two years had been a blast—an unexpected treat following his surprise signing early in the 2010-11 campaign.
Truthfully, it hadn't always been easy finding a way to fit van der Vaart into the Tottenham team as he was something of a luxury player that did not always gel with the more necessary and functional figures in the team.
On the whole though he was a great watch, something that translated most significantly in memorable goals against the likes of Arsenal and Inter Milan in just a few of an overall tally of his 28 goals in two seasons.
Luka Modric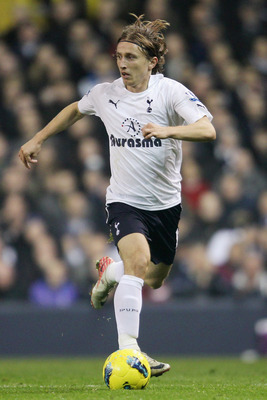 Luka Modric.
Scott Heavey/Getty Images
Tottenham fans angered by the way Luka Modric engineered his move to Real Madrid may be taking some small delight in seeing the less than straightforward beginnings to the Croatian's career at the Bernabeu.
Modric has performed decently when called upon, but Jose Mourinho has not yet seen fit to make him a permanent fixture of his midfield.
That attitude though seems a tad cynical, and while it is understandable Spurs supporters will still be hurt at their former player wanting to leave their club so badly, it is a greater shame that such a tremendous player is not a regular starter (as yet) in Spain.
For almost four years in England, Modric was at the heart of some of the wonderful football Spurs played.
That is certainly how his time should be remembered, not for the way in which he angled for a move away, but for the frequent opportunities to watch one of the finest footballers to ever grace the White Hart Lane turf.
Modric may not have achieved the success or quite reached the levels of certain predecessors through the years—the likes of Danny Blanchflower, Ossie Ardiles and Glenn Hoddle—but he was the latest in that line of footballers who have become such an integral part of the Tottenham tradition.
Harry Redknapp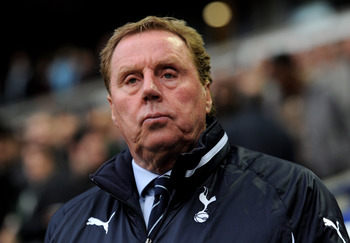 Harry Redknapp.
Michael Regan/Getty Images
It is becoming something of a mini-tradition that in England on Christmas Day, Sky Sports News' Jim White will conduct an interview with Harry Redknapp live from his club's training ground.
Having become used to Redknapp talking about Tottenham during these festive chats, it was slightly strange (though obviously inevitable) to hear the focus on Queens Park Rangers.
Since he took the Loftus Road job it has taken a little time for it to sink in that when his name comes up on various mediums, he is not about to give his inside take on what is going on at Spurs.
This is not surprising considering how largely Redknapp loomed over almost everything to do with the club for almost four years.
His sacking in June 2012 brought to a close a tumultuous few months that had seen Redknapp go from a popular manager on the verge of taking his team to a top-three position to one whose team had collapsed so dishearteningly that his judgement was being severely questioned as he himself sought a contract extension.
That of course does not tell the full story of his court case involving his taxes and missing out on an England job that seemed destined to be his—and how these factors impacted on Tottenham—but it does track the main route he took in such a short space of time.
It was in-keeping with the general nature of football management that happy endings are few and far between no matter the success that may have come before that.
But while the acrimonious nature of his departure has clouded over Redknapp's time at Spurs, it should not detract from the great job he did there.
After the disappointment from Juande Ramos' brief tenure, Redknapp got the club smiling and its fans singing again.
At first it was amid the difficulty of steering his new team away from relegation in that 2008-09 campaign, where just through taking things back to basics he inspired them out of the underperforming funk with which they had begun the campaign.
But in the hunt for Champions League football and the subsequent achievement of that aim, Redknapp really built on the work Martin Jol had done prior to Ramos and saw this team (and club) achieve a substantial measure of their potential.
Spurs fans may have wished for more (and had different decisions been made, may have gotten it) but the reality of English football is that reaching the very top is an enormously difficult ask.
Redknapp got them close, and as the years go by he should be remembered fondly for doing so.
Keep Reading

Tottenham Hotspur: Like this team?