Winners and Losers from NBA's Christmas Day Slate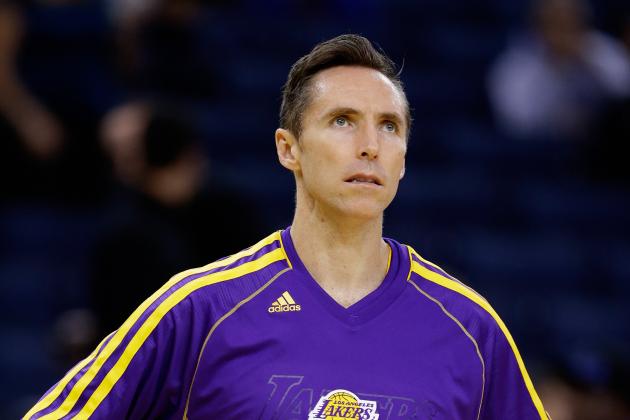 Ezra Shaw/Getty Images

It was glorious to see a Lakers-Knicks game with some sense of greater meaning. The NBA's two biggest markets haven't been title threats at the same time since the '70s. Perhaps you feel that the Lakers aren't a title threat, or that the designation doesn't fit the Knicks either.
But, it was hard to watch a Nash-fueled Lakers and not imagine a brighter future for this season's object of scorn. They finally have their full roster, an imposing "on paper" grouping that hurtled right at New York's best team in roughly two decades.
Last year, the NBA's lockout-shortened season began on Christmas. It almost feels that way again, what with a (finally) full Laker roster and the first Thunder-Heat faceoff since the 2012 Finals.
Begin Slideshow

»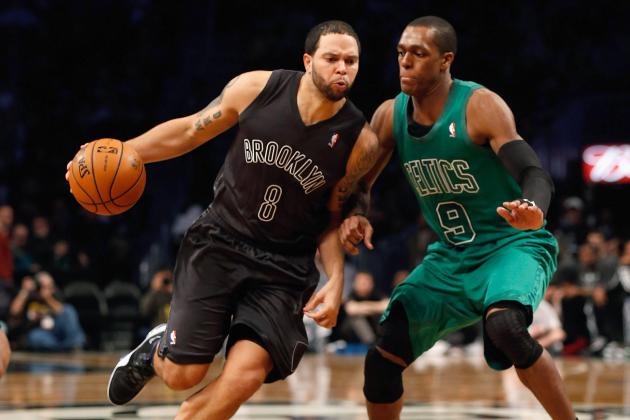 Mike Stobe/Getty Images

Has anyone made the transition from "coveted max free agent" to "untradeable contract" in a matter of two months? Deron Williams may have just done it with another stinker in a nationally televised 93-76 loss to the Boston Celtics.
Of course, a reputation can be salvaged in the same amount of time in which it's lost. But it's certainly true that Williams lost some of his on Tuesday. It wasn't just the 10-point, six-assist, four-turnover performance; It was the way he played as the Nets got ran off the court at home.
Deron's passed up wide open shots, which might have something to do with his shooting under 40 percent from the field and 30 percent from three on the season. His reluctance was all the more glaring in a game where Rajon Rondo drained a pull-up three pointer. What happened to the old Deron? People are starting to wonder whether his athleticism is diminishing or whether his old production was goosed by Jerry Sloan's system.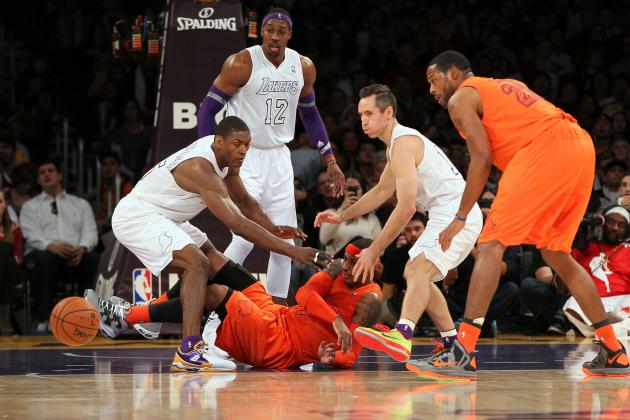 Victor Decolongon/Getty Images

While I'm not sure that Steve Nash's reintroduction has fixed everything in Los Angeles, the old man was beyond impressive in the 100-94 afternoon win over the visiting New York Knicks. Nash went 7-of-12 with 16 points and 11 assists, and steered his team through some of the game's more tense moments. His one-legged shot under pressure felt like the clincher:
This game also saw the potential of a Nash-Howard pick-and-roll. If Howard can ever return to anything near full health, that play should devastate many a defense.
Nash's return, whatever it may mean for the future, certainly has Laker fans feeling fantastic for the first time in a long while. There's no word on whether their hearts grew three sizes on Christmas, but some heart-warming definitely happened.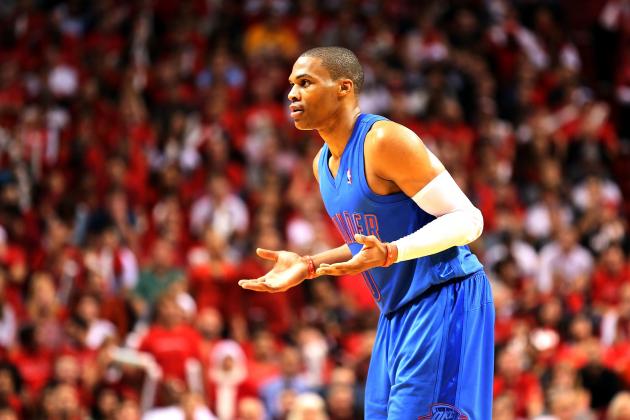 Marc Serota/Getty Images

Russell Westbrook was and is having such a fine season. He's become more of a distributor and the Thunder are playing some spectacular basketball. But, with much of the country watching, Russ exhibited the aspects of his game that draw all the criticism, fair or unfair.
A Westbrook fan might cite "21 points, 11 assists" and this is true. It's just hard to extol the virtues of Russ in a game where those numbers come with 5-of-19 shooting, five turnovers, a late technical and out of control play in some of the game's most important moments.
This is how it's gone with Westbrook, a good, flawed player whom you must accept as imperfect. His effective aggression is indivisible from success, but also indivisible from some of his more memorable failures. Still, Russell should eventually be able to exert more control over his temper and his play that possibly extends from that temper. Even if he has a point on a late no-call, slamming the scorer's table isn't helping his team much: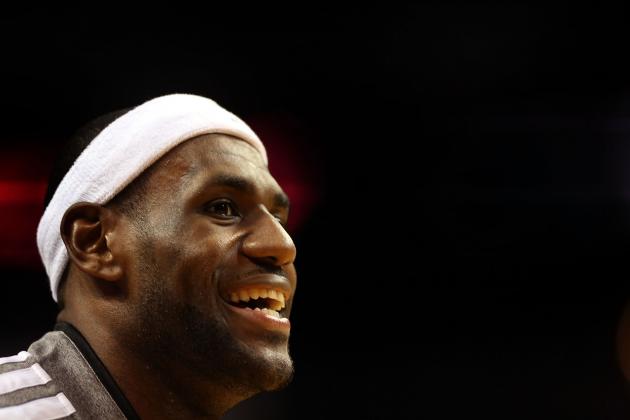 Marc Serota/Getty Images

Now that he's won a title, people are starting to appreciate his brand of genius as something other than weakness. The man plays unselfishly, even in big moments. There's nothing wrong with that, especially if a teammate is rather open. This is what happened when the Heat were up one on the Thunder with under 30 seconds to go.
LeBron spotted Chris Bosh under the hoop and whipped the ball inside for an easy bucket. James tends to make these plays when the shot clock is down, when opposing defenses are inclined to collapse on less aware players. The find was huge in securing a big 103-97 win over the visiting Oklahoma City Thunder.
James was great all around, throughout the matchup. Though Durant torched him in the third, LeBron came back and played stout D on KD in the fourth quarter. The Heat superstar also managed a ho-hum 29 points, nine assists, and eight boards while operating from the post and perimeter with equal deftness. Hey, this guy's pretty good.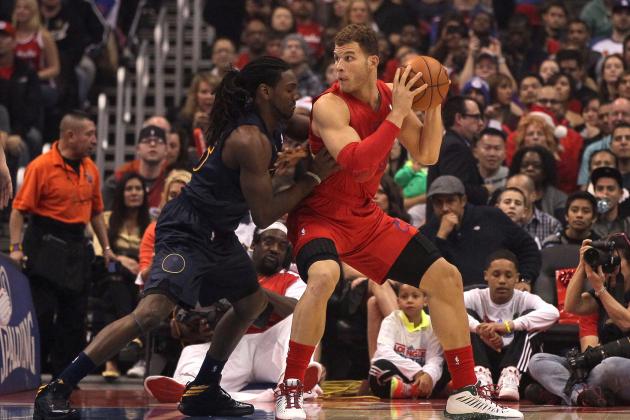 Victor Decolongon/Getty Images

Chris Paul should be an MVP candidate, even if he's in that 33 minutes per game range. Oddly often overlooked, Paul is the organizing principle behind a franchise-record 14th consecutive win and a team that now leads the NBA in wins and margin of victory.
On Christmas, he was a maestro, claiming 14 points and eight assists with a mere one turnover. The one turnover speaks to Paul's quality and to why he's often overlooked—the absence of mistakes isn't something that a fan can see. It's still impressive to the involved observer, to those who have a greater appreciation for what looks to be near-perfect offensive play.
The Clippers crushed the Nuggets, far beyond what a 112-100 score would indicate. Some of the slaughter can be credited to a fine Los Angeles bench, but Paul's imprint likely goes beyond just his floor time. He's wholly revamped this once moribund franchise. It's one of the most impressive storylines this year, if only we'd take the time to talk about it.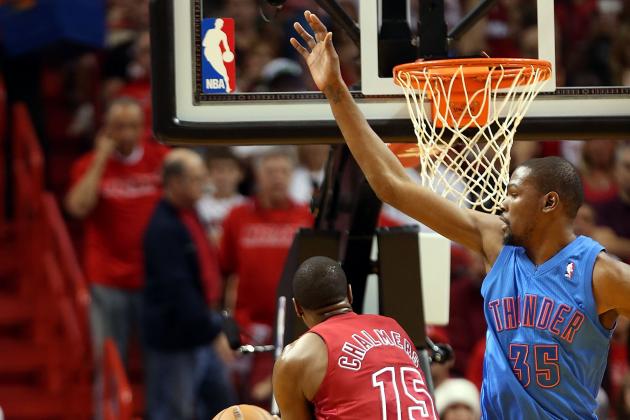 Marc Serota/Getty Images

Kevin Durant was incredible amid a tough Thunder loss. He's a "loser" in the sense that, for all his incredible play, the "best player" mantle remains firmly with LeBron James, and the Thunder have been replaced by the Clippers as the league's first-place team.
That's a harsh result for a 31-point, 21-shot effort. KD is no Salieri, and he'll certainly get his day in the No. 1 spot. The loss was just a reminder of what ridiculous feats of skill the "best" requires in 2012-2013. Displacing LeBron is more than tough—it's darn near impossible.
Kevin Durant was an inexorable force in the second half, scoring as easily as most men walk. He had 25 points in the last two quarters, claiming many of them against LeBron James.
Durant was deadly in semi-transition, where he once lulled LeBron to sleep on a power drive and slam. He was unstoppable in the post, where step-backs and fadeaways swished in so smoothly. It was a performance that is only painful in the sense that it was of such wasted quality.