Washington Redskins 8 Biggest Offseason Decisions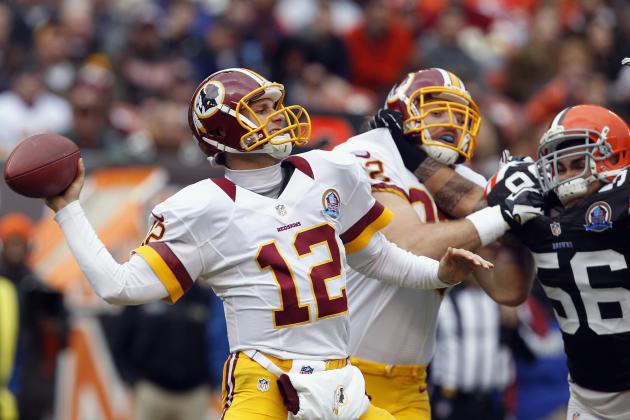 Matt Sullivan/Getty Images

Though the 2012 season is still in full swing, the 16 weeks that have gone by have probably raised a number of questions in the minds of the Washington Redskins decision makers. But, if they haven't, they're doing something wrong. Without looking past their current playoff hopes, they must start thinking about the future.
With the future comes change and, while the Redskins have changed a great deal in the last seven weeks alone, they could stand to change for the better going forward.
Their biggest concern as a franchise was remedied with the drafting of Robert Griffin III in the 2012 draft. Now, the Redskins have to shore up the roster around him. Though two big questions were answered in the form of Griffin and fellow rookie Alfred Morris, here are some key decisions the Redskins will must face in the offseason.
Begin Slideshow

»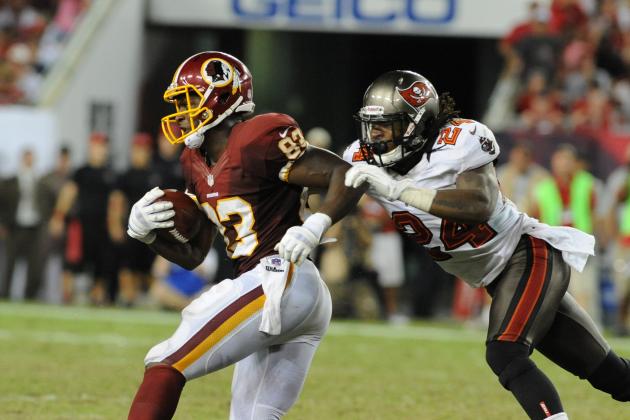 Al Messerschmidt/Getty Images

Fred Davis saw his breakout year (59 catches for 796 yards and three touchdowns) cut short by a four-game drug suspension. Seven games into his "show-me" year, Davis landed on IR after tearing his Achilles'.
The Redskins have had some success with their receiving corps and ragtag group of tight ends, but Davis, at his best, changes the whole complexion of the offense. Not to take anything away from Logan Paulsen, but he isn't the downfield threat that Davis is, and doesn't demand the same attention in coverage.
Davis was working on a franchise tag, which expires at the end of the season and means he's free to hit the open market. For the sake of RG3 and the passing game, the Redskins must resign Davis.
He can't command an elite level contract coming off of two shortened seasons, but he's worth a sizable amount to the Redskins, who can't expect their current receivers to continue overachieving. Davis is a risk the team must take for the future.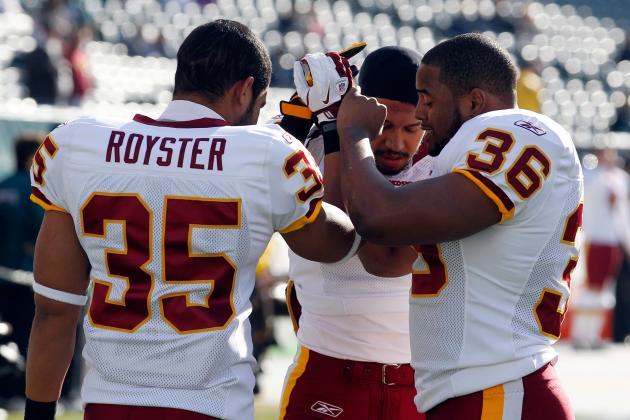 Rob Carr/Getty Images

The backfield was crowded long before Alfred Morris separated himself from the pack as the unlikely workhorse. Last season, Roy Helu and Evan Royster combined to rush for 968 yards, catch 58 passes for 447 yards and three total touchdowns.
This season, Helu was active for just three games, carrying the ball twice and catching seven passes before being place on IR. Royster has appeared in every game, but touched the ball just 36 times, though he has rushed for two touchdowns.
Mike Shanahan has been a runningback-by-committee coach for most of his career after Terrell Davis' 2,000-yard season in Denver but, with Morris exceeding expectations, it is difficult to envision both Helu and Royster being a big part of the offense next season.
Rather than hold onto both, the Redskins might consider shopping them for sorely needed draft picks. The trade for RG3 left them without a first-round pick for the next two seasons and they don't need both backs if Morris continues to rumble for the 'Skins.
Royster is perfect for third down duties and is the better blocker of the two, but he is not the receiving threat Helu has shown himself to be in his short career. The Redskins have a tough decision to make, assuming they can get good value in return.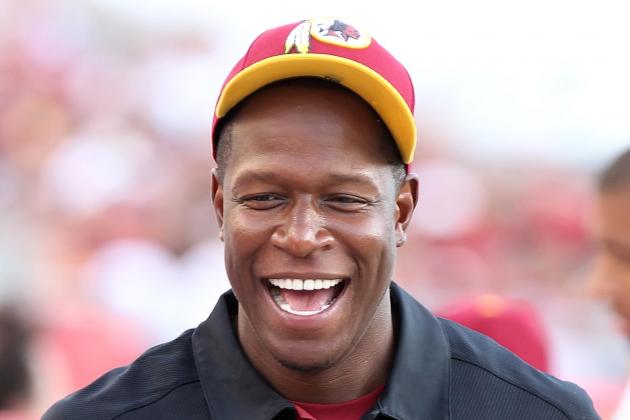 Kim Klement-USA TODAY Sports

Jim Haslett's defense was built to apply pressure with Ryan Kerrigan and Brian Orakpo, who would take advantage of the front three of Adam Carriker, Barry Cofield and Stephen Bowen. When Carriker and Orakpo went down for the year, opposing offenses were able to contain and, at times, exploit)the lack of playmakers on the front seven.
Haslett's failure to adjust made Raheem Morris' secondary look like a high school unit, landing the Redskins defense in the bottom five in pass defense. Only the Saints have given up more than the 29 touchdowns through the air Washington has allowed.
Credit to Haslett for making the shift to the 3-4 to give the Redskins a formidable defense, but his inability to adapt over the course of the season, let alone in games. Raheem Morris has been a great motivator and was part of a staff in Tampa Bay that coached the top-ranked defense in 2002 under Monte Kiffin.
As head coach of the Buccaneers, Morris raised the defense from the bottom of the league to a top 10 unit in 2010. He may not have the 3-4 pedigree, but he could provide a fresh approach to a defense that has failed to adapt under less-than-ideal circumstances.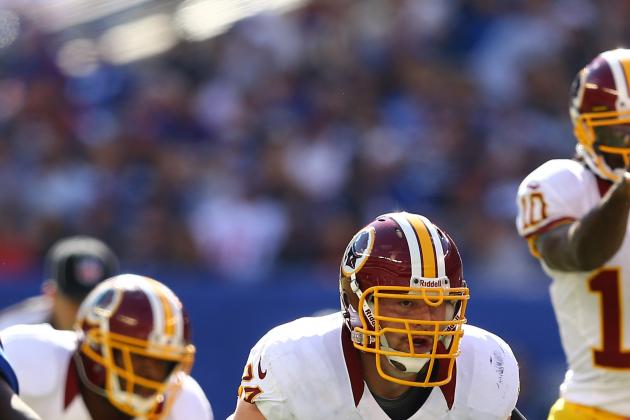 Al Bello/Getty Images

Jammal Brown's time in Washington is coming to an end and Tyler Polumbus has performed admirably as the starting right tackle. Neither player, however, is capable of being the bookend the Redskins need to protect Griffin's.
Beyond protecting Griffin, it would help to have a tackle capable of sealing while run blocking to give Morris and Griffin better running lanes on the right side. Quality right tackles can be found in the draft, which is the best option at this point given the thin market for quality right tackles.
The 'Skins have been lucky to get good play out of their starting five for most of the season, but they need depth, and upgrade wherever possible. If they decide Polumbus is the answer, they need healthy depth. Either way, Brown will be gone.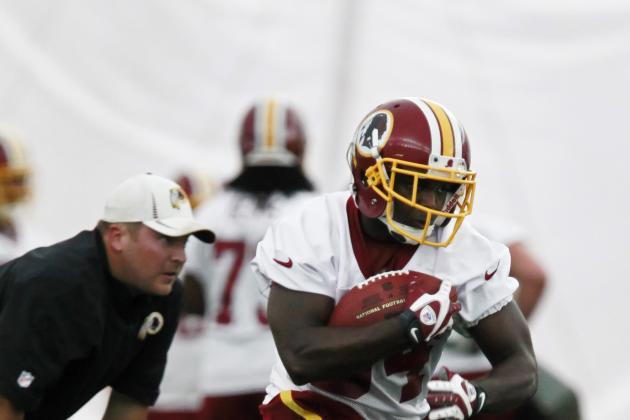 Geoff Burke-USA TODAY Sports

Had Brandon Meriweather not had the impressive showing he did in his one full appearance midway through the season, this could have encompassed both safety positions. Since he's a great asset at strong safety at full strength, it turns the focus to the desperate need for a competent free safety.
Tanard Jackson is already a character liability and can't be counted on to turn in a full season, and what he brings to the field is unknown given the suspensions he has already served in his career.
The best free safety expected to be a free agent is Jairus Byrd of the Buffalo Bills. The Bills are likely to want to keep Byrd at any cost but, until he is signed, he remains a potential target for the Redskins. A young safety like Byrd would help strengthen a depleted secondary, providing oft-absent safety help to the 'Skins corners.
Washington's season would look completely different with a talented safety who knows where he is supposed to be on the field. If the Redskins make any big signings this offseason, it should be Byrd if and when he hits the market.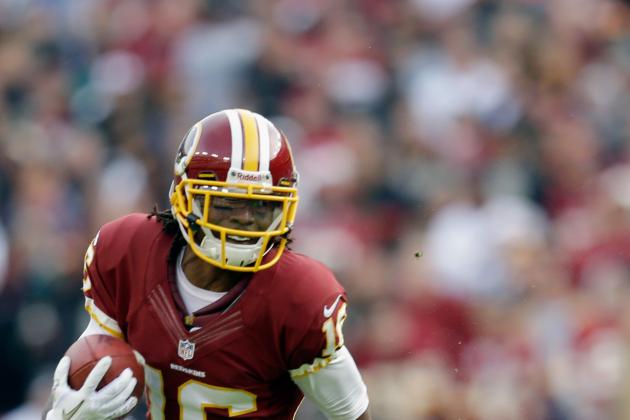 Rob Carr/Getty Images

Calling Brandon Banks a lost cause may be a bit extreme but, between his ineffectiveness in the return game and limited use on offense, it is appropriate. Banks was supposed to earn his roster spot on offense rather than relying on his return expertise, but everything since preseason has been negligible involvement on bubble screens and plays run out of the pistol formation.
His size limits what the Redskins can do with him in either the passing or running game. He's simply too small and has too many ball security issues to trust with a handful of carries each week. He can't go over the middle, a fact is not lost on defenses who routinely sit on his routes and stop him for minimal gains.
The offense could use a pure deep threat like Banks, even if just to stretch the defense and open things underneath for the rest of the receiving corps. Spread out four receivers, motion him out of the backfield and let him blow by whatever safety or nickel corner the defense puts on him.
With rookie cornerback Richard Crawford showing his worth on returns, (23 yards per punt return, including a 64-yarder) Banks may be out of job if he carve a niche on offense. Some other team may want to add him to their special teams or mix him in on offense in a more convincing manner. His trade value isn't through the roof, but it would be better than just benching him.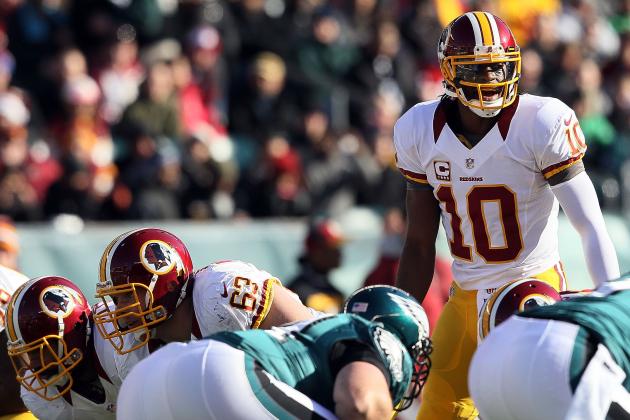 Alex Trautwig/Getty Images

This season made two things very clear regarding Robert Griffin III: He is almost incomparably special as a player and an individual and that he is going to get hurt running with the reckless abandon he has displayed at various times during his rookie campaign.
A concussion and a sprained knee are more than enough evidence to prove that Washington needs to adjust their offensive scheme to protect Griffin while still utilizing his skills.
The pistol formation can be effective, but exposing Griffin to the number of hits the read option has is unnecessary. It is impossible to trim that package without compromising the impact Griffin can have on a defense when they think he may take off and run.
With his rookie season behind him, it will be time to expand the passing elements of the offense to hone Griffins' already-razor-sharp passing skills while teaching him how to survive running in the open field.
Just how good is Griffin as a passer? He's tied for second in the NFL in passer rating with 104.1, is fifth in the NFL in completion percentage with 66.4, he leads all qualified quarterbacks in yards per pass attempt at 8.78 and has thrown more touchdowns (20) than last year's Rookie of the Year, Cam Newton (19).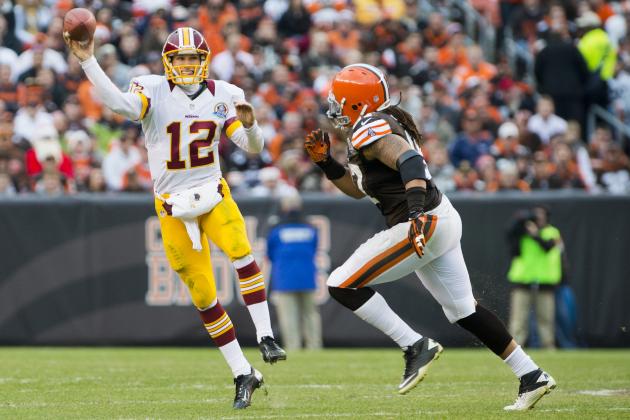 Jason Miller/Getty Images

Ever since Kirk Cousins threw the late-game touchdown and ran for the game-tying two-point conversion against the Baltimore Ravens, everyone wants to throw in their two cents about what the Redskins should do with him.
He built some value with his performance against the Browns and there are teams starving for a quarterback who can make plays the way Cousins has shown in limited action.
For the Redskins, however, the only course of action they should entertain is keeping Cousins long-term. There is no stopping his desire to be a starting quarterback in the NFL, but it is already apparent that RG3 isn't an iron man, and the Redskins can't afford to have Rex Grossman as the primary backup to their franchise quarterback.
Cousins will draw interest in the offseason and, barring an offer of a lucrative package of picks, the Redskins shouldn't budge in their desire to keep him.