Where Will Steve Nash Rank Among NBA's Top-Shelf Point Guards?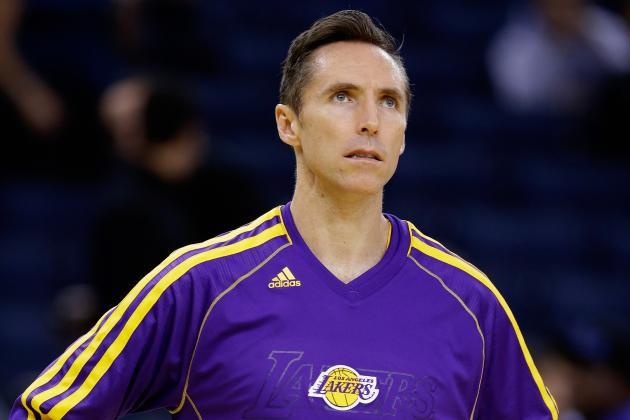 Ezra Shaw/Getty Images

With the return of a healthy Steve Nash to the Los Angeles Lakers lineup, the NBA's wealth of talent at the point guard position improved in both quantity and quality.
Whether or not this current crop of floor generals is the best in league history is debatable, but the fact that the position is overflowing with highly skilled professionals is not.
What's perhaps most exciting for basketball fans is that the players occupying the position come in all shapes, sizes and styles. There are slashers, scorers, shooters and distributors. The best ones do a little of everything.
And it's those elite tacticians who drive this conversation, attempting to slot the two-time MVP among the best in the game.
These rankings are fluid, with plenty of movement anticipated between now and season's end. Injuries, changing rotations, and roles as well as team performance will lift some of these players up and leave others in a tailspin.
Without a crystal ball in hand, this list offers no guarantees. But it's an educated guess as to where Nash and his point guard peers will finish the season.
*All statistics used in this article are accurate as of 12/24/2012.
**Players who have not yet returned from injury have been removed from consideration.
Begin Slideshow

»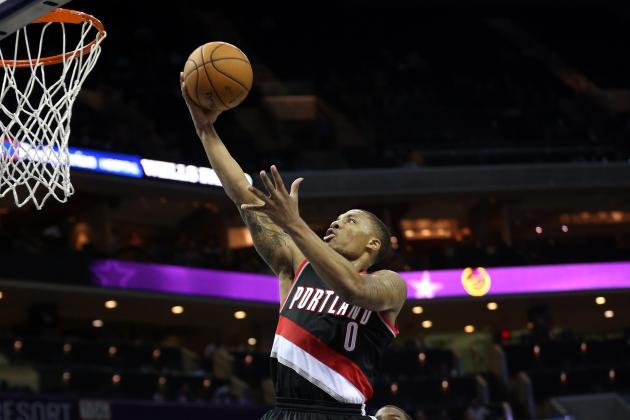 Streeter Lecka/Getty Images

The only rookie to make this list, Lillard doesn't simply look like a lock for the Rookie of the Year award. He also looks like an outside threat at a Western Conference All-Star roster spot.
He leads all rookies and ranks fifth among all point guards with 18.6 points per game. The Weber State product has a diverse offensive portfolio with the ability to find points at the basket or beyond the three-point line (36.6 three-point percentage).
A prolific scorer at the collegiate level, scouts questioned Lillard's ability to create baskets for his teammates. But his scoring numbers (18.6 points per game over his four-year career) were more a reflection on the comparative talents of his teammates than they were any indication of selfishness.
But even the scouts who lauded his playmaking skills have to be impressed with what they've seen. He paces this rookie class with 6.5 assists per game, the 13th-best average in the league.
His numbers might seem to warrant a higher place on this list, but they're a bit inflated by the lack of a strong supporting cast. Portland's starting five could play with any starting group in the league, but their inability to find reliable reserves has forced the starters into playing major minutes (Lillard himself has logged 37.8 minutes per game).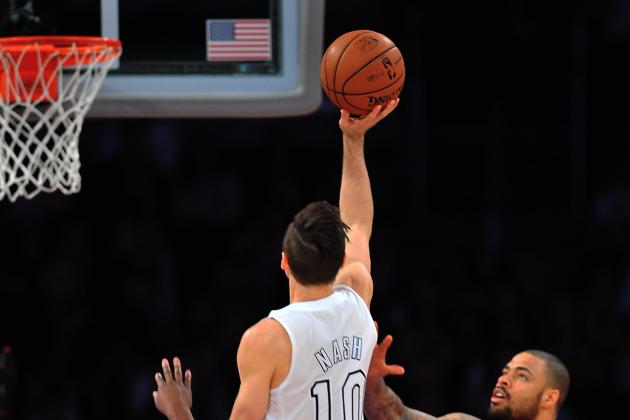 Gary A. Vasquez-USA TODAY Sports

It isn't easy to count on sustainability from a 38-year-old starting NBA point guard, but it's a little easier than betting against the historically prolific duo of Nash and coach Mike D'Antoni.
Back in a system he seems tailor-made to run, expectations for his achievements and that of his Lakers team are unlike anything he's experienced during his 16-year career.
Given his passing proficiency and the talent level of those around him, it's hard to set a bar for the fifth-ranked player on the NBA's career assist leaderboard.
With his main backup, Steve Blake, out until at least mid-January (according to CBSSports.com), the Lakers can't (and won't) shy away from giving Nash major minutes. Since returning to action on December 22, he's already logged over 78 minutes in two games.
The Lakers have no shortage of offensive weapons, and it won't take long for Nash to discover where his new teammates like the basketball. This team won't need him to be a scorer, but he's more than capable of finishing the looks that do come his way.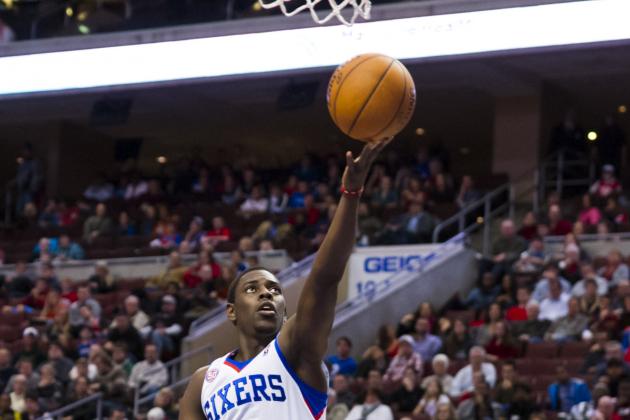 USA TODAY Sports

Holiday spent the first three seasons of his professional career as one of the forgotten members of the vaunted 2009 point guard class.
Overshadowed by then-teammate Andre Iguodala, Holiday fought for the national recognition enjoyed by some of his draft day peers.
With Iguodala now in Denver (and the key cog in his departure, Andrew Bynum, sidelined by injury), the secret is out on Philadelphia's dynamic point guard.
His numbers have improved across the board. Despite seeing the most playing time (38.3 minutes per game), field-goal attempts (16.2 per game) and defensive attention of his NBA career, he's on pace to set a new career-best in field-goal shooting (45.4 percent).
Those numbers have him climbing up the NBA statistical ladder. He's tied for 18th in the league with 18.3 points per game. And his 8.3 assists per game are good enough for a tie for the third spot.
The athleticism and defensive energy that garnered the few accolades thrown his way over his first three seasons haven't disappeared, either.
The only thing holding Holiday back from climbing these rankings is the 76ers' slow start (13-15).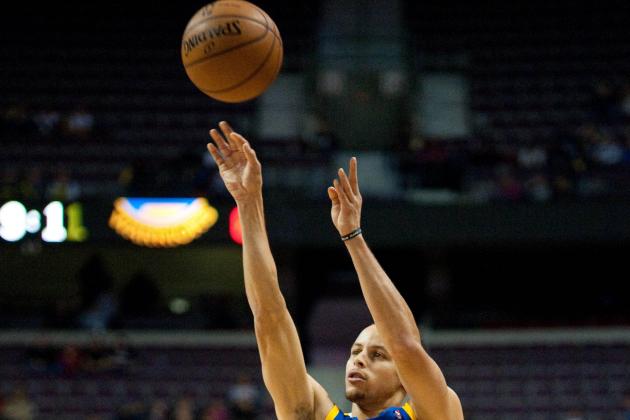 Tim Fuller-USA TODAY Sports

If he's still feeling the effects of the nagging ankle injuries that plagued the past two seasons of his career, he's certainly got a funny way of showing it.
Not only has Curry been present and productive during each of the Warriors' first 28 games, but he's actually led the team in minutes played (38.0 per game, 10th in the NBA).
He could be the closest thing to a Nash clone that this league has seen. He's creative with the basketball, seemingly creating passing and driving lanes out of thin air.
And he's every bit the shooter that Nash has been. He's not yet joined the Lakers point guard in the league's exclusive 50-40-90 club, but his shooting stroke should make that inclusion only a matter of time. To put his shooting into perspective, consider this: he's suffering through the worst-shooting season of his career but is still posting a line of 42.4/43.5/90.2 (FG/3PT/FT).
He doesn't have the gaudy assist numbers of some of the others on this list (6.4 per game in 2012-13), but he's been tasked with greater scoring responsibilities than most.
A healthy Curry has this Warriors team (18-10) in prime position for just their second postseason appearance since 1993-94.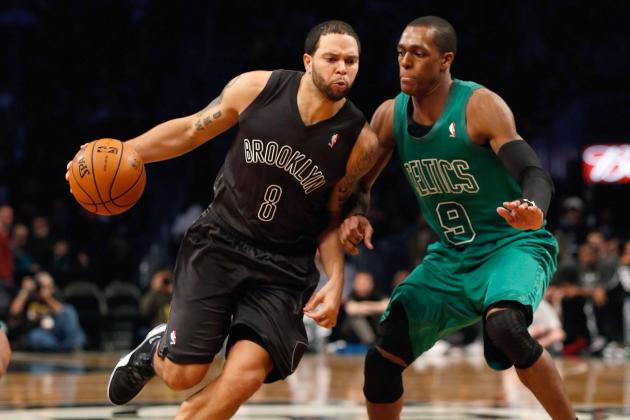 Mike Stobe/Getty Images

Williams has as much natural ability as anyone on this list. The 28-year-old may have the best handles in the NBA, breaking ankles like they were teenage curfews.
He's deceptively quick, something he exploits in those crowd-mystifying moments that follow one of his trademark crossovers. And he's strong enough to finish the back ends of his drives.
His perimeter threat isn't quite on the level of some of the other players listed here, but the career 34.7 percent three-point shooter demands respect beyond the arch.
With his multidimensional arsenal, isn't the sixth spot a bit disrespectful?
When taking his 2012-13 production into account, the spot might actually be a little generous.
His shooting percentages have plummeted, leaving him with unsightly field-goal and three-point marks of 39.7 and 29.5, respectively.
And his 8.1 assists per game are the fewest since his rookie season despite sharing the floor with more scorers this season than he's had in any previous year.
Given his skill level, it's unlikely that his production will remain pedestrian over the course of an 82-game season. But with his struggles in mind, it's just as unlikely that he'll be able to work his way into the top-five players at the position.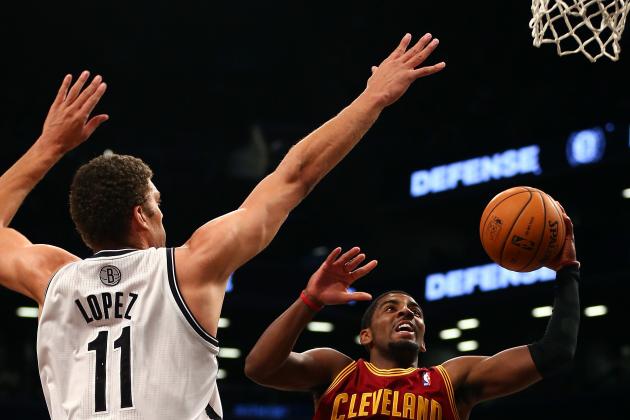 Elsa/Getty Images

Irving was the last of the preps-to-pros stars to grace the NBA hardwood.
Not literally, of course, since the NBA enacted their current age restriction in 2006.
But Cleveland's roll of the dice on a player with just 11 games of collegiate experience was no less of a gamble than the teams that wagered their futures on high schoolers in years past.
To his credit, Irving has provided instant returns to the Cavaliers.
He's sixth in the NBA in scoring with 22.8 points per game. He's dished out 5.4 assists per game, despite having a comparable talent gap with his teammates like that experienced by Lillard.
His ability to find his own shot has been tested during the 2012-13 season. Cleveland's second scoring option is rookie Dion Waiters (14.7 points per game). Number three on their list is hustler extraordinaire Anderson Varejao (14.1).
Despite the obvious focus of opposing defenses, Irving is shredding the opposition with his 47.0 field-goal percentage and 40.5 three-point success rate.
The Cavaliers 6-23 start may suggest this position's a bit too high. Then again, considering how effective Irving has been, it may leave this looking too low.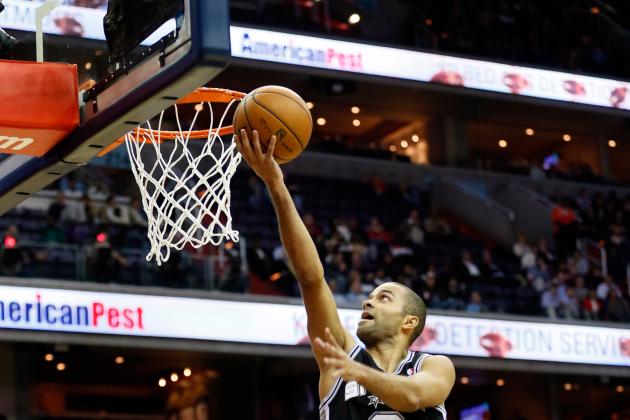 Rob Carr/Getty Images

Parker finished fifth in the MVP race in 2010-11, a credit to his impact on the San Antonio Spurs.
With his team once again establishing their mark among the NBA's elite (21-8), the 11-year veteran should improve upon that position.
As impressive as he was last season, he's been even better this time around.
His 19.0 points and 7.2 assists per game have him on pace to set the second-best mark of his career in both categories. He's shooting a blistering 50.5 percent from the field (tops at the position) and a career-best 40.6 percent from three-point land.
Parker, like his team, is easy to overlook. San Antonio's consistent presence near the top of the league and fundamental approach to the sport does not speak well of their marketability to casual fans, but their production is impossible to dismiss.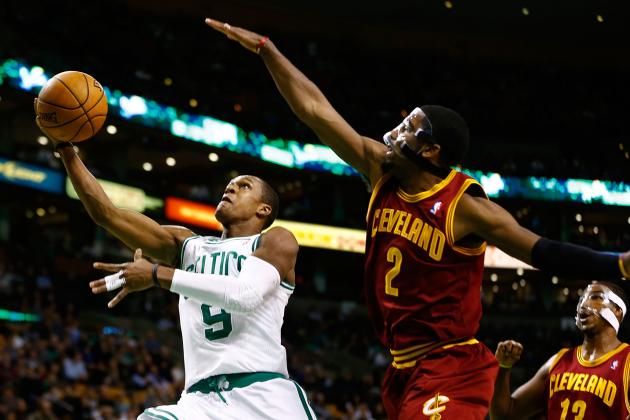 Jared Wickerham/Getty Images

Rondo is a throwback to the NBA point guards of yesteryear.
He's as good of a distributor as the league has seen in a decade. His 37-game streak of double-digit assists tied with him with the NBA's all-time leader in assists, John Stockton, for the second-longest such streak in league history.
His court vision and understanding of his teammate's strengths and limitations are unmatched by his peers. Despite Boston's overhauled rotation, Rondo has responded with his most productive passing season to date (12.2 assists per game, which leads the league).
He's also managed those gaudy assist numbers while also pouring in the second-most points of his six-year career (13.5 per game). His career-best 51.2 field-goal percentage marks the third time in his career that he's shot over 50 percent.
Defensively, he's been as pesky as ever. His 2.0 steals per game are his third-highest career mark and rank sixth in the NBA.
What keeps him out of the top two spots, though, is the underwhelming showing of his teammates. His propensity to share the rock leaves his production tied to that of his running mates. And in 2012-13, that just hasn't been enough to garner better than the third spot.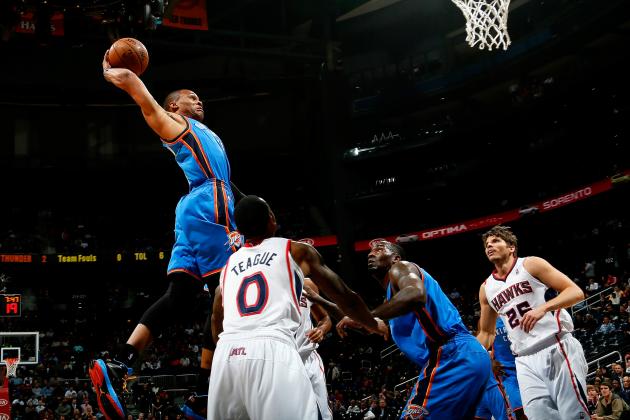 Kevin C. Cox/Getty Images

Westbrook may not quite match the assist totals of Rondo, but he's still averaged 8.8 assists per game (both a career-best and third-best in the league).
But the superhuman athletic ability packed into his 6'3", 187-pound frame has him matching or outperforming Rondo in the secondary categories.
With 4.9 rebounds and 2.1 steals per game, Westbrook may be the best defender at the position today. He's quick, strong and instinctive.
What moves Westbrook into the elite discussion, though, is the scoring ability that scouts failed to recognize. His 21.4 points per game is the seventh-best mark in the league and second-best among point guards.
His field-goal percentage needs improvement (40.7 percent), but he's connecting on a career-best 35.2 percent of his three-point attempts. With his career defined by marked improvements and defying his critics, expect those shooting numbers to increase.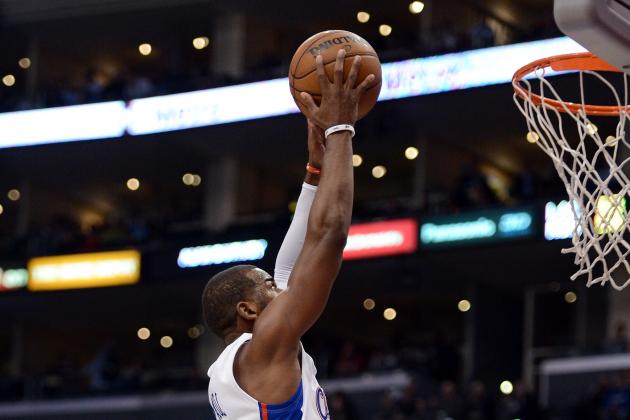 Harry How/Getty Images

Despite the renaissance of the position, Paul remains the unquestioned leader at the position. (Well, at least as long as Derrick Rose remains sidelined, that is.)
With his Clippers riding a 13-game winning steak, Paul is at the helm of the NBA's hottest team. He has the other crowd at the Staples Center buzzing with championship hopes.
Statistically, his numbers won't jump out from his career lines (16.1 points, 9.6 assists and 2.7 steals per game in 2012-13). But that's due more to the superior supporting cast of this Clippers team compared with his previous teams. His 32.9 minutes per game is more than three minutes fewer than he's ever seen in his seven-year career.
But Paul's inclusion at the top of the list has less to do with numbers (impressive though they are) than it does with his ability to effectively control the franchise.
He has an uncanny ability to discover when his team needs buckets (typically late in games) and when they need him to distribute. He usually saves his best moments for crunch time, making clutch plays on both ends of the floor.
There's no smart way for teams to attempt to defend him. He's adept from both three-point and mid-range territory, with the requisite shooting touch to finish drives among the trees that fill NBA lanes.
The talent gap of the point guard position may be closing, but Paul's combination of scoring, passing, defending and ability to perform in the clutch leave him the clear-cut choice for this spot.