OKC Thunder vs. Miami Heat: Live Score, Results and Game Highlights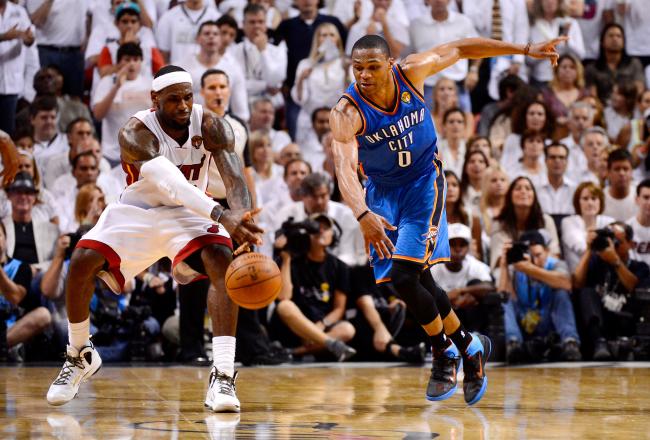 Ronald Martinez/Getty Images
Miami once again got the best of rival OKC, this time on Christmas Day.
Final Score: MIA 103, OKC 97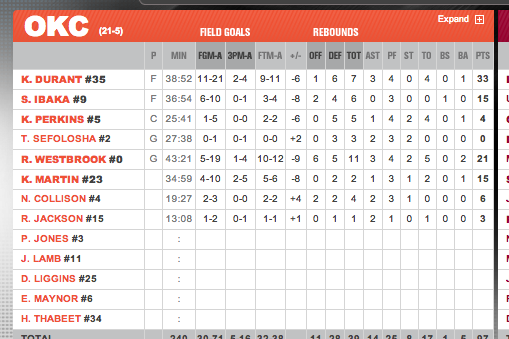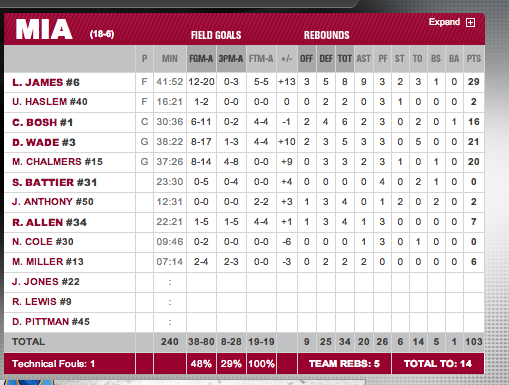 Final Score: Miami 103, OKC 97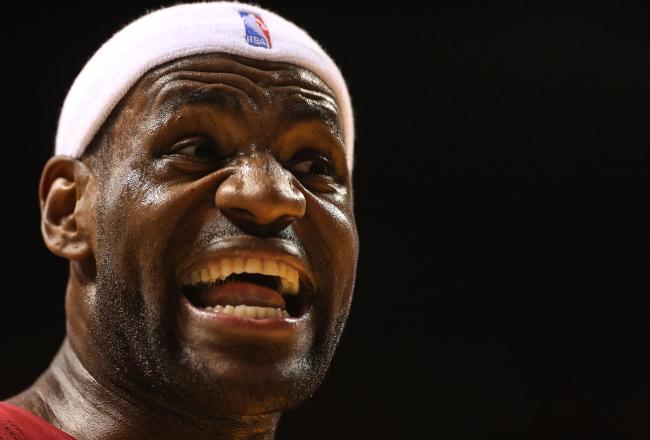 Final Score: MIA 103, OKC 97
Game Recap:
Miami was in the drivers' seat for the first half, but allowed the energy of the Thunder to let them back in the game.
Durant and LeBron led their teams in scoring— with 33 and 29 respectively—but ultimately James did a tad bit more to help the Heat clinch victory.
Westbrook played with heart throughout the entire game and was all over the court, even leading his team in rebounds. However, his temper flared at points and appeared to get in the way of his floor-general role.
D-Wade had a very efficient fourth quarter after leaving in the third with an apparent leg injury. Bosh secured the win with a wide open dunk with under a minute remaining.
The Thunder did not appear to miss James Harden in this one, as his replacement Kevin Martin chipped in nicely with 15 points.
Mario Chalmers was the unsung hero for Miami—much like he was in the 2012 Finals—adding 21 points and making Westbrook's life extremely difficult at both ends of the floor.
As expected, the two top teams in the NBA duked it out til the very end, providing excitement and foreshadowing a possible rematch in the future.
Oh boy, what a sequence. Bear with me here.
Durant forces up a three with about 12 seconds to play that clanks off the back iron. Perkins taps an offensive board to Westbrook who appeared to get tackled by Wade as he attempted a last-second three ball.
After a no-call from the refs, Westbrook slams his fist on the scorers table and draws a technical foul, which will pretty much close this thing out.
Final Score: MIA 103, OKC 97
As if it was ever in doubt, Allen knocks in both to push Miami's total to 100. Looks like this game will be about free throws and possibly a late three from OKC.
Does Durant have some late-game magic in him?
Scott Brooks takes his first of two remaining timeouts to set something up. Here we go!
After Durant answers with a quick bucket, Westbrook drapes himself over Wade and gets the foul. Now both teams are in the penalty for the remainder of this one.
Ray Allen will go to the line to shoot two with 15.6 seconds to go.
The Thunder break down defensively while waiting for LeBron to have his moment. King James sees a cutting Bosh who bangs it home to push the cushion to three points. Just 25 seconds remain!
That makes 29 points, eight boards and nine assists for LBJ.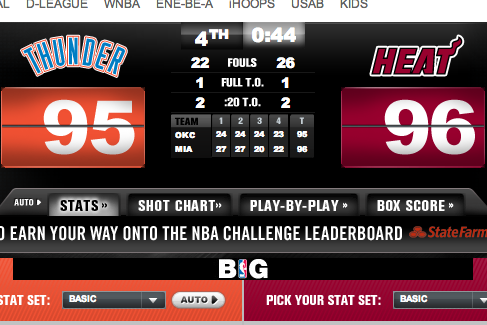 Woah! Durant comes flying through the lane after a turnover and bangs it home to bring the Thunder within one.
KD is making his case for MVP in the second half, will LBJ answer?
Miami is also now out of timeouts and cannot foul.
Just how will this thing shake down? Stay tuned.
James in isolation against KD. A long three hits front iron and KD gets a foul when driving in transition.
He misses his first—despite being a 90% FT shooter—then drains the second to make it a one possession game.
MIA 96, OKC 93; :55 ticks to play
Wade and Westbrook are going at it. Two questionable no-calls at either end have both clamoring for a foul.
Now Ray Allen is down after a hard screen from Kendrick Perkins. A little tough love from his former teammate.
Back to the action, still 96-92 Heat.
Hey LeBron, Kevin, are either of you trying to win the MVP award this season? Show us why you deserve it down the stretch.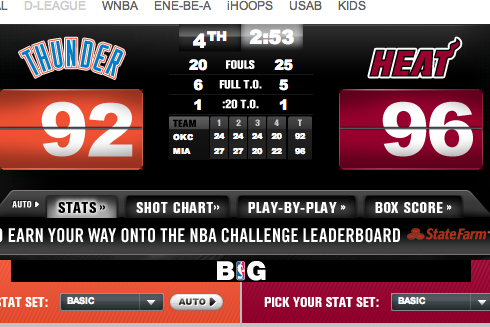 OKC is hanging around by getting to the line. In fact they've shot 22 more from the charity stripe than their opponent, and at a high clip (31-36).
With under three minutes to play, this game is still within four points.
Kendrick Perkins guarding LeBron on the perimeter is not a good idea for OKC. He drills a long two over the top then rips down a defensive rebound at the other end.
The Thunder need to be careful here, Miami's energy is rising.
MIA 95, OKC 90; 3:50 to play
The Thunder have come storming back following the timeout, scoring seven consecutive before a monstrous D-Wade jam.
This game is going to come down the final minutes.
MIA 90, OKC 88; 5:50 to play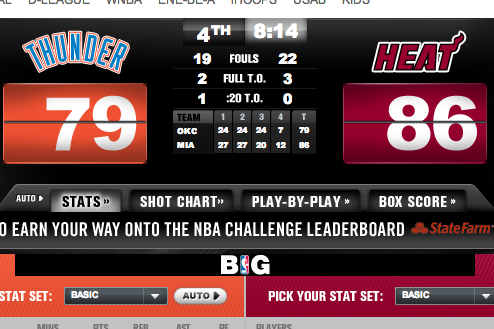 How the heck does Reggie Jackson knock LeBron down? He's half his size!
Regardless, the Heat get the ball and Mario Chalmers knocks in a jumper. After a quick stop, Chalmers knocks in a three and the American Airlines Arena is getting loud.
Heat by seven.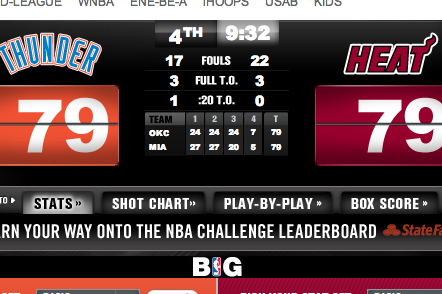 KD has changed his mindset here in the second half. He powers up inside on a feed from Westbrook and gets himself to the line, where he knocks down both.
Tie ballgame yet again.
Wade follows two Westbrook free throws with a slam to extend Miami's lead to five.
As quick as lightning—or Thunder, if you will—Durant hits a deep three to answer.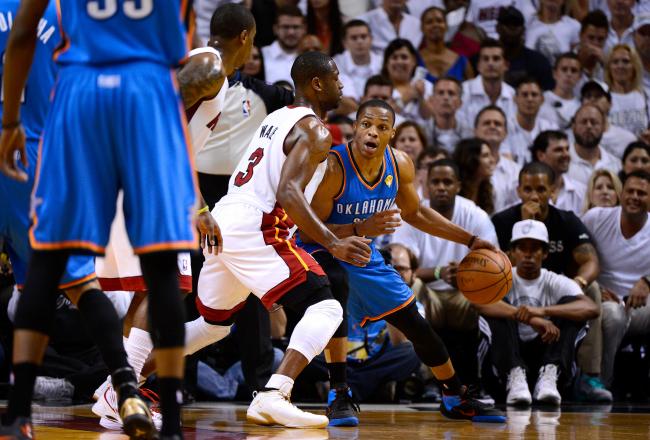 Wade hits a triple over a complacent Westbrook, who turned his head for just a second. Now he's all over Wade, steals it and gets absolutely drilled by Battier in transition.
Russell barely kept his composure following the foul but his teammates came crashing in to his defense.
Nothing like a little Christmas Day chippiness! Love to see a battle between the league's top two teams.
Ray Allen's jumper was ruled a three between quarters, so Miami now has a two-point lead.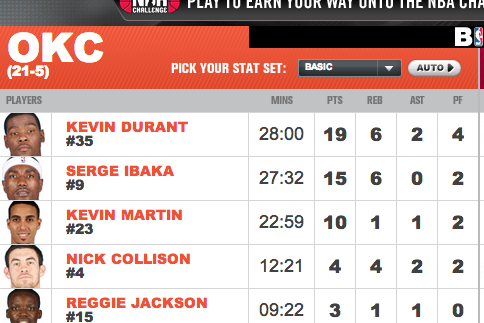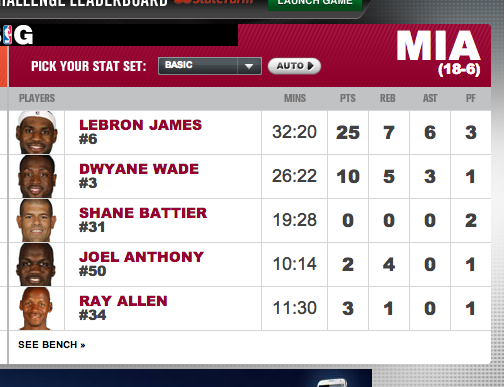 Lets look at LeBron's stats when compared to Durant's.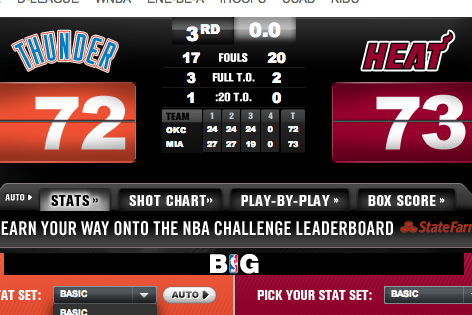 The Thunder and Heat trade buckets as the third quarter comes to a close. Miami hangs on to a one-point lead.
Good news, D-Wade appears fine and is set to return soon.
Perfect timing, as this game is going to come down to the wire.
If Westbrook is going to be a leader of this team, he needs to curb his frustrated body language. Regardless of how well he plays, he must be careful not to create the wrong vibe among his teammates.
Either way, he knocks in a free throw to give OKC the lead.
Not for long, as LBJ answers with a bucket of his own on the other end.
MIA 67, OKC 66; 2:07 remaining in the third
D-Wade is still on the ground after losing a turnover, it appears he has leg cramps.
We'll take a timeout.
OKC 65, MIA 65; 3:29 to play in the third quarter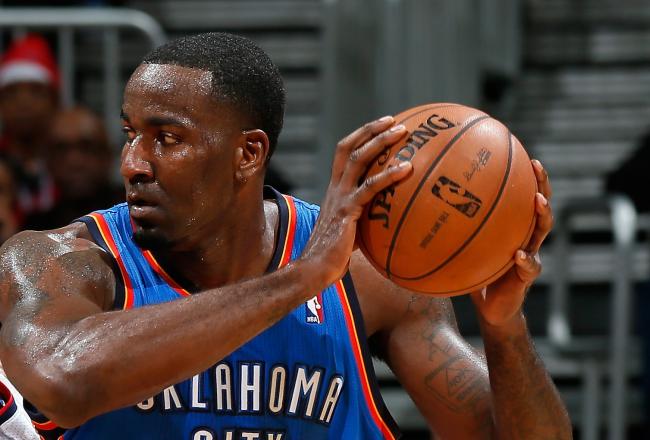 Kendrick Perkins looks remarkably like the red Angry Bird. Just sayin'.
KD is really coming on strong in the third, with 7 points on some tough shot attempts. Ibaka now connects and OKC is up four.
This article is
What is the duplicate article?
Why is this article offensive?
Where is this article plagiarized from?
Why is this article poorly edited?