2013 Mock Draft: First-Round Projections with Updated Order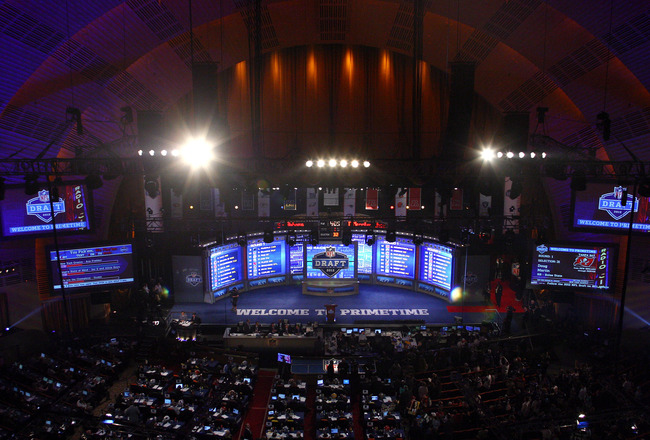 Chris Chambers/Getty Images
The final week of the long NFL season always has an interesting dynamic.
Some teams are playing for their entrance into the playoffs, while others are playing to knock those same teams out of the playoffs. Others still are "playing" for better slots in the draft, although no player would admit to that publicly.
In case you need a refresher, only the first 20 picks were decided by the time the Sunday night game ended. Those 20 slots will be given to the teams that missed the playoffs. The next 12 slots are given to playoff teams in the order they are knocked from the playoffs and combined with their regular season record.
If there is a tie in record, teams with the worse strength of schedule get the better picks.
There is no actual science to how mock drafts work, especially with the Senior Bowl and NFL Combine still weeks away from taking place. Draft possibilities tend to become a bit more clear once the full workout process is over.
Until then, mock drafts are for fun and conversation. I apologize in advance if you do not like the player that was slotted to you, but such is life.
I also, for the sake of this article, will not be mocking trades. That is mine main explanation for very few quarterbacks in the first round.
1. Kansas City Chiefs: QB Geno Smith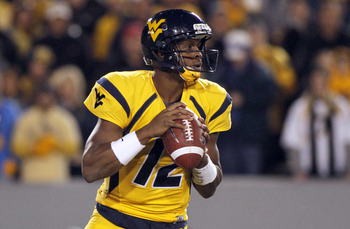 Justin K. Aller/Getty Images
I waffled a bit on this pick, but ultimately the Chiefs will likely take a quarterback first overall in the April draft.
Romeo Crennel and his staff probably won't be back for an encore season, which means that a new staff will be looking for a new signal-caller. There are a few free agent options that are potential fits for the Chiefs, but typically new coaching staffs want to draft their talent and groom them.
However, the Chiefs have been bucking that trend for a long time. The last time they took a quarterback in the first round was in 1979, when they grabbed Steve Fuller from Clemson.
Coincidentally, Fuller was also the last quarterback who won a game for Kansas City Chiefs and was also drafted by them. That's right, not even Brodie Croyle won a game as a member of the Chiefs organization.
This is a sad streak that should end next season.
The Chiefs could also select a defensive stud like Star Lotulelei or Damontre Moore, but their quarterback need is more pressing.
The next decision comes down to who the team thinks is the best fit at quarterback in this upcoming class. Smith presents the highest ceiling and also displays the accuracy you like to see in guys who are stepping to the next level. Accuracy is one of the traits that translates well to the next level.
Matt Barkley or Tyler Wilson are also possibilities, but Smith is really the only guy that isn't a huge reach from the quarterback position.
2. Jacksonville Jaguars: DE Bjoern Werner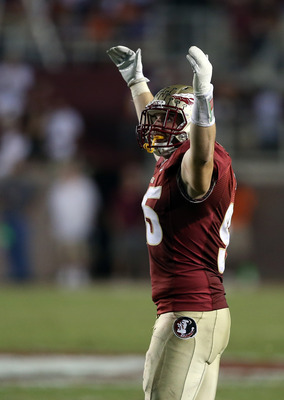 Streeter Lecka/Getty Images
The Jaguars have attempted to fill their void at defensive end for quite some time. They got so desperate that in the middle of the season they took on the albatross contract of Jason Babin, who was released by the Eagles a few weeks ago.
Jeremy Mincey is a solid player on one side, but he definitely is not a world beater. A late round pick from a few seasons ago, Austen Lane, can also generate pressure from the edge on obvious passing downs.
The Jags took a chance on Derrick Harvey and Quentin Groves early the 2008 draft, but both flamed out quickly in north Florida.
Mike Mularkey and his staff are looking around the AFC South and seeing difference making defensive lineman on almost every squad they face. The Titans are the other team in the division who will likely be looking for defensive end help.
J.J. Watt has taken the league by storm in his second season in Houston and the Jaguars would love to take a chance on a player that can have a similar type of impact.
Werner is a bit smaller than Watt, but they have very similar styles of play and Werner can bulk up once he gets into an NFL strength program.
The German-born player led the ACC in sacks this past season with 13 and was second in the conference in tackles-for-loss with 18. However, his speed off of the edge is not his only positive quality.
Like Watt, Werner has excellent athleticism which allows him to drop in to coverage at times and deflect passes at the line of scrimmage. As important as sacks have been for Watt, it is the pass deflections that have made an even bigger impact. Werner can give a team the same type of impact.
3. Oakland Raiders: DE Damontre Moore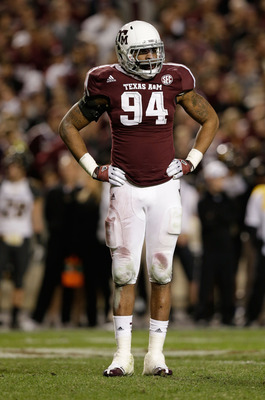 Scott Halleran/Getty Images
Bjoern Werner would have been a great fit for the Silver and Black, but he is gone. Moore is not a bad consolation prize though.
The Texas A&M product has risen up draft boards with every game that he has played.
The junior was called to fill the big shoes left by Von Miller, who was drafted by the Broncos second overall in the 2011 NFL Draft. Moore has filled them well and taken a Miller-like path to the top of the first round.
Miller was regarded as a late-first or early-second round pick at the start of the 2010-11 college season before he exploded on the scene as one of the best pass-rushers in the country from his hybrid spot.
Moore will be able to play either outside linebacker or defensive end, but he carries the same questions that Miller did about his exact spot. Those questions should be tempered due to the fact that Miller is succeeding in a 4-3 defense as an outside linebacker, a scheme that many people thought was not the best fit for Miller.
The second-year player has come out and contended for the NFL Defensive Player of the Year for the second straight season.
Moore's pass-rushing skill set could be the best in this draft and the Raiders need someone that can play off of the edge next to Tommy Kelly and Richard Seymour. Oakland struggled to get to the quarterback all season long.
4. Philadelphia Eagles: OT Luke Joeckel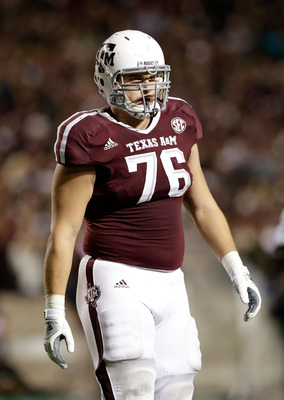 Scott Halleran/Getty Images
The top of the draft is far from being set in stone in terms of which players are best suited for which teams. However, many in the draft community agree that Luke Joeckel to Philadelphia may be one of the best fits for any team in the front half of the draft.
A pick after the Aggies' top defensive player goes off the board, Texas A&M sees the protector of their Heisman winner get picked.
Joeckel is a mammoth offensive tackle that will have the opportunity to come right in to a team and be one of the best blindside protectors in the NFL. His combination of size and quickness has scouts drooling over his potential in both run and pass-protection.
The Aggies averaged 552 yards-per-game and almost 45 points-per-game, which tells us enough about how big a piece of the puzzle that Joeckel was to their success.
Yes the Eagles have Jason Peters coming back next season, but the team can no longer count on his long-term health. The rest of the line was decimated by injuries and adding Joeckel to a renewed unit would benefit whomever is the quarterback of the Eagles next season.
5. Detroit Lions: OLB Jarvis Jones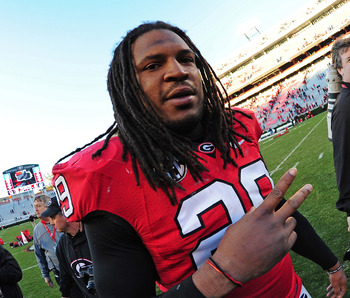 Scott Cunningham/Getty Images
To say that Detroit needs an upgrade at their linebacker spots would be a vast understatement. The Lions are far from the worst group at the position in the league, but that won't stop the team from looking early in the draft to put some depth behind their scary front four on the line.
Justin Durant and DeAndre Levy are currently the starters for the Lions. Neither is a bad player, but the team would definitely benefit from adding a playmaker to the unit.
Jarvis Jones has been a consensus top five pick in this draft since the 2012 draft ended, but has slid a bit because of team needs for the teams at the top. It would not surprise me if both Jones and Star Lotulelei both slid out of the top five for this very reason.
Jones is an electric player on one of the top college defenses in the country. He played a rather poor game against Alabama in the SEC Championship game, but one game should not effect his draft stock much.
The Georgia Bulldog could flourish in Detroit with a massive line eating up blockers in front of him and allow him to wrack up sacks at a 4-3 SAM linebacker spot in Von Miller-type fashion.
I envision Lions fans being happy with a selection, as long as it aids their struggling defense.
6. Cleveland Browns: Dee Milliner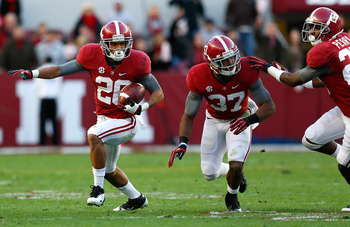 Kevin C. Cox/Getty Images
It wasn't long ago that the Cleveland Browns took a cornerback with a top pick in the draft. Joe Haden was the first pick by the current regime in Cleveland, a staff that likely will not be back next year after a change in ownership this season.
Haden has been as advertised for the Browns, but he needs a little bit of help on the outside. The team can not continue to rely on an aging Sheldon Brown to be the second corner on a squad that possesses a blossoming young defense.
What Dee Milliner lacks in starting experience, he makes up for in his ability to change a game in an instant.
Milliner posted eye-popping numbers in his sole year as a starting this season for the Crimson Tide's top defense. The former five-star recruit was a key part of Alabama's defense staying near the top of the pack after the team lost a handful of starters to the NFL last year.
Milliner is a ball-hawking corner that has the size and speed to match up with any receiver not named Calvin Johnson. Adding him to a secondary that already has Haden and T.J. Ward may make the Browns relevant in the AFC North once again.
7. Arizona Cardinals: OT Jake Matthews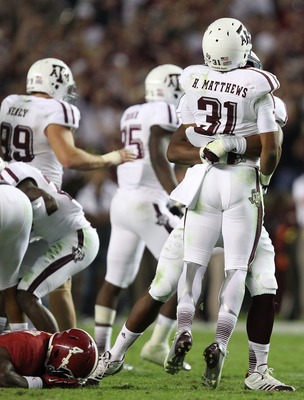 Mike Zarrilli/Getty Images
Two Texas A&M tackles in the top 10? Yes, because they're two guys talented enough to warrant consideration there.
As bad as the Cardinals were at quarterback this year, their offensive line was a huge reason for that. A best case scenario is for Geno Smith to fall to them, wherever they pick in the first ten picks, but offensive tackle should really be their top priority.
The Cardinals have been flipping guys in and out of the starting lineup on their offensive line all season and they need to find a guy that would be an instant contributor from day one.
Teams and fans alike might be wary of wanting a guy that will probably be a right tackle in the NFL, but the Cardinals need upgrades at every single position on their line.
Jake Matthews is the son of NFL great Bruce Matthews, so he has the pedigree to be a long time stud. If Matthews doesn't strike their fancy, then guys like Taylor Lewan or Jonathan Cooper should be on the short list.
8. Buffalo Bills: ILB Manti Te'o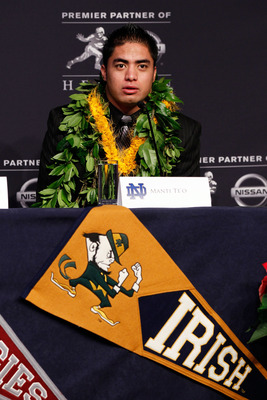 Mike Stobe/Getty Images
A new coaching staff would be a good start to improving the Buffalo Bills, but many fans in Western New York would not be too upset with Manti Te'o as a belated Christmas present instead.
Buffalo is one of those teams with a worse linebacking corp than the aforementioned Lions. Watching the defense under the eye of lame duck defensive coordinator Dave Wannstedt has been hard, especially the linebackers.
The second line of defense is constantly out of position and being eaten up by blockers, which has allowed opposing teams to gash the Bills at an alarming rate.
Te'o would bring a stability to the Buffalo defense, much as he did during his Heisman campaign with the Irish this past season.
His football IQ and sneaky good athleticism will translate to him being one of the better middle linebackers in the league, which is what the Bills really need to take their defense to the next level.
Quarterback or receiver might also be a possibility here, but no player warrants that kind of value at the eight spot.
9. New York Jets: OLB Barkevious Mingo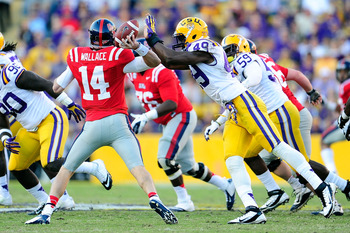 Stacy Revere/Getty Images
The impending decisions on Monday will have an impact on where the Jets decide to go with this pick.
Mark Sanchez's struggles scream that the Jets will be looking for a quarterback rather early in this draft. We have seen quarterbacks with second-round grades go higher and higher as the premium on the position has gone up over the years.
Matt Miller, the official NFL Draft aficionado for Bleacher Report has the Jets taking Mike Glennon with this pick, a selection that was jump started by Buffalo taking Tyler Wilson in the same mock.
I can see both players getting drafted in the first 10-12 picks, but with a player like Barkevious Mingo on the board, the likely new Jets general manager will have a tough decision.
I think the quarterback talent that will be drafted in the second is comparable enough to the guys that might get draft earlier, that the Jets can afford to take a player at another position of need.
The Jets were one of the worst teams at rushing the passer in 2012, with rookie Quinton Coples leading the way with five and half sacks. Muhammed Wilkerson, was second with five.
Calvin Pace is not getting any younger. Time to bring in a difference maker in the pass rush.
10. Tennessee Titans: OG Chance Warmack
Kevin C. Cox/Getty Images
I apologize in advance for the next sentence, which you will definitely hear more of leading up to the draft.
Tennessee should take a chance on Chance Warmack.
Guard prospects need to be a special talent if they are getting consideration as a top 10 pick in the draft. Warmack was the third most recognized member of his offensive line coming into the season, but he is leaving the Crimson Tide's championship quest as the player most deserving of a first round grade.
Warmack's athleticism at the guard position will allow the Titans to get back to running the ball at the impressive clip they are used to, while also being able to keep the often sacked Jake Locker off of his back.
The interior lineman certainly could fall out of the top 10, but the Titans would be foolish not to look at upgrading a position where they currently start Fernando Velasco and Deuce Lutui.
11. San Diego Chargers: OT Taylor Lewan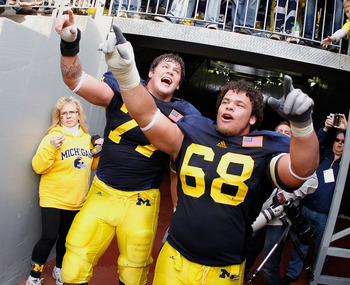 Gregory Shamus/Getty Images
Taylor Lewan is the next massive Wolverine left tackle to get top end draft consideration. He could have easily been the Cardinals pick at nine in this mock, but I felt the Cards could use a combination of run and pass-blocking.
Lewan is a rangy and punishing pass-blocker on the blind side, which fits perfectly into what the Chargers are looking for.
Some analysts have mentioned that the Chargers could be looking for a quarterback in this draft, but that will not be happening in the first round. They need to upgrade their offensive front, as well as the back half of their defense.
With Dee Milliner already taken in this mock, their best chance at finding an instant contributor is taking their pick of their favorite offensive lineman prospect.
Lewan is that guy.
12. Miami Dolphins: DT Star Lotulelei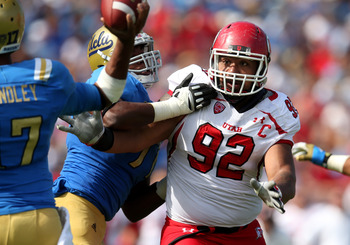 Stephen Dunn/Getty Images
Ultimately when things are said and done, there is no way that Star Lotulelei will fall out of the first 10 picks, but the mock fell this way for me.
Defensive tackle is not really a need for the Dolphins and I guarantee that you will see a whole bunch of mocks with Miami taking a receiver. There is enough talent at the position in the next two rounds, that Miami can afford not to reach.
Lotulelei can be a dominant force to build a defense around, especially playing next to Cameron Wake for a few seasons.
He manhandled the competition in the Pac-12 for a team that did not have a whole lot to offer on defense other than him. Consistently opponents game-planned for Lotulelei, but he is virtually unblockable up the middle.
This will not be a popular selection, but it is an instance of best player available over need. Lotulelei is a special talent that will make teams pay for passing over him.
13. Tampa Bay Buccaneers: CB Johnthan Banks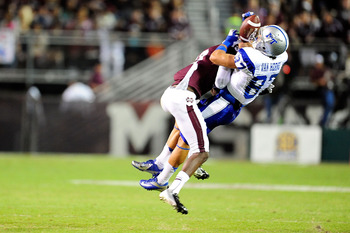 Stacy Revere/Getty Images
The most glaring hole for the Buccaneers head into next year is at cornerback.
Due to injuries and trades, the finished the season starting E.J. Biggers and Leonard Johnson. Not to take away from the play of either of those guys, but the Bucs have something going with an improving defense.
Last year's top picks Mark Barron and Lavonte David were as advertised in year one, but the defense still sorely lacked a top flight cornerback.
Johnthan Banks won the Thorpe Award for top defensive back in the country, but there are questions about his transition to the next level. Banks played well in the SEC for the most part, but his play tapered off as the season progressed.
He was embarrassed against Ole Miss in the season finale, which led to Banks losing out to Rebel quarterback Bo Wallace for the Conerly Trophy, as the state's top collegiate player. However, Banks will be able to rebuild his stock and answer doubts during the workout process.
Banks has a good head on his shoulders and has the size and toughness that this Tampa Bay defense needs.
14. Carolina Panthers: DT Sheldon Richardson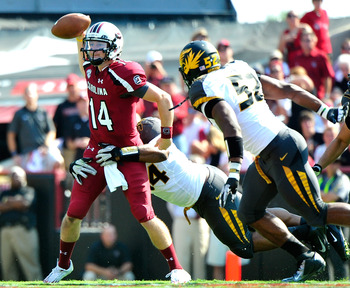 Grant Halverson/Getty Images
The Panthers started Sione Fua and Dwan Edwards, who came over from Buffalo, at defensive tackle this season.
Edwards surprised some with six sacks on the year, mostly due to the fact that the lineman only have five and a half sacks combined in his first seven years in the league.
He will be 32 by the time the 2013 season kicks off, so unless he has Jason Babin fever, Edwards will be falling back to Earth next year.
Sheldon Richardson is the ultimate disruption from the defensive tackle spot, much in the mold of Geno Atkins. Richardson is a few inches taller and a little less stout than Atkins, but their styles of play are very similar.
The Missouri Tiger player has crept up draft boards and should settle in nicely somewhere in the mid-teens to mid-twenties.
Carolina would be a great spot for him, playing in front of Luke Kuechly.
15. New Orleans Saints: DE Dion Jordan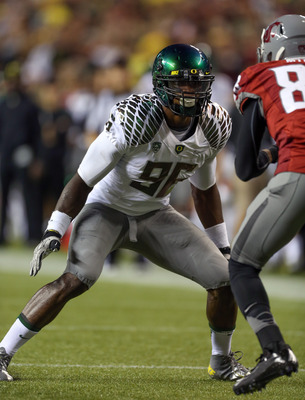 Otto Greule Jr/Getty Images
New Orleans took a guy by named Cameron Jordan in the first round two drafts ago. Now they have an opportunity to draft a guy by a similar name that just so happens to play the same position as Cameron.
Cameron Jordan came into his own in his sophomore season and looks to be an anchor of a Saints defense that is now statistically the worst defense in NFL history.
Add in Dion Jordan from Oregon and you have two guys that have the versatility to rush the passer and drop back in coverage every once in awhile.
Dion is the better of the two when dropping back into coverage, which allow the Saints to be flexible with their defensive packages. He has to get better in stopping the run and bulk up during his first NFL offseason, but Dion has the makings of a very good defensive end at the next level.
This would also allow the Saints to dump Will Smith, who was involved in the bounty issues.
The Jordan Twins kind of has a nice ring to it.
16. St. Louis Rams: OT Eric Fisher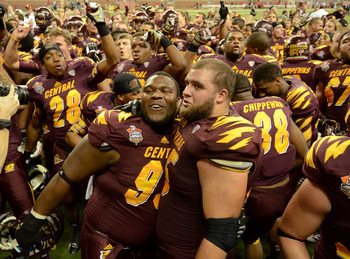 Mark A. Cunningham/Getty Images
Left tackle tends to be at the top of the Rams wish lists every offseason, yet every year they pass on the opportunity to grab Sam Bradford a top notch protector.
Bradford is one of the most hit quarterbacks in the NFL, which comes with the territory considering the offensive line has Barry Richardson and Wayne Hunter on it.
The Rams whiffed on Jason Smith a few years ago, but have an opportunity to send Rodger Saffold back to right tackle, where he belongs.
Eric Fisher is part of a strong tackle class and would be an instant upgrade for a young St. Louis squad.
17. Pittsburgh Steelers: OG Jonathan Cooper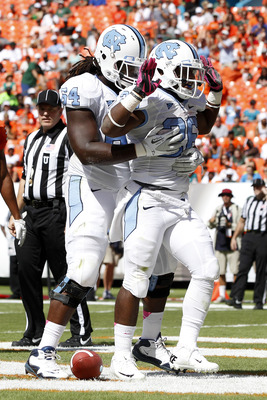 Joel Auerbach/Getty Images
Maurkice Pouncey could certainly use some help up front for the Steelers.
Big Ben Roethlisberger and his band of hodgepodge quarterbacks were beaten to a pulp this season behind a leaky offensive line.
Jonathan Cooper was the lead blocker for potential first-round pick Giovani Bernard at North Carolina and would provide a big time upgrade over John Malecki at left guard.
A core of Pouncey, Cooper and disappointing rookie David DeCastro is a pretty good start towards redeveloping a culture of smash mouth football in western Pennsylvania.
18. Dallas Cowboys: FS Kenny Vaccaro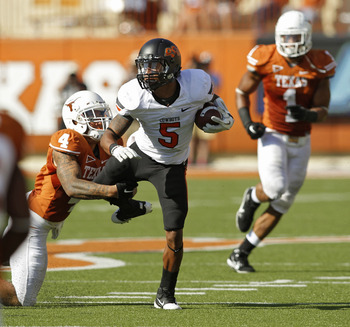 Erich Schlegel/Getty Images
The Cowboys have seen enough of Gerald Sensabaugh to understand that they need to give their talent young corners some more help over the top.
Sensabaugh has been consistently bad over the past two seasons and Week 17's have especially been unkind to the free safety.
Kenny Vaccaro offers the upgrade that Dallas needs as they continue to overhaul their defense. He has top-notch athleticism and can make spectacular breaks on balls in the air.
Combing that kind of athlete to a secondary of Morris Claiborne and Brandon Carr is a potential nightmare for NFC East quarterbacks.
19. New York Giants: ILB Alec Ogletree
Scott Cunningham/Getty Images
The New York Giants have spent countless first round picks on their defensive line over the past decade and I have seen plenty of mocks with them adding another lineman to the fold.
Let's go in a different direction.
The Giants could use an upgrade at middle linebacker over Chase Blackburn and Mark Herzlich right? Right?
Ogletree still has some maturing to do and the Giants' locker room would be a great place from him to do just that.
The rangy linebacker was a part of that fearsome Georgia Bulldog defense and would be a nice fit for a Giants' defense that could use another athlete on the front four.
20. Chicago Bears: OLB Anthony Barr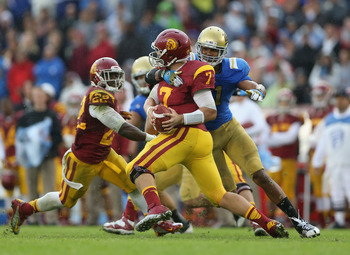 Jeff Gross/Getty Images
Chicago's second half collapse has not done much to quiet the fan base and comments from Brian Urlacher have only fanned the ever-growing flames.
The Bears were an opportunistic defense once again in 2012 and led the league in defensive touchdowns with eight off of interceptions.
However, their linebacking crew which used to be one of the best in the league is declining at a rapid pace and they need to being to replace those players.
There is no guarantee that Barr will declare for the draft this season, but he's the type of athlete that the Bears could groom to become a long-term starter.
He may not be ideal for their current scheme, but there are always ways to put guys like Barr on the field.
21. St. Louis Rams (from Redskins): WR Keenan Allen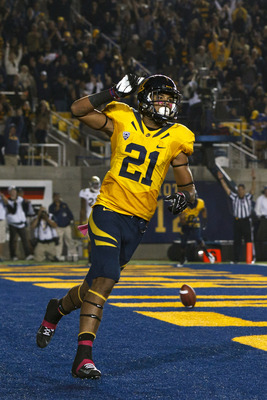 Jason O. Watson/Getty Images
The only other team upset about the Redskins winning on Sunday night was the Rams, who hold the rights to Washington's first round pick. That pick was involved in the Robert Griffin III trade last year.
St. Louis shored up their left tackle need with their first pick by taking Eric Fisher and they have an opportunity to grab their second biggest need with this pick.
Keenan Allen is the number one wide receiver in this draft, but is not the type of top-flight No. 1 receiver that we have seen come out in the draft over the past few years.
He is big and can make difficult catches in traffic, but does not have the top-end speed that teams like to have to in their top receivers. Allen should be able to carve out a niche with the Rams as a great route-runner and athletic go-to receiver.
22. Minnesota Vikings: DT Jonathan Hankins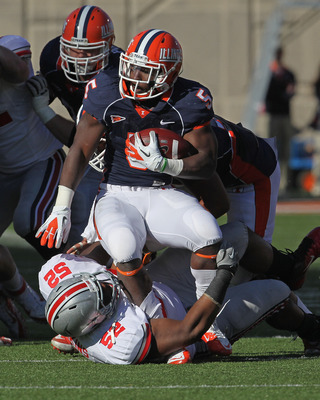 Jonathan Daniel/Getty Images
The Vikings were one of a few surprising playoff teams this year.
Adrian Peterson's MVP caliber season masked some of the glaring holes on this Minnesota team, including but not limited to defensive tackle.
It seems like just yesterday that the Williams "Brothers" were clogging the middle up in Minneapolis, but those days are long gone. Kevin Williams still is a part of the team, but for how long?
Jonathan Hankins is a stout run-stuffer that the Vikings are looking for to replace Pat Williams, who quasi-retired after the 2010 season.
23. Cincinnati Bengals: RB Giovani Bernard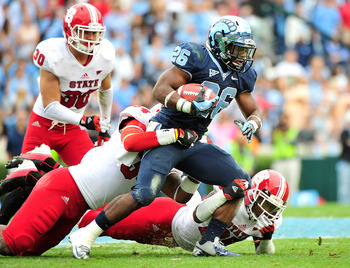 Grant Halverson/Getty Images
The Bengals are a playoff team for the second year in a row and have a nice young nucleus on offense. The only thing they are missing is a home run threat at the running back position.
Enter Giovani Bernard to be a compliment to tough-sledder BenJarvus Green-Ellis and you have the most complete backfield in the AFC North.
You also have too many first names in that backfield.
Baltimore and Cleveland would still have the two best backs in the division, but Bernard is an electric running back that would force opponents to gameplan for him specifically.
The thunder and lightning approach has worked in other NFL cities, so why not Cincinnati?
24. Baltimore Ravens: DT/DE Shariff Floyd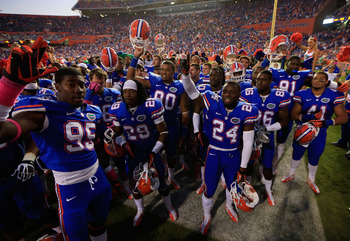 Chris Trotman/Getty Images
Is it just me or are the Ravens one of the more underwhelming teams in the playoffs this year?
They played well enough to put up 10 wins on the year, but never looked the part of the Baltimore teams of the past.
They could really use some depth along the defensive line and Shariff Floyd would be a good fit for them. He has the size to play either defensive end or the nose if he put on 10-15 pounds in the coming months.
Floyd is another one of those underclassman that has not made a decision on their draft status, but he was come on very strong in the second half of the season. He totaled 11 tackles for loss and a sack on the year, while also serving as one of the Florida Gators run-stoppers.
25. Seattle Seahawks: DT John Jenkins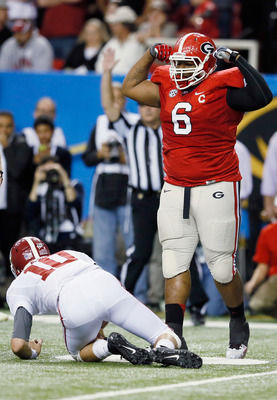 Kevin C. Cox/Getty Images
The Seattle Seahawks would be thrilled if John Jenkins made it all the way down to their pick.
Defensive tackle is not high on the priority list for the Seahawks, but teams have shown the necessity for a plethora of capable defensive line depth. Brandon Mebane and Alan Branch are solid players in the middle, but Jenkins would add another layer to an already stout defense.
Jenkins has the talent to pass both of those guys on the depth chart eventually and would be just another players that NFC West lineman have to block up front.
26. Indianapolis Colts: DE Ezekiel Ansah
Scott Cunningham/Getty Images
Ezekiel Ansah has been one of the biggest risers in this current draft class.
Mostly an unknown commodity before the college season started, the uber-athletic defensive end could go as high as the late first round now.
Ansah's nose for the football, especially when it is still in the hand of the quarterback will make him a pleasant addition to the Colts.
Dwight Freeney and Robert Mathis' careers in Indy are coming to a close sooner rather than later, so why not starting grooming their replacements now?
27. Green Bay Packers: OG/OC Barrett Jones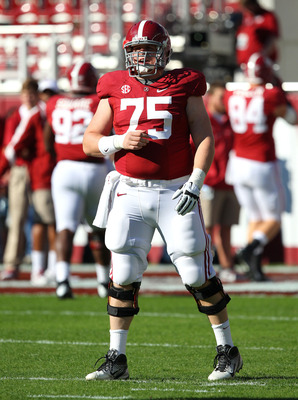 Mike Zarrilli/Getty Images
Barrett Jones is one of those guys that is just a solid football player, as cliche as that sounds.
Packers GM Ted Thompson likes solid football players and needs an interior lineman badly.
Jones is a hard-nosed player that would fit in well with the culture up in Wisconsin and fits the value for this late in the round. Sounds like a match made in heaven.
28. San Francisco: WR Tavon Austin
Justin K. Aller/Getty Images
The Niners made a head-scratching decision when they took A.J. Jenkins in the first round last season. Jenkins was little more than a warm body on the sidelines this season and does not really fit into the San Fran offense moving forward. Hopefully they find a place for him somewhere.
I hate to mock another first round receiver to the Niners, but Austin fits as a nice compliment to Michael Crabtree and Vernon Davis.
His play-making ability may be the best out of any offensive skill player in the draft and he would make Ted Ginn expendable in the Bay Area.
I think all San Francisco fans would be grateful for that.
29. Houston Texans: WR Terrance Williams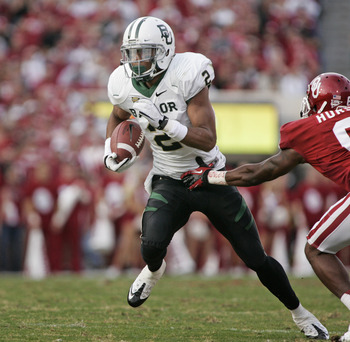 Brett Deering/Getty Images
The Texans won't have to travel too far down the road to scout this player from Baylor.
Terrance Williams was one of the two dynamic receivers that RGIII had to play with during his Heisman campaign, the other being 2012 first-round pick Kendall Wright.
Williams has been just as good without Griffin, as he led the nation in receiving yards with over 1,700 on the year.
Houston has not had a true compliment to Andre Johnson for quite some time and as good as Owen Daniels has been through the years, it may be time to get those guys some help.
Williams is a big receivers that can catch almost anything thrown his way and he also runs down deep balls well.
30. New England Patriots: DE/OLB Sam Montgomery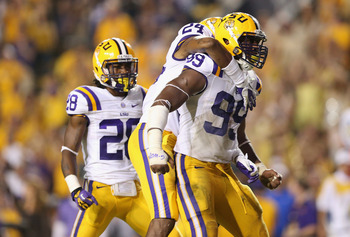 Ronald Martinez/Getty Images
New England added Dont'a Hightower and Chandler Jones in the first round last year, but they will continue to add to their defensive front in this next draft.
Jones had a very good rookie season and the emergence of Rob Ninkovich makes defensive end not a huge need, but the Patriots are always looking for the best value.
Adding Sam Montgomery this late in the first round would be an absolute steal.
Montgomery has disappeared in some big games for LSU this season, but when he is on, he is one of the best pass rushers in the college game.
He can be a vicious hitter, while playing both the run and pass well. The question is what his position will be at the next level.
Bill Belichick can figure that out as he goes.
31. Denver Broncos: S Matt Elam
Sam Greenwood/Getty Images
Peyton Manning sure has been a breathe of fresh air up in the Mile High City.
The offense can still use a bit more tinkering on the line, but the defense has the more pressing needs.
As good as the Broncos defense has been in 2012, they would be smart to address needs at safety and defensive tackle in free agency or the draft.
Rahim Moore looks like a keeper at the free safety spot, but Mike Adams is getting up there in years, as is the ageless wonder Champ Bailey.
The Broncos choose to go with an underrated playmaker from Florida in Matt Elam. With a nose for the big play and a good amount of football sense, Elam would be a great fit on a young Bronco defense.
32. Atlanta Falcons: TE Tyler Eifert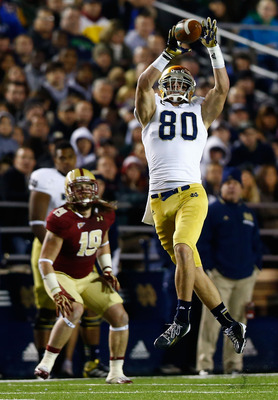 Jared Wickerham/Getty Images
Tyler Eifert will most likely end up in the second round and get drafted around the same time his former teammate Kyle Rudolph was two drafts ago.
Eifert is purely a pass-catcher at the tight end in the mold of Aaron Hernandez for the Patriots. He does not posses the same straight line speed as Hernandez, but the athleticism is comparable.
As a member of the Fighting Irish, Eifert put up solid numbers in spite of inconsistent quarterback play.
The Falcons will be looking for a tight end for when Tony Gonzalez finally decides to hang up the cleats. He has said that this would likely be his last season, but the guy continues to put up insane numbers at the position. He may like to grab back his receptions record from Jason Witten.
If Gonzalez does decide to retire, then getting Eifert at the end of the first round is a no-brainer for the Falcons.
Keep Reading