Zlatan Ibrahimovic's Report Card for 2012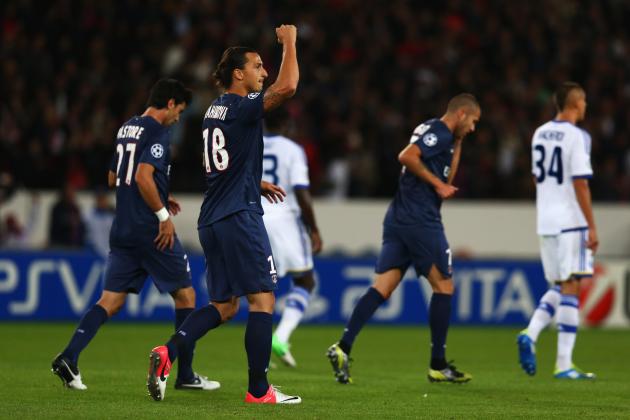 Dean Mouhtaropoulos/Getty Images
Ibrahimovic has been a revelation since his arrival in Paris
Zlatan Ibrahimovic arrived in Paris in July, to a welcome reserved for genuine superstars. A lavish unveiling in front of the Eiffel tower preceded throngs of Paris Saint-Germain fans greeting him on the Champs Elysees, an arrival matched only by that of a 'rock star' as Sporting Director Leonardo likes to brand the club's star attractions.
In a summer where Ligue 1 lost top talent like Lille's Eden Hazard and Montpellier's Olivier Giroud, Ibra has filled that void. And more. Undoubtedly Ligue 1's biggest star name, the pressure on the Swede to deliver upon his huge reputation was immense. That has been no problem for Ibra though as his first six months in French football have been a resounding success.
PSG may not be clear at the top of le Championnat just yet but as expected, the former AC Milan striker has been the capital club's star man so far this year. The 31-year old was expected to have a big impact but even by his standards, I'm sure he didn't expect to have won over the French fans and critics alike so soon.
Begin Slideshow

»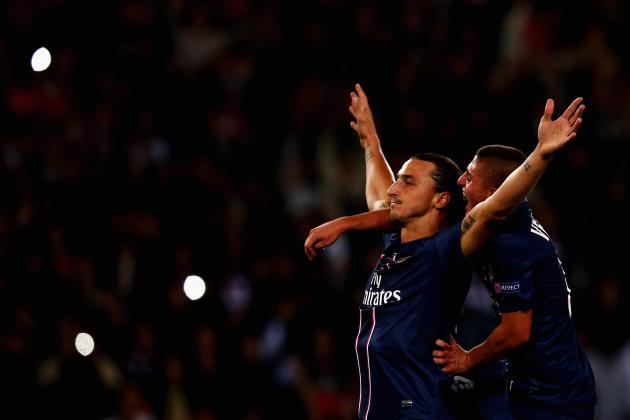 Dean Mouhtaropoulos/Getty Images
Ibrahimovic's goal tally in Ligue 1 thus far is phenomenal
Ibrahimovic's currency is goals.
If judged on that alone then he has been a resounding success already in PSG colours. Eighteen goals and three assists in 16 appearances is an impressive haul, even by Lionel Messi's 2012 high standards.
Although it is early, the Swede's performances have led to suggestions that he could realistically put forward a case for next year's Ballon d'Or. Ligue 1 has not produced a winner of the award since Marseille's Jean-Pierre Papin claimed the gong in 1991. If Ibra continues on his current trajectory, PSG will undoubtedly win the Ligue 1 title, perhaps more, and underline his credentials as one of Europe's elite stars. If he hasn't already.
5/5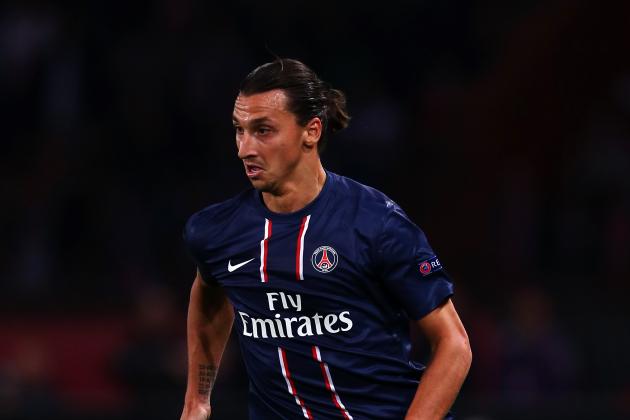 Dean Mouhtaropoulos/Getty Images
PSG are some way off being comfortable Ligue 1 leaders but it's a question that will answered come season end
The giant Swede has won titles everywhere he has played, in a career spanning the Netherlands, Italy and Spain.
It looks inevitable that he will add France to his impressive resume, even if PSG don't currently top the league in what was expected to be a procession season. Nobody accounted for the title challenges currently put forward by Lyon and Marseille in the summer, but to their credit, they have proved to Carlo Ancelotti's men that they won't roll over for the juggernaut.
Given Ibra's massive contribution thus far, if PSG are successful in their title bid it will be largely thanks to his goals.
3/5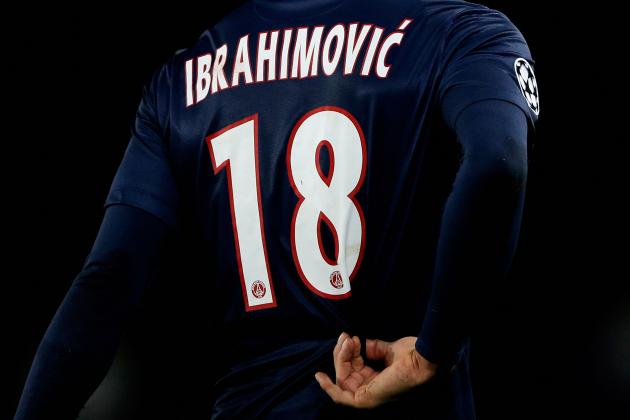 Dean Mouhtaropoulos/Getty Images
18 goals in 16 games is a superb return for any player in world football-Ibra makes it look easy
One quality that has set Ibrahimovic apart from so many other players in Europe throughout his career has been the unerring consistency with which he performs to his highest level.
The early days with PSG have been no different. The French media have fallen over themselves to throw superlatives at the new darling of the Parc des Princes and on the whole they have been deserved. Only in one or two games this season has Ibra looked close to disappointing, even his quiet games are often defined by one telling contribution.
His red card against Saint-Etienne at home in November and his perceived stamp on Dejan Lovren in the recent clash with Lyon are the only blemishes on an otherwise immaculate report card.
4/5
Marc Piasecki/Getty Images
Ibrahimovic's unveiling in front of the Eiffel Tower
Zlatan Ibrahimovic is a stellar name in world football. His name is synonymous with quality, some of the biggest club names in football and fiercely divided opinion-the hallmark of a bona-fide star player.
His impact on French football, Ligue 1's immediate European and world status and the general interest in the PSG project has been peaked. His arrival lent it immediate credibility.
That he is having so much success thus far in France makes the capital club's appeal stratospheric, and the presence of Thiago Silva, Ezequiel Lavezzi and Javier Pastore makes them a hugely attractive proposition for the world's best players.
Make no mistake though, this is now Ibra's project. He is the star and the focal point of everything they do on and off the pitch.
5/5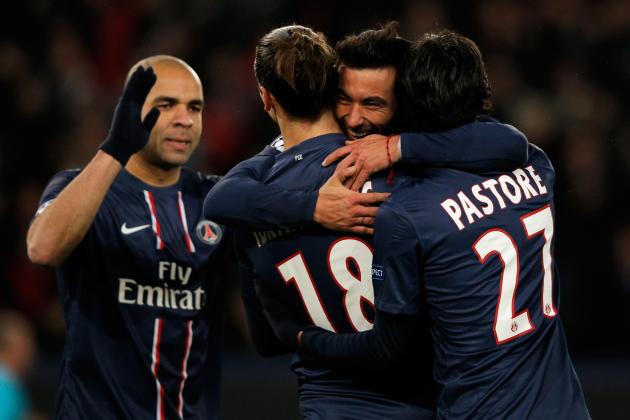 Dean Mouhtaropoulos/Getty Images
Ibrahimovic and PSG have been superb in this season's Champions league so far
Europe is the final frontier for PSG.
Or so it should be, except for the fact that the club have not won their domestic league title for 19 years. That makes Europe for now a luxury, despite the club's ambitions to make a real impact in future competitions.
In this respect though, les Parisiens are ahead of time. The club have impressed in this season's group matches, advancing with little trouble from Group A with one of this season's best record in the competition.
That has been down in part to a string of sublime performances from Ibra who has not only scored goals, but has demonstrated his creative side too. In the 4-0 home win over Dinamo Zagreb he provided all four assists for PSG's goals without scoring himself. He has bagged important goals at other times though and the club's chances of making a deep run in the competition rely heavily upon him. His experience in Europe's premiere club competition has proved invaluable for Ancelotti's side so far.
4/5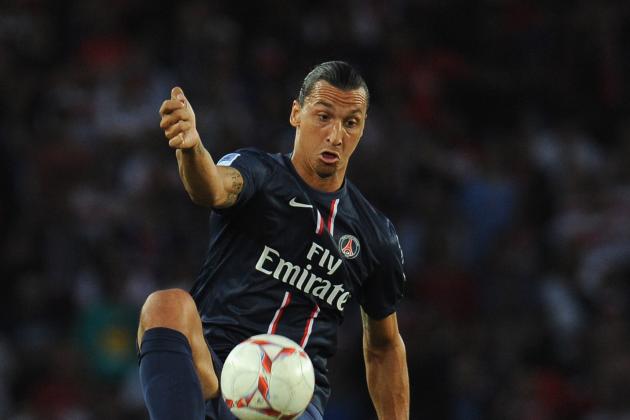 Valerio Pennicino/Getty Images
2013 promises much for PSG and Ibra
In 2013, Ibrahimovic is on course for huge success, individually and collectively with PSG.
Ibrahimovic has been one of 2012's revelations in Ligue 1 and has been a shot in the arm for a league that was shorn of star talent before his arrival. Now with real signs of progress on the pitch,
Ibrahimovic needs to continue to deliver on this consistent basis. If he does, anything is possible. PSG however, need to give him more support so that he doesn't have to do it all by himself most of the time. Ibrahimovic is a player that insists on pulling the strings himself and being involved in everything however, Ancelotti's men need to demonstrate that they can take the burden off his shoulders from time to time.
Whether he likes it or not.