2013 NFL Draft: The Best Gift Each Team Could Get in First Round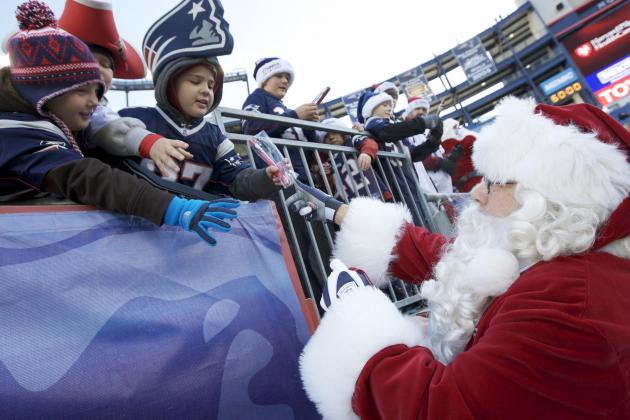 David Butler II-USA TODAY Sports

Seventeen NFL teams have already been eliminated from playoff contention with just one week remaining in the NFL season. For the players, coaches and fans of those teams, the gifts and time spent with friends and family this holiday season may be a needed boost to their spirits.

Exactly four months after Dec. 25, however, will be the start of the 2013 NFL draft. And like the shoppers who have lining up for months to find the perfect holiday gifts for their family and friends, the front offices of NFL teams are already hard at work trying to find the perfect players to add to their franchises.

As the draft order has become even more clear as the season nears it close, the draft projections for many teams continue to shift. The following slides break down the latest projected picks for each team.
Disclaimer: The draft order is set based upon projected Week 17 and playoff results.
Begin Slideshow

»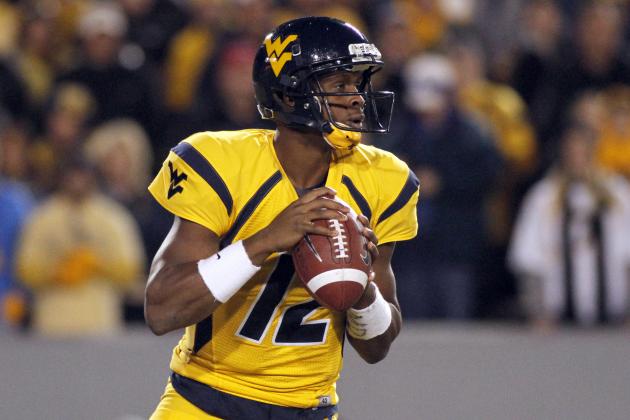 Justin K. Aller/Getty Images
Geno Smith would be the best option as a draft pick to be the Chiefs' next quarterback.
When the Kansas City Chiefs' nightmarish season comes to an end on Sunday, a complete rebuilding effort should commence.
That rebuilding effort must begin at the quarterback position, and even though there are no elite quarterback prospects in the 2013 draft class, the draft is where the Chiefs are most likely to find their new signal-caller.

The best bet to be a franchise quarterback from this draft class is West Virginia's Geno Smith, who has the skill set to be a very good starter at the next level. With a strong arm, a great release and good accuracy and mobility, Smith is a very skilled passer who would be a great choice for the Chiefs to rebuild their team around.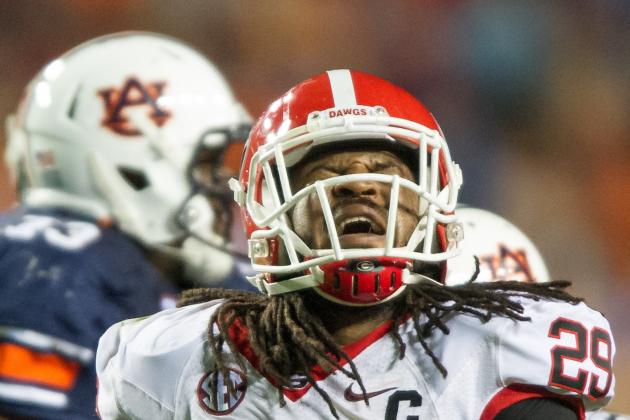 Michael Chang/Getty Images
Jarvis Jones could be a star for the Jacksonville Jaguars defense.
The Jacksonville Jaguars have some talented players on their defense, but they don't have many "do-it-all" talents.
Georgia's Jarvis Jones excels in every aspect of defensive play—rushing the passer, getting out in space to play the run and dropping into coverage—and he can be a much-needed difference-maker on the Jaguars defense.

The only major concern with Jones is a condition he has, spinal stenosis, which means he is at higher risk for significant injuries over his career. It hasn't affected him over the past two seasons at Georgia, however, and his talent makes him the closest thing this draft class has to a truly elite prospect.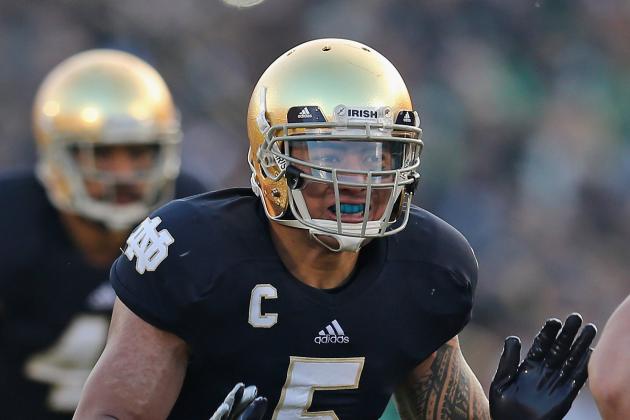 Jonathan Daniel/Getty Images
Rolando McClain hasn't lived up to his potential as a top-10 draft pick, but Manti Te'o is a safer bet to be the middle linebacker the Raiders need.
Rolando McClain hasn't seen the field since his falling-out with the Oakland Raiders in late November, making it pretty obvious that the Raiders need to find a replacement for the disappointing former top-10 pick at middle linebacker.

The Raiders should be looking for a player who can be a much-needed difference-maker in their defensive front seven, while also being a safe bet not to bust with high character, making Notre Dame's Manti Te'o the perfect pick for them.

Te'o is a tremendous all-around middle linebacker who is both a very good run-stopper and a skilled coverage linebacker with a nose for making plays on the football. Additionally, his intelligence, leadership and model behavior are exactly what the Raiders need in a player expected to be a cornerstone piece of their franchise.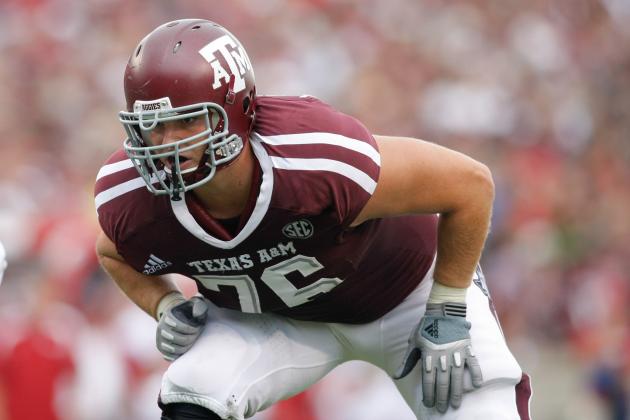 Brett Davis-USA TODAY Sports
Left tackle is not necessarily a need for the Eagles in the immediate future, but Luke Joeckel is tough to pass up.
If Texas A&M offensive tackle Luke Joeckel is available when the Philadelphia Eagles are on the clock, they will be hard-pressed to pass him up. Joeckel is an outstanding all-around left tackle prospect who can be the building block of an NFL offensive line for many years to come.

The Eagles' offensive line has struggled plenty this season, and adding more young talent up front to better protect young quarterback Nick Foles should be among their draft priorities. Even if All-Pro left tackle Jason Peters returns healthy and strong next season from a torn Achilles, drafting the best offensive lineman in the draft class would be a great investment.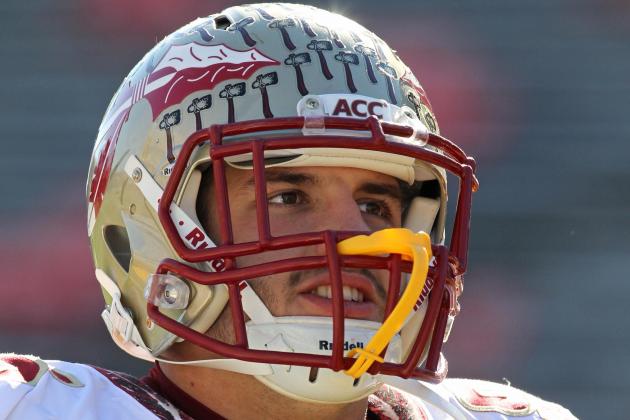 Mitch Stringer-USA TODAY Sports
Bjoern Werner could be the perfect fit to replace Cliff Avril if the Lions lose him to free agency.
With star defensive end Cliff Avril likely to leave as an unrestricted free agent this offseason, the Lions will be in need of a new pass-rusher to replace him. Florida State defensive end Bjoern Werner would be a perfect choice.

With a terrific combination of length, athleticism, burst off the line of scrimmage and tackling ability, Werner is both an excellent pass-rusher and a very good run defender, making him the top defensive end prospect in the 2013 draft class.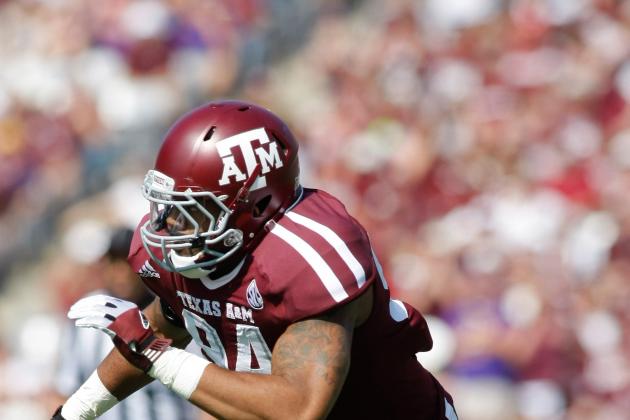 Brett Davis-USA TODAY Sports
The Cleveland Browns need a pass-rusher like Damontre Moore to bring more heat against opposing quarterbacks.
The Cleveland Browns defense has gotten significantly better this season, but it still lacks a premier pass-rushing defensive end.

Texas A&M's Damontre Moore is an athletic playmaker with a great ability to get into opposing backfields, and he would give the Browns a real difference-maker to lead their defensive line.
The Browns need to bring more pressure against opposing quarterbacks, and they can get that from Moore, who is also very solid against the run.
Matthew Emmons-USA TODAY Sports
The Arizona Cardinals' offensive line has struggled mightily this season, but Taylor Lewan could help fix that problem.
The Arizona Cardinals may desperately need a new quarterback, but if they are going to invest in a new signal-caller, they need to rebuild their offensive line. That starts with finding a premier pass protector to line up at left tackle, which they can get with Michigan's Taylor Lewan.

Lewan is a well-rounded left tackle who plays with a combination of strength, footwork, leverage and technique that make him a good fit to lead a line at the next level. He could be an immediate upgrade to an offensive line that has allowed a league-high 56 sacks this season.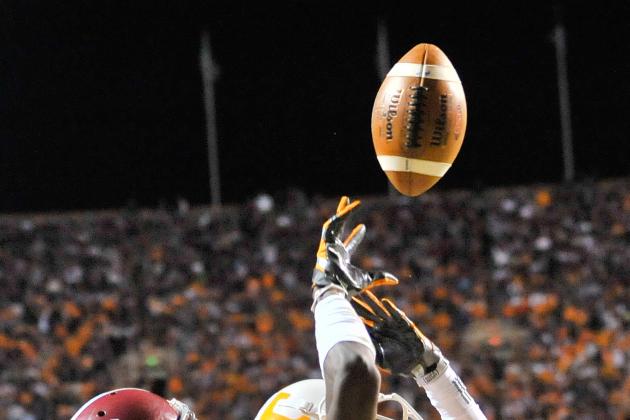 Jim Brown-USA TODAY Sports
Dee Milliner could be the No. 1 cornerback the Tampa Bay Buccaneers currently do not have.
When the Tampa Bay Buccaneers traded Aqib Talib to the New England Patriots, they moved on from their No. 1 cornerback. Add in the fact that the Buccaneers could release Eric Wright after a suspension that voids future guaranteed money in his contract, and it is likely the Buccaneers will draft a cornerback early in the 2013 draft.

Alabama's Dee Milliner is a big, athletic, instinctive and physical cornerback good enough to be a top-10 pick, and he would be very tough for the Buccaneers to pass up given their need at the position.
Utah defensive tackle Star Lotulelei could also be a very tempting choice, as he would give the Buccaneers an elite defensive tackle pairing with Gerald McCoy—but Milliner is well worth a top-10 pick and would address the team's biggest position of need.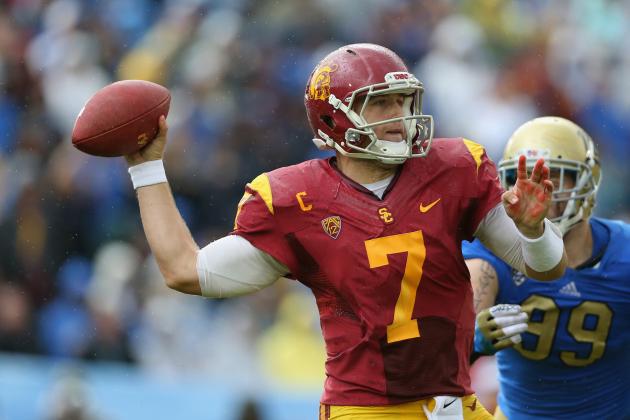 Jeff Gross/Getty Images
Matt Barkley will likely be one of the top quarterbacks drafted, and the Buffalo Bills are a likely destination.
Geno Smith is the only quarterback in this draft class who should be going as a top-10 pick (and even he would be a bit of a reach in a stronger draft class), but quarterbacks are consistently over-drafted.
One team likely to be looking for a new quarterback in the first round of the 2013 draft are the Buffalo Bills, who are unlikely to make the next step to playoff contention without upgrading from Ryan Fitzpatrick.

USC's Matt Barkley has had his stock take a massive hit from being the projected No. 1 overall pick coming into the season, but he is still enticing enough to be a top-10 pick. While his senior year has been a disappointment, he has the tools to be a very good NFL starting quarterback and is the signal-caller most worth taking a chance on in this scenario.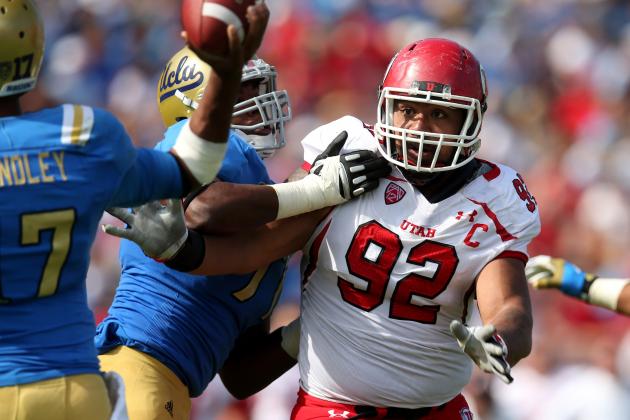 Stephen Dunn/Getty Images
Star Lotulelei's value at the end of the top 10 would be tough to pass up.
Utah nose tackle Star Lotulelei is a disruptive force who makes a strong case to be considered the top overall prospect in the draft class. His value would be tough for the Tennessee Titans to pass up at the end of the top 10.

While defensive tackle isn't among the Titans' biggest needs, they don't have any real difference-makers on their defensive line. Lotulelei is not just a massive body at the position, but a player with both great power and explosive quickness, making him a dominant run-stopper and also an effective interior pass-rusher.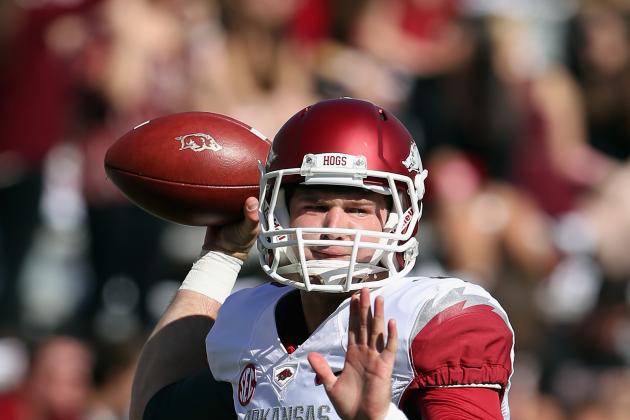 Streeter Lecka/Getty Images
With Mark Sanchez unlikely to return as the New York Jets quarterback in 2013, his replacement could be Tyler Wilson.
The New York Jets' starting quarterback next season is almost certainly not a player currently on the roster. Multiple outlets, including the Associated Press and New York Daily News, reported that according to sources, the Jets could trade or release both Mark Sanchez and Tim Tebow this offseason.

That makes it very likely that if one of the draft's top three quarterback prospects is still on the board when the Jets are on the clock, they will draft their next signal-caller. Arkansas' Tyler Wilson is a reach as a top-15 draft pick, but he is a skilled pocket passer with a strong arm and has the potential to be a very good starter.

The Jets could certainly get better value this early in the first round with players at other positions of need, but signs currently point to them drafting a new quarterback in 2013. Wilson would be a solid choice and, at the very least, would be an upgrade over their current situation.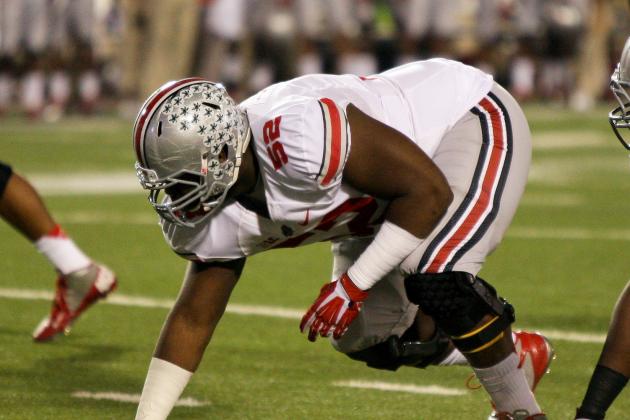 Pat Lovell-USA TODAY Sports
Johnathan Hankins would be a major upgrade to the Panthers' interior defensive line.
The Carolina Panthers' biggest need to improve their run defense is to add a difference-maker at defensive tackle. They could get that player in Ohio State's Johnathan Hankins.

While Hankins isn't quite the dominant and consistent disruptor that Star Lotulelei is, he is massive like Lotulelei and has explosive quickness. Hankins has the potential to be an elite defensive tackle in the NFL, especially in terms of stopping the run.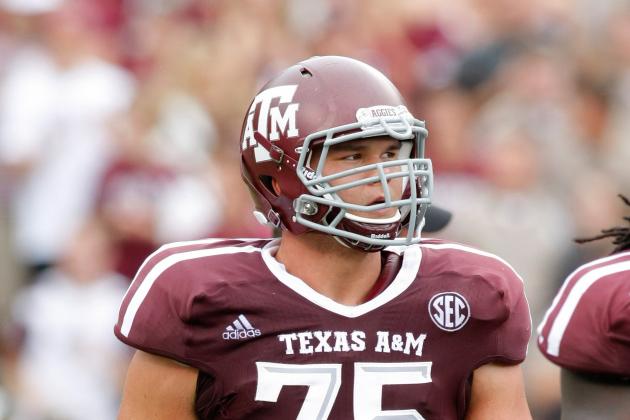 Brett Davis-USA TODAY Sports
The San Diego Chargers have a great need at offensive tackle, and Jake Matthews could be an immediate fix.
Jake Matthews' stock is rising, and the San Diego Chargers are actually moving down the draft order with some late-season wins. If they can still get the Texas A&M offensive tackle, he would be a perfect choice for them.

Matthews has the potential to be excellent as either a left or right tackle at the next level, both positions of need for the Chargers. Matthews is a standout right tackle at A&M, but if it wasn't for Luke Joeckel on the left side, he would likely be dominant at that position as well.

Matthews is a very skilled pass-blocker with great length and athleticism for an offensive tackle, and he could be an upgrade at left tackle over Mike Harris or at right tackle over Jeromey Clary.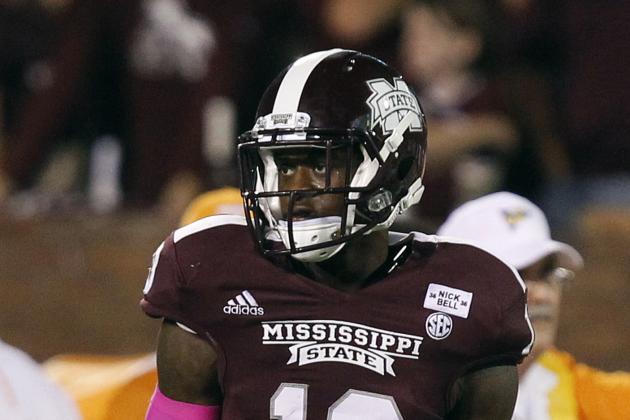 Butch Dill/Getty Images
Johnthan Banks has the talent to be the cornerback they hoped Vontae Davis would be as a 2009 first-round pick.
Having traded Vontae Davis prior to the start of this season, the Miami Dolphins need another cornerback to start across from Sean Smith. Drafting one in the first round would make sense in this scenario, as Mississippi State's Johnthan Banks is a very good all-around cornerback prospect and good value in the middle of the first round.

Banks has the size, athleticism, instincts and physicality to match up with the NFL's best wide receivers. He could give the Dolphins a formidable duo at the position for years to come.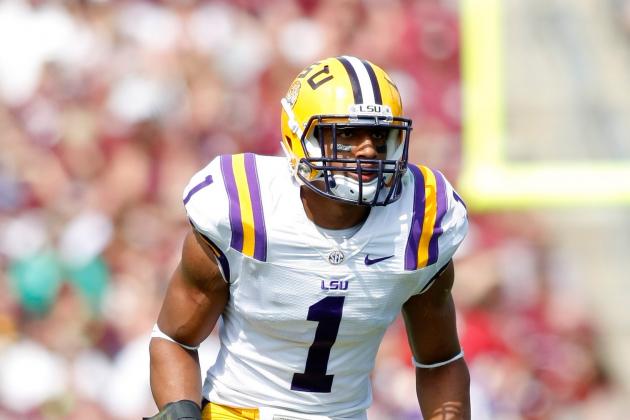 Brett Davis-USA TODAY Sports
The St. Louis Rams can add a much-needed playmaker at the safety position with Eric Reid.
The Rams need to add a playmaker at safety, especially one with great coverage skills. LSU's Eric Reid, an athletic and hard-hitting safety who excels in both pass coverage and run support, would fit the bill.

With two first-round picks, value should be at a premium with the Rams' first choice, and they could fill a need with Reid while also drafting one of the best values on the board in this scenario.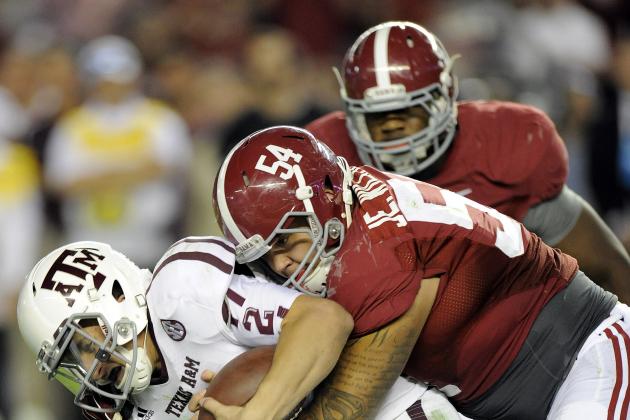 John David Mercer-USA TODAY Sports
Jesse Williams could bring much-needed youth to the nose tackle position for the Pittsburgh Steelers.
The Pittsburgh Steelers need reinforcement at the nose tackle position. At age 35, nose tackle Casey Hampton's best years are behind him, and his heir apparent, Alameda Ta'amu, was cut earlier this season after being arrested on felony charges.

Alabama's Jesse Williams is a strong, powerful and explosive defensive lineman who is a perfect fit to anchor the Steelers' three-man defensive front as its next nose tackle.
Kevin C. Cox/Getty Images
Barrett Jones' versatility would be a huge asset to the Dallas Cowboys' offensive line.
The Dallas Cowboys need to rebuild the right side of their offensive line, so drafting a versatile offensive lineman with the polish to start immediately is exactly what they need with their first-round pick. They could get that from Alabama's Barrett Jones.

Jones, a two-time consecutive All-American offensive lineman at two different positions, has played all five spots on Alabama's offensive line over the course of his career. He is best suited to play on the interior line at the next level, where he could be an immediate upgrade for the Cowboys at either right guard or center, but could also play at right tackle if needed.
Brett Davis-USA TODAY Sports
Barkevious Mingo's athleticism could lure the New Orleans Saints into picking him to improve their pass rush.
The New Orleans Saints' starting defensive ends, Cameron Jordan and Will Smith, are both very solid against the run, but neither is a truly dynamic pass-rusher. The Saints could really benefit by adding a pass-rushing specialist who can rotate in, and that could make LSU's Barkevious Mingo an attractive choice to them.

Mingo is a boom-or-bust prospect who struggles in run defense and had a disappointing junior season, but he is a very explosive athlete with the potential to be a terrific pass-rusher. He is not a great fit for a 4-3 scheme, but he has the potential to make an impact, and his in-state ties could lure the Saints to him.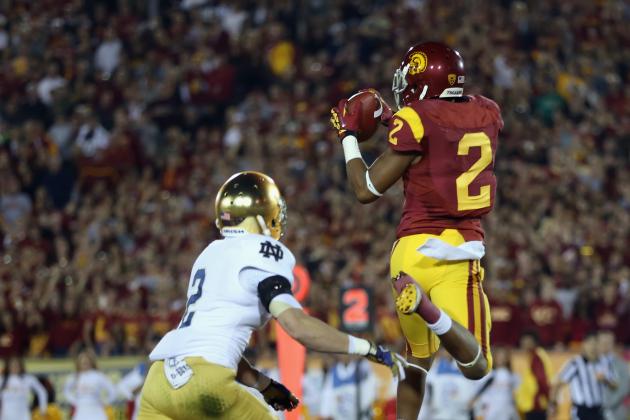 Jeff Gross/Getty Images
Christian Ponder needs a go-to receiving target, and he could get that in Robert Woods.
The Minnesota Vikings are in desperate need of wide receivers, so unless one of the top two defensive tackles is still available when they are on the clock, they could be the team to select the draft's first wideout.
The best all-around wide receiver in the class is USC's Robert Woods, who could become an immediate go-to target for Christian Ponder, who has struggled this year without a steady complement of receivers to work with.

Woods does not have the prototypical size and speed of a top wide receiver prospect, but he is a terrific route-runner with great hands. He may not burn opposing cornerbacks with his speed, but he can, more importantly, consistently get open and has the open-field quickness to make plays after the catch.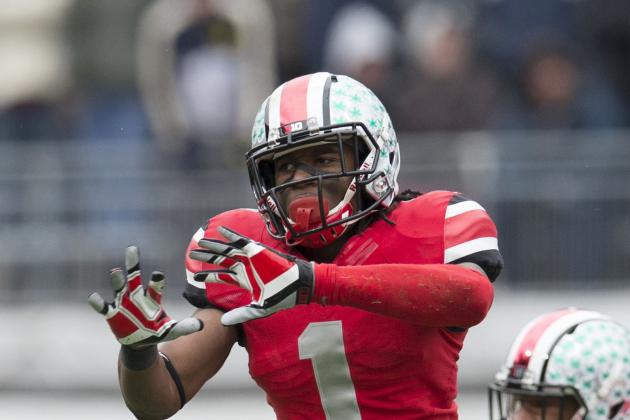 Greg Bartram-USA TODAY Sports
Bradley Roby could help the New York Giants get back to making a Super Bowl run in 2013.
The New York Giants pass defense has struggled much more than expected this season and is a big reason why the defending Super Bowl champions are almost certainly going to miss going back to make the playoffs.
The Giants need to improve at cornerback, where their personnel has been very unreliable this season, and Ohio State's Bradley Roby is as good as any player available in this scenario.

Roby became a big playmaker at cornerback for the Buckeyes in his sophomore season, and with great speed, ball skills, physicality and tackling ability, his skill set should translate well to the next level. If he declares as an underclassman, he is good value at the end of the top 20.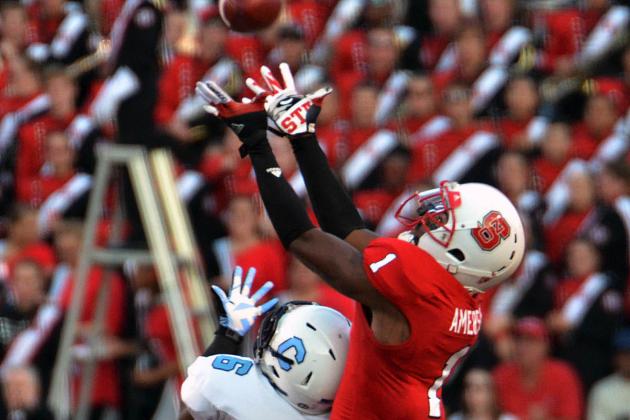 Rob Kinnan-USA TODAY Sports
David Amerson has the potential to be an upgrade at either cornerback or free safety for the Bengals.
The Cincinnati Bengals need to add playmakers to their secondary. North Carolina State's David Amerson, a big defensive back with great athleticism and ball skills, could be the player they need.

Amerson tends to be overaggressive in coverage, but he has a tremendous nose for the ball. He has a great combination of size and athletic range, which gives him the potential to transition to free safety as well, where he could fill a major need for the Bengals.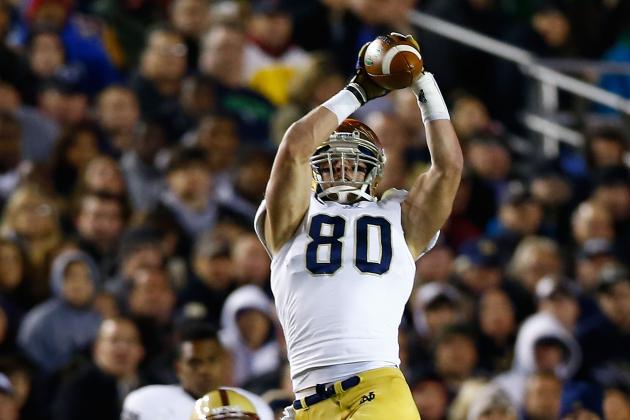 Jared Wickerham/Getty Images
Tyler Eifert could be the NFL's next star tight end.
The St. Louis Rams still need to add more weapons to their offense. If they have a chance to select the draft's best offensive playmaker, Notre Dame's Tyler Eifert, with their second first-round pick, it would be a great addition to give their offense more explosiveness.

A prototypical tight end with great size and athleticism, Eifert is a vertical receiving threat and also an adequate blocker. He is better than any wide receiver in the draft class, and he could help the Rams offense as a downfield playmaker and provide help in run-blocking.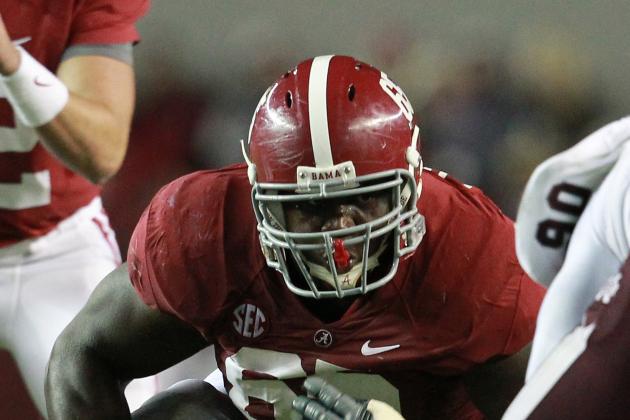 Marvin Gentry-USA TODAY Sports
Chance Warmack could upgrade an offensive line that has struggled all season long.
The Chicago Bears could truly use an upgrade at any and every position on their offensive line. Alabama guard Chance Warmack is the best offensive lineman available in this scenario and is terrific value late in the first round.

Warmack could be an immediate upgrade for the Bears at either guard spot. He is a massive, powerful guard who is dominant in the ground game and has very good feet for his size, allowing him to move well and pick up blitzers as both a run- and pass-blocker.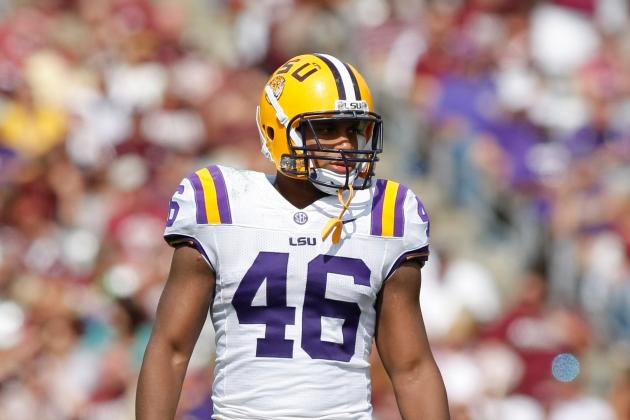 Brett Davis-USA TODAY Sports
Calling Kevin Minter the next Ray Lewis would be a huge stretch, but he could be set to fill his shoes.
As one of the league's oldest players at 37, and having missed nearly the entire regular season this year with a torn triceps, legendary inside linebacker Ray Lewis' future is unclear going forward over the next few seasons.
Outside of Lewis, the Ravens don't have much talent to fill their two inside linebacker spots, so they need to search for another long-term option at the position.

LSU's Kevin Minter is an all-around playmaker who is an attacker in run defense and a very good athlete who can blitz the quarterback and also drop into coverage effectively. Grooming Minter as an eventual replacement for Lewis, while having him line up next to the team's emotional leader until then, could be a very good plan for both the immediate and long-term future of the Ravens defense.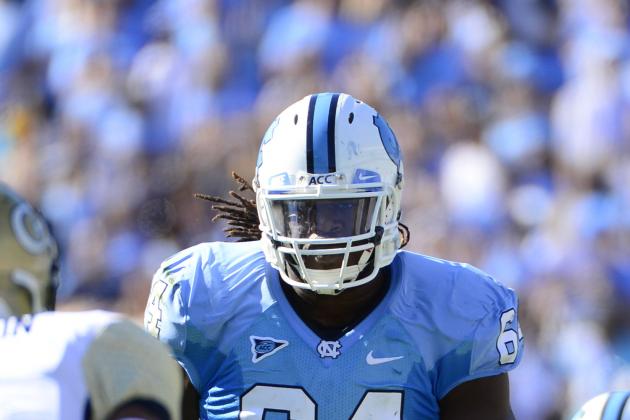 USA TODAY Sports
After investing in their quarterback in last year's draft, investing in players who can protect him is the next priority.
The Indianapolis Colts' interior offensive line is a mess and must be upgraded both for the purpose of better protecting young quarterback Andrew Luck and lead blocking for the ground game.

North Carolina's Jonathan Cooper has great size and power, combined with the best feet of any guard prospect in the draft class. He is very good as both a pass- and run-blocker, and he would be a great addition to a struggling unit.
Jeff Blake-USA TODAY Sports
Sheldon Richardson could add another difference-maker to the Green Bay defense.
The Green Bay Packers have a solid group of interior defensive linemen, but they lack an explosive interior pass-rusher to truly complement B.J. Raji in their two-man nickel pass defense fronts.

Missouri's Sheldon Richardson is the best pass-rushing defensive tackle in the draft class and would be great value late in the first round. The offensive line is the Packers' biggest need for the 2013 NFL draft, but any available lineman would be a reach at this point, while Richardson could end up being a steal and a difference-maker.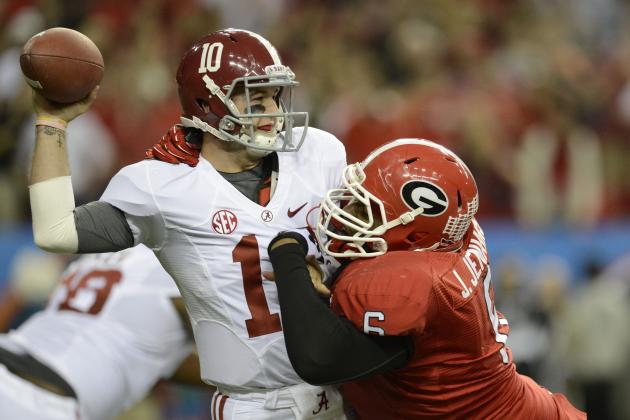 USA TODAY Sports
Drafting John Jenkins could give the Denver Broncos one of the NFL's best defensive lines.
The Denver Broncos need to upgrade at defensive tackle. Specifically, they need a big, powerful nose tackle who can improve their interior run defense.

Georgia's John Jenkins would be a perfect fit, as he is a massive, 350-pound-plus nose tackle who is a dominant run-stopper. But even at such a massive size, he has the quickness to be a three-down lineman and provide a bigger bull-rushing lineman to complement Derek Wolfe as an interior pass-rusher.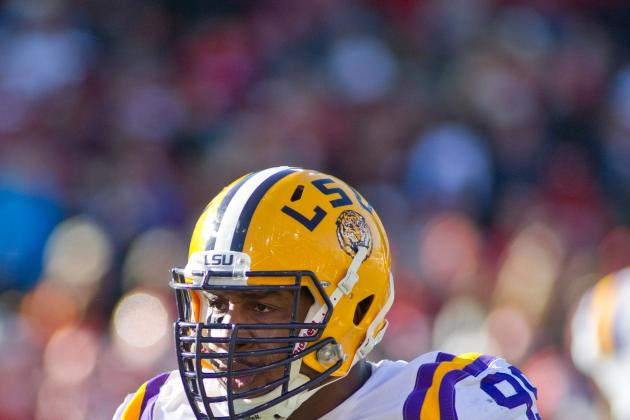 USA TODAY Sports
Sam Montgomery has the potential to be what the Atlanta Falcons hoped Ray Edwards would be.
Having released Ray Edwards earlier this season, the Atlanta Falcons are likely to be in the market for another pass-rushing defensive end; a player who can bring an explosive burst and rotate on all three downs with John Abraham and Kroy Biermann.

LSU's Sam Montgomery could be exactly that and is great value late in the first round. Montgomery is a skilled edge rusher, but is also sound against the run and could strengthen a defensive line that is among the weaker areas of the Falcons roster.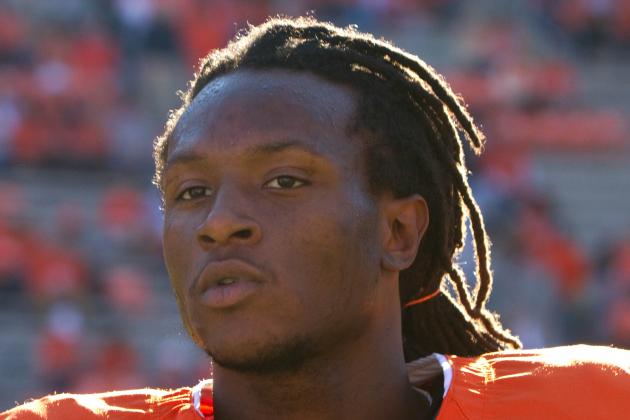 Joshua S. Kelly-USA TODAY Sports
Drafting DeAndre Hopkins would give Russell Wilson a marquee receiving weapon to work with.
Rookie quarterback Russell Wilson has exceeded all expectations and taken the NFL by storm right away, but the Seahawks can help him get even better by adding a true deep threat at the wide receiver position. Wilson has shown this year that he can make plays deep down the field, but he does not yet have a consistent downfield threat.

Clemson's DeAndre Hopkins can be that receiver. Hopkins has a great burst and very good downfield speed, and while he does not get the attention of some other wideouts still available on the board, he may be the best deep threat in the draft class.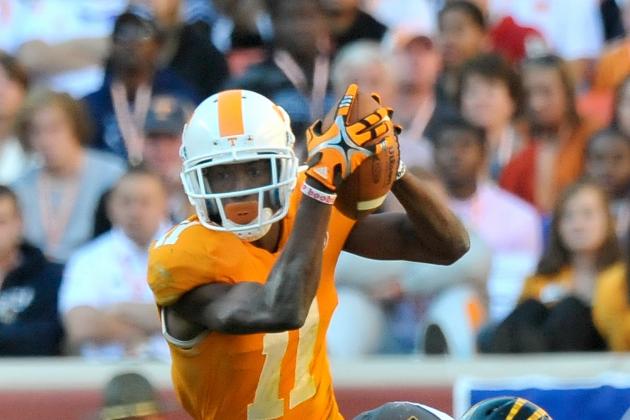 Jim Brown-USA TODAY Sports
Andre Johnson and Justin Hunter could make an outstanding wide-receiver duo in Houston.
The Houston Texans have one elite wide receiver in Andre Johnson, but have yet to find a productive playmaker who can draw pressure and coverages away from Johnson on the other side of the field.
The Texans will likely be in the market for a big, fast wide receiver who opposing defenses will have to take seriously, and Tennessee's Justin Hunter has the potential to be that player.

Hunter has the most upside of any wide receiver in the draft class. He is an inconsistent performer, but when he is at his best, he is an explosive playmaker with great athletic ability and the ability to make even very challenging catches.
Charles LeClaire-USA TODAY Sports
If the Patriots lose Wes Welker, Tavon Austin could be an ideal replacement.
The New England Patriots are already thin at wide receiver. If Wes Welker leaves this offseason as an unrestricted free agent, a new slot receiver will be needed.

With terrific speed, quickness and route-running, West Virginia's Tavon Austin is a terrific playmaker and would be a perfect fit to replace Welker.
The Patriots already have the NFL's most explosive passing offense, and Austin's ability to make plays in the open field and gain yards after the catch could potentially make them even better next season, even if they lose Welker.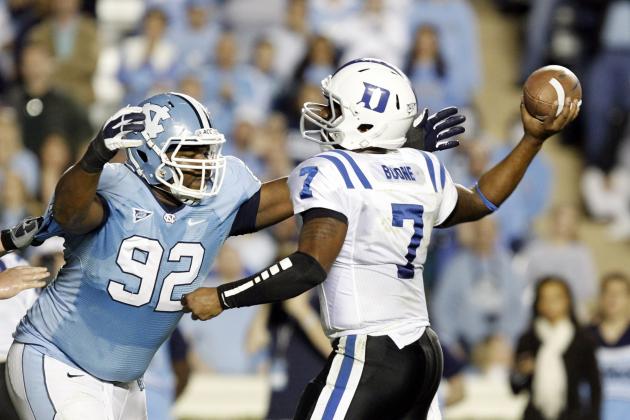 USA TODAY Sports
Sylvester Williams could make a strong 49ers defensive front even stronger.
The San Francisco 49ers have an elite defensive front seven, but the one piece they lack is a true anchoring nose tackle in the middle. Sylvester Williams isn't a true nose tackle, but the 49ers could make a strong defensive front even stronger by adding him into the mix.

At 320 pounds, Williams has enough size to line up as a nose tackle, while he has explosive quickness and interior pass-rush ability that make him an option to play a rotational role at defensive end in the three-man front as well.
Williams could be an asset both in improving the defensive line's pass rush and making them stronger against the run.
Dan Hope is an NFL draft Featured Columnist and the New England Patriots game-day correspondent for Bleacher Report.