Mid-Season Awards for the Los Angeles Clippers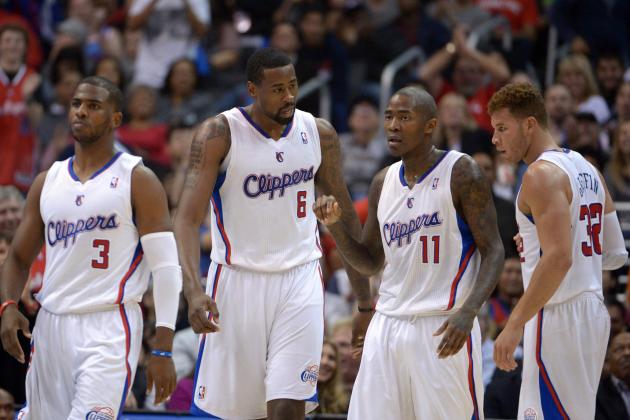 USA TODAY Sports

As we cross the halfway mark of the 2012-13 NBA regular season, the Los Angeles Clippers are amongst the NBA's elite. Long known as the NBA's doormat, the Clippers have emerged as the best team in Los Angeles.
So who deserves team-specific mid-season awards for their role in such glorious achievements?
From the star performers to the jaw-dropping wins, the Clippers have players and feats that have earned a high level of praise. Although the second half of the season has yet to develop, one thing is perfectly clear.
The following slides will illustrate which players and moments defined the first half of the season.
Begin Slideshow

»
Player: Chris Paul
Feat: 5,000 Career Assists
Date: December 19, 2012
Opponent: New Orleans Hornets
Result: 93-77, Win
For all of the phenomenal dunks, crossovers and clutch shots, no moment was more impressive than Chris Paul's pass to Blake Griffin for a second quarter layup.
As bland as that play may be, it was historic.
CP3 reached the 5,000 assist mark on said play.
As fate would have it, Paul was playing the New Orleans Hornets when he achieved the feat—the team that drafted him.
I was inclined to go with the Clippers singing Jingle Bells, but I'll refrain for the sake of history.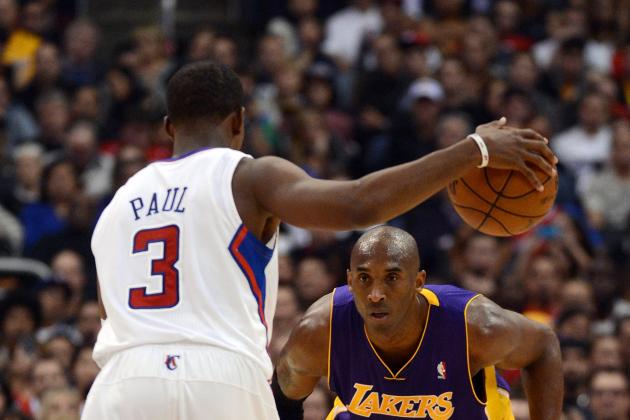 Harry How/Getty Images

Final Score: 107-102
Opponent: Los Angeles Lakers
Date: January 4, 2013
Venue: Staples Center
Many will look at the Los Angeles Clippers' January 5 revenge win over the Golden State Warriors as the turning point.
Although it was a beautiful display of art and teamwork, it was one day earlier that mattered most.
When the Clippers played their bitter rival Los Angeles Lakers on January 4, 2013, much more than bragging rights were on the line.
The Clippers finished 2012 on a franchise record 17-game winning streak. They didn't lose a single game during the month of December.
Unfortunately, they began 2013 with consecutive double-digit losses: 92-78 against the Denver Nuggets and 115-94 at the Golden State Warriors.
In turn, theories of their illegitimacy began to mount.
On January 4, however, the Clippers secured a 107-102 victory over the Lakers behind Chris Paul's 30 points and 13 assists.
In turn, LAC effectively began another streak. One which proved their legitimacy as a title contender.
Since dropping two in a row to begin 2013, the Clippers are 7-2 in their past nine games. Their victory over the Lakers is the day where it all began.
Their confidence was restored, their legitimacy was established and the Clippers got their groove back.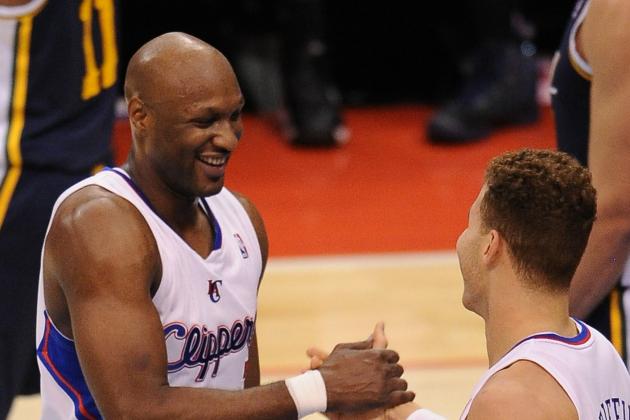 Jayne Kamin-Oncea-USA TODAY Sports

Winning Streak: 17 Games
Points Per Game: 104.7
Points Allowed Per Game: 89.5
Point Differential: 15.2
Starting on November 28, 2012, the Los Angeles Clippers dominated their opponents. If you don't believe that, check the following facts.
The Clippers won 17 consecutive games. During that time, they won by an average margin of 15.2 points per contest.
They didn't lose a single game during the month of December.
L.A. also won seven consecutive games by at least 10 points. They won five separate games by at least 20.
Dominant.
Per Basketball-Reference, this was the longest winning streak since the Boston Celtics won 19 consecutive in 2008.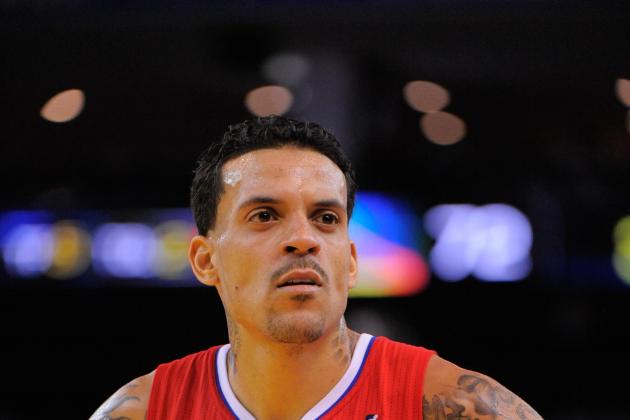 Kyle Terada-USA TODAY Sports

Position: Small Forward
Age: 32
Experience: 10th Season
2011-12 Season Averages
15.55 PER, 22.9 MPG, 7.8 PPG, 5.5 RPG, 2.0 APG, 0.8 BPG, 0.6 SPG
2012-13 Season Averages
17.69 PER, 26.6 MPG, 11.2 PPG, 5.2 RPG, 1.5 APG, 0.9 BPG, 1.2 SPG
In the midst of his 10th season, Matt Barnes has been playing the best basketball of his entire career.
By the numbers, Barnes is posting career bests in points, steals, blocks, Player Efficiency Rating and True Shooting Percentage.
With an average of 11.2 points per game on a slash line of .484/.357/.746, it's clear that Barnes has, in fact, become a two-way threat.
As for the defensive end, Barnes is up to his usual tricks.
Barnes is averaging career-bests of 1.2 blocks and 0.9 steals per game. He's also smothering anyone from shooting guards to power forwards.
Like a fine wine, Barnes just gets better with time.
Kyle Terada-USA TODAY Sports

Position: Center
Age: 24
Experience: Fifth Season
2012-13 Season Averages
16.62 PER, 24.3 MPG, 8.8 PPG, 6.9 RPG, 1.5 BPG, 59.6% FG
DeAndre Jordan has made as many strides as any young player in the NBA.
After working with Hakeem Olajuwon this past summer, Jordan's post game has seen significant improvements. Such has been on display whenever D.J. has been granted the opportunity to work with his back to the basket.
Unfortunately, those chances have come at the same rate as his playing time—scarcely.
Jordan is averaging just 24.3 minutes per game and has topped 25 minutes in just four his past 18 games.
One can't help but wonder why.
Jordan has posted impressive numbers at 8.8 points, 6.9 rebounds and 1.5 blocks per game in his limited time. He's shooting 59.6 percent from the floor, which ranks second in the NBA.
Unfortunately, inconsistent play has resulted from rapid changes in playing time.
As soon as head coach Vinny Del Negro offers Jordan a more defined role within the rotation, the results will improve. Until then, we will see a severe misuse of this promising center.
Jordan has seen at least 30 minutes in just four of 43 games thus far.
Jennifer Stewart-USA TODAY Sports

Position: Point Guard
Age: 23
Experience: 3rd Season
2011-12 Season Averages
11.24 PER, 11.6 MPG, 3.3 PPG, 1.7 APG, 1.6 RPG, 0.8 SPG, 20.0% 3PT
2012-13 Season Averages
19.16 PER, 19.3 MPG, 8.7 PPG, 2.9 RPG, 2.7 APG, 1.5 SPG, 38.9% 3PT
No player on the Los Angeles Clippers has improved quite like Eric Bledsoe.
The 23-year-old point guard has gone from a promising young athlete to one of the top defensive dynamos in the NBA. For proof, just check the numbers.
Bledsoe, not Chris Paul, leads the league in steals per 48 minutes.
Despite playing just 19.3 minutes per game, the 6'1" Bledsoe leads all point guards at 0.72 blocks per game.
Beyond the numbers, Bledsoe has led the Clippers' second unit to the highest defensive efficiency rating in the NBA.
He's also proven capable of slowing down players at both guard spots.
Perhaps most impressive of all, Bledsoe has developed a more consistent stroke on offense.
Bledsoe is shooting a career-best 38.9 percent from beyond the arc. In fact, his slash line is impressive across the board.
In 2012-13, Bledsoe is shooting .460/.389/.800. In 2011-12, Bledsoe posted a slash line of .389/.200/.636.
Bledsoe has not only improved, but he's made unparalleled strides.
Kyle Terada-USA TODAY Sports

Position: Guard
Age: 32
Experience: 13th Season
2012-13 Season Averages
16.72 PER, 29.1 MPG, 16.6 PPG, 2.4 APG, 1.7 RPG, 1.1 SPG
A Tribe Called Bench deserves praise as a whole. For the sake of the award, however, there is one man who deserves this award on a team and league-wide basis.
Jamal Crawford.
Crawford has been phenomenal in 2012-13, averaging 16.6 points per game on 37.1 percent shooting from beyond the arc. He's also shooting 88.1 percent from the charity stripe—a number that could be key come the postseason for a team that ranks 26th in free-throw percentage.
Furthermore, the Clippers are averaging 102.4 points scored and 91.9 points allowed per 48 minutes that Crawford is on the floor—a 10.5 point per 48 difference.
Those numbers shift to 99.6 points scored and 94.9 points allowed per 48 when Crawford is on the bench, a mere 4.7 point per 48 difference.
Value.
Crawford has been absolutely phenomenal in 2012-13. Not only does he win this award, but he's on pace to earn his second career Sixth Man of the Year honor.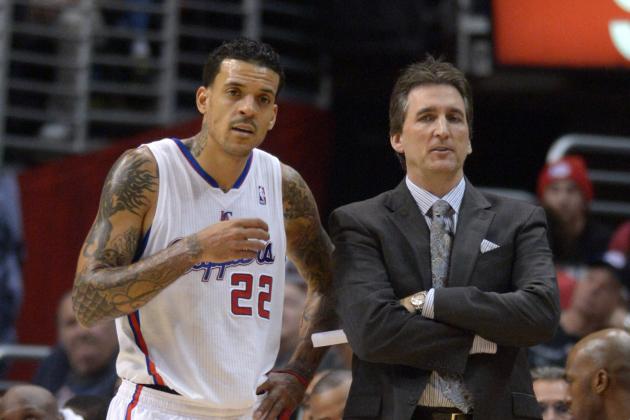 USA TODAY Sports

Position: Small Forward
Age: 32
Experience: 10th Season
2012-13 Season Averages
17.69 PER, 26.6 MPG, 11.2 PPG, 5.2 RPG, 1.5 APG, 1.2 SPG, 0.9 BPG
Chris Paul is considered a defensive guru. DeAndre Jordan is a stopper with his shot blocking.
Even Eric Bledsoe has stepped up as a lead defender.
The fact of the matter is, no player has had more of a defensive impact than small forward Matt Barnes.
For the season, Barnes has a team-best 4.7 point differential in Defensive Rating. The Clippers are allowing just 96.0 points per 100 possessions with Barnes and shift up to 100.7 per 100 without.
Per 48 minutes, LAC is also allowing just 91.7 points with Barnes on the floor.
This has come by virtue of Barnes' most decorated defensive season. He's averaging career bests of 1.2 steals and 0.9 blocks per game.
With his length, tenacity and energy on D, the Clippers have become one of the league's elite defensive units.
Their rank of fourth in the NBA proves just that.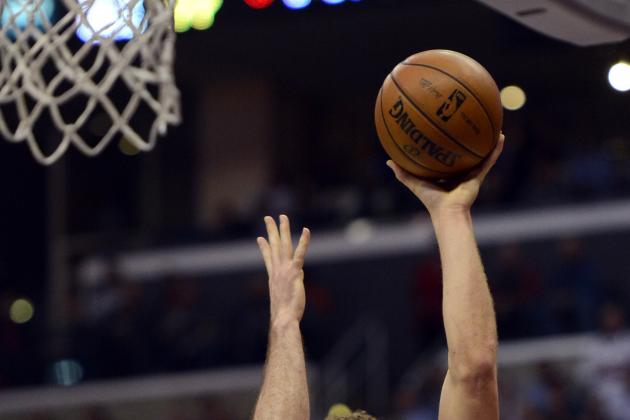 Richard Mackson-USA TODAY Sports

Position: Power Forward
Age: 23
Experience: Third Season
2012-13 Season Averages
22.85 PER, 18.3 PPG, 8.6 RPG, 3.4 APG, 1.5 SPG
If the Los Angeles Clippers are to make a deep run in the postseason, Blake Griffin must perform at a superstar-caliber level.
Thus far in 2012-13, Griffin is averaging 18.3 points and 8.6 rebounds per game. That's down from 20.7 points and 10.9 rebounds in 2011-12.
To be fair, Griffin is also averaging 3.9 minutes less and has seen increases in assists, steals and blocks.
The fact of the matter is, the Clippers need more out of Griffin.
They presently rank 17th in total rebounds per game and 15th on the offensive glass. The need for Griffin's contributions can be found in their 14-4 record when he grabs at least 10 boards.
The Clippers require more than just rebounds, though, as Griffin must pick it up as a scorer.
Griffin is the most wrongfully criticized player in the NBA. Not only has he developed a post game, but he's also becoming consistent with his mid-range jump.
Griffin ranks above Kevin Love, Carlos Boozer and Paul Millsap in 16- to 23-foot field-goal percentage.
As he displayed against the Oklahoma City Thunder on January 22, he's also developing one of the better low-post games amongst young NBA forwards.
Unfortunately, he hasn't dominated the way his talent suggests.
Not yet, at least.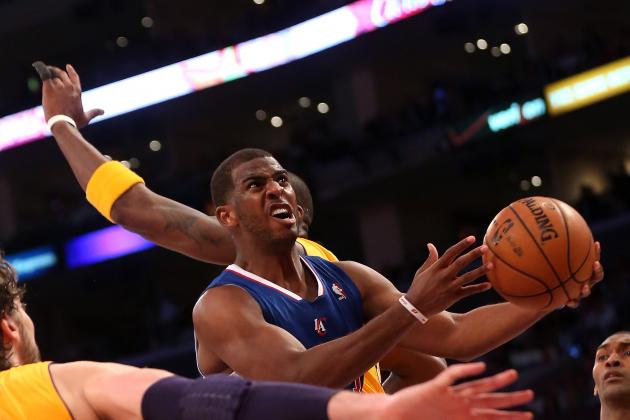 Stephen Dunn/Getty Images

Position: Point Guard
Age: 27
Experience: Eighth Season
2012-13 Season Averages
26.11 PER, 16.6 PPG, 9.7 APG, 3.5 RPG, 2.6 SPG
Chris Paul has changed the identity of the Los Angeles Clippers.
By the numbers, CP3 has been superb. He's presently averaging 16.6 points and 9.7 assists per game while leading the league at 2.6 steals per contest.
The truth of the matter is, no statistics tell the true story of Paul's impact on the Clippers.
CP3 has created a confidence throughout this organization that allows the team to thrive in his absence. Such was evident as the Clippers went 3-0 with Paul on the sideline from January 14 to January 17.
Surprisingly, the team's ability to win without CP3 displays his value.
Paul has created the confidence each player displays on a nightly basis. He's taken young players and given them veteran mentalities and given underachieving veterans reason to believe in their abilities.
Whether statistically or not, CP3 has been nothing short of valuable in 2012-13.