Memphis Grizzlies Players Cast as Christmas Carols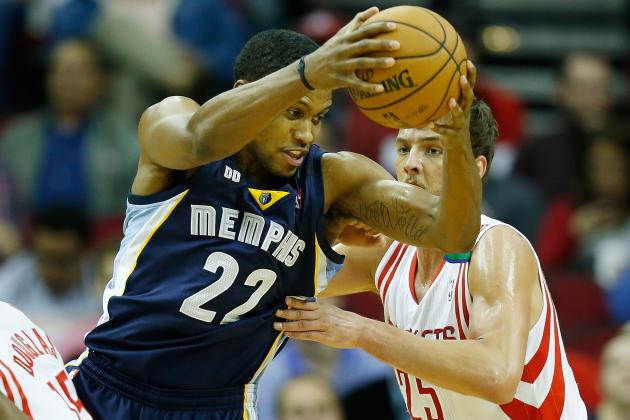 Scott Halleran/Getty Images

The Memphis Grizzlies romped through a fun start to the season before arriving at Christmas Day, perhaps the most fun of all holidays. The Grizzlies entered the widely celebrated holiday in third place in the Western Conference with its best record ever through 25 games.
Not much would be more fun, beyond being 22-3 and No. 1 in the West.
As the Grizzlies and many other teams break for Christmas Day, people will gather together to open presents, share good food and admire the Christmas tree.
Indeed, no one can forget the singing of Christmas carols. Every person has his or her favorite, along with several others ingrained in the brain. Other Christmas songs are drilled into the mind through hours of listening to the radio in the weeks leading up to this magical day of giving.
Before going back to the "grit 'n' grind," several Memphis players will find themselves singing a few carols. Even one of the lower-profile players might end up idealizing himself in one of the carols.
Grizz fans need not imagine what players will imagine for themselves. Instead, fans can look at the following list to see which carols, whether classical or contemporary, best fits each player.
Disclaimer: Statistics are current through Dec. 24.
Begin Slideshow

»
Essential line: "You're a bad banana with a greasy black peel."
Opposing ball-handlers surely see Tony Allen as a Grinch. No fair-minded dribbler would touch this defensive dynamo "with a 39-and-a-half-foot pole."
If he did, then, Allen would be liable to snatch the ball away. Allen is the most terrifying perimeter defender in the league. He's seventh in the league in steals per game (1.9) and third in steals percentage (four percent).
He has the fourth-best defensive rating in the league (96.1 points allowed per 100 possessions) and the best among guards.
The nine-year pro is one who no player would want to go up against.
Considering all he'll take from them, slashers can't help but believe that Allen is the one who stole Christmas.
Essential line: "Will your faith stand still or run away?"
No one would envy Joseph, the father of Jesus. He was a relatively normal guy—a carpenter—engaged to a nice young girl who suddenly finds she has a baby that he didn't have any part in creating.
But it's okay because the main characters in this story all get to talk to angels. After some convincing, Joseph takes the stand.
Likewise, no one would envy Rudy Gay. He's ostensibly a human player, capable of remarkable feats, but also liable to fall short in the clutch. He'll jump out on fast breaks, throw down monstrous dunks and make other spectacular plays.
He's quite capable of scoring 20 points regularly but has only done it 10 times thus far this season.
His offensive capacity is remarkable, but he sometimes seems as reluctant as Joseph was. Whereas Joseph might have wished he "were back at the carpenter's shop," Gay is at times sitting at home on the wing instead of taking control.
Sometimes, the situation calls for Gay to step up and take the last shot. That hasn't always gone well for the Baltimore native. He missed two potential game winners against the Clippers in the playoffs.
In mid-December, he missed a game-ending shot against the Phoenix Suns and a pivotal three-pointer late against the Denver Nuggets.
Not many people are interested in the pressure of taking the last shot.
Anyway, after his erroneous attempts at the ends of games, Grizzlies fans have to wonder whether his faith will stand or run away.
Essential line: "On my Heavy Metal Christmas, my true love gave to me: three studded belts, two pairs of spandex pants and a tattoo of Ozzie."
For Twisted Sister, Christmas isn't Christmas if it isn't an intense Christmas. When it comes to Zach Randolph, the same goes for the action on the court. His game wouldn't be the same if it weren't played intensely.
Lacking the size, length and jumping ability of many other skilled rebounders, Randolph goes extra hard and extra strong to exact his might on the boards. He powers his way to the rack and positions himself well for the ball.
His fadeaways aren't exactly works of beauty, but he pulls them off crisply.
Some would be at ease with a classical rendition of the "Twelve Days of Christmas," but Twisted Sister wouldn't settle for it.
Similarly, Randolph can't settle for playing the game like anyone else.
Essential line: "Peace on Earth, can it be? Years from now, perhaps we'll see."
In this carol medley, David Bowie and Bing Crosby start out singing "The Little Drummer Boy" together before Bowie breaks away with "Peace on Earth."
After slowly breaking away into the starter role early in his career and building himself up over time, Mike Conley has made his path as a solid point guard.
Just as Bowie's melody blossomed as the song went along, Conley's game still continues to blossom. He's knocked down more three-pointers than before, averaging a career-high 1.5 threes made per game and is shooting a career-high 40.7 percent from three-point range.
His defense has become stronger than ever. The Ohio State product is averaging a career-best 2.5 steals per game and allowing 99 points per 100 possessions.
Will he reach his peace on the court and settle down as an elite player? He'd have to rein in his turnovers, which ballooned to 2.9 per game this season.
Essential line: "Beben y beben y vuelven y beben (They drink and drink and return and drink)."
This popular Spanish Christmas carol depicts the excitement shown by a school of fish at the chance of seeing the baby Jesus. The fish rush to drink water just to be in the wonderful presence of the infant savior.
Now, Grizz fans rush just to see the evolving game of Marc Gasol. He's become one of the most spectacular centers in the game. He produces 121.6 points per 100 possessions. He's terrific defensively, blocking 1.8 shots per game.
Gasol has 4.1 win shares, which is sixth in the league, showing the great value he has to the team.
As they return and return again, fans of the "grit 'n' grind" will become even more enamored with the Spanish big man.
Essential line: "If you're the only thing I ever get for Christmas, then everything I wish for will come true."
If Hamed Haddadi is the only thing Grizzlies fans get for Christmas, then everything they'd wish for would come true.
Haddadi hardly plays, but he's a fan favorite. He stacks up blocks and rebounds quickly. He grabs 2.3 rebounds in 6.5 minutes per game (good for 12.5 per 36 minutes).
After the Grizzlies re-signed Haddadi, Chris Wallace admitted to The Commercial Appeal that the Iranian center was retained in part because of his popularity with the fans.
Haddadi also had a trending Twitter hashtag during the offseason. Among those that showed the greatest admiration for him was this:
Hamed haddadi did not need to be drafted. He was chosen. #hamedhaddadism

— Duncan Nicol (@funkmaster_dunc) June 29, 2012
Essential line: "Happy day after Christmas and merry rest of the year."
Christmas is a wonderful day. When the day ends, the masses of people who see it as a one-day event move on to the rest of the year.
Wayne Ellington has had a few bright moments in his short tenure in Memphis. He knocked down seven three-pointers en route to 25 points to key a win against the Miami Heat on Nov. 11.
In the loss to the Nuggets on Dec. 12, the former Minnesota Timberwolf hit three treys on his way to 11 points in 18 minutes. He helped in a win against the Chicago Bulls with 11 points in 20 minutes.
Just as so many people move on to normal life after Christmas Day, Ellington walks away from those big games and goes back to playing ordinary ball and scoring in the single digits, as he's done 21 times.
Eventually, he'll have to work to make more games special for himself, just as people may want to try to make the rest of the year feel like Christmas.
Essential line: Not applicable (no lyrics)
"A Charlie Brown Christmas" runs off the energy of this high-energy theme song. Similarly, the Grizzlies' second unit runs off the energy of the antsy point man, Jerryd Bayless.
"Linus and Lucy" may sometimes seem like it will run off the tracks at this tempo.
Bayless goes hard, perhaps too unwieldy for his own good. He turns it over 1.6 times in 16.8 minutes per game, coughing it up at a 20.9 percent clip.
Like the song, Bayless does provide some fun. He averages a fair 12.5 points per 36 minutes and shoots an acceptable 40.1 percent from the field. He's scored in double figures three times.
Maybe, like the Christmas play in the movie, Bayless will smooth out his act.
Essential line: "Along the stockin' I can hear a knockin'. Is 'zat you, Santa Claus?"
Little children sit by the tree waiting for a big man to lay down the gifts they're waiting for. On that special night, Santa Claus—as long as you'll believe it—will bring the goods.
Like Santa Claus, Marreese Speights is a guy upon whom people gaze with admiration. He has great range for a big man. He also jumps on the boards energetically.
Speights' scoring ability provokes great excitement. He can easily put up 15 to 20 points. But due to his streaky shooting and short minutes, he only averages 6.2 points per game and has scored in double figures four times.
Grizz fans eagerly await Speights' arrival at the basket, but they sometimes have to wonder if he's really coming to score.
Essential line: "What if happiness came in a cardboard box? Then there's something that we all forgot."
Something deeper lies in the magic of Christmas than the presents, as this song relates.
For Darrell Arthur, there has to be something more to the game than just appearing in games and running around, scoring and getting occasional rebounds.
Three of his last four seasons have been marred by injuries. Arthur missed out entirely last season after tearing an Achilles tendon in camp. This September, he broke a leg days before camp started and missed the first month of the season.
Perhaps he'll experience good health for a few years. That would have to be a blessing for him.
Something more has to make the game special for Arthur. Enjoying good health might have to be part of that.
Essential line: "We're simply having a wonderful Christmas time."
Paul McCartney's voice may be unrecognizable in this synthesized melody.
In the same vein, Quincy Pondexter's game seems unrecognizable to those who watched him before this season. He's averaging 6.6 points per game and shooting 42.6 percent from the three-point range after putting up just 4.2 per game and holding a 30.1 percent clip last year.
Pondexter can't be anything less than jubilant with how his season has gone thus far.
Hence, he could be seen for the next 12 days telling people about his wonderful Christmas time.