Comparing Every NBA Team's Best Player to an NBA Legend: Part 1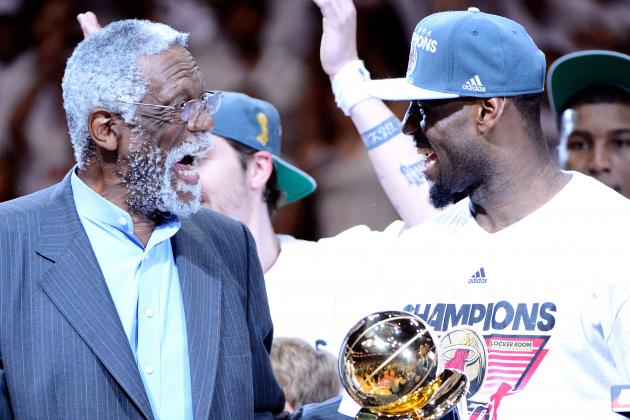 Ronald Martinez/Getty Images

One of the best things of being an NBA fan is seeing new exciting players come into the league and do things with a style of their own. In today's league, players like Chris Paul, James Harden and Kobe Bryant play basketball in uniquely spectacular ways.
However, when you watch these guys play, sometimes you get a feeling of deja vu. It's almost as if you've seen that particular pass before. Or maybe you've seen a similar shot in a similar situation. In a league that's been around since 1949, odds are you'll see players replicating, imitating and duplicating the numbers, the style and the play of previous players.
So, here in the last week of 2012, we're going to compare the best current player on every Eastern Conference squad with a legend of years gone by.
Keep in mind, these are comparisons, not an exact match for every player. Still, the similarities you'll see are interesting to know about. Yes, a player as exciting as LeBron James is amazing, talented and gifted, but his amazingly talented gifts have been seen before in some form. The same goes for all of today's best players.
Let's see who Deron Williams, Carmelo Anthony, Greg Monroe and other Eastern Conference stars compare favorably to over the years.
*All statistics via basketball-reference and are accurate as of 12:00pm Eastern Time December 25, 2012*
Begin Slideshow

»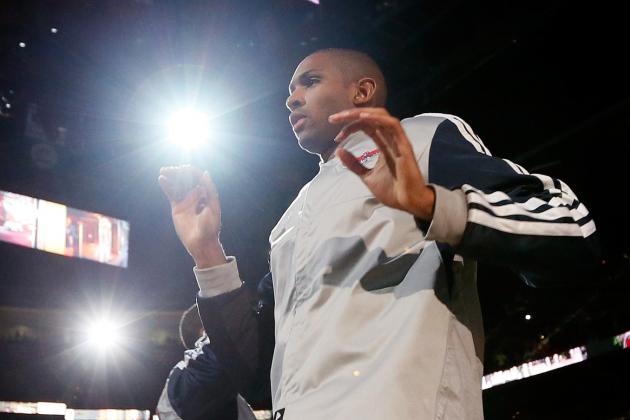 Kevin C. Cox/Getty Images

Al Horford - 6'10", 245 lbs.
13.0 PPG, 9.5 RPG, 2.5 APG, 1.1 BPG, 0.8 SPG, 53.5% FG, 74.7% FT
Sam Lacey - 6'10", 235 lbs.
10.3 PPG, 9.7 RPG, 3.7 APG, 1.5 BPG, 1.3 SPG, 44.1% FG, 73.8% FT
Atlanta Hawks center Al Horford is an unheralded, steady force despite his two All-Star selections in 2010 and 2011. Nothing about his game is flashy. It's a never-ending stream of smart, heady plays that rarely make the highlight reel. He's adept at hitting mid-range jumpers. His passes out of the high-post and in the interior are among the finest in the NBA. Although not one of the league's premier shot-blockers, Horford does defend well by rotating seamlessly and thwarting pick-and-rolls.
These attributes of Horford place him squarely in the realm of Kansas City Kings legend Sam Lacey. "Slammin' Slam" operated as a key cog of the Kings offense. However, he wasn't often the finisher on the team's plays. Sam's role was to move the ball around and set up teammates for easy baskets.
Between 1975 and 1981, Lacey averaged five assists per game. Rarely does a center hit that mark for a single season, let alone over half a decade.
These two men prove that a center can be relied upon for tough rebounding and sweet passing.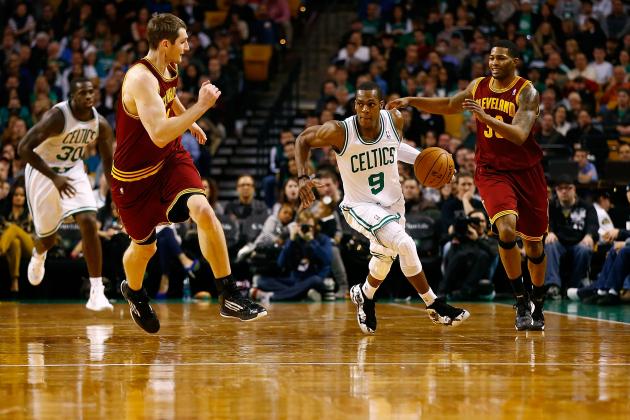 Jared Wickerham/Getty Images

Rajon Rondo - 6'1", 171 lbs.
11.0 PPG, 8.3 APG, 4.5 RPG, 1.9 SPG, 48.2% FG, 61.9% FT
Kevin Porter - 6'0", 170 lbs.
11.6 PPG, 8.1 APG, 1.8 RPG, 1.4 SPG, 48.3% FG, 73.7% FT
Leaving aside the rebounding, what we have here is a nearly perfect replication of abilities. Rajon Rondo is known for his reticence to score and his enthusiasm to rack up assists. He's on pace to lead the NBA in assists per game for a second straight season. His blinding speed and easy forays into the lane have created the opportunities to hit teammates for open jumpers and layups.
Back in the 1970s, Bullets point guard Kevin Porter was displaying the same knack for penetration and dishing. Porter led the NBA in assists per game four times in his career. Like Rondo, Porter wasn't a dependable scorer, but like Rondo, he could occasionally explode for huge games. For example, he once scored 30 points while handing out 17 assists during a game in 1977.
And while we're at it, here are two more of Porter's explosive games. In 1979, he joined Bob Cousy as the only NBA players to record at least 25 points and 25 assists in the same game. The previous year, Porter broke Cousy's record for assists in one game. Porter handed out 29 dimes to pass up Cousy's 28. Scott Skiles has since passed them both by recording 30 in one game.
Given Rondo's propensity to pass, don't be surprised to see him hit the 25-assist mark in a game during his career and continue his Kevin Porter-like ways.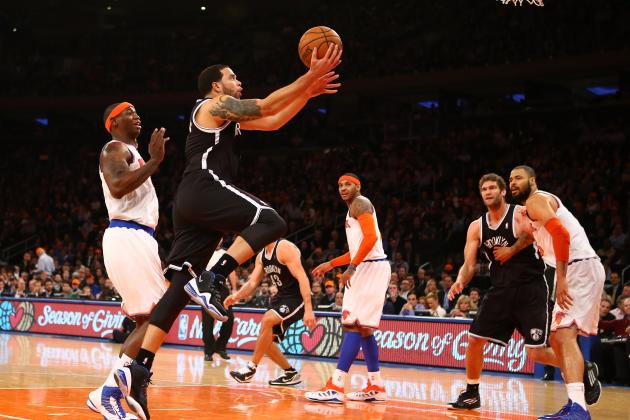 Al Bello/Getty Images

Deron Williams - 6'3", 210 lbs.
17.6 PPG, 9.1 APG, 3.2 RPG, 1.1 SPG, 45.2% FG, 81.2% FT
Oscar Robertson - 6'5", 205 lbs.
25.7 PPG, 9.5 APG, 7.5 RPG, 1.1 SPG, 48.5% FG, 83.8% FT
Remember when I said these comparisons are not perfect? This is Exhibit A in that regard. Deron Williams is not exactly like Oscar Robertson. However, they do share a strikingly similar style of play, if not always strikingly similar results.
Both men are huge, burly point guards that are able to wear out and wear down smaller guards. Another notable similarity is that the two players possess a quickness that belie their size. This power and size allows for huge scoring nights, but you can also tell by their assists numbers that they are great setup men.
But again, this is a limited comparison. Robertson was a hellish on-ball defender and maybe the best rebounding guard the league has ever seen. Williams has yet to ratchet up his defense to Robertsonian levels, nor is he a particularly good rebounder. But on the offensive side, they possess extremely similar qualities.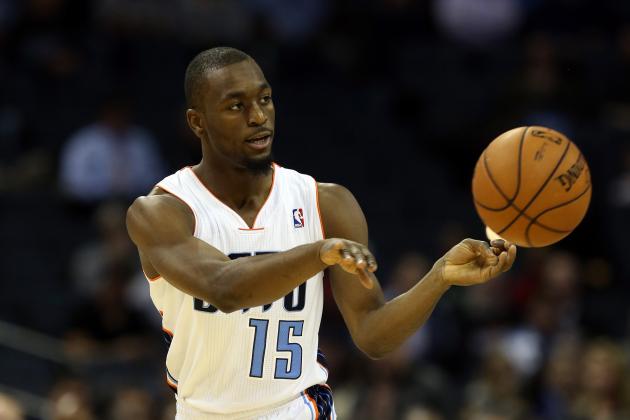 Streeter Lecka/Getty Images

Kemba Walker - 6'1", 172 lbs.
13.9 PPG, 4.9 APG, 3.4 RPG, 1.2 SPG, 38.2% FG, 79.5% FT
Calvin Murphy - 5'9", 165 lbs.
17.9 PPG, 4.4 APG, 2.1 RPG, 1.5 SPG, 48.2% FG, 89.2% FT
Clearly, Kemba Walker has yet to match, pound-for-pound, the accomplishments of Houston Rockets legend Calvin Murphy. However, looking at his play just this season, Walker is making inroads on replicating Murphy's stellar career.
Murphy was, pound-for-pound, one of the best guards this league has ever seen. With impunity, the diminutive Murphy could charge into the lane for hard-fought layups. Or he'd get hacked and get free throws. Either option was like giving up two points since Murphy once shot 96 percent from the free-throw line for an entire season.
Walker hasn't hit that kind of groove yet, but his progress has been tremendous in just his first two pro seasons. His ball-handling is exquisite in allowing him separation for jumpers or for getting all the way to the rim. Of course, Calvin Murphy was a machine with the ball, too.
In any event, these are just two small players who can dominate the court with scoring and timely passing. Can't complain if you had either running the floor for your team.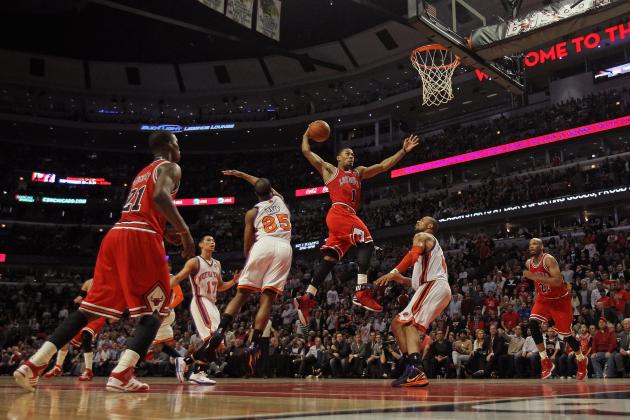 Jonathan Daniel/Getty Images

Derrick Rose - 6'3", 190 lbs.
21.0 PPG, 6.8 APG, 3.8 RPG, 46.4% FG, 81.5% FT
Richie Guerin - 6'4", 195 lbs.
17.3 PPG, 5.0 APG, 5.0 RPG, 41.6% FG, 78.0% FT
Rest assured that Richie Guerin was never flying through the air for tomahawk jams like Derrick Rose, but Rose gets quite a bit of his game from the Guerin School of Point Guards. Both players possess great passing ability and could get teammates involved in the offense.
However, their best attribute as point guards is to score early and to score often. Derrick Rose won the 2010 MVP on the strength of his never-ending assaults upon the lane. New York Knicks point guard Richie Guerin played a similar style back in the late 1950s and early 1960s. Guerin peaked in 1962 when he averaged 29.5 points, 6.5 rebounds and seven assists per game.
They do differ in one area, though. Guerin was an absolute firebrand on the court. A very vocal individual in contrast to Rose's stoic expressions. Leading in different ways, they nonetheless commanded the respect of their teams. Guerin would even go on to be the NBA's Coach of the Year in 1968.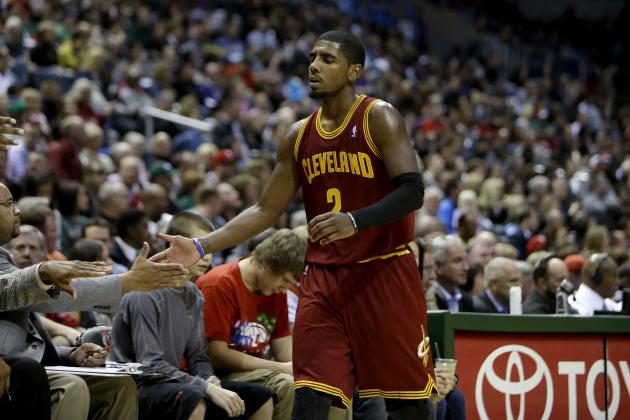 Mike McGinnis/Getty Images

Kyrie Irving - 6'2", 180 lbs.
19.6 PPG, 5.4 APG, 3.7 RPG, 1.1 SPG, 46.9% FG, 85.5% FT
Archie Clark - 6'2", 175 lbs.
16.3 PPG, 4.8 APG, 3.3 RPG, 1.1 SPG, 48.0% FG, 76.9% FT
Archie Clark, a star guard with the Sixers and Bullets, wasn't as pure a shooter as Kyrie Irving. Then again, Kyrie wasn't as pure a dribbling wizard as Archie.
But splitting this minimal difference, these players have a lot in common. Nearly identical in size, the career averages from these two men are nearly identical too, so far. Clark's free-throw shooting percentage actually achieved Irving levels, as it improved dramatically over his career. Also, Clark's PPG averages were skewed by starting his career as a reserve with the Los Angeles Lakers who featured Elgin Baylor and Jerry West.
In his prime years (1968 to 1973), Clark was at 20 PPG and 5.5 APG, peaking in 1972 with 25 PPG. Taking cues from Clark's style, Irving is fantastic at working his way to any point on the floor through great and elusive ball-handling. Like Guerin and Rose, these two players are some of the best guards we'll ever see at scoring the rock.
Elsa/Getty Images

Greg Monroe - 6'11", 253 lbs.
12.7 PPG, 8.6 RPG, 2.0 APG, 1.2 SPG, 0.6 BPG, 51.9% FG, 68.8% FT
Truck Robinson - 6'7", 225 lbs.
15.5 PPG, 9.4 RPG, 1.7 APG, 0.7 SPG, 0.7 BPG, 48.3% FG, 66.2% FT
One's a truck, the other's a moose. Both are supreme rebounding big men.
Truck Robinson led the league in rebounding in 1978 with an astounding 15.7 for the New Orleans Jazz. Robinson was also a good, if not great, offensive force. Between 1977 and 1982, Robinson was just a shade under 20 PPG (19.6). He achieved that average on the strength of setups from his great guard teammates like Pete Maravich and Walter Davis.
Monroe, meanwhile, has yet to hit such high scoring averages, but the third-year pro is making progress and is a better one-on-one player than Robinson was. Both men's jump shots didn't have much range. Nor did their jumpers go down frequently, but they went down often enough to make it an acceptable shot.
Where they both excel is in barely being able to jump and still gobbling up tons of rebounds. Truck led the league in 1978 with 15.7 rebounds per game, while Monroe is averaging 9.0 rebounds this season. They may be slow, they may not be able to jump, but they benefited their teams greatly.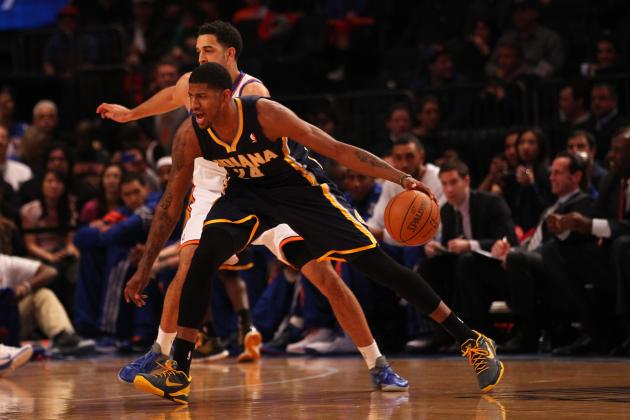 Al Bello/Getty Images

Paul George - 6'8", 210 lbs.
11.2 PPG, 5.1 RPG, 2.1 APG, 1.4 SPG, 44.0% FG, 79.3% FT
Larry Kenon - 6'9", 205 lbs.
17.2 PPG, 8.9 RPG, 2.2 APG, 1.3 SPG, 48.7% FG, 78.4% FT
Two of the most versatile wing men you'll ever see.
Larry Kenon began his work in pro hoops with the New York Nets of the ABA. After moving to the San Antonio Spurs, Kenon became a perennial All-Star. He was a large forward who could move and groove with fluidity. He could mix it up down low, grabbing over nine rebounds a game for his first seven pro seasons. He was also a spectacular dunking machine, nicknamed "Special K."
Like Kenon, Paul George is a sinewy giant who can work his way into the paint for ferocious dunks. In other areas of his game, though, George is slowly growing into the Kenon mold. His scoring is rising, as is his rebounding. Also, like Kenon, George has the potential to be a frustrating defender for the opposition.
Like any young player, George's progress may peter out, but if he continues, he'll be a special reincarnation of "Special K."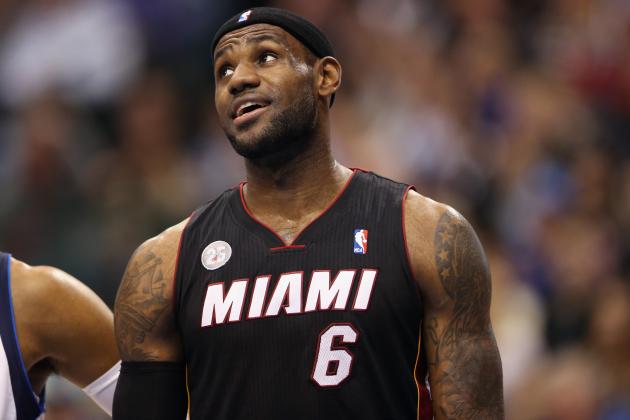 Ronald Martinez/Getty Images

LeBron James - 6'8", 240 lbs.
27.6 PPG, 7.2 RPG, 6.9 APG, 1.7 SPG, 0.8 BPG, 48.5% FG, 74.5% FT
George McGinnis - 6'8", 235 lbs.
20.2 PPG, 11.0 RPG, 3.7 APG, 1.9 SPG, 0.5 BPG, 45.8% FG, 66.4% FT
The combination of power, scoring, passing, rebounding and defense exhibited by LeBron James seems unique in basketball history. To be sure, LeBron and every player is unique. But LeBron's game does have an antecedent.
That antecedent was the gargantuan George McGinnis. Every inch and pound as big as LeBron, McGinnis debuted 40 years ago for the ABA's Indiana Pacers. By 1975, McGinnis was averaging 30 points, 12.5 rebounds, 6.5 assists and 2.5 steals per game. In the 1975 postseason, he upped the ante to 32 points, 16 rebounds, eight assists and two steals per game over 18 games.
McGinnis never again approached those heights in his career, as his averages steadily declined, but they absolutely presaged the abilities of LeBron James.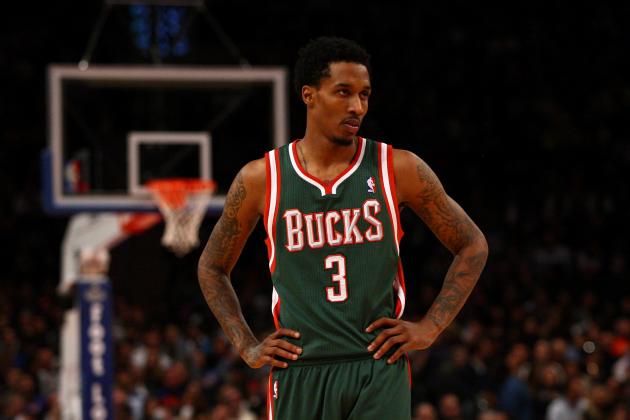 Chris Chambers/Getty Images

Brandon Jennings - 6'1", 169 lbs.
16.9 PPG, 5.5 APG, 3.5 RPG, 1.5 SPG, 39.2% FG, 81.0% FT, 34.5% 3PT
Michael Adams - 5'10", 162 lbs.
14.7 PPG, 6.4 APG, 2.9 RPG, 1.7 SPG, 41.5% FG, 84.9% FT, 33.2% 3PT
Brandon Jennings and Michael Adams are like twins separated at birth. And also separated by about 20 years.
Nonetheless, these two tiny guards played a game predicated on volume shooting. If they missed a shot, the only remedy was to take another. Just imagine they have a fever and the only cure is more cowbell. Except field-goal attempts are the cowbell.
Even their career-high outbursts came identically. Adams dropped 54 points on 31 shots, while Jennings dropped 55 points on 34 shots. Again, two peas from the same shot-chucking pod.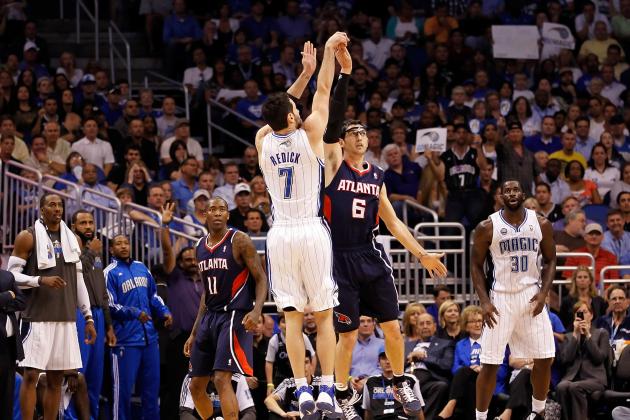 J. Meric/Getty Images

J.J. Redick - 6'4", 190 lbs,
8.8 PPG, 1.8 APG, 1.8 RPG, 42.9% FG, 87.8% FT
Hal Greer - 6'2", 175 lbs.
19.2 PPG, 4.0 RPG, 5.0 RPG, 45.2% FG, 80.1% FT
Hal Greer is a Hall of Famer.
J.J. Redick is not.
Hal Greer was a 10-time All-Star.
J.J. Redick is not an All-Star.
Despite the glaring difference in resume, Redick is playing very much like a Hal Greer this season. Averaging 14 points and five assists so far, Redick has made himself an excellent passer and distributor while also maintaining his always great shooting. Also, he's been an underrated defender for a few years now.
Hal Greer made a hallmark Hall of Fame career out of these things Redick is excelling at. The 6'2" Greer was a premier shooting guard during the 1960s for the 76ers. He was a great setup man for his teammates, but the strength of his game was still scoring. Greer was also a pesky defender with a strong, wiry frame to frustrate the opponent.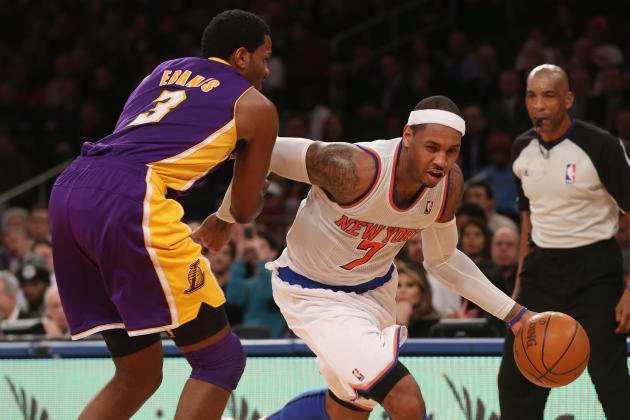 Bruce Bennett/Getty Images

Carmelo Anthony - 6'8", 230 lbs.
24.8 PPG, 6.3 RPG, 3.1 APG, 1.1 SPG, 45.7% FG, 80.6% FT, 33.1% 3PT
Mark Aguirre - 6'6", 232 lbs.
20.0 PPG, 5.0 RPG, 3.1 APG, 0.7 SPG, 48.4% FG, 74.1% FT, 31.2% 3PT
The mighty Mark Aguirre of the 1980s Dallas Mavericks was a scoring machine. He seamlessly blended a mid-range and post game that left defenders reeling. Aguirre was a beast at mixing it up on offense. His 1984 season was a great precursor to Melo's 2012-13 campaign. Averaging 29.5 points, six rebounds and 4.5 assists, Aguirre was a runaway freight train for the Mavericks.
Not until recently has Carmelo Anthony embraced this hybrid game and with stunning results. Anthony is at or near career highs in FG%, FT%, 3PT% and PPG this season, as he has made greater use of post-up situations. His low assist numbers this year do hide that he's improved ball movement too.
A fantastic season for Carmelo so far.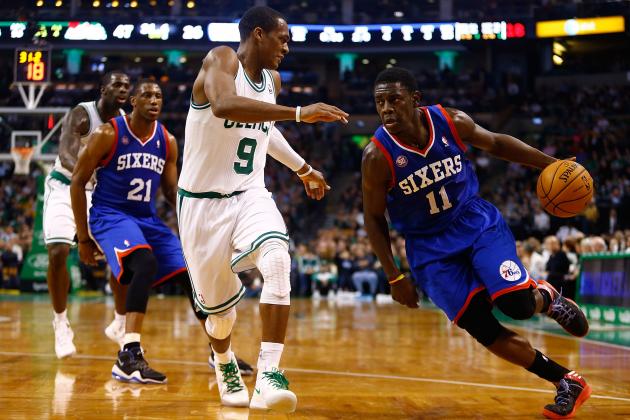 Jared Wickerham/Getty Images

Jrue Holiday - 6'3", 180 lbs.
12.5 PPG, 5.4 APG, 3.4 RPG, 44.2% FG, 78.7% FT
Bob Cousy - 6'1", 175 lbs.
18.4 PPG, 7.5 APG, 5.2 RPG, 37.5% FG, 80.3% FT
Now remember, we're comparing style of play, not necessarily final resumes or historical impact.
Bob Cousy helped revolutionize how the game was played. Firstly, his Boston Celtics were one of the first teams to utilize the fast break routinely. Secondly, he was one of the first players to use behind-the-back passes and dribbles with regularity. What is now commonplace had its start with Cousy.
But Cousy was also important for another huge reason: He was a pass-first point guard who could also take over a game by scoring. He was the first of his kind in that regard.
Following in this mold is Jrue Holiday. This season, Holiday has hit 19 points and nine assists per game while also hauling down four rebounds a night. This is a notch below the best of Bob Cousy's seasons.
Holiday is doing it in Cousy style, too. He's capable of getting his own buckets, but is keen on finding teammates first before resorting to shooting himself.
Cousy would be proud, since he thinks that is the true model of a point guard.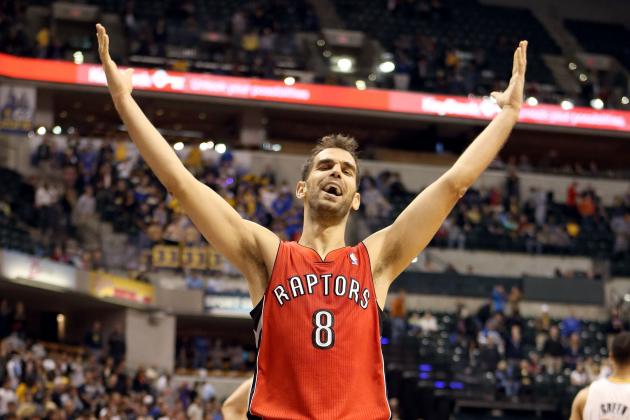 Andy Lyons/Getty Images

Jose Calderon - 6'3", 210 lbs.
9.9 PPG, 7.2 APG, 2.2 RPG, 0.9 SPG, 48.0% FG, 87.5% FT, 38.7% 3PT
Johnny Moore - 6'1", 175 lbs.
9.4 PPG, 7.4 APG, 3.0 RPG, 2.0 SPG, 46.0% FG, 71.2% FT, 25.1% 3PT
Johnny Moore was a great piece for the 1980s San Antonio Spurs. The point guard commanded the offense with precision and was purely, absolutely pass-first. Scoring was always an afterthought for him.
Jose Calderon doesn't match Moore's defensive ability, but he does live up to Moore's startling command of the offense. Toronto crumbles like a cookie without Calderon's judicious running generalship. Several men have been brought into Toronto over the years to run the point,. Yearly, wailing cries are made to trade Calderon. Nonetheless, Jose manages to fight off the usurping guards and to quiet the trade demands.
He may end up like Johnny Moore improbably spending his whole career with one franchise. Moore played all 520 games of his career with the Spurs. Well, all but one. He gave the New Jersey Nets 10 minutes of action in one game in 1987.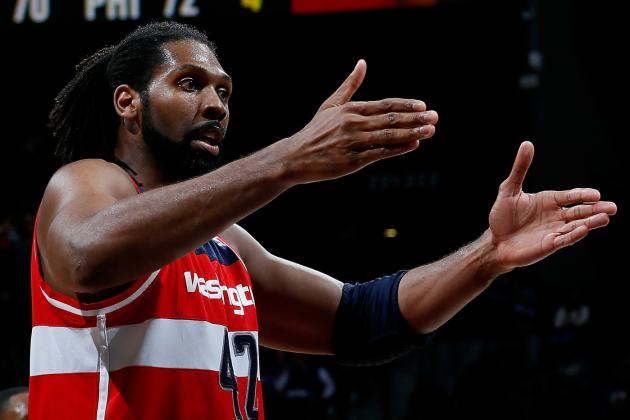 Kevin C. Cox/Getty Images

Nene - 6'11", 260 lbs.
12.4 PPG, 6.9 RPG, 1.8 APG, 1.2 SPG, 0.9 BPG, 56.0% FG, 68.1% FT
Danny Manning - 6'10", 230 lbs.
14.0 PPG, 5.2 RPG, 2.3 APG, 1.1 SPG, 0.9 BPG, 51.1% FG, 72.9% FT
The Nene-Danny Manning connection is a strong one.
Neither player rebounded all that well for players of their size and position. Nene's career-high is 7.8, while Manning's was 6.8 rebounds per game. Both players were fairly good passers for their size and position. Manning's career-high in assists per game was 3.8, while Nene's is 2.5 this season.
But what each man really did well was score the ball with tremendous accuracy in a variety of nice moves. Both could knock down mid-range jumpers and hit on pretty jump hooks. Nene had the more forceful slams, but both men could also finish with authority through dunks.
Sadly, they also have battled their share of injuries. Manning's career never reached its true potential due to an ACL tear, while Nene has fought foot problems and cancer.
As always, chime in with your thoughts on which current stars remind you of all-time legends or lesser-known greats.