Funniest NBA Holiday Commercials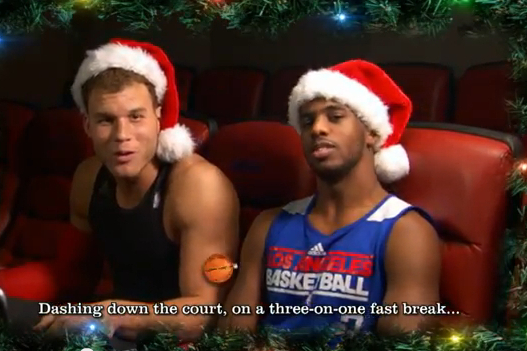 Nothing gets you warm and fuzzy for the holidays more than watching your favorite NBA stars get weird for the season.
Here's a collection of some of the funnier, both intentional and unintentional, holiday commercials featuring NBA superstars.
Be sure to post links to your favorite NBA holiday commercials in the comments section below.
Begin Slideshow

»
Somehow the kid on the left, as good and funny as he is, couldn't sell the Dirk Nowitzki love like he could Kobe Bryant, LeBron James and Kevin Durant.
And for that, he is like 95 percent of all basketball fans.
This TNT ad is tremendous. It's the ultimate "this isn't fair" moment that is inevitable between brothers on Christmas morning.
Poor Kenny Smith.
James Harden has the voice of an angel underneath that Santa Claus beard.
Meanwhile, Jason Kidd just went creepy Santa Claus on us all. He seems just as terrified of himself.
Blake Griffin and Chris Paul are pretending not to love it.
This is the NBA.
The lesson here: Muppets sure can hoop, but Reindeer Muppets can't dribble.
Rajon Rondo wishes he had Mark Jackson's blanket. And why is Jalen Rose such a giant?
Rondo may be a better actor than Ray Allen.
Drama and comedy blends together.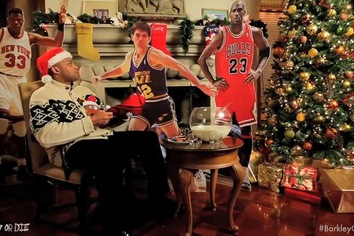 While it's not a commercial, this clip has to be included.
It isn't one that will embed, so follow this link.
It's Charles Barkley at his best, surrounded by cardboard cutouts of all his old buddies.
The greatest line is directed at cardboard Patrick Ewing sweating.
"I'm sorry Michael is so rude."
The "funny" part of this year's great commercial may be Dwight Howard's face when he's dribbling.
But the interesting part is the behind-the-scenes look of how they did the "Carol of the Bells" through digital mastering.
A holiday hit.
Mariah Carey is backed up by the all-star acting of Ray Allen, LeBron James, Dwight Howard and Kobe Bryant.
Unintentional humor at its finest.
Or maybe it's intentional. Hard to tell.
Bryant dangling an ornament, James acting as if he hurt his teeth biting a fake candy cane and Ray Allen dodging a ball; it's incredible.
Howard pretending to open a present to his delight wins, though.
Four things are for certain:
1. Steve Kerr can't even be cool in a beer commercial.
2. Mark Cuban paid to be in this commercial.
3. Those Bulls dancers must be cold.
4. No one in this commercial is actually cool or cold, including LMFAO.
Bobbleheads are always funny.
Especially when Tim Duncan is reading a book to Gerald Wallace.
Kid, not even Santa can bring you made free throws.
When both Yao Ming and Dikembe Mutombo are singing "Jingle Bell Rock," it's a good thing.
Tracy McGrady, Shane Battier, Luis Scola and other members of the Rockets all join in.
Enjoy.
One more team singing "Jingle Bells."
Oh, Lakers fans, remember the good times? Look at the smile on Andrew Bynum's face.
Pau Gasol: "Oh what fun it is to ride an open horse one sleigh, hey!"
Merry Christmas, everyone!