NHL Lockout: Jordan Eberle & 11 Players That Have Impressed While in the AHL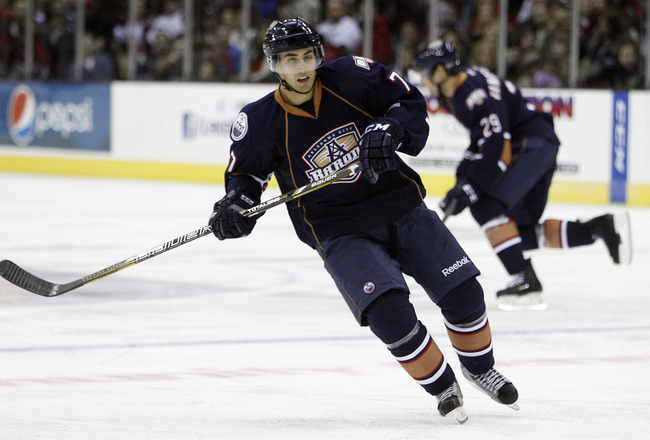 David Maxwell/Getty Images
Jordan Eberle, to the surprise of no one, has been tearing it up for the Oklahoma City Barons in the AHL. The farm team of the NHL's Edmonton Oilers are stocked up on top-end talent while the lockout continues, and fans of the team have been reaping the benefits.
Eberle is hardly alone however.
The AHL was arguably the prime destination for locked out NHL youngsters who were looking to stay on top of their games by playing against the best available competition. The AHL has seen an infusion of talent like never before, and is also really the only option fans have when it comes to seeing NHL-caliber talent on a nightly basis.
Lets take a look at a few other players that have been taking it to the competition in the AHL.
Curtis McElhinney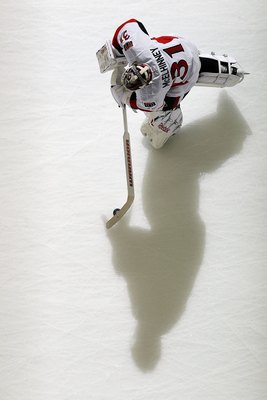 Jim McIsaac/Getty Images
Few players have seen their stock rise during the NHL lockout like goaltender Curtis McElhinney.
The Columbus Blue Jackets made a deal for McElhinney last February, apparently trying to further stockpile mediocre goaltenders in hopes that one of them would catch fire or realize their potential.
McElhinney has done just that.
He currently sports a 15-3 record for the Springfield Falcons and has put up peripheral stats to show that he deserves a shot in the NHL once play resumes. He leads the AHL in shutouts with 6, and has a sparkling GAA of 1.98 to boot.
The Falcons are the class of the Northeast division right now, already boasting an eight-point lead over the second-place squad, and are only one point back of the Conference lead.
If the success of the Falcons is any indication, one might be tempted to think that the dog days in Columbus may be coming to end sooner rather than later.
Justin Faulk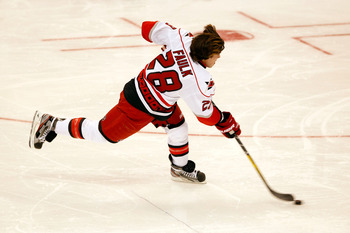 Gregory Shamus/Getty Images
The Carolina Hurricanes are primed and set up to be among the NHL's best teams after the lockout, and Justin Faulk is one of the main reasons why.
He was drafted in 2010 and has since been considered a blue-chip guy within the organization. After a 22-point showing in 2011-2012, the 'Canes were looking for Faulk to at least maintain that level or production for the Charlotte Checkers. He hasn't disappointed.
With 22 points in 26 games, he appears to be right where he should be—which is vying to be the leading scorer from the blueline in the AHL. Not counting Justin Schultz and his ridiculous output, of course.
Brayden Schenn
Bruce Bennett/Getty Images
When the LA Kings came knocking for Mike Richards, there was one player that the Philadelphia Flyers would not back down on—Brayden Schenn. Considered by many to be the best player not in the NHL at the time, Schenn played a more secondary role for the Flyers throughout the season.
Then came the awakening in the playoffs that saw him post nine points in 11 games—much more along the lines of output that the Flyers were hoping for when they landed Schenn.
He isn't setting the AHL on fire with ridiculous point streaks of explosive games. Instead Schenn is just steadily piling up points. He currently sits sixth in scoring, only one point back from third. Once the lockout ends, fans in Philadelphia should be excited to see this kid emerge as a top-six player and a dangerous scoring threat.
Tyler Johnson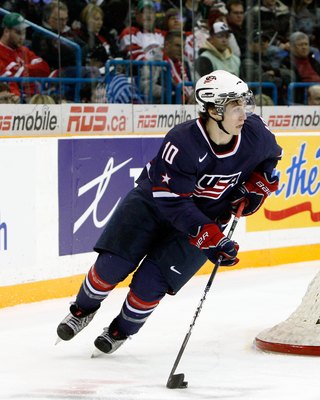 Richard Wolowicz/Getty Images
Tyler Johnson was passed over in the draft solely due to his size, and appears poised to make every team outside of the Tampa Bay Lightning regret not taking at least a late-round flyer on him.
After playing one overage season in the WHL—a season that he utterly dominated—the Lightning signed the undrafted Johnson to an entry year deal. He can now be found lighting up scorecards for the Syracuse Crunch.
The Crunch are currently leading both their division and the Eastern Conference, thanks in no small part to Johnson's play.
He is tied for third in points right now, outpacing some of the world's best prospects and young players. Steve Yzerman may have struck gold for his Lightning with this signing. It appears that Johnson's size isn't something to be worried about and that his game does translate to the pro ranks in North America.
Nino Niederreiter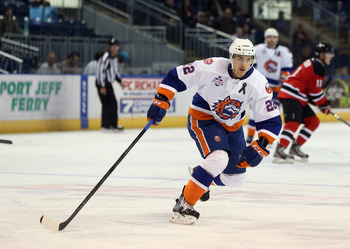 Bruce Bennett/Getty Images
Rookie seasons don't get much more disappointing than that of Nino Niederreiter.
Coming to the New York Islanders as a highly touted rookie in 2011-2012, Niederreiter quickly found that he couldn't break into the top six, and then found himself relegated to fourth-line duty on a nightly basis. Things only got worse as more time passed and he didn't post any points through the opening months of the season.
After a long drought he finally found the back of the net against Chicago in December before going ice cold again and not posting another point for the rest of the year. The minus-29 rating didn't help either. Ouch.
Perhaps pundits were too quick to hang Niederreiter out to dry, however. He seems to have found his game with the Bridgeport Sound Tigers, posting 27 points (13 goals) in 28 games played.
He tore it up in the month of November, scoring a point in nine straight games, finding the consistency and touch that had eluded him with the Islanders.
Richard Panik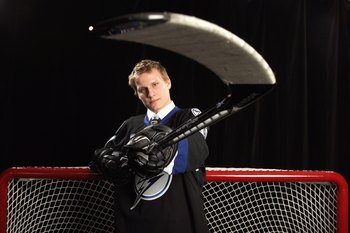 Jamie Squire/Getty Images
Looking up and down the leading scorers in the AHL, you won't see Richard Panik's name anywhere on the list. While he may not be keeping pace with the elite of the league, from November 2 to December 1, Panik was setting the league on fire.
In that span of time he ripped off a 12-game scoring streak and put up 17 points in that span of time. If he can find those kinds of numbers on a consistent basis, there is no reason that Panik couldn't find himself among the league leaders by season's end.
It looks like the Tampa Bay Lightning are bringing in some cavalry for Martin St. Louis and Steven Stamkos.
Cam Atkinson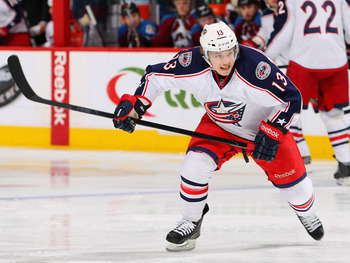 Doug Pensinger/Getty Images
Another smallish forward that fell down the draft board, the Columbus Blue Jackets selected Cam Atkinson in the sixth round in 2008.
Known for his smooth skating, soft hands and stellar hockey sense, Atkinson picked up in the AHL right where he left off for Columbus last season. Skating with one of the most offensively-challenged teams in the NHL, he posted 14 points in 27 games during his rookie year in Columbus last season.
Proving that he isn't just a small flash in the pan, Atkinson has continued to deliver the points for the Springfield Falcons. He is currently tied for third in AHL scoring, putting up 30 points in 27 games. The Rick Nash-less era in Columbus may not be so gloomy after all.
Mike Kostka
Joel Auerbach/Getty Images
I considered leaving defenseman Mike Kostka off this list just to irritate Toronto Maple Leafs fans (as that is one of my favorite pastimes) but the kid is doing too much damage from the blueline to ignore.
Any time a D-man is sticking in the top-20 scorers in the league it's noteworthy, and that is exactly what Kostka is doing. Another undrafted guy that has bounced around a bit, the lockout my be giving him a new lease on his hockey life.
He's been dishing the puck with the best of them so far in the AHL, putting up 21 assists and adding five goals in 27 games for the Toronto Marlies.
Gustav Nyquist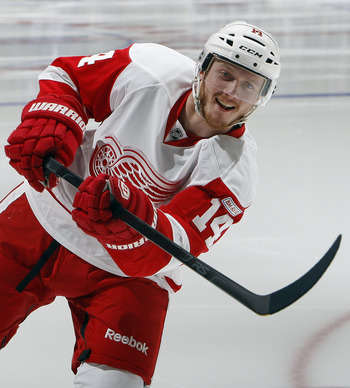 Abelimages/Getty Images
Detroit Red Wings fans have been anxiously awaiting the full-time NHL arrival of Gustav Nyquist since he was drafted in the fourth round in 2008.
Since then he has done everything he could to impress the Red Wings brass. Last season, he set a new rookie scoring record within the Grand Rapids Griffons organization, putting up 58 points in 56 games. Nyquist is still scoring at that same clip this season, putting up 25 points in 23 games in Grand Rapids.
HockeysFuture.com has Nyquist as the second-highest-rated prospect in Detroit's system, and fans should see him make the jump to the NHL for good once the lockout ends.
Jordan Eberle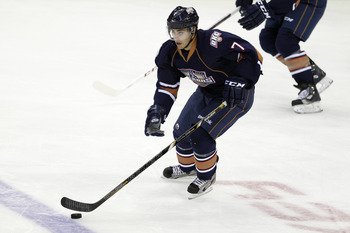 David Maxwell/Getty Images
Jordan Eberle has proven to be about as unstoppable as a player can be in the AHL, putting up a dominant 40 points in 28 games played. He is only one goal shy of the 20-goal plateau and there is still plenty of hockey to be played.
At his current pace it isn't out of the question that Eberle could break the century mark in points and perhaps even post 50 goals. That is, of course, unless the lockout finally ends. Then he will most likely continue his torrid pace in Edmonton with the Oilers.
The Oklahoma City Barons arguably got the biggest boost of any AHL team with the lockout, adding Eberle, Ryan Nugent-Hopkins, Justin Schultz and Taylor Hall. More or less a who's who of the last few draft classes.
While the rest of the crew had played exceptionally well, Eberle and Schultz have proven to be the class of the league, outpacing the third-place scorer(s) by 10 points.
Justin Schultz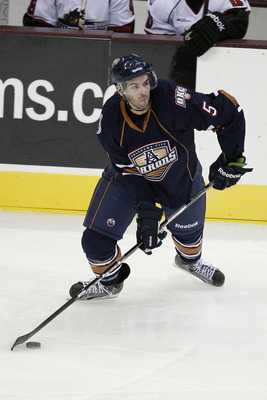 David Maxwell/Getty Images
So that's what all the fuss was about.
After nearly half the league pursued his services after the Anaheim Ducks failed to sign him, Justin Schultz decided to join an already young and talented Edmonton Oilers team.
After holding out on his draft team and holding a small bidding war with zero NHL games played, Schultz set the bar high for himself coming right out of the gate, but he hasn't disappointed. The ultra-skilled defender is currently tied with teammate Jordan Eberle for the league scoring lead.
His 40 points in 28 games from the blueline is just ridiculous, and the Oilers must be pretty excited to get the sick power-play connection that seems to be developing down on the farm in Oklahoma.
Barry Brust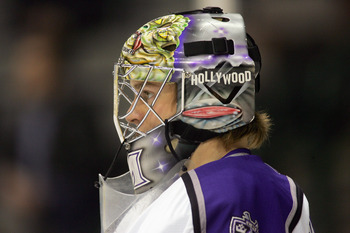 Barry Brust during his time with the LA Kings. He is now a member of the Calgary Flames organization.
Ronald Martinez/Getty Images
Odds are Barry Brust won't be making a splash in the NHL any time soon. The Calgary Flames have a few more years with Miikka Kiprusoff, and as it stands right now Leland Irving will be the first guy to get the call to replace him.
Danny Taylor has put up rock-solid numbers so far this year for the Abbotsford Heat as well. And then there is Laurent Brossoit, Jon Gillies, and Joni Ortio all in the system, developing their talents as they move up the chain.
With a food chain that long, Brust most likely won't be seeing any playing time in Calgary at all, but I'd be remiss if I didn't mention his stellar play so far this season. In a shared backup role, he managed to break a 55-year-old AHL shutout record, stopping everything that was thrown at him for a whopping 268 minutes.
While he isn't a highly touted prospect, or even really a prospect at this point, it's still a feel-good story—one of the few that have surfaced through this lockout.
Keep Reading