Purdue Basketball: 5 Improvements Boilermakers Must Make Before Big 10 Play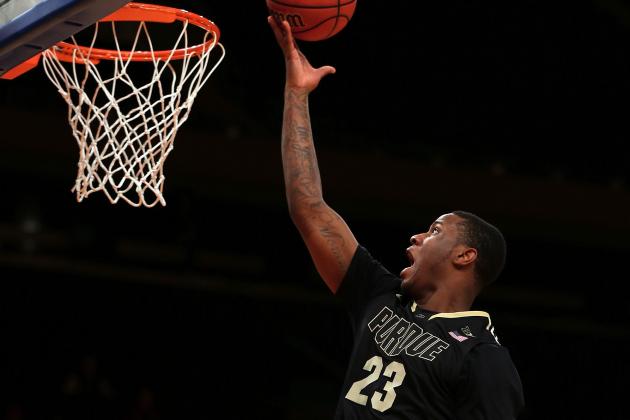 Elsa/Getty Images

The Purdue Boilermakers have given their fans momentary flashes of potential during a rocky 5-6 start.
Moments of potential include a pair of narrow losses at Madison Square Garden that got away in the waning minutes. Or, in the case of the Villanova loss, Purdue fans would argue that it was taken away, but that's a different story.
An emphatic win at Clemson in the ACC-Big Ten Challenge stirred hopes of awakening. Those hopes quickly took damage with a home loss to a supposedly rebuilding Xavier team.
Finally, a loss at MAC contender Eastern Michigan sent fans into a deep funk that can only be lifted if the team surprises and records a winning Big Ten record.
Before that happens, however, there are some issues that need to be remedied, and done so quickly. Purdue begins conference play with three nationally ranked opponents: Illinois, Ohio State and Michigan State.
The team stumbling through its nonconference slate will have to hit the ground running immediately after New Year's Day. These are some things that the Boilers will need to work on to avoid what looks like an inevitable faceplant.
Begin Slideshow

»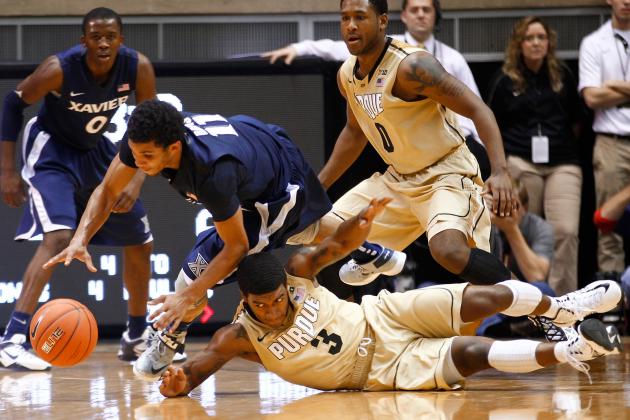 Michael Hickey/Getty Images

Freshman point guard Ronnie Johnson is on the floor here, fighting to avoid another turnover.
The Boilermakers are firmly in the middle of the pack nationally with a 20.5 turnover percentage, but that figure is currently third-worst in the Big Ten.
Individually, Johnson's had his ballhandling issues, committing 2.6 miscues per game, fifth-most in the Big Ten. There is hope for improvement as Johnson grows more familiar with his teammates and the pace of college basketball as a whole.
Ronnie's brother, Terone, has been much more careful with the ball, recording a 12.3 turnover percentage. The rest of the Purdue backcourt, not just Ronnie, can learn from his example.
A team who struggles offensively the way the Boilers have cannot afford to give away even a single possession.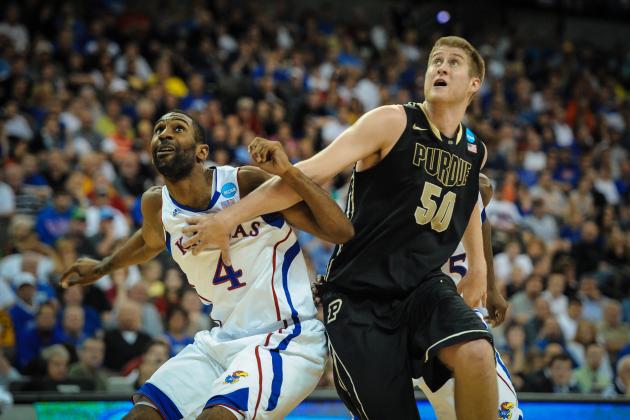 Eric Francis/Getty Images

There's a reason that Travis Carroll is the poster boy for the "foul trouble" slide.
While Carroll has been offensively efficient in his limited opportunities, he has also drawn a lot of whistles—and not from appreciative female fans.
The 6'9" junior forward has been whistled for 19 fouls in 115 minutes, averaging about 6.6 violations per 40 minutes. That inability to defend without hacking has been a major factor in Carroll's limited playing time this season.
As a team, the Boilers commit 19.9 fouls per game, 50th-most in America and second in the Big Ten.
During Purdue's 1-3 start, the Boilers were outshot 113-72 at the line. All those free-throw attempts became a big factor in the three losses, which came by a total of 21 points. The disadvantage has evened out since then, but the team may not be able to count on leniency from Big Ten officials in what are likely to be close, physical games.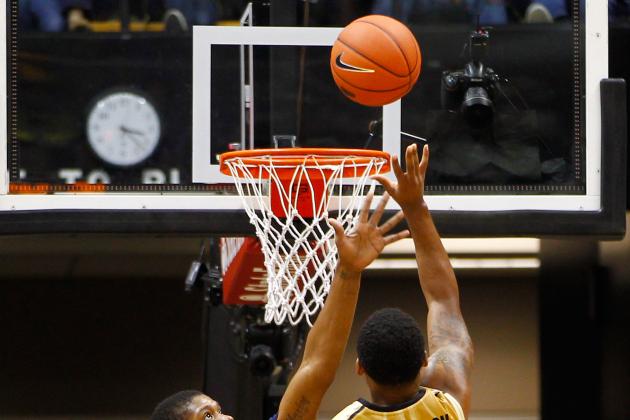 Michael Hickey/Getty Images

Terone Johnson is driving for a layup in this picture, and the Boilers can only benefit from his ability to get to the basket. Thus far this season, however, Johnson's 36-percent three-point shooting has been the only respectable rate on the Purdue roster.
As a team, the Boilermakers rank 325th in America at 27.2 percent from deep. Put differently, that's 23rd-worst. The nadir was an embarrassing 0-17 effort in a six-point home loss to Xavier.
D.J. Byrd was shooting 26 percent before canning 6-of-11 against Notre Dame and Ball State. The career 37-percent shooter thrived with gunners Ryne Smith and Robbie Hummel to draw defenses, but who on this team can provide that sort of support?
Anthony Johnson is shooting 28 percent, which is the same rate at which he hit last season. Rapheal Davis is only 1-of-7 so far in his limited minutes, but the three-point shot is not considered a strength of his game anyway.
But wait, it gets worse.
Ronnie Johnson has missed 21 of his 23 attempts. Perhaps coach Matt Painter threatened him with extra sprints if he shot again, because he hasn't taken a three-pointer in his last three games.
The Boilers are getting some strong inside work from A.J. Hammons, but that could change if defenses are free to pack in and swarm him every night. This group of shooters has to keep that from happening.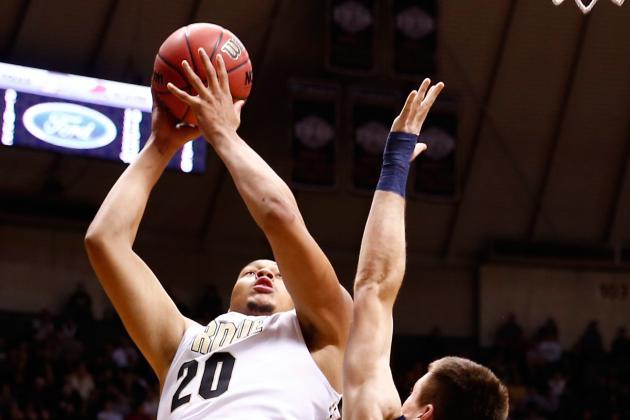 Michael Hickey/Getty Images

A.J. Hammons is fifth on the team in minutes, but he is second in scoring, first in rebounding and first in blocks.
Rapheal Davis had an excellent scoring run in the final 10 minutes against Notre Dame—more on that momentarily.
Ronnie Johnson is tops among Boilermakers in steals and is the roster's only true point guard to boot.
Painter has a team who simply has yet to learn to play together, and this season's touted freshman class will be playing together longer than anyone.
The rookies are providing nearly all the roster's big-play spark. There will come a point where the coach, like a worried father, simply has to hand the kids the keys and let them drive. Mistakes will come, but when the veterans are making just as many miscues and fewer big plays, the reward may be worth the risk.
Elsa/Getty Images

As the game against Notre Dame got out of hand, Painter decided to roll the dice with a lineup of Hammons, Byrd, the Johnson brothers and Davis.
Whether it was a function of the smaller lineup's increased quickness and aggression or Notre Dame simply relaxing in what seemed to be a blowout win, the Boilers outscored the Irish 17-6 with that quintet on the court. Sparked by Davis, who produced 21 second-half points, the run trimmed what had once been a 23-point lead to nine.
Purdue has veterans up front in Travis Carroll and Sandi Marcius, but unfortunately, there's no getting around the fact that the two just aren't Big Ten-caliber players.
The Boilermakers have gotten a little frontcourt spark from players like Hammons, redshirt freshman Donnie Hale and sophomore Jacob Lawson, who played a mere 137 minutes in conference play last year. Still, none of those three are able to help spread the floor and create driving lanes for guards who are struggling to get open looks from deep.
With freshman Jay Simpson set to redshirt due to injury, frontcourt depth has taken a hit. If the guards are the ones producing, Painter will need to look to a smaller lineup more often.
For more from Scott on college basketball nationwide, check out The Back Iron (now on CollegeBasketballTalk's #NBCMustFollow College Hoop Directory).