NFL's 10 Biggest Choke Artists of 2012
Otto Greule Jr/Getty Images
We as humans are inherently drawn to seeing failure, and many NFL players failed with the entire country watching in 2012.
We call them "choke artists," and they have always been an integral part of what make sports awesome.
Here, we take a look at the 10 biggest "chokers" we observed this season.
Replacement Referees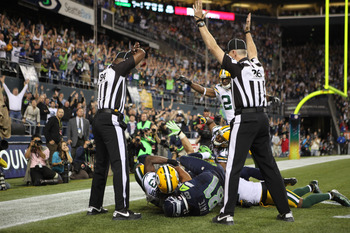 Otto Greule Jr/Getty Images
Remember these guys?
While many have complained about the quality of officiating by the regular referees this season, the replacements were clearly in over their heads at the start of the season.
September 24, 2012 will forever live NFL infamy as the "Fail Mary" game-winning touchdown catch by Golden Tate, with the perplexing officiating ineptitude captured exquisitely by the above picture.
David Akers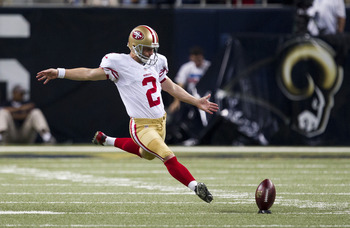 David Welker/Getty Images
In 2011, David Akers was Mr. Trustworthy for the San Francisco 49ers.
He was 7-of-9 from field goals 50 yards or longer and was a perfect 4-of-4 in the postseason.
This year, Akers regressed.
His 71.1 field goal percentage was only better than Mason Crosby among eligible kickers, and one of his misses may have cost the team the No. 2 seed in the NFC playoffs.
In Week 10 against the St. Louis Rams, the 38-year-old sent the game into overtime by booting a 33-yarder through the uprights. Then, with a chance to claim victory in the extra session, Akers missed a 41-yarder and the game ended in a tie.
Bummer.
Ben Roethlisberger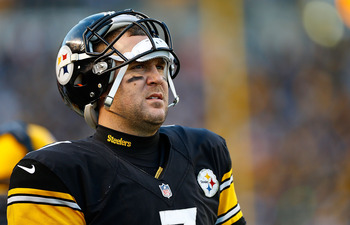 Jared Wickerham/Getty Images
Ben Roethlisberger didn't have the greatest 2012.
His Steelers were ousted by Tim Tebow and the Denver Broncos in the playoffs to begin the year.
Then, with Pittsburgh in good playoff position, Big Ben injured his shoulder and ribs on a sack against the Kansas City Chiefs.
He returned triumphantly, but two late-game interceptions against the Dallas Cowboys and Cincinnati Bengals seal his team's fate.
No postseason for Pittsburgh.
Philip Rivers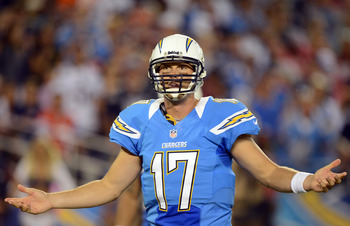 Harry How/Getty Images
Philip Rivers undoubtedly has experienced a season to forget in 2012.
He has posted his lowest QB rating and fewest passing yards since 2007, his San Diego Chargers team goes into Week 17 at 6-9 and he wasn't able to come through in the clutch on various occasions.
Up 24-0 at the half against the Peyton Manning-led Denver Broncos in Week 6 and sitting pretty with a 3-2 record, Rivers imploded, accounting for four turnovers in a second half, in which the Broncos scored 35 unanswered points.
He was almost as bad against the Browns in Cleveland in Week 8.
In a Week 13 heart-shattering loss to the Bengals, a Rivers fumble led to the go-ahead score, and then a turnover near the end zone sealed the victory for Cincinnati.
Ryan Fitzpatrick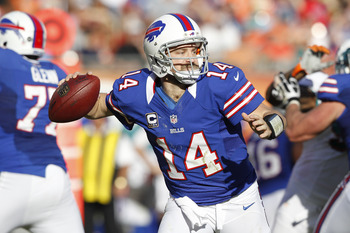 Joel Auerbach/Getty Images
Ryan Fitzpatrick had multiple occasions to help the Buffalo Bills return to relevance in 2012, but he failed miserably most of the time.
An ugly fourth-quarter interception against the Tennessee Titans led to a one-point loss.
Two weeks later, after playing a marvelous game in New England against the Patriots, down by six, Fitzpatrick threw an interception in the end zone to end the game.
In Week 12, while driving against the Indianapolis Colts and down by seven, Fitzpatrick looked for Stevie Johnson over the middle and was intercepted. Although Johnson tracked down Tom Zbikowski and forced a fumble that Buffalo recovered, the pick and subsequent return halted all momentum and sent the Bills from the Colts' 36 to their own 47.
Buffalo went on to lose 20-13.
Josh Morgan
Josh Morgan made one of the NFL's most bone-headed plays in 2012.
After catching a pass from Robert Griffin III in what presumably was field-goal range, Morgan got shoved by Cortland Finnegan upon getting to his feet.
The Washington Redskins receiver responded by firing the football at the St. Louis Rams cornerback, thereby taking a 15-yard unsportsmanlike conduct penalty.
Mike Shanahan's squad lost 31-28.
Dan Carpenter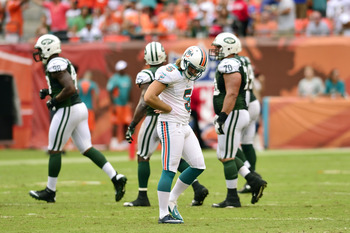 Steve Mitchell-USA TODAY Sports
Dan Carpenter will be glad when the calendar turns over to 2013.
He posted an 81.5 field-goal percentage, ranking him 23rd in the league.
In Week 3 against the New York Jets, the Miami Dolphins' kicker had a chance to win the game in overtime, but his 48-yard attempt sailed wide, and Mark Sanchez led the game-winning drive on the next possession.
Carson Palmer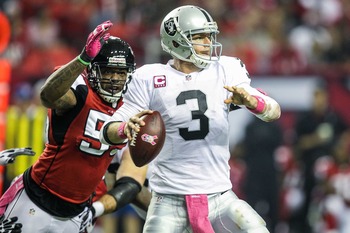 Daniel Shirey-USA TODAY Sports
Carson Palmer racked up major yardage (mainly in garbage time) in 2012, but he let a signature win slip away with a classic Palmer interception.
With the score tied at 13 with under seven minutes to go in the fourth quarter, Palmer was picked off by Asante Samuel, and the Atlanta Falcons cornerback took it 79 yards to the house to give Atlanta the lead.
Calling him a choke artist may be a little harsh, because Oakland's defense couldn't stop anyone this year, but Palmer would love to have that throw back.
Mark Sanchez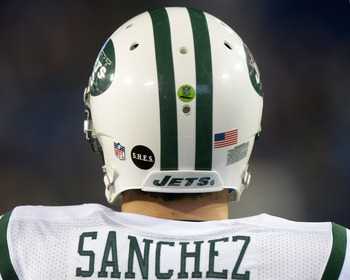 USA TODAY Sports
Mark Sanchez had an absolutely cataclysmic 2012 season and can fairly be given the "choke artist" distinction.
Though most of his outings were downright awful from the start, he could have gone out in relative style against the Tennessee Titans on Monday Night Football.
Instead, he accounted for five turnovers, and his fumble as a result of the botched snap ended the New York Jets' chances at the playoffs and allowed Rex Ryan to hammer the final nail in Sanchez's starting quarterback coffin.
Jason Hanson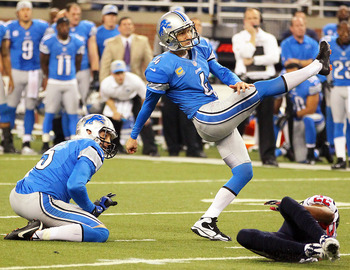 Mike Carter-USA TODAY Sports
Jason Hanson wasn't terrible in 2012, making 88.6 percent of his kicks leading into Week 17.
However, a crushing defeat on Thanksgiving at the hands of the Houston Texans came by the leg of this veteran kicker.
You could feel the excitement inside Ford Field deflate when his 47-yard field goal clanked off the right upright in overtime.
Keep Reading