UFC 155: Everything You Need to Know About Dos Santos vs. Velasquez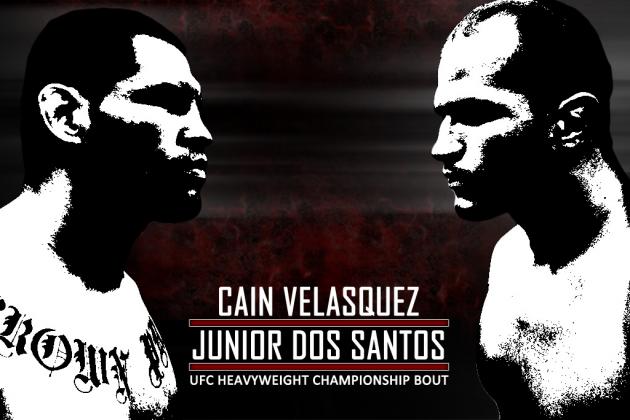 Photo courtesy of sophisticatedignorance.net
UFC 155 is fast approaching. That event will bring easily one of the most anticipated fights of the year between Junior dos Santos and Cain Velasquez.
Both fighters are exciting heavyweights who want to make the claim that they are the baddest man on the planet.
They will meet in the main event of UFC 155 in the annual year-end show. There are lots of stats floating around about this fight and the two competitors.
Let's take a good look at everything you need to know about dos Santos vs. Velasquez 2.
Begin Slideshow

»
Ron Chenoy-USA TODAY Sports

Fans absolutely love the heavyweights.
So give them a heavyweight title fight and you have some happy people going into 2013.
It is a perfect way to end off the year.
Both men are giant fighters who bring their high-level skills to the Octagon. There is always the potential for an explosive ending, especially with these two competitors.
This should be one heck of a fight.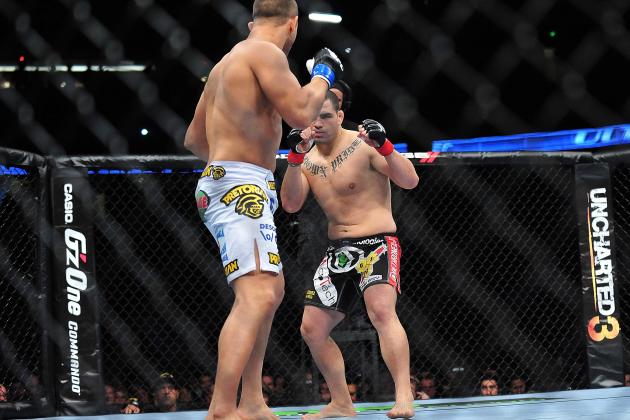 Gary A. Vasquez-USA TODAY Sports

It will not be the first time these men meet in the Octagon.
They fought for the first time at the original UFC on FOX event. It was in that live fight that dos Santos dethroned Velasquez with a thunderous knockout 64 seconds in.
When they meet in the cage, it will be nothing but business for the second time.
Their first fight lasted a little over a minute. Don't count on that happening this time.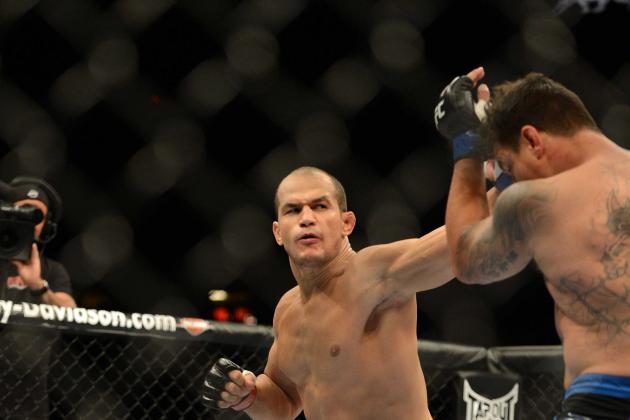 Ron Chenoy-USA TODAY Sports

Both fighters boast impressive UFC records.
Former champion Cain Velasquez is 8-1 in the UFC, with his only loss coming to dos Santos.
He holds notable wins over the likes of Antonio Rodrigo Nogueira, Brock Lesnar and Antonio "Bigfoot" Silva.
Dos Santos also comes into this fight with a stellar UFC record.
He is a perfect 9-0, with wins over Cain Velasquez, Frank Mir, Roy Nelson and Fabricio Werdum.
These guys are easily as talented as they come.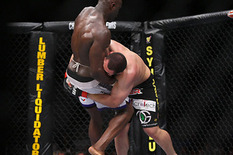 Velasquez attempting a takedown
Both fighters bring very different styles into their looming battle.
Junior dos Santos brings his powerful boxing into the fight. He has finished seven of his nine UFC opponents by way of knockout.
Dos Santos also holds a black belt in Brazilian jiu jitsu.
Velasquez also has excellent boxing. It is crisp and accurate. His biggest asset is, without a doubt, his NCAA wrestling.
He will try and secure a takedown and work his ground and pound on the champion.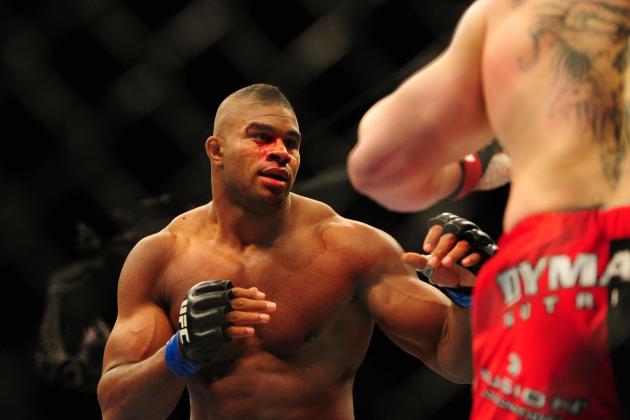 Mark J. Rebilas-USA TODAY Sports

If there is one heavyweight that will be watching this fight very closely, it is perennial contender Alistair Overeem.
Overeem has not fought since he was suspended by the Nevada State Athletic Commission for elevated testosterone levels.
He was supposed to have fought dos Santos at UFC 146 before the drug test was revealed.
He faces "Bigfoot" Silva in his Octagon return in 2013. Should he win impressively, a title shot may be not that far off.
Overeem is a dangerous opponent for any UFC heavyweight. If he gets a shot at the title, it is guaranteed to be a great fight.
Tweet me @FuscoNation16.