8 Reasons to Love the Chicago Bulls' Future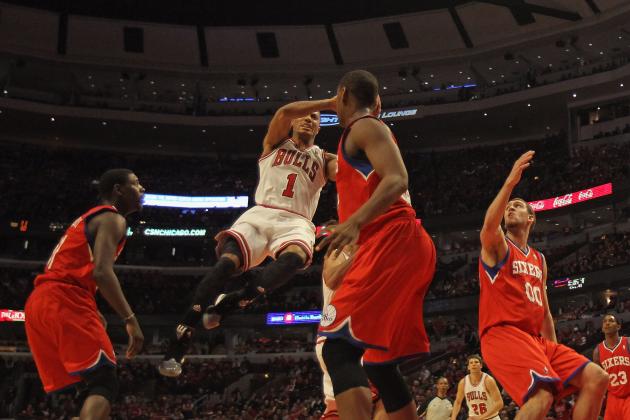 Jonathan Daniel/Getty Images

The Chicago Bulls are surprising a lot of people by having a much better season than many expected. They currently sit on top of the Central division and are holding on to the fourth seed in the Eastern Conference. The present is looking better than many expected.
But the present has nothing on the future. Chicago's future looks to be far better than its present. There are a number of reasons to suggest the Bulls are at their lowest point right now that they'll be at over a span of several years, from the previous two to at least the next five.
When being "only" one of the 10 best teams in the NBA is your floor, the ceiling is NBA titles.
All stats in this article are as of December 24, 2012 unless otherwise stated.
Begin Slideshow

»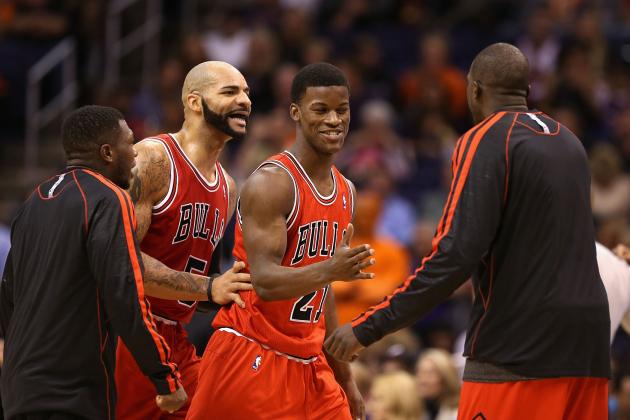 Christian Petersen/Getty Images

Jimmy Butler has become known to me as "Jimmy on the Spot." He has officially replaced Johnny, whomever that was, in that regard. I never see Johnny there. It's always Jimmy.
He's always making the biggest plays at the biggest moments; whether it's the timely steal, rebound or stop, he has been coming up huge for the Bulls this season.
His defense on Carmelo Anthony in the Bulls' win in Madison Square Garden was a significant factor in the win.
Butler is repeatedly showing that the Bulls made the right choice when they picked him with the last pick of the first round in 2011. Only two players, Kawhi Leonard and Kenneth Faried, who were taken in the 2011 draft have more Win Shares per 48 minutes than Butler.
That number is going up as his playing time increases as well.
Now granted, he's not Kyrie Irving. It would be ridiculous to suggest he was. However, the Bulls definitely made the most of the last pick in the first round. Butler will only continue to get better, and as he does, he will develop into one of the better bench players in the league.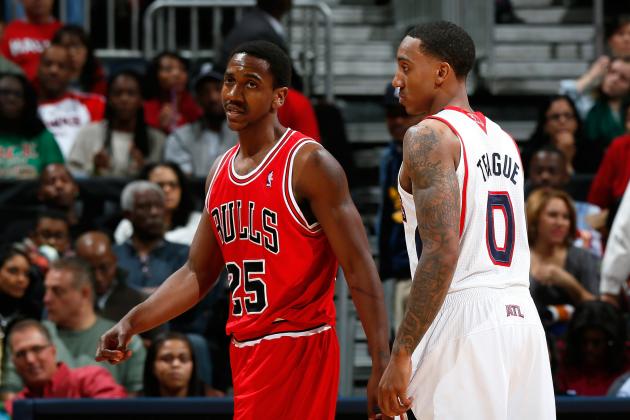 Kevin C. Cox/Getty Images

When the Chicago Bulls drafted Marquis Teague there was some voice of discontent from the Bulls fans. That voice is starting to fade.
While there was a lot of talk about his speed and athleticism and how he might be a better version of his older brother, Jeff, his defense was not something that fans expected to see. What we've seen has been really remarkable, though.
In fact, his Synergy numbers are fantastic. He is giving up 0.59 points per play when he's the primary defender. That's the third-best rate of any player in the NBA at any position. His opponents shoot just .233 against him. Those numbers are bound to go up as he gets more playing time, but they indicate a massive potential on the defensive end of the court.
Teague has great size and speed for a point guard. He also has a player with similar, though superior, physical makeup who can mentor him in Derrick Rose. His offense right now lags behind his defense, but as Rose gets healthy, look for Teague to improve. Also, time on the court is a huge plus.
Teague has the physical makeup. John Hollinger ranked him as the fifth-best talent in the draft.
Think of the impact that Chris Paul has had on Eric Bledsoe. Rose could and should have a similar impact on Teague. This could quickly become one of the most elite position tandems in the NBA.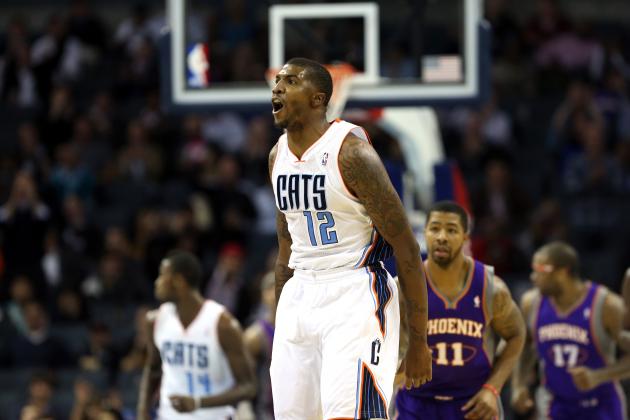 Streeter Lecka/Getty Images

Three years ago, the Chicago Bulls traded Tyrus Thomas to the Charlotte Bobcats for a protected first-round pick. They are sill waiting for that pick, and will continue to wait for that pick for at least another year or two, but sooner or later they will get that pick.
And if we've learned anything from the Bobcats, it's that they have an uncanny ability to be horrible, year after year. Just when you thought they might not suck, they go on a 15-game losing streak (and counting) and renew your belief in their anemia.
The Bobcats' pick is top-12 protected in the next draft, top-10 protected in 2014, top-eight protected in 2015 and unprotected in 2016. Some fans are eager for this pick to pay off, but what if they have to wait until 2016? Could that be even better?
Possibly. As the Bulls continue to develop there's a reasonable chance they could win the NBA title in the 2015-16 season. Can you imagine adding the No. 1 overall pick to the NBA champions? What if Anthony Davis had been drafted by the Miami Heat this year?
This pick could make the Bulls absolutely sick. If they were to manage that, they could be the only team other than the 1982 Lakers to do that.
There are some major ifs between now and then, but that's the ceiling. The floor is a 13th pick next year and a healthy Derrick Rose. That's still promising, but not nearly as exciting.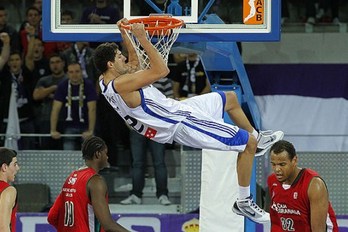 In addition to the developing Jimmy Butler and Marquis Teague and the eventual draft of the Charlotte pick, as well as whatever picks Chicago uses between now and then, there's the draft-and-stash player from 2011, Nikola Mirotic.
The issue of when Mirotic is coming over is complicated, but the consensus seems to be the 2014-15 season though some believe it will be the following season. Whichever it is, there is a general consensus that Mirotic is the best future-NBA player in Europe right now.
Mirotic is a stretch-four with considerable athleticism for a Euro. He has a real future in the NBA. So much future in fact, that Nick Gobson of Sheridan Hoops recently wrote that the Bulls would be foolish to include Mirotic in any trade talks for Pau Gasol.
In fact Mirotic, who has already won the Rising Star Trophy twice—something only he has accomplished—and is now in the running for a third.
Mirotic has been getting so much attention of late that there is beginning to be some backlash against him, and some are saying he's "overrated." The problem is that those who are giving him the attention pay attention to European basketball, and those who are calling him overrated tend to have never seen him play at all.
Face it, we don't get a lot of Euroleague on American TV, so we're somewhat beholden to those who have access to it, and among those who do, especially with a view towards the NBA, Gobson is about as good as they get.
Another thing that happens is that people confuse best players in Europe with best players with an NBA future who are currently in Europe. Obviously, just like with the NBA, potential versus current level need to be balanced. Are there better European players than Mirotic in Europe right now? Sure there are.
But how many of them have more potential? Mirotic is just starting to tap what he could be and he's learning at a massive rate if his Rising Star Awards are any indication. He's been compared to Dirk Nowitzki, Detlef Schrempf, Andrei Kirilenko and Toni Kukoc.
That's some pretty lofty comparisons, as those are some of the greatest European players of all time. Mirotic has that kind of potential. Maybe he won't be Nowitzki or Gasol. Maybe he'll "only" be Toni Kukoc, but a version of Kukoc that comes over in his prime. He still has the potential to be an enormously impactful player.
The Bulls have brilliantly added a player with top-five talent in the last two drafts. There is a lot of future potential there.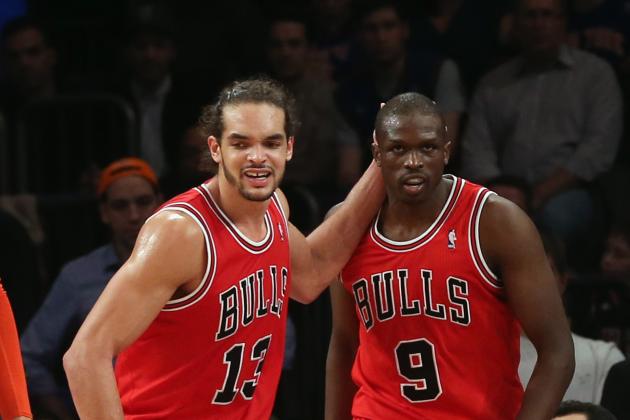 Bruce Bennett/Getty Images

Joakim Noah is starting to emerge as an elite center in the NBA. In fact, the probability is that if the NBA hadn't changed the rules for voting this year, he would be the starting center for the Eastern Conference in this year's All-Star Game.
Noah is also garnering attention for Defensive Player of the Year. He's scoring at an unprecedented rate of 13.5 points per game. He's leading all NBA centers in assists. He's only the third player since in the three-point era to average 10 points, 10 rebounds, four assists and have a defensive rating below 100.
In short, Noah is becoming a star. He's emerging as the prototype for the new breed of center who can run the floor like a gazelle and guard the perimeter. He's the most multifaceted center in the game right now.
While everyone talks about what the Bulls need, that second scoring star, they lose track of what they don't need, the defensive star. They have that in Noah, and he's only just now entering into his prime.
Kevin C. Cox/Getty Images

The Chicago Bulls right now have no cap space, but they will. While millions of Chicago Bulls fans eagerly anticipate the amnestying of Carlos Boozer this summer, it's unlikely to happen.
The following year, though, there's reason to believe it could. Here's what some casual fans miss.
The way the soft cap works is that you can use certain exceptions to sign players, even if you are over the cap. For instance, you can carry two players with a mid-level exception if you're over the cap. That's a $5 million-per-year contract, but the catch is that you can only sign one player per year and carry a maximum of two with the mid-level exception.
You can re-sign players using the Larry Bird Exception, even if it puts you over the cap.
However, what you can't do is amnesty a player, or even let a player with an expiring contract go, and then sign someone else for the same amount of money. You can only do that if you're that far under the cap.
If a team is over the cap by $15 million and a $15 million contract expires, it can only add a player for $5 million, and that's only if it hasn't used both its mid-level exceptions.
If they were to amnesty Boozer and Richard Hamilton, that would relieve them of $19 million in cap space.
Ergo, Boozer's $15 million contract cannot be replaced with any $15 million contract. They would need to trade his contract for another contract of like value, and no one wants Boozer's $15 million contract any more than the Bulls do.
If they were to find someone who wanted the contract, they'd have to take back another bad contract. For example, the Brooklyn Nets would probably jump at the chance to give the Bulls Kris Humphries' $12 million contract and another player for Boozer's $15 million contract, but the Bulls wouldn't get any better or have any reason to do that.
Pretty much the Bulls aren't going to be able to do anything with Boozer's situation that makes them better until the summer after next. Then it makes sense. Luol Deng's contract comes off the books. Kirk Hinrich's contract comes off the books.
Taking Boozer's contract off the books would mean they could do one of two things. Either they could A) re-sign Deng for about $8 million a year and another player for about $10-12 million or even more depending on what the cap is, or B) Sign a player for around $15-20 million a year and couple that with C) bringing over Nikola Mirotic. Or if Deng is willing to take less, and if the cap goes up a few million, they could conceivably sign a player for around the $12-13 million range.
One such available player would be Eric Gordon.
So the Bulls could conceivably have a lineup that looks like this.
PG: Derrick Rose/Marquis Teague
SG: Eric Gordon/???
SF: Luol Deng/Jimmy Butler
PF: Taj Gibson/Nikola Mirotic
C: Joakim Noah/???
The question marks could be filled in with the Bulls' draft choices between now and then. It's also possible that Mirotic would be the starting PF.
Or consider the possibility that the Heat don't win three straight titles and the big-three get busted up, which they might have to do considering the Heat will have massive taxes due then, and in spite of popular belief, Miami is not a major market.
What if LeBron James becomes available and the Bulls land him this time? What if you have a lineup like this?
PG: Derrick Rose/Marquis Teague
SG: Jimmy Butler
SF: Luol Deng
PF: LeBron James/Nikola Mirotic
C: Joakim Noah
I know, "don't go there again," "fool me once shame on me, fool me twice shame on the media" and all that. I'm just looking at different options. The Bulls will have a lot more freedom come 2014-15 than they do right now.
The reality is that the Bulls will have a solid core who are ready to win a title. They'll have a point guard who has already won an MVP and will just be entering the prime of his career. And they'll be playing the third-largest city in the country, which has been the home of two of the best-endorsed NBA players ever.
These are just a couple of ideas that I'm bouncing around. The Bulls will have cap space and the ability add, at the very least, a high-quality scorer if they haven't already done so through the draft. They'll be an attractive landing place too.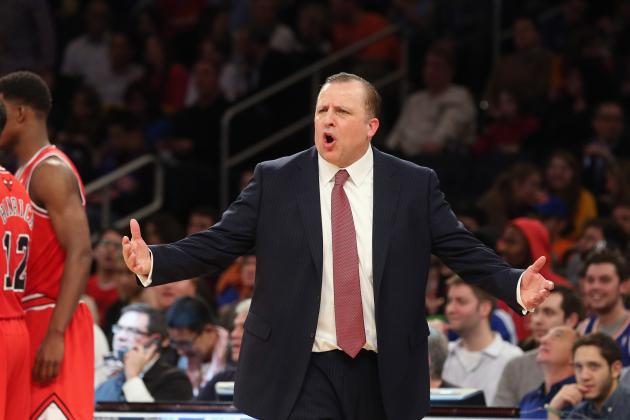 Bruce Bennett/Getty Images

Researching the Bulls starting lineups led me to this fascinating stat about Tom Thibodeau. Since he became the head coach of the Chicago Bulls, there have been only 44 occasions where he started his preferred staring five.
By comparison, he's been missing two or more starters 47 times.
Now stop and consider that right now he has the highest winning percentage of any coach in NBA history.
That cliche about next man up might not just be a cliche with him.
Imagine what he could do if he had a relatively stable starting lineup for a whole season, or even a half of one.
Furthermore, can you name a player that had room to grow and didn't grow under him. Luol Deng, Joakim Noah, Kyle Korver, Nate Robinson, Omer Asik, Marco Belinelli and some guy named Derrick Rose have all improved under his tutelage. So have others.
And truthfully, while Boozer's defense still has problems, it has improved under Thibodeau.
Thibodeau develops talent on a level that is positively "Popovichian." He has the sharpest defensive mind in the game. He keeps his players motivated. He gets them to commit to defense. He wins.
Granted, he's only in his third season, but there was a time when Phil Jackson was in his third season, and when Greg Popovich was in his third season. Every great coach has had a third season. Thibodeau is not a great coach yet by any stretch, but given how he's started, there's plenty of reason to believe he can be and will be.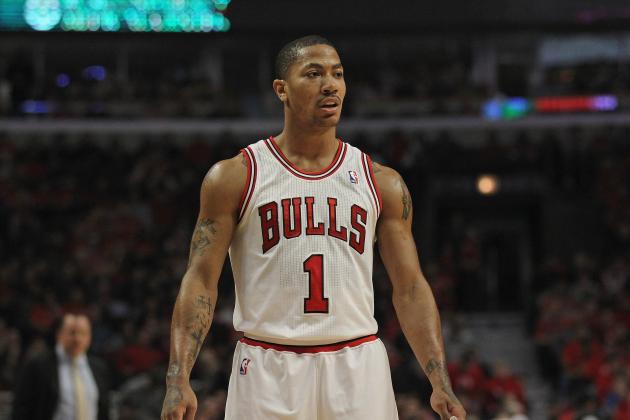 Jonathan Daniel/Getty Images

Derrick Rose is on the verge of what may be the most anticipated return in the history of the NBA. That's really not overstating things.
Consider the facts. When is the last time a former MVP came back from a major injury at all? The last person I can find is Dave Cowens in 1977, but he was already starting to have his career decline by then.
Rose isn't just any former MVP, though. He was the youngest MVP in the history of the NBA, and he went down the year after he won it. His career is still on the rise. He's 24 years old. He still has years to develop his game and become even better than he already is.
He's also been working on his shot, his biggest weakness.
Rose gets criticized by some trapped in an antiquated, second millennium grasp of what a point guard "should do." They probably think that quarterbacks that "throw too much" can't win the Super Bowl too.
It's a reality of the times. The point guard has changed roles. His job is not to "pass first." It's to run the offense, and the offense runs better with Rose at the helm. If he can come back with the same explosiveness, but an improved jump shot, he could become virtually unstoppable, especially if he has better scorers around him.
With the developing Butler and Teague, and Thibodeau to develop them, with Noah and Deng serving as the veteran leaders, with players like Mirotic and whomever the Charlotte pick brings in still ahead, with the kind of player than can pick up eventually in free agency and with Tom Thibodeau to coach and Derrick Rose to lead, how can you do anything but be primed for the Bulls future?