Ric Flair: Why It's Great to Finally See Him Back in WWE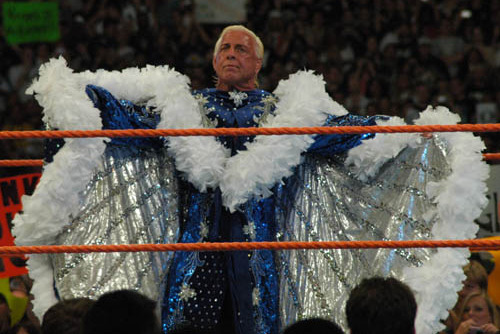 He is the man and he is home! Image by Cage Side Seats
Ric "The Man" is back in the WWE!
It has been years since his last appearance, but when he showed up to present an award, it was as if he had never left.
The former 16-time World champion has left his mark upon professional wrestling after decades of blood, sweat and even tears.
Whether it be in the old NWA, WCW, WWE or TNA, Ric Flair is a man of many words.
The WWE Universe got their Christmas gifts early this year. The Nature Boy came back home where he belongs.
Naitch, Naitch Naitch, how do we love thee! Let me count the ways.
Begin Slideshow

»
Ric Flair came out to such a warm welcome last Monday.
The only thing that can be said is that he hasn't lost his touch at all.
He was the one chosen to announce who the Slammy winner would be for the "Superstar of the Year" award.
In one night, he:
- Declared John Cena to be a Slammy Award winner (in which the winner received major heat)
- Outshined the "face" of the company
- Received a Slammy Award
- Had a verbal exchange with current WWE Champion CM Punk and his manager, Paul Heyman
- Met the champion in the ring and lived
- Got caught in the Team Hell No! exchange a.k.a "YES!! NO!!! WOOO WOOO!"
Was there anything left out?
Having great characters from the past is fun and entertaining, just as long as it doesn't take any time away from spotlighting the current roster.
Ric Flair's return can only be beneficial.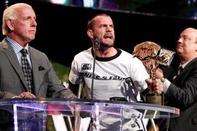 Awesome four-pack! Photo courtesy of WWE
CM Punk, The Miz, Dolph Ziggler, Cody Rhodes, Antonio Cesaro, Damien Sandow, Daniel Bryan...even Ryback!
All these names and then some could receive a ticket for a rocket ride to the moon if paired in a program with Ric Flair.
The man has that magic touch and can still go toe-to-toe with the best. And even if it were as a manager or whatever vocal position, he would excel in it like few others can.
It would be difficult to see him as a "villain" right now, given the awesome reaction from the crowd. So by having him around as a thorn in a top guy's side would perhaps do wonders for that person in particular.
Honestly, who would object to a chance of working with a former 16-time champion who's earned all the accolades and is a walkin', talkin', livin' legend?
There are no names that come to mind.
Ric Flair and daughter, Ashley. Image by Wrestling-Online
Whether it be Reid or Ashley, the force of professional wrestling flows strongly in that family.
The Divas division could skyrocket if the daughter of Flair becomes a diva with no equal. Things could definitely be worse; Eve Torres wouldn't know what hit her.
There must be some of that magic in those children. Why else would they be given an opportunity like this?
With Ric back in the saddle, he can be there when they need help, and in reviewing their performance, he can share some of his knowledge by telling them all about his highs and lows.
No one would stand to gain more from his legendary presence in this business than his kids. They kind of have an advantage over others and must capitalize on it as well as can be expected.
It is all about skill and politics and who is the dirtiest player in the game.
Woooo!
Ric Flair the legend is unforgettable and immortal.
Ric Flair the man, like it or not, is not going to be around forever. That is the only justice in the world. It will end for everyone someday.
Therefore, having him back in the WWE is like a parent reuniting with his children in the autumn of his life. You give so much of yourself all your life, and now is the time to come back home and go out in style.
He belongs in this company. The company owes him that much. The WWE Universe loves Ric Flair, and he loves them; there is no denying this fact. That is why he still gets up in the morning to do this.
It is in his blood, and only death can release him.
One last hurrah!
Nothing less will suffice for both the legend and all his followers.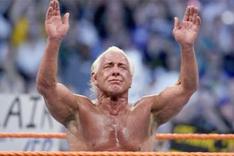 LEGEND! Photo by WWE Espanol Forum Community
Let's hope with this holiday season a new deal can be reached and that Ric Flair is here to stay!
WWE is his home, he needs to be home for Christmas and start the new year with a major Wooooo!!!
There is a lot of work ahead, but with this character back in the fold, 2013 could be the best one yet.
The "Nature Boy" is an irreplaceable, larger than life, simply spectacular icon in all of professional wrestling. He broke down barriers, he broke all the rules and pretty soon, he will exceed all expectations by delivering some more outstanding promos (and matches, I'm sure!).
Welcome home, Ric; you're the man! Woooo!