January Transfer Window: 5 Possible Answers to Liverpool's Striker Problems
Julian Finney/Getty Images
Liverpool put the attacking woes behind them at the weekend to blast four goals past Fulham at Anfield as they moved a step closer to the top six of the Premier League and the 4-0 scoreline made a welcome change from seeing the Reds miss countless chances to hit the back of the net.
With only six goals scored in the five previous league matches, it was a case of "same old story" for the attacking part of Liverpool's team too often, with points against Spurs and Aston Villa in particular being lost out on as a result of not being able to finish off chances.
It has been widely reported that to counter this problem over the second half of the season, Brendan Rodgers has lined up Daniel Sturridge to sign early on in January.
This is just one move on the manager's part to solve a problem which has plagued the club for more than two years.
Rodgers has plenty more decisions to make and perhaps players to sign before the Reds can consider themselves cured of their goalscoring ills.
Here are five possible treatments that Rodgers could administer to his team as they battle to end up on the right side of more scorelines such as the one they managed against Fulham.
Playing Daniel Sturridge as a Striker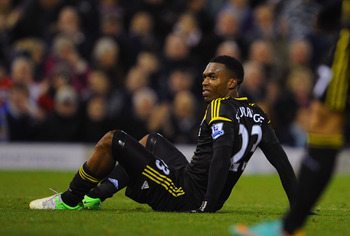 Michael Regan/Getty Images
A £12 million fee looks to have been sufficient to secure the signature of the four-cap England forward who has been known to want to play a more prominent central striking role.
With Liverpool more often than not utilising a front three comprising one central player—usually Luis Suarez—and two supporting wide forwards, someone is going to miss out on their preferred role.
Bringing Sturridge in is quite obviously a sign that the manager believes he can score the goals the Reds need, so it would make sense to presume that the current Chelsea forward will be handed at least some game time centrally.
Whether that is immediately, in time or permanently remains to be seen, but Sturridge certainly has plenty of attributes to his game that make him a potentially very dangerous threat through the middle.
Playing that role for Bolton Wanderers on loan saw him score regularly where he team was set up to counter and feed him the ball quickly, utilising his pace and the fact he would be facing toward goal already.
Now that he's a couple of years older, his movement is far better and it is this which will help thrive at Liverpool where the build-up is—or should be—of a similar tempo, but more patient and prolonged before the chances arrive.
Good finishing, acceleration and some close control will also all benefit him playing through the middle.
Better Movement from the Wide Forwards to Support Luis Suarez in the Centre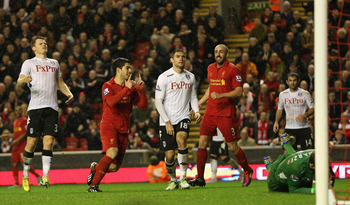 Clive Brunskill/Getty Images
On the other hand, should top scorer Suarez be the chosen central player, then what Liverpool desperately need is for the supporting wide players to improve their runs into the penalty area and provide a greater goal threat.
Suarez loves to drop deep, come into the channels, combine with the midfielders and run at the defence from deep, which leaves room in behind for one of the wide players—and Liverpool would be looking particularly at Sturridge here—to make the natural run into the gap.
A quality run from wider areas is much more difficult for defenders to track and mark than a stationary centre forward, so if Sturridge can be convinced that he will get plenty of chances to score goals from making these runs, he should excel in this role.
Sure, he'll need to hold his position wider some of the time in the build-up, but the eventual aim is to get him in the penalty area as often as possible. If he times his runs as he should, Sturridge could arguably find himself with more chances from the channels than if he positioned himself in the middle initially and then had to move wide or deep to collect the ball.
Switch in Formation to a Two-Man Attack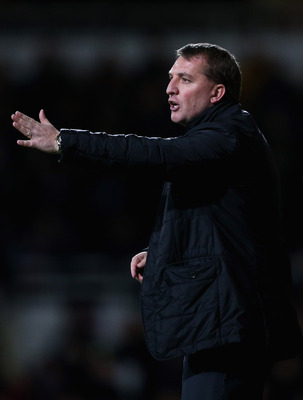 Scott Heavey/Getty Images
We've seen Rodgers switch to a two-pronged attack on a couple of occasions this season, notably in the second half against Everton and early in the game versus Chelsea.
Raheem Sterling and Luis Suarez were the duo in question at the time, but there will doubtless be opportunity in the coming months to pair two more natural forwards together in the attacking third.
By the time Sturridge arrives, if he does so, Fabio Borini will also be nearing full fitness after injury and Rodgers might well opt to give Suarez a rest from time to time to keep him fit and available for more important matches.
In those instances, a partnership of Sturridge and Borini on the face of it has plenty of interesting combinations of attributes—the pace of the Englishman and the movement off the ball from the Italian, one being left-footed and the other right and, importantly, both with perhaps something to prove to the Liverpool fans.
Pairing Suarez with either one is of course also an option in league games, which would allow the Reds to revert to a back three system or play with a diamond in midfield, providing greater central strength and allowing the attacking full-backs to provide plenty of thrust in wide areas.
Buy an out-and-out Striker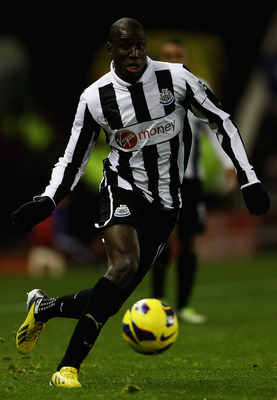 Matthew Lewis/Getty Images
Still an option open to Brendan Rodgers and one which plenty of fans still hope to see: Liverpool could sign a second forward, but an out-and-out striker this time who will play central or nowhere.
In short, a goal-getter. Rodgers may well want someone who can start infrequently and be a threat off the bench, someone to change the shape or the intention in attack of the team, somebody to hang on the shoulder of the central defence and purely look to score goals.
Of course, Daniel Sturridge will hope he is that player as and when it is needed, but still the option remains to bring in a pure striker.
Demba Ba of Newcastle is available for around £7 million and has certainly proved his worth in scoring goals in the Premier League, but would the transfer fee and wages of bringing in a player such as he be countered in quality gained on the pitch? Especially if he only started one in two or three games?
Some fans might argue all three forwards could play in the current system; Suarez left, Sturridge right and Ba centrally—but that will come with an inevitable drop in the middle third of the pitch performance.
A balancing act has to be struck, not to mention those who would be left out because of the new signings, including Raheem Sterling.
Play Steven Gerrard in a More Advanced Role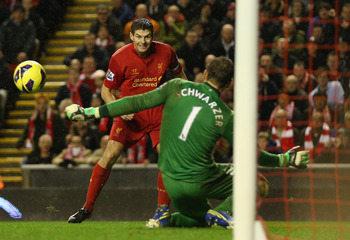 Clive Brunskill/Getty Images
With two goals in his past two games and a pair of assists at the weekend to boot, perhaps Steven Gerrard is returning to form enough to suggest that deploying him in a more advanced role once more is the answer.
Gerrard to the right and Suarez to the left of Sturridge might strike the right balance between attacking quality, experience, creativity and work-rate. It should certainly also provide more goals than Liverpool have managed in recent months.
Moving Gerrard out of the centre of midfield should not affect the quality of supply coming from deeper areas with the likes of Lucas, Joe Allen, Nuri Sahin and Jordan Henderson still involved, while getting Gerrard closer to Luis Suarez has always seemed like a ready-made route to goal.
Ultimately, the nature of top flight football dictates that there cannot and will not be one single solution; what works superbly against Fulham at home may not necessarily yield three points away to Stoke City.
What Brendan Rodgers needs to do is decide which variations of the possible solutions will serve him best over the entire remainder of the season, and hope to cover his bases as often as possible.
It is likely that the Reds will bring in one additional attacker as well as Sturridge—those two, plus Suarez, Sterling and Borini will need to provide the goals to win Liverpool games more often than not.
And if Gerrard continues his recent improvement in front of goal, then things could very quickly look far more rosy for the Reds in the goals scored column indeed.
Keep Reading

Liverpool: Like this team?