NBA Rookie Stock Watch: Risers and Fallers from 2012 Class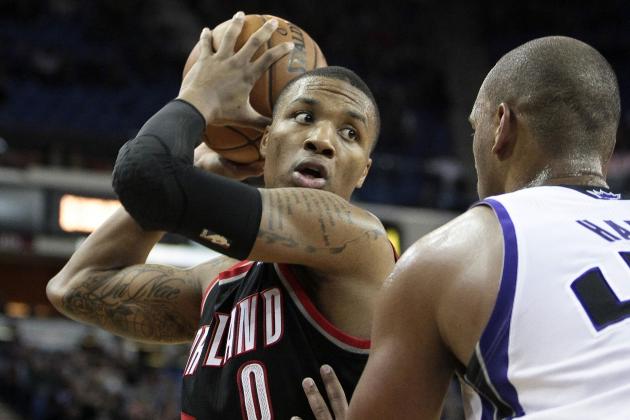 USA TODAY Sports

It's time for a Christmas-week edition of the 2012-13 NBA rookie stock watch!
Who has improved their stock the most leading up to the holidays? It might not be who you expect.
A couple of big names fell off our radar after consistent underachieving, but they were replaced by a couple of exciting young ballers.
The Eastern Conference has a slew of rookies making an impact every night, but did any of them crack the top three of our stock watch?
Find out as we break down all the major risers and fallers from the 2012 class.
*Statistics from NBA.com and Synergy Sports, accurate as of Dec. 25, 2012.
Begin Slideshow

»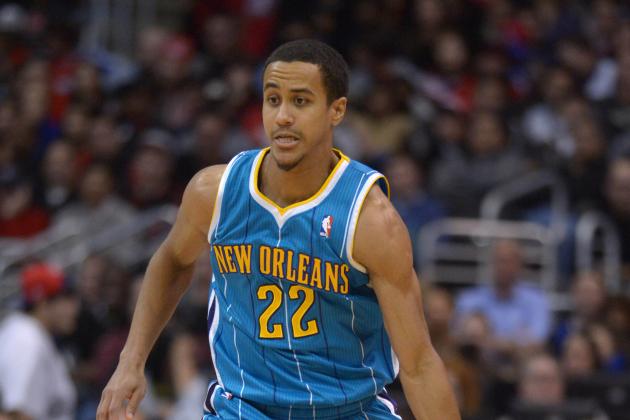 USA TODAY Sports

Jae Crowder, Dallas Mavericks, F: Stock is Up (15 points, three assists vs. MIA)
Harrison Barnes, Golden State Warriors, F: Stock is Down (8-of-31 in last four games)
Brian Roberts, New Orleans Hornets, G: Stock is Steady (11 points, three assists at SAS)
Jonas Valanciunas, Toronto Raptors, F: Stock is Down (Fractured metatarsal)
Chris Copeland, New York Knicks, F: Stock is Steady (10 points vs. CHI)
Andrew Nicholson, Orlando Magic, F: Stock is Down (4.7 PPG in last three games)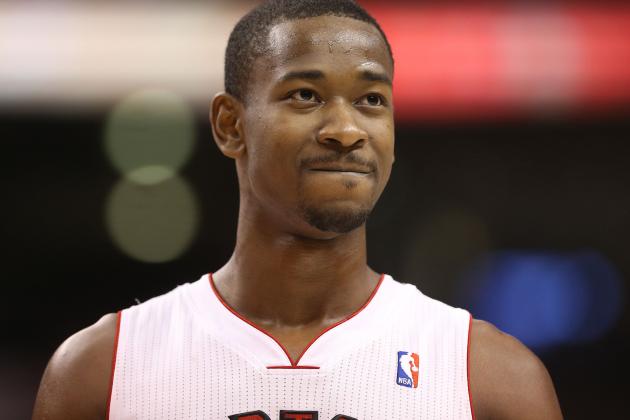 Tom Szczerbowski-USA TODAY Sport

Stock Report: Up
Last Week's Rank: Unranked
With Harrison Barnes falling out of the stock-watch rankings for the first time this season, the player drafted right after him took his place.
Terrence Ross of the Toronto Raptors snuck back into the No. 10 slot as he gave his squad great production in limited playing time. In his last three games, he's shot 10-of-16 with zero turnovers.
Early in the season, Ross saw scant playing time and irregular involvement in the offense. Lately, Dwane Casey has been finding ways to utilize his athleticism, as the 6'5" wing thrives in off cuts, handoffs and in transition.
Ross is still relatively deep on the bench in Toronto's rotation, but when he gets his opportunities, he finishes with a flourish.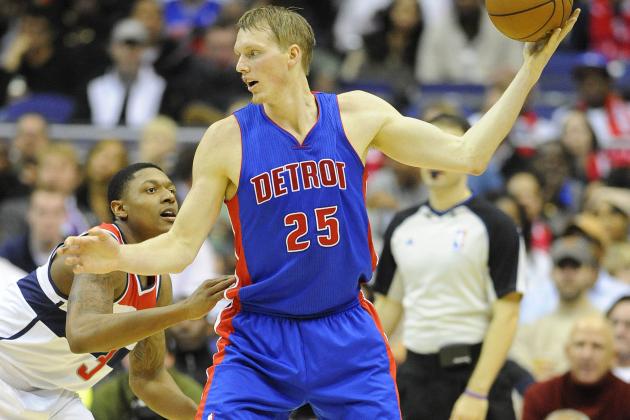 USA TODAY Sports

Stock Report: Down
Last Week's Rank: 7
At one point, Kyle Singler was in the top five of our rookie stock-watch rankings, but he's in jeopardy of falling off the radar altogether after his second poor week in the last three weeks.
Singler's defensive troubles haunted him against Toronto, as he fouled out on a 3-of-9 shooting night. Later in the week, he shot 1-of-6 and notched just two points against the hapless Wizards.
Detroit isn't too deep at small forward, so Lawrence Frank will keep giving Singler plenty of chances to raise his stock.
Areas he could use improvement in include pick-and-roll ball-handling, shooting off screens and defending the pick-and-roll. He's shooting 33 percent off the pick-and-roll, and he's giving up 46 percent when defending it.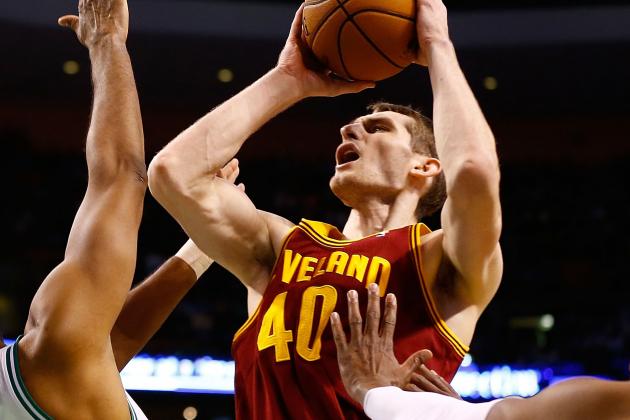 Jared Wickerham/Getty Images

Stock Report: Up
Last Week's Rank: Unranked
Anderson Varejao's absence in Cleveland's lineup opened things up for Tyler Zeller, who played at least 34 minutes in his last three games for the Cavaliers.
He didn't replace Varejao's mountainous rebounding production, but he did score 20 points in his first starting opportunity as a pro.
Zeller also chipped in a double-double in Cleveland's road triumph against Milwaukee, proving that he can fill the void in the middle in winning fashion.
We don't know how long Zeller will remain in our stock-watch top 10, but it's evident that he's a legitimate post player in the NBA. We're starting to see why Cleveland wanted him so badly in June.
USA TODAY Sports

Stock Report: Up
Last Week's Rank: 9
Andre Drummond is just the 15th highest scorer among rookies, but man, can that guy rebound.
The Detroit Pistons won two out of their three games this past week, and Andre Drummond's rebounding efforts were critical to the team's success.
In just 21 minutes on the floor, Andre Drummond burned the Wizards for a double-double that included 14 rebounds. He also swatted five shots in his reserve role. Drummond followed that up with an 11-rebound night in a rematch with Washington.
Detroit is one of the worst teams in the league, but Drummond gives the Pistons a great low-block boost off the bench.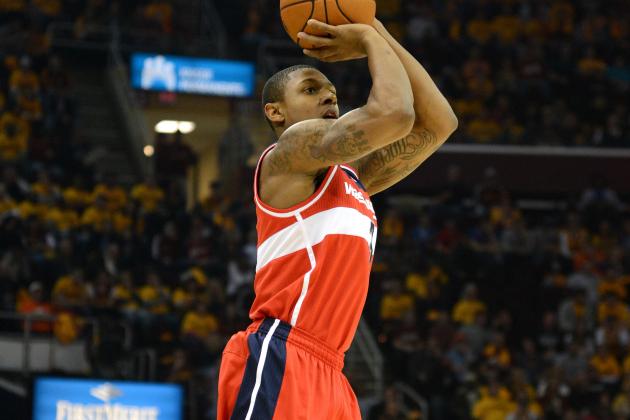 Jason Miller/Getty Images

Stock Report: Down
Last Week's Rank: 5
Washington Wizards shooting guard Bradley Beal is still filling up the hoop, but his stock isn't rising because he's inefficient.
Let's examine Washington's 100-95 loss to Atlanta. Beal put up 17 points, which is a nice mark for a rookie, but he took 22 shots to get there. If he was a bit more economical, the Wizards could get a few more favorable possessions and make up the margin against the Hawks.
He's improved as a playmaker since he arrived at the nation's capitol, making some plays for teammates and limiting the turnovers. But his three-point percentage is still below 30 percent (currently at 29).
Until he can shoot the ball at a better rate, he won't consistently crack the rookie top five.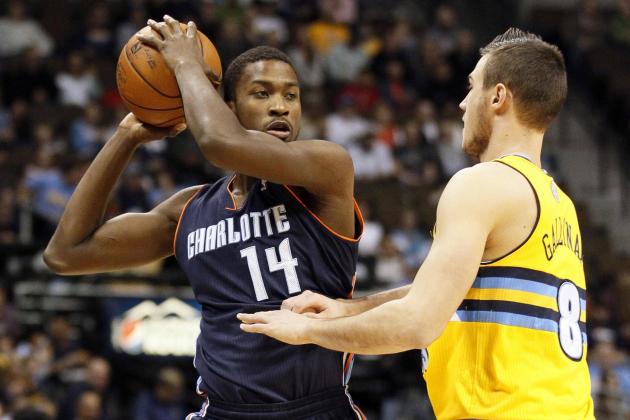 Isaiah J. Downing-USA TODAY Sports

Stock Report: Up
Last Week's Rank: 6
Last week I noted that the Charlotte Bobcats need Michael Kidd-Gilchrist to step up.
He obliged, but the Cats still couldn't get in the win column.
Kidd-Gilchrist registered 13.8 points and 6.3 rebounds per game this past week, and the highlight was his monster game against Phoenix: 25 points, 12 boards (five of them offensive), four assists and three steals.
Because he's an inconsistent offensive player, Kidd-Gilchrist doesn't get the praise that guys like Bradley Beal and Alexey Shved get. But his PER is 17.3, which puts him just behind Damian Lillard and Anthony Davis in the efficiency rankings.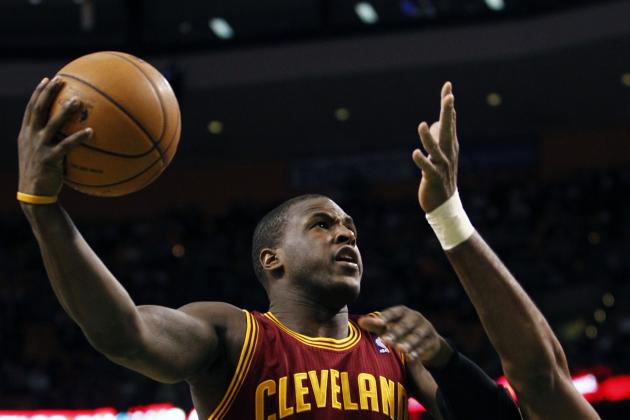 USA TODAY Sports

Stock Report: Steady
Last Week's Rank: 4
Dion Waiters is 0-of-12 from distance since returning from ankle injury, but he still scraped together 12.5 points and 4.3 assists per game.
Even with Kyrie Irving and Waiters back on the floor together, the Cavaliers struggled to win, going 1-3 since Waiters' return.
Waiters' subpar shooting percentages are the only thing holding him back from a top-notch rookie campaign. Hopefully the continued pairing with Kyrie Irving will yield more favorable looks and a more efficient offense for the Cavs.
He had a mediocre week, but there's still a shot for Waiters to get in the Rookie of the Year discussion.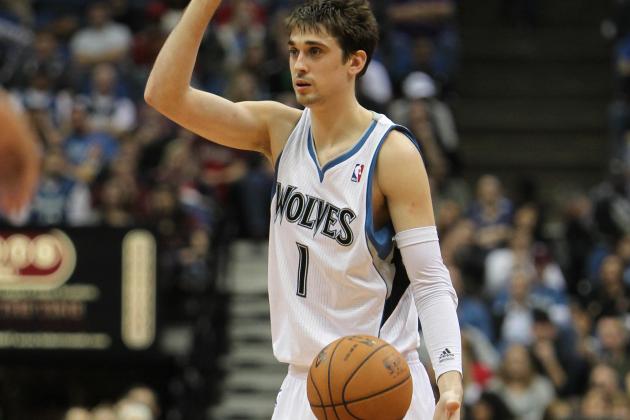 Brace Hemmelgarn-USA TODAY Sports

Stock Report: Up
Last Week's Rank: 3
A superb rookie campaign got even better this week for Minnesota Timberwolves guard Alexey Shved.
He's distributing the ball extremely effectively and heating up from long range lately, and the Wolves need every bit of it.
Shved's 12 assists helped Minnesota snap Oklahoma City's winning streak, and the dozen dimes are a single-game best for any 2012-13 rookie.
When it comes to shooting, he's getting back on track after a couple of lousy games. He hit four three-pointers and dropped 18 points in the Wolves' loss to New York.
Shved has shown us he can be brilliant at times; his next goal is to show us he can be consistent.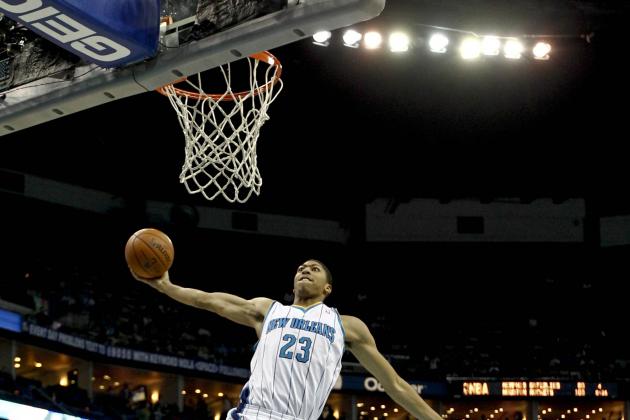 Derick E. Hingle-USA TODAY Sports

Stock Report: Up
Last Week's Rank: 2
Monty Williams' New Orleans Hornets still lack the offensive firepower to win, but Anthony Davis is pulling his weight on both ends of the floor.
The rookie class' PER leader averaged 14.8 points and 10.3 rebounds over his last four games.
Davis' best games resulted in close road losses to Golden State and San Antonio. It shows that New Orleans is much more competitive when he's effective on the offensive glass and shoots over 50 percent.
He has a good chance to get the Hornets a victory soon; his next three games are against Orlando, Toronto and Charlotte.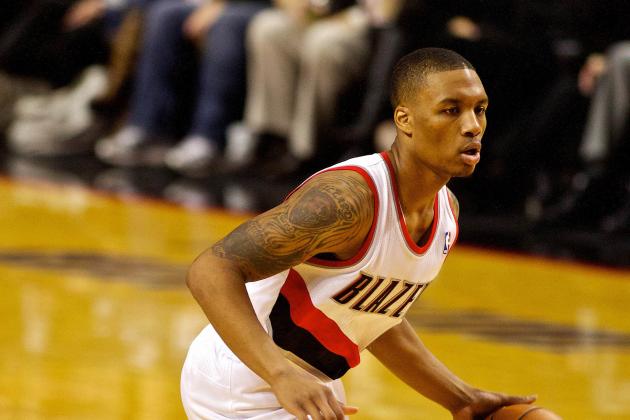 Craig Mitchelldyer-USA TODAY Sports

Stock Report: Steady
Last Week's Rank: 1
Despite a recent loss to the Sacramento Kings, the Portland Trail Blazers have won five out of their last six games, thanks in large part to Damian Lillard.
The dynamic guard's latest exploits include a 10-assist night against Denver (out-dishing Ty Lawson) and a 25-point, seven-assist night against Phoenix.
It's simple: When Lillard attacks, good things happen for the Blazers. His outside shot keeps defenses honest, which gives him opportunities to drive, dish or draw a foul. He went 14-of-16 from the charity stripe this past week.
We know he's a special rookie, but can he get Portland above .500 and in the playoff hunt?
For more NBA coverage, follow me on Twitter: