The Shield: Should Their Success Make WWE Reconsider WrestleMania 29 Plans?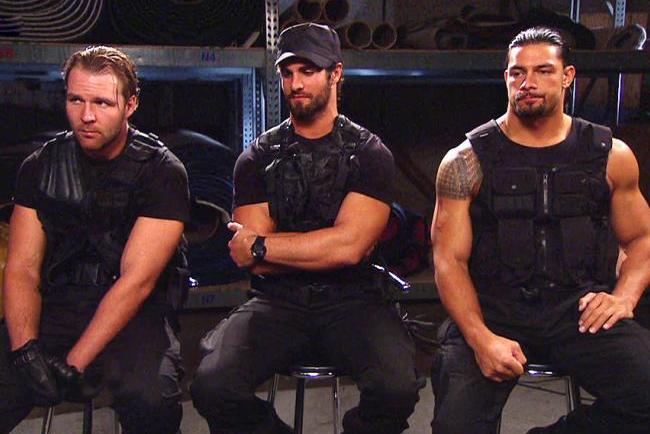 Photo courtesy of WWE.com

Although The Shield has only been present in the WWE since Survivor Series, the young trio has taken the company by storm and already gained a sizable fan following. Because of the instant impact that they have made, the WWE must figure out a way to get them on the WrestleMania 29 card.
While some people may find it unfair that The Shield could compete at WrestleMania since they haven't "paid their dues," the fact of the matter is that entertainment value trumps everything else. Had the Washington Redskins decided that Robert Griffin III needed to pay his dues, then they wouldn't be on the verge of making the playoffs right now.
Just like in other professional sports, the WWE needs to utilize its best guys regardless of their age and experience.
Besides, both Dean Ambrose and Seth Rollins have paid their dues on the independent scene, so it isn't as if they're being handed anything. Just because it took them a little longer to make the big time, it doesn't mean that they haven't worked as hard as everyone else.
Ambrose and Rollins, along with Roman Reigns, represent the most compelling angle in the WWE currently and perhaps the most intriguing thing in the company since WrestleMania 28. Not only is the group chock full of young stars, but they have already had an incredible match and their motives for attacking top stars are still unclear.
That is reason enough to find a way for them to compete at WrestleMania.
The best thing about it is that they have taken out so many top guys that there are a number of different avenues that the WWE can take. Pretty much all of the WWE's best faces have some sort of issue with The Shield and any of them could potentially face them at 'Mania.
Since The Shield just debuted, there hasn't been much talk about what their role at WrestleMania might be. There is no question that it's time to start thinking about their involvement, though. While some may just want them to compete in a throwaway six-man tag where they go over, I'd much rather see them in a more prominent position.
It may not be a popular idea, but I believe the ideal spot for The Shield at WrestleMania would be in a three-on-one handicap match against The Undertaker. With Triple H announcing at the Slammy Awards that we haven't seen the last of The Deadman, it seems like a near certainty that he will attempt to push his undefeated streak to 21-0 at WrestleMania 29.
The names that are thrown about most often when it comes to Taker's potential opponents are Brock Lesnar, CM Punk and John Cena. The fact of the matter is that all of three of them could be tied up in other matches, though. A Lesnar vs. Triple H rematch seems like a real possibility and I'm anticipating at triple-threat match between Punk, Cena and The Rock as well.
When you take all of that into consideration, there aren't many options remaining for The Phenom. I would love to see Taker return some time after the Royal Rumble to announce his intention to compete at WrestleMania, only to be attacked by The Shield.
The attack could be explained very easily by having them say that The Undertaker showing up once a year is the greatest injustice of all. They would then challenge Taker to a match at WrestleMania with him accepting despite the seemingly insurmountable odds stacked against him.
Who would you most like to see The Shield face at WrestleMania?
I'd like to see a No Holds Barred match with The Shield dominating for the majority of the bout, only for Kane to interfere at some point and help his brother pick up the win. Since Kane obviously has some issues of his own with The Shield, his involvement would make sense, and the fans would also love to see The Brothers of Destruction standing tall once more.
Fans would probably say that the loss would represent a "burial" of The Shield, but that simply wouldn't be the case. Facing The Undertaker at WrestleMania, regardless of the result, is a good thing. Having an opportunity to take on one of the most iconic figures in wrestling history on the big stage would be beneficial to Ambrose, Rollins and Reigns.
Failing that, another theory that I have seen involves The Shield facing Evolution.
The Shield has already attacked Randy Orton and Ric Flair, and they could very easily do the same to Triple H. Perhaps that would necessitate a one-night-only reunion of the best stable over the past 10 years.
Maybe Batista will even come back briefly so Flair can serve as a manager rather than a wrestler.
If neither of those scenarios work out, then I could see The Shield going against Sin Cara, Rey Mysterio and a newly face Alberto Del Rio. The Shield "injured" Sin Cara and Rey on SmackDown, and it's only a matter of time before Del Rio becomes their ally based on WWE logic.
That obviously wouldn't be ideal, but if it's the only feasible way to get The Shield on the WrestleMania card, then so be it. Regardless of how it happens, The Shield has to compete at 'Mania and take the next step in some discernible way.
Follow @MikeChiari on Twitter and listen to him on Ring Rust Radio.
This article is
What is the duplicate article?
Why is this article offensive?
Where is this article plagiarized from?
Why is this article poorly edited?