While the actual NFL Pro Bowl game has become a joke over the years, the honor of being selected to the team remains one of the top awards that a player can receive.
The announcement of the AFC and NFC teams is an exciting moment, but it also stirs up controversy surrounding the snubs and players that didn't deserve the honor.
Let the conversations begin.
When: Wednesday, Dec. 26, 7 p.m. ET
Watch: NFL Network
Favorites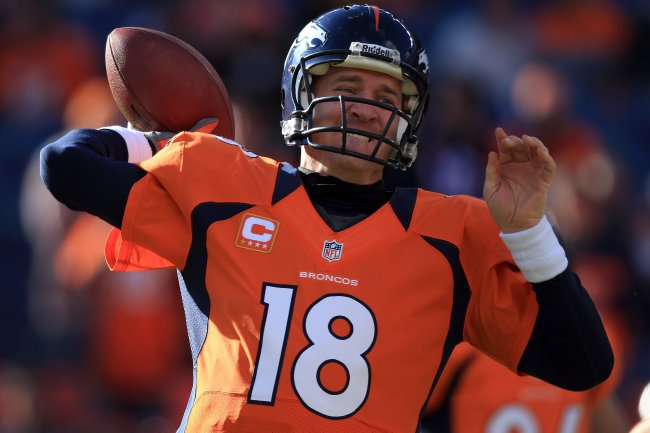 Doug Pensinger/Getty Images
Peyton Manning, QB, Denver Broncos
While there are plenty of deserving quarterbacks in the NFL this season, the easiest Pro Bowl selection at the QB position must be Denver Broncos star Peyton Manning. While Tom Brady will garner votes, Manning's 4,355 yards and 34 touchdowns after missing the entire 2011 season is worthy of a start.
Calvin Johnson, WR, Detroit Lions
If the casual NFL didn't believe Detroit Lions star wide receiver Calvin Johnson was one of the best pure athletes in the league, his unbelievable 1,892 receiving yards is not only a new single-season record, but it's also a testament to how dominant the veteran has become.
Adrian Peterson, RB, Minnesota Vikings
The fact that the top running back in the league is Minnesota Vikings star Adrian Peterson is a total shock, because he went through season-ending knee surgery this time last year. Add in his 1,898 yards and 11 touchdowns, and this physical freak is now the top runner in the NFL again. Unreal.
Projected Snubs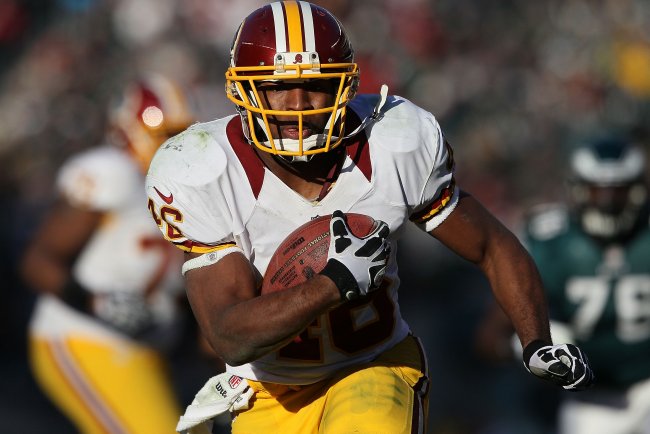 Alex Trautwig/Getty Images
Alfred Morris, RB, Washington Redskins
While Washington Redskins rookie running back Alfred Morris won't get the credit he deserves, there have been few runners as consistent as the young star with as little fanfare. With 302 carries for 1,413 yards and 10 touchdowns, that's an impressive rookie season and is Pro Bowl-worthy.
Dez Bryant, WR, Dallas Cowboys
The Dallas Cowboys had their fair share of troubles with young receiver Dez Bryant over the first few years of his career, but the future star used 2012 as his breakout year. While 88 receptions isn't overly impressive, 1,311 yards and 12 touchdowns makes him one of the most dangerous weapons in the league.
Patrick Peterson, CB, Arizona Cardinals
While there were better cornerbacks in the NFC and returners with better overall numbers, there is no better utility weapon in the NFL than Arizona Cardinals star Patrick Peterson. Not only was Peterson the top punt returner in the league, but he also dominated in a secondary that was atrocious at times. The Cardinals star won't receive sufficient credit, but he deserves it.
Surprises
Scott Halleran/Getty Images
Jason Witten, TE, Dallas Cowboys
There is no way Dallas Cowboys' Jason Witten will make the 2013 NFL Pro Bowl, but that should be the biggest surprise of the selection process. With 103 receptions, Witten not only set the record for most receptions in a season for a tight end, but he also did it while recovering from a ruptured spleen. Now that's tough.
J.J. Watt, DE, Houston Texans
There were dozens of surprise players that emerged as stars, but none have made the impact of Houston Texans defensive juggernaut J.J. Watt. With 20.5 sacks, 15 pass deflections and four forced fumbles, the second-year defensive end has emerged as one of the league's best talents.
Luke Kuechly, LB, Carolina Panthers
Injuries and porous play across the board made the 2012 season tough for the Carolina Panthers, but the emergence of rookie linebacker Luke Kuechly as one of the league's best players was a bright spot. With 151 combined tackles (which leads the NFL through Week 16), six pass deflections, two interceptions and three fumble recoveries, Kuechly deserves credit despite the Panthers' awful season.
Check back for more on the National Football League as it comes, and don't miss Bleacher Report's NFL page to get your fill of all things football.