English Premier League: Latest EPL Rumors, Preview and Predictions for Week 19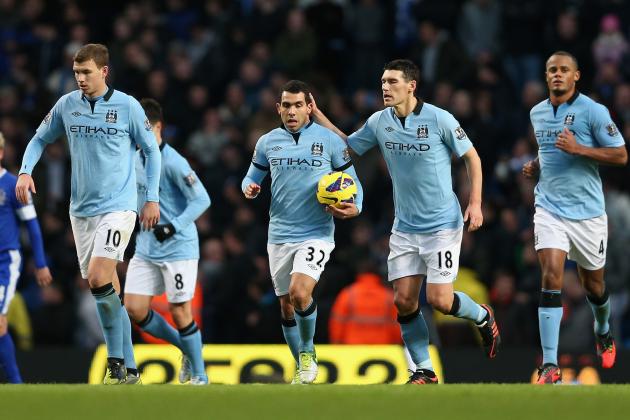 Clive Brunskill/Getty Images

Manchester City climbed back within four points of first place in the English Premier League courtesy of a stoppage-time winner from Gareth Barry. Chief rival Manchester United could only muster a draw with Swansea.
Chelsea provided the weekend's most impressive performance. The Blues racked up an eye-popping eight goals in a victory over a reeling Aston Villa side. Fernando Torres struck in the third minute and a barrage of goals followed.
As clubs around the league get prepared to enjoy the holiday, the table has taken on a more normal look. Arsenal, Tottenham and Liverpool have moved up the ladder in recent weeks, while early surprises like West Brom and West Ham have begun to fade.
It's a busy week around the EPL with the January transfer window fast approaching and two sets of matches during the holiday week. Knowing that, let's take a look at some of the latest news and rumors followed by match predictions.
Begin Slideshow

»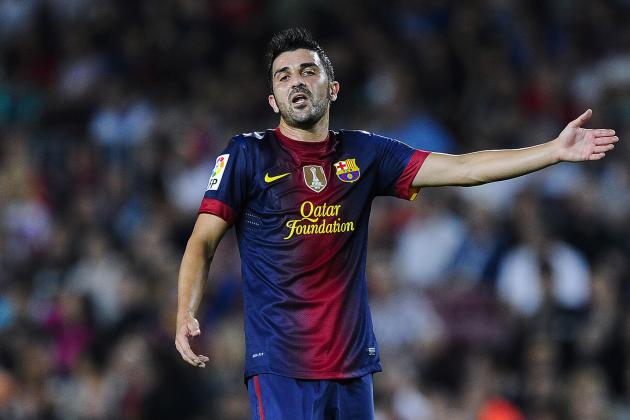 David Ramos/Getty Images

David Villa is quickly becoming one of the most popular targets as the January window approaches. The 31-year-old Barcelona striker is still a top-notch player and would likely play a more prominent role with another club.
Sami Mokbel of the Daily Mail reports Arsenal have been told it will take £16 million to land him. The Gunners have competition from Chelsea. The Blues are also in the market for a reliable striker who can jump-start their offense.
January will be telling for Arsenal. They have watched numerous key players walk out the door during recent windows, and must find a way to reverse that trend. Bringing in a highly-regarded player like Villa would be a major step in the right direction.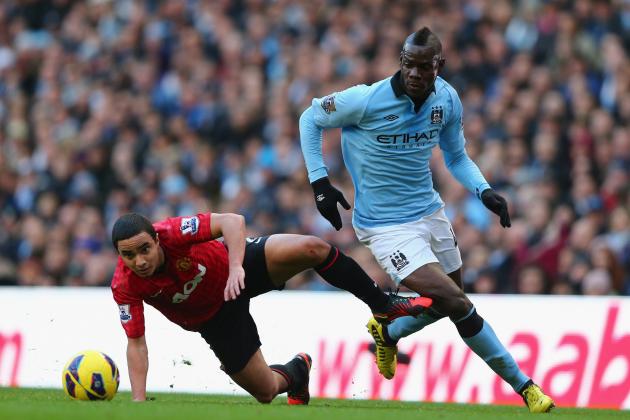 Clive Mason/Getty Images

Mario Balotelli has struggled to make an impact for Manchester City this season, scoring just once in 13 appearances, including six off the bench. It has led to plenty of speculation about a potential move away from Etihad Stadium next month.
Mark Ryan of the Daily Mail reports the latest club to show interest in a high-profile move for the talented striker is AC Milan. He states the Italian powerhouse is prepared to offer £20 million, even though Roberto Mancini hasn't expressed interest in a deal.
It's impossible to deny Balotelli's immense talent. The 22-year-old star has incredible potential. Getting him to realize it has been the tough part. Given City's depth up front, it will be interesting to see if the transfer rumors heat up once the calendar flips to 2013.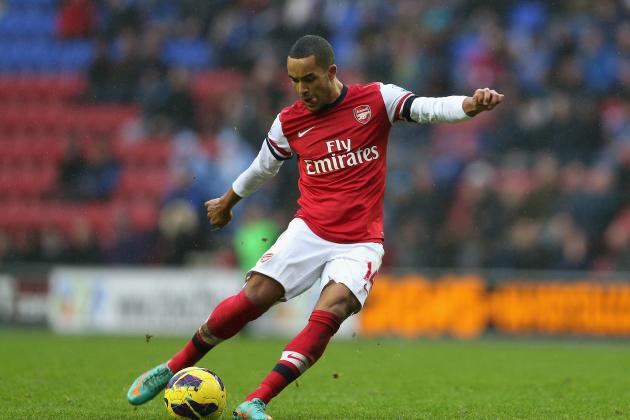 Clive Brunskill/Getty Images

Theo Walcott still hasn't agreed to a contract extension with Arsenal, which leaves his future up in the air as the January transfer window gets set to open. It also puts manager Arsene Wenger in a tough spot, as several clubs are waiting to pounce.
Manchester City are among the rivals interested in acquiring the 23-year-old forward, according to Paul Hetherington of the Daily Star. He reports City would be willing to pay his increased wage demands to fend off other interested clubs, including rival Manchester United.
City and Arsenal have built up quite the transfer history over the past couple windows, with the big-spending Manchester side raiding the Gunners roster for several players. Now it looks like they will attempt to add Walcott to that list.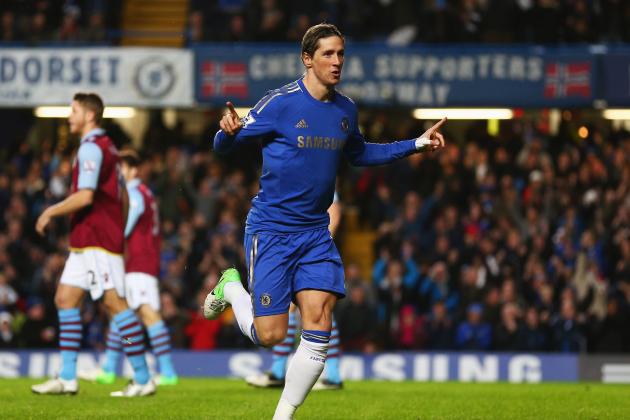 Clive Rose/Getty Images

Chelsea are coming off a momentum-building week that saw the Blues win a pair of matches by a combined score of 13-1. They hope to keep their recent hot streak alive against Everton, who have been forced to accept a lot of draws lately, causing them to slide to fifth place.
The Blues got off to a terrific start, cruising to an early Premier League lead. A slump has since dropped them to third place, 11 points off Manchester United's pace. Fernando Torres and Co. understand it's going to take an extended run of strong form to get back in the title conversation.
Everton have similarly cooled off, but they remain in prime position to claim a European spot. The Toffees will need elite performances from the entire back line and goalkeeper Tim Howard to slow down the suddenly red-hot Blues, though.
Clive Mason/Getty Images

Top Matches
Stoke City vs. Liverpool
Something must give in this match, as a Liverpool offense that has finally shown signs off life in recent weeks goes up against a stout Stoke defense that has allowed just 13 goals in 18 matches. The Reds will break down the wall, but only enough to earn a point.
Prediction: Stoke City 1, Liverpool 1

Norwich City vs. Chelsea
Perhaps the most promising thing about Chelsea's romp over Aston Villa was the even distribution of goals. Only one player, Ramires, scored more than once. While Norwich have quietly managed to work their way into the top half of the table, they won't be able to slow down the Blues.
Prediction: Chelsea 3, Norwich City 1
Other Matchups
Everton 2, Wigan Athletic 0
Fulham 2, Southampton 1
Manchester United 3, Newcastle United 1
Sunderland 0, Manchester City 2
Aston Villa 0, Tottenham Hotspur 1
Queens Park Rangers 1, West Bromwich Albion 1
Reading 0, Swansea City 0
Arsenal vs. West Ham United was postponed.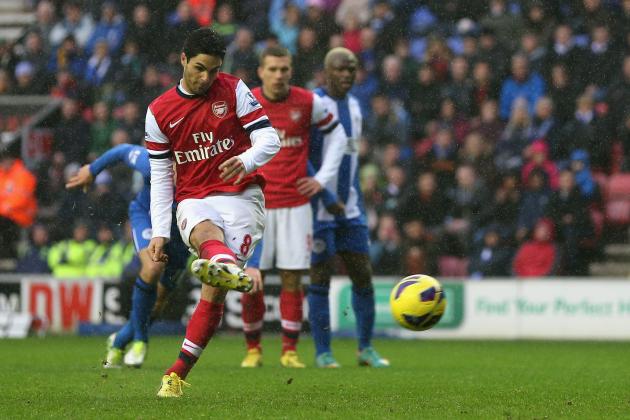 Clive Brunskill/Getty Images

Top Matches
Everton vs. Chelsea
The Toffees would still be surprising contenders in the title race if they could have turned a couple of their nine draws into victories. That said, when you consider how the Blues have played over the past week, Everton would probably be happy to escape with a point against Chelsea.
Prediction: Everton 1, Chelsea 1
Manchester United vs. West Bromwich Albion
Even though the Red Devils haven't been in top form lately, they have still managed to build and maintain the league lead. They should be able to dispatch a West Brom side that hasn't been able to keep pace after some early excitement.
Prediction: Manchester United 2, West Brom 0
Other Matchups
Sunderland 0, Tottenham Hotspur 1
Fulham 2, Swansea City 1
Norwich City 0, Manchester City 2
Stoke City 1, Southampton 0
Arsenal 3, Newcastle United 1
Queens Park Rangers 1, Liverpool 2
Aston Villa 1, Wigan Athletic 1
Reading 1, West Ham United 1