12 Most Shocking World Football Moments in 2012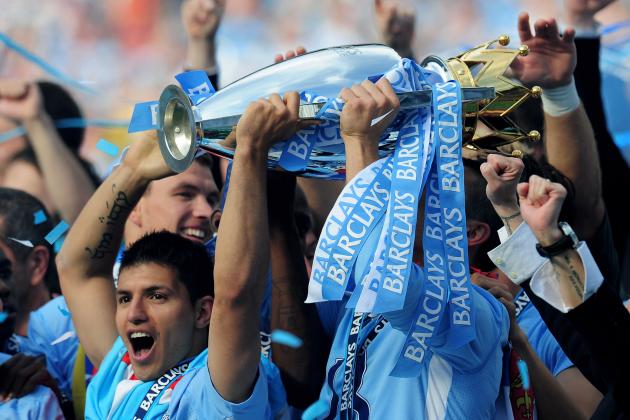 Shaun Botterill/Getty Images

2012 has been a truly memorable year in football. There have been individual games that will live long in the memory, teams that have pulled off the unexpected and players who have achieved greatness, achieving some astonishing feats.
Here are the 12 most shocking world football moments of 2012. We welcome you to add to the list in the comments section with any additional football moments that you think we've overlooked.
Begin Slideshow

»
Didier Drogba might have been able to win the Champions League single-handedly, but he couldn't inspire the Ivory Coast to their first Africa Cup of Nations title in 20 years.
Instead, they were beaten in the final by the unfancied Zambia, who had never won the tournament before. After a goalless 90 minutes in which Drogba blazed a penalty over the bar, the two sides still couldn't be separated during extra time, and the match went to a shootout.
The first seven penalties were scored by both teams, before the Ivory Coast's Kolo Toure missed, only for Zambia's Rainford Kalaba to spurn a chance of victory. When Arsenal's Gervinho fluffed the next kick though, Zambia would not repeat their mistake. Stoppila Sunzu found the top corner to make it 8-7 as Zambia shocked the favourites.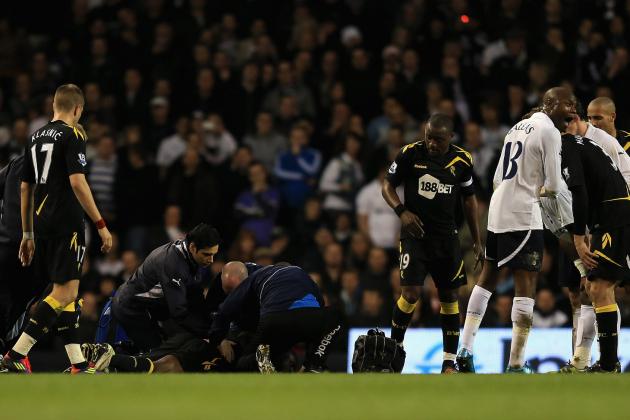 Richard Heathcote/Getty Images

When Fabrice Muamba collapsed on the White Hart Lane turf on March 17, 2012, the fans of Bolton Wanderers and Tottenham Hotspur could be forgiven for not being initially concerned. Footballers go to ground all the time, after all.
Yet it soon became apparent that something serious was afoot. The reactions of the players around Muamba's motionless body told you that something was seriously wrong. Muamba had in fact suffered a cardiac arrest that would stop his heart for some 78 minutes.
As the medical staff from both clubs fought to keep Muamba alive, the fans chanted his name in hope and solidarity. Somehow Muamba survived, and though he would have to retire from the professional game, the mere fact that he is alive and relatively well serves as an inspiration to us all.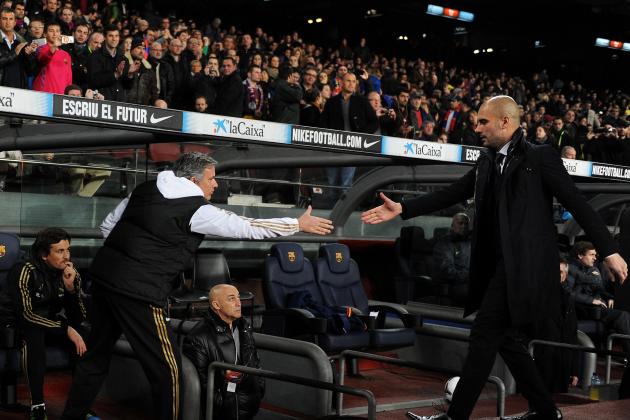 Jasper Juinen/Getty Images

Jose Mourinho has overcome some tough challenges in his time, but perhaps the biggest one of his career was guiding Real Madrid to a La Liga title ahead of Pep Guardiola's brilliant Barcelona team.
Madrid secured the title with two games to play as they beat Athletic Bilbao 3-0, eventually winning the title by a nine-point margin and a 100-point total with an incredible 121 goals scored.
The mental battle with Mourinho seemed to take its toll on Barcelona's Guardiola, who resigned from his position as coach in April of 2012. Perhaps one day in the not too distant future, Guardiola and Mourinho will do battle against each other once more. Will the Premier League be the location for Guardiola vs. Mourinho II?
Having won the Bundesliga title in 2010-11, it was not a shock that Borussia Dortmund won the title the following season, yet the manner in which they swept to victory surprised everyone.
Dortmund won 25 of their 34 games to equal Bayern Munich's record for the most victories in a league season. In doing so, they also smashed Bayern's record for the most points in a Bundesliga season, as they finished on 81.
Just to rub salt into Bayern's wounds some more, a Robert Lewandowski hat-trick inspired Dortmund to thrash Bayern 5-2 in the German Cup final and secure the club's first "double."
Manchester City's long-suffering fans had already waited 44 years to win the English league title, so what was the harm in making them wait another 94 minutes?
In seriousness, there are probably still some City fans out there suffering from severely frayed nerves. To say that Roberto Mancini's side left it late is an understatement. They were 2-1 down to QPR going into injury time, with their bitter rivals Manchester United 1-0 up and seemingly poised to win the Premier League. Having held such a tight grip on the title at one stage, City could have never lived down such a collapse.
Instead, Edin Dzeko pulled it level before Sergio Aguero scored the most dramatic goal in Premier League history to make it 3-2 to Manchester City and snatch back the title just when it looked like it was lost.
Sometimes they say that a team's name is on the cup. If ever that were true, it was the case with Chelsea and the Champions League in 2012. Their progress and eventual victory in the competition defied all logic, but somehow they made it.
Having lost 3-1 to Napoli in the first leg of their last-16 match, Roman Abramovich sacked Andre Villas-Boas and replaced him with Roberto di Matteo. The Italian masterminded a 4-1 victory in the return leg before dispensing with Benfica to reach the semifinal against Barcelona.
Against the world's greatest team, Chelsea somehow pulled off a 3-2 aggregate victory, in which Lionel Messi of all people missed a penalty and John Terry was sent off, leaving Chelsea to play with 10 men in the Camp Nou.
Di Matteo's side would again ride their luck in the final. Having gone behind in the 83rd minute against Bayern Munich, Didier Drogba managed to grab an 88th-minute equaliser to send the game into extra time. Arjen Robben then missed a penalty and the chance to give Bayern the lead, before the game went to a penalty shootout that Chelsea won 4-3.
Having spent a fortune in an effort to turn Chelsea into the champions of Europe, Abramovich saw his dreams come true when it seemed the least likely.
In many ways, it was more of a logical conclusion rather than a shocking moment when Spain announced that they were going to dispense with the services of a striker. Yet there was still something profoundly surprising about Vincent del Bosque's decision to pick Cesc Fabregas to lead the line.
It wasn't always pretty, but when it counted, in the final, Spain swept to a thrilling 4-0 victory over Italy to become the first country to win a third successive international tournament. Are they they greatest international side of all time?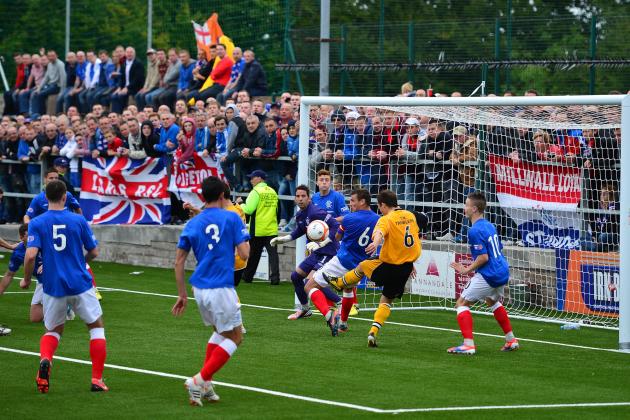 Jeff J Mitchell/Getty Images

Many clubs have suffered a financial meltdown in recent years, but few have suffered such a spectacular punishment as Rangers. Having been kicked out of the Scottish Premier League, the Scottish Football League clubs voted to allow Rangers entry to their league.
There was a catch. They'd have to start in Division Three.
One of the biggest clubs in European football were suddenly reduced to playing the likes of Elgin, Peterhead and Annan Athletic. Meanwhile, the Scottish Premier League was reduced from a two-horse race to a one-horse race.
No one would argue that this has been a positive step for Scottish football, but it will certainly be fascinating to watch Rangers try to claw their way back to the top over the next few seasons.
The best football game at the 2012 Olympics didn't take place in the more celebrated men's event. No, it came in the women's semifinal at Old Trafford, where the USA came back from behind on three occasions before scoring a 123rd-minute winner to reach the final with a 4-3 victory.
No one could have been more heartbroken than Christine Sinclair of Canada, with the skipper scoring a hat-trick and still ending up on the losing side as Megan Rapinoe (twice) and Abby Wambach pulled USA level three times, allowing Alex Morgan the opportunity to head a dramatic winner. The USA would go on to beat Japan in the final.
With a forward line that included the likes of Neymar, Hulk and Leandro Damiao, it was no wonder that the Brazilian squad were the hot favourites to take the men's Olympic football gold medal. The Olympic title has long alluded the Selecao and remains the only major international tournament that they are yet to win.
We thought that the London Games in 2012 would be their time, but Mexico had other ideas in the final. The Mexicans took a shock lead after just 32 seconds when Oribe Peralta capitalised upon some poor Brazilian defending.
Brazil never really recovered from that moment, and Peralta struck again to make it 2-0 and take control of the match. Although Hulk pulled one back in injury-time, it was not enough. Brazil will just have to wait until 2016, when they will host the Olympic tournament on home soil.
It has been pointed out that Zlatan Ibrahimovic's wonder goal in Sweden's 4-2 victory over England this year perhaps wasn't so perfect as it first appeared. Joe Hart was at fault with a poorly headed clearance and nowhere near the line when Zlatan's shot found the net. The technique was great, but the effort was speculative rather than assured.
To those spoilsports I say "Bah Humbug." What made that special goal by Zlatan so wonderful was the fact that he attempted it at all. Most players would not believe that they could score with an overhead kick 30 yards from the goal, nor would they have the imagination to conceive such an effort in the first place.
Ibrahimovic believes that he can do anything, and that belief is one of the reasons that he achieves the spectacular so often.
No player made more of an impact in 2012 than the majestic Lionel Messi. The Barcelona forward scored 91 goals for his club and country in 2012, smashing the previous record for the most goals in a calendar year, held by Gerd Muller with 85.
That's an average of 1.319 goals per game. Messi scored 59 goals in 28 league games, 13 goals in 12 Champions League matches, five in eight Copa del Rey games and two from two in the Supercopa to make a grand total of 79 goals for Barcelona in 2012.
Messi also hit the heights with Argentina this year, having previously struggled to show the form that he displays for his club when on international duty. 12 goals in 12 games for Argentina, including a hat-trick against Brazil, ensured that there would be no doubt right now that Lionel Messi is truly the best football player in the world.