Chelsea 2012 Report Card: Grading the European Champions' Year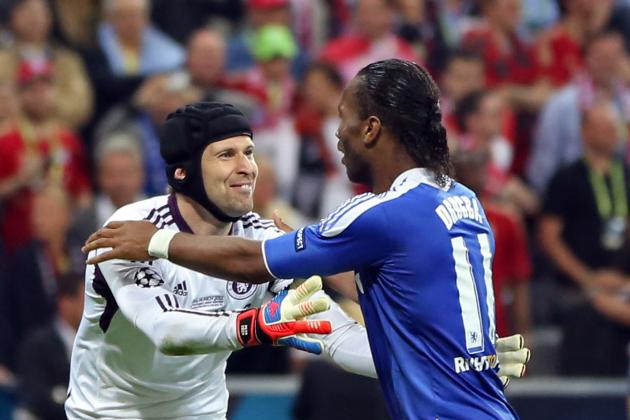 Mitchell Gunn-USA TODAY Sports
Petr Cech and Didier Drogba, the two players who were key in Chelsea's greatest ever triumph.
2012 was another roller-coaster year for Chelsea FC. From a mediocre start to the year in January, to the greatest triumph since 1905 on 19/05 (aka May 19, for those in the States), to despair in the final months, Chelsea fans will never forget 2012.
Without further ado, here is a month-by-month report card for Chelsea FC's performance in the 2012 calendar year.
Begin Slideshow

»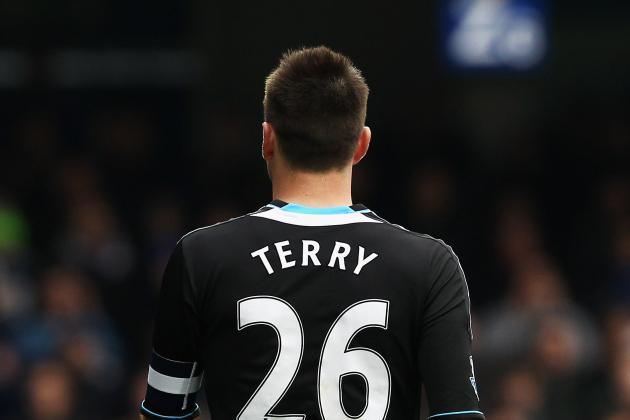 Ian Walton/Getty Images
Chelsea captain John Terry was the focal point during their 1-0 FA Cup win over Queens Park Rangers.
Chelsea recorded two Premier League wins and two draws in January, beating Wolverhampton wanderers and Sunderland before being held by Norwich City and Swansea City. They needed a late winner from Frank Lampard to snatch all three points from Wolves, and Lampard also scored the only goal of the game against Sunderland.The game against Norwich City ended in a 0-0 stalemate and it took a 93rd minute own goal by Neil Taylor for Chelsea to salvage a point away at Swansea City.
These results allowed the Blues to maintain fourth spot in the League throughout the month.
It was the FA Cup which brought the more mouth-watering fixtures, with Chelsea drawing Portsmouth for their third round match. They demolished the south coast side 4-0 and booked a fourth round tie with Queens Park Rangers.
The previous meeting between the two West London clubs had been mired in controversy, with Jose Bosingwa and Didier Drogba shown straight red cards within the first half, and nine other Chelsea players booked by the end of the match. QPR won that game 1-0 thanks to a penalty inside ten minutes, but the real drama came after the game.
An eagle-eyed television spectator saw John Terry appear to shout racist abuse at QPR defender Anton Ferdinand, which led to the Chelsea and then England captain being formally charged with a public order offence by the Metropolitan Police and the Crown Prosecution Service. The case was to be heard at Westminster Magistrates' Court on February 1, leaving Terry free to play in the Cup game at Loftus Road on January 28.
Chelsea won the match 1-0 thanks to a Juan Mata penalty in the second half, but the result seemed not to matter as much as the fact that the pre-match handshake ritual had been abandoned by the FA.
Aside from all the drama and controversy, Chelsea welcomed a new signing at centre-half in the form of Gary Cahill from Bolton Wanderers as well as midfielder Lucas Piazon from Sao Paulo, whilst bidding farewell to both Nicolas Anelka and Alex.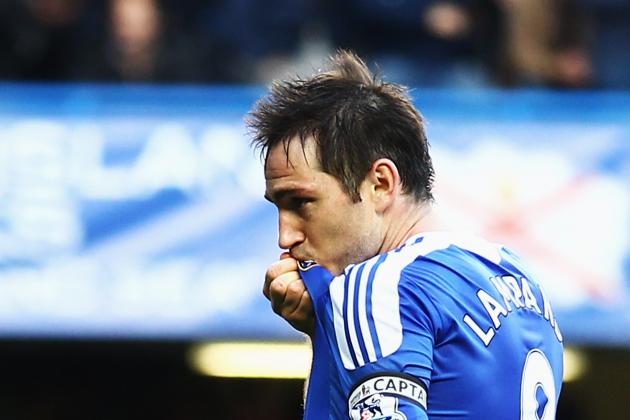 Clive Mason/Getty Images
Frank Lampard kisses the badge after scoring Chelsea's third goal in their win over Bolton Wanderers.
The month of February began with John Terry's lawyers entering a not-guilty plea on his behalf at Westminster Magistrates' Court, before the case was adjourned until July 9. With the spectre of those proceedings banished until the end of the season, Chelsea could get back to concentrating on their football.
February 5 saw Manchester United visit Stamford Bridge, having defeated Chelsea 3-1 at Old Trafford earlier in the season. The home side started brightly and were 3-0 ahead after 50 minutes, thanks to an own goal by Patrice Evra as well as one apiece from Juan Mata and David Luiz. Then Manchester United were awarded two penalties within ten minutes, and a Javier Hernandez equaliser on 84 minutes saw the Blues drop points from a winning position for the fifth time in the 2011/12 season.
Chelsea travelled to Everton the following weekend and suffered their first defeat of the 2012 calendar year, as the Toffees triumphed 2-0.
Then came the FA Cup fifth round, where the Blues had been drawn at home to Birmingham City. The home side went behind after 20 minutes, and it took a Daniel Sturridge goal just after the hour mark to earn them a replay at St. Andrews, a game they didn't need to add to an already congested fixture list.
Three days after that disappointing home draw, a trip to Italy beckoned as the Champions League knockout stage began with a two-legged tie with Napoli. Chelsea took the lead through a Juan Mata goal before completely falling apart, and by half time they were 3-1 down. That was the final score, and coupled with the fact that they were now fifth in the Premier League, Chelsea's ambitions looked to be crumbling around them.
A 3-0 league win over Bolton Wanderers did little to silence the critics, and Andre Villas-Boas' tenure as Chelsea manager appeared certain to come to a premature end.
Despite showing promise early in the season, his decision to essentially dispatch with the "old guard" of Didier Drogba, Frank Lampard and John Terry in favour of new, younger stars, had backfired horribly. Chelsea had been lacking tactically and they seemed a side void of any desire and motivation.
Something had to give.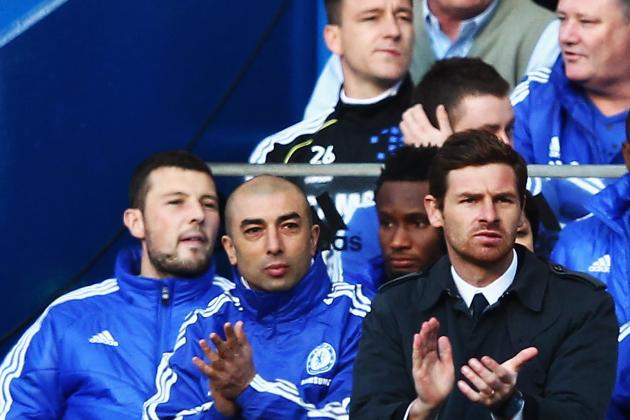 Clive Mason/Getty Images
Andre Villas Boas with his assistant Roberto Di Matteo
The first weekend of March saw Andre Villas Boas' Chelsea side visit West Bromwich Albion, the club who had formerly been managed by the Portugese's assistant, Roberto Di Matteo. Already on a poor run of form, the Blues lost 1-0 and chants of "You're getting sacked in the morning," directed at Villas Boas proved correct.
On March 4 it was announced that Chelsea's manager had been relieved of his duties, with Roberto Di Matteo taking charge on an interim basis for the rest of the season. The Italian had played for Chelsea during the pre-Abramovich era of moderate success and scored two FA Cup winning goals for the club, before an horrific triple-leg-fracture forced him into early retirement in 2001. Despite his status as a club legend being beyond doubt, many Chelsea fans doubted whether he was the right man to fill the managerial vacancy, having failed at West Bromwich Albion.
Di Matteo had two days to attempt to turn the clubs fortunes around, with the FA Cup replay against Birmingham City scheduled for March 6. It was tough going, but two second half goals saw Chelsea progress to the quarter finals of the cup Di Matteo had relished playing in.
His first league fixture in charge was against Stoke City at Stamford Bridge. The visitors were down to ten men after 25 minutes when Ricardo Fuller was sent off, but it took Chelsea until the 67th minute to grind them down, Didier Drogba scoring the only goal in a 1-0 Chelsea victory.
Up next was the second leg of the Champions League round of 16, with Napoli coming to London comfortably in control of the tie. Nobody expected Chelsea to progress, considering how poor their form had been, as well as the obvious lack of morale throughout the squad.
The Blues had other ideas, riding out wave after wave of Napoli pressure before attacking on the counter. Didier Drogba broke the deadlock after half an hour, and when John Terry rose highest to head in a Frank Lampard corner just after the restart, Chelsea were going through courtesy of the away goals rule.
The Italian side weren't rolling over though, and they re-took the aggregate lead ten minutes later with a lovely volley, before Andrea Dossena handled the ball in the box. Frank Lampard stepped up and slotted the resulting penalty home, and the tie was level at 90 minutes.
Chelsea pressured Napoli throughout extra time, and on 105 minutes Branislav Ivanovic got on the end of a beautifully weighted pass from Drogba to score what turned out to be the winning goal. Chelsea were through to the quarter finals, against all odds.
The momentum they had picked up after their dramatic comeback in Europe was sustained through their 5-2 defeat of Leicester City in the FA Cup quarter finals.
With two trophies still very much to play for, the Premier League title had become a lost cause, a fact that was underlined by Chelsea's 2-1 defeat at the hands of eventual champions Manchester City, followed by a 0-0 draw with arch-rivals Tottenham Hotspur.
Having been drawn against Benfica in the Champions League quarter finals with the away leg coming first, Chelsea headed off to Lisbon for the midweek tie. A Salomon Kalou goal in the second half was exactly what the Blues needed to see them into the second leg at Stamford Bridge, 1-0 up and with the away goal cushion.
They salvaged a bit of pride in the league with a 4-2 defeat of Aston Villa at Villa Park, despite throwing away their initial two goal lead, but the 2011/12 season had become about two trophies: one very British, the other huge and continental.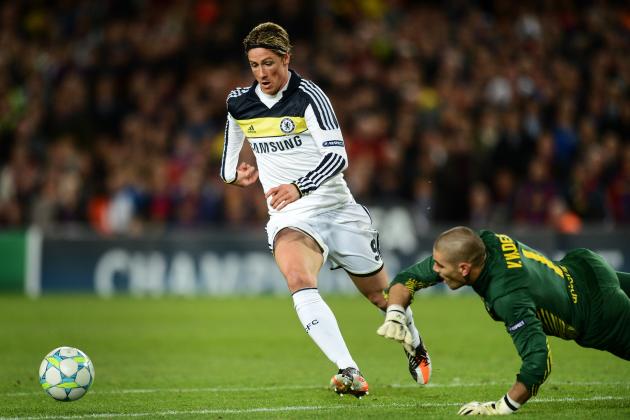 Jasper Juinen/Getty Images
Fernando Torres taking the ball past Victor Valdes for THAT goal.
Chelsea's first game in April 2012 was the home leg of their Champions League quarter final tie with Benfica. The Blues were awarded a penalty after 20 minutes which Frank Lampard converted, and despite some jangled nerves when Benfica equalised on the night, the tie was sealed with a wonderful individual effort by Raul Meireles in injury time.
Chelsea's reward for that win was a repeat of their 2009 semifinal against Barcelona, which they lost in the cruelest of circumstances.
Before they could set themselves to the matter of revenge, they had two Premier League ties to deal with. The first was a 2-1 home win against Wigan Athletic, where gain Chelsea had led only to concede a goal. It took a Juan Mata strike in the 90th minute to win it. That victory was followed by a 1-1 draw with Fulham, Frank Lampard again scoring from the penalty spot before the Cottagers equalised late in the game.
Then came the FA Cup semifinal with Tottenham Hotspur, who failed to withstand the battering of a Chelsea side chasing their last available domestic trophy. The Blues left Wembley 5-1 victors.
With those formalities out of the way, Chelsea welcomed Barcelona to Stamford Bridge. Everyone outside of the club was convinced that Chelsea would lose. In their minds, there was no way they were going to get past Barcelona, it was inconceivable to them. I pointed out at the time that all Chelsea needed to do was stop Barcelona from scoring at Stamford Bridge, and maybe try to get a goal themselves, before going to Camp Nou and nicking an away goal. As the Russian meerkat would say, simples.
It all went according to plan, as despite having 79 percent possession, and 24 attempts on goal to the home side's four, Barcelona had zero goals to Chelsea's one—a great strike on the stroke of halftime by Didier Drogba.
The weekend between the two legs contained a trip to Arsenal, which ended in a bland 0-0 draw. By that point, Chelsea were sixth in the Premier League and therefore needed to win the Champions League to secure a spot in Europe's premier competition for 2012/13.
They travelled to Catalonia quietly confident that their one goal cushion would see them through, and set about the same game-plan which had absorbed all of the Barcelona pressure in London. It wasn't so successful this time, as Sergio Busquets fired the hosts into the lead, before John Terry did one of the stupidest things ever seen on a football pitch.
The Chelsea captain kneed Alexis Sanchez in the back in an off the ball incident, and the man with a stick behind the goal saw it. Terry was shown a straight red card and Chelsea were a goal and a man down, with more than an hour to play, in one of the most intimidating stadia in the world. It got worse, as Andres Iniesta, the man who had scored Barcelona's last-gasp equaliser-cum-winner in 2009, gave the Blaugrana a 2-1 aggregate lead.
Despite the desperate turn of events, there was still hope for Chelsea. All they needed was a goal to level the tie on aggregate and advance to the final on away goals. Again on the stroke of halftime, Ramires produced a lob of such quality that all Victor Valdes could do was watch as it floated over him into the net. Chelsea were on top once again.
Just after halftime, Barcelona were awarded a penalty, and as Lionel Messi stepped up to take it, it looked certain that he would score. This was Lionel Messi, THE Lionel Messi, the guy who has scored over 90 goals in 2012. He missed. From 12 yards. From the penalty spot. Messi hit the crossbar.
After that, Chelsea only touched the ball to hoof it clear of their goal. They knew they had the away goal advantage, and it became a question of whether they could hang on long enough for it to take effect. Fernando Torres entered the game in its final stages for Didier Drogba, and then something totally unexpected happened. The ball was hoofed out of the box for the umpteenth time, and it landed at the feet of Torres, who found himself inside his own half with nobody but the 'keeper standing between him and the goal.
So he ran.
He ran from inside his own half, took the ball 'round a lonely Valdes and slotted his shot home, in the 92nd minute. Chelsea had avenged the injustice of 2009 and advanced to the final, against Bayern Munich, in Munich.
Torres' goal inspired him to a hat-trick in Chelsea's next league fixture as they thrashed QPR 6-1, reclaiming bragging rights from their noisy neighbours.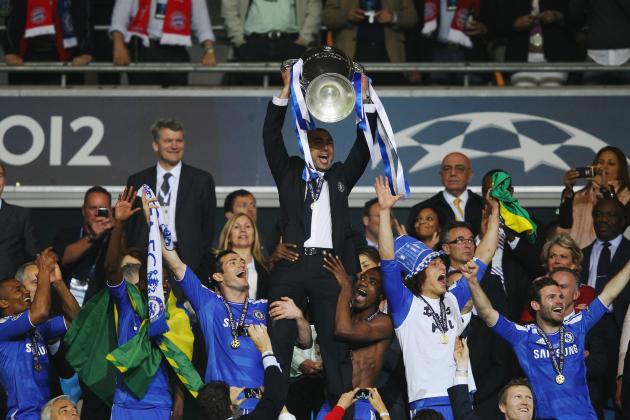 Alex Livesey/Getty Images

Chelsea started the month of May with a whimper, losing 2-0 at home to Newcastle United, who were still in the battle for fourth spot and a coveted Champions League place. Two wonder goals from Senegalese striker Papiss Cisse sealed the victory for the Magpies.
Next up for Chelsea was the FA Cup Final against Liverpool at Wembley. The Blues went ahead after 11 minutes when Ramires scored, before Didier Drogba doubled their lead after the break. Liverpool staged something of a comeback around the hour mark when Andy Carroll clawed a goal back, but Chelsea hung on to win their first trophy of the season. Roberto Di Matteo was able to add another FA Cup winners medal to his collection, which he thoroughly deserved after the way he had turned the club's fortunes around.
Liverpool avenged their cup final defeat three days later at Anfield as they beat Chelsea 4-1 in the League. The Blues were outclassed across the pitch, but were more concerned with their upcoming trip to Germany.
Chelsea had the luxury of nothing to play for on the final day of the season, with the visitors to Stamford Bridge the already relegated Blackburn Rovers. The home side recorded a 2-1 win to send their fans off to Munich on a high.
On May 19, those Chelsea fans lucky enough to be in possession of a ticket for the biggest night in club football were in the beautiful city of Munich, on a gloriously sunny day, soaking up the pre-match atmosphere.
Upon entering the Allianz Arena, it became clear that it was not a neutral venue in any sense of the word. Two thirds of the stadium were clad in the red of Bayern Munich, with a few dotted around the Chelsea end too. After a bizarre and slightly creepy pre-match show involving some people zorbing in giant footballs, the Champions League Final was underway.
Chelsea were without several key players, including captain John Terry, Branislav Ivanovic, Raul Meireles and Ramires, all suspended after a poor disciplinary record.
Bayern Munich created the better chances in the first half, with Chelsea content to continue their plan of waiting for an opportunity to counter which had proved so successful against Barcelona. The 'soak it up and see' plan continued in the second half, and it looked very much like the game was going to extra time.
That was until Thomas Muller scored on 83 minutes, collapsing under the weight of his team mates as they celebrated what they thought was the winning goal. Muller was then substituted, and was a spectator as Fernando Torres won a corner, and Didier Drogba rose above everybody to power a bullet header just inside the post. Cue hysteria from the 22,000 Chelsea fans behind that goal.
As extra time began, Drogba turned from hero to villain after fouling Franck Ribery in the box, leaving his former Chelsea team mate Arjen Robben to take the resulting penalty. It took a while for him to place the ball, and John Obi Mikel stood with him the whole time, apparently psyching him out. It worked.
Petr Cech saved the penalty, a brilliant omen for the events to come.
The minutes continued to crawl by until the referee called time on two hours of football. It had come to penalties.
This was Chelsea's second experience of a Champions League Final, with the last one in 07/08 also ending in a penalty shootout. That night, in the Russian rain, against Manchester United in Moscow, things had gone awry.
This time would be different.
Drogba was still on the pitch, and even though the opposition were from Germany, they could be beaten.
Bayern Munich went first, with Philip Lahm coolly slotting his penalty past Cech. Juan Mata stepped up to take Chelsea's first of the shootout, and missed. At that point, and at that point alone, I thought it was over. I thought that I had sat on a coach for 18 hours and come all the way to Germany, only to get my heart broken again.
Mario Gomez made it 2-0 to Bayern, before David Luiz took the longest run up ever to make it 2-1. Then Bayern 'keeper Manuel Neuer stepped up for their third, a cheeky move which I thought would backfire, and beat his opposite number. Frank Lampard made it 3-2, and then Ivica Olic saw his penalty go wide of the post. Still 3-2 to Bayern.
Ashley Cole, who cannot shoot from open play, scored his penalty to make it 3-3. Then Bastian Schweinsteiger made his way to the spot. He put plenty of power behind it to place it in the bottom right corner, but Petr Cech got his fingertips to it and tipped it wide.
With nine of the ten penalties taken, There was only one man who was going to take Chelsea's final spot-kick. The man who had missed the shootout in Moscow having been sent off for violent conduct, the man who had scored so many big goals in big games, the man whose contract expired at the end of the 2011/12 season: Didier Drogba.
In contrast to David Luiz's epic run up, Drogba took two steps before slotting home the shot which gave Chelsea their greatest moment of glory in their 107 year history, the trophy they had been chasing for ten years. Even better, it meant that they qualified for the 2012/13 tournament at the expense of arch-rivals Tottenham Hotspur.
Roberto Di Matteo became the first Chelsea manager to ever win the European Cup, and made sure that the team that won it, a team that had been so demoralised when he took charge, a team that had played its last game with some key figures, would never be forgotten, as they went down in history as Chelsea's first European Champions.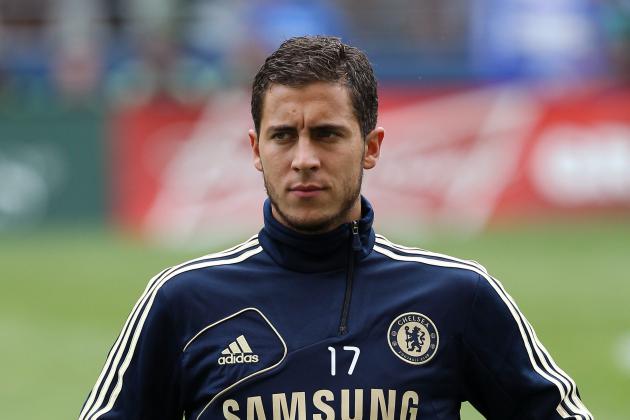 Otto Greule Jr/Getty Images
Eden Hazard chose to sign for the European Champions after a long courtship involving several other clubs.
As the club season finished, Chelsea turned to the transfer window and completed the signing of Belgian youngster Eden Hazard from Lille. He had been courted by many of Europe's top clubs, but was persuaded to join Chelsea by their former every-man, Joe Cole.
As European Champions, Chelsea were looking to relocate from their Stamford Bridge home, which has a maximum capacity of just over 41,000 people. Battersea Power Station was the nearest available option, but the Blues' bid to turn the historic site into a 60,000-seat stadium was rejected in favour of one from a consortium promising a housing and leisure complex.
After a month of contemplation following that glorious night in Munich, Roberto Di Matteo was appointed as Chelsea manager on a two-year deal, allowing him to continue the work which had brought the trophy that Roman Abramovich craved above all others.
With one Chelsea legend given a new contract, another legend left the club seeking fortune in China. Didier Drogba departed London for Shanghai having redeemed any past wrongs with his winning final penalty. Fans were sad to see him go, but at the age of 34 the club were unwilling to offer him a contract longer than one year in length.
Elsewhere in the world of football, Spain became the first ever side to win three consecutive major international honours, with Chelsea's newly appointed first-choice striker Fernando Torres picking up the tournament's golden boot.
Chris Brunskill/Getty Images

London experienced a summer of sport in 2012 when the Olympics came to town. The most exciting aspect of the Games as far as Chelsea fans were concerned was the chance to see their potential young Brazilian signing in action.
His name was Oscar, and fans were delighted with his displays throughout the Olympic football tournament. When he signed for Chelsea on July 25, it seemed to show that the club had abandoned the cautious defensive approach that was so effective for them in 2011/12, in favour of exciting, attacking football.
When you add the fact that Eden Hazard's younger brother Thorgan also joined the club in July, before being loaned back to Lens for another season, Chelsea's 'squad in transition' looked very strong indeed.
Their pre-season fixtures were held in the USA, where they beat the Seattle Sounders 4-2, before being held to a 1-1 draw by Paris Saint-Germain and then being beaten 3-2 and 1-0 by an MLS All-Star team and AC Milan respectively.
In off-field matters, July saw John Terry return to Westminster Magistrates' Court to answer charges relating to his conduct during Chelsea's match with QPR at Loftus Road in October 2011. Ashley Cole gives evidence on his behalf, and character statements were provided by John Obi Mikel and Didier Drogba, amongst others at the club.
After four days, due to there being "reasonable doubt" over his guilt, Terry was cleared in a court of law. Two weeks later, the FA brought their own charges against him, of using abusive and/or insulting words towards Anton Ferdinand, which included a reference to his ethnic origin and/or colour, and/or race.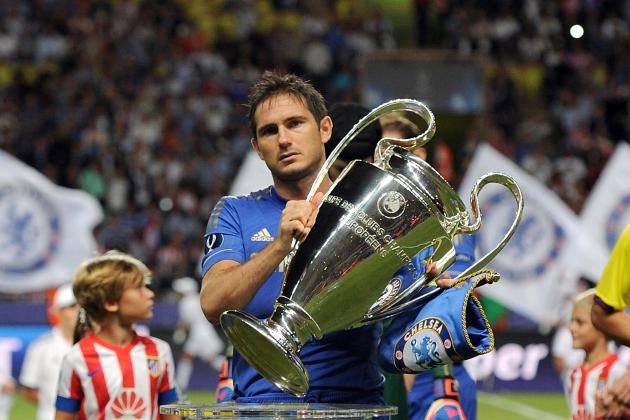 Chris Brunskill/Getty Images
Frank Lampard carries the Champions League trophy out ahead of the UEFA Super-Cup match with Athletico Madrid. The Super-Cup is a consolidation of all your European prizes into one easy to carry trophy.
After losing 3-2 to Champions Manchester City in the Community Shield, Chelsea kicked off their 2012/13 Premier League campaign with a 2-0 away win over Wigan Athletic. They had won the game inside the first ten minutes, with a Frank Lampard penalty after seven minutes adding to a Branislav Ivanovic goal after two minutes.
Their next game came three days later, a mid-week evening home tie with Reading FC, which had been rescheduled due to Chelsea's involvement in the UEFA Super Cup. The home side went ahead through Frank Lampard's second penalty of the season, again won by Eden Hazard. However, they went in 2-1 down at halftime and it took three goals in the final 20 minutes of the match to seal a 4-2 Chelsea win.
Despite spending an estimated £50 million in the transfer window already, Roman Abramovich shelled out £9 million to bring in Victor Moses from Wigan, and another £7 million for young Spanish right-back Cesar Azpilicueta from Olympic Marseille.
In their third league game of the season, Chelsea welcomed Newcastle United to Stamford Bridge. Hazard won his third penalty in as many games, and this time decided to take it himself, giving the hosts a 1-0 lead. Fernando Torres made it 2-0 in the stroke of halftime and Chelsea ended August on top of the Premier League.
They then travelled to Monaco to take on Athletico Madrid in the UEFA Super Cup, where a first half hat-trick from transfer target Radamel Falcao and a goal from Miranda meant that Gary Cahill's strike was little consolation. The Champions League winners had been beaten by the Europa League champions.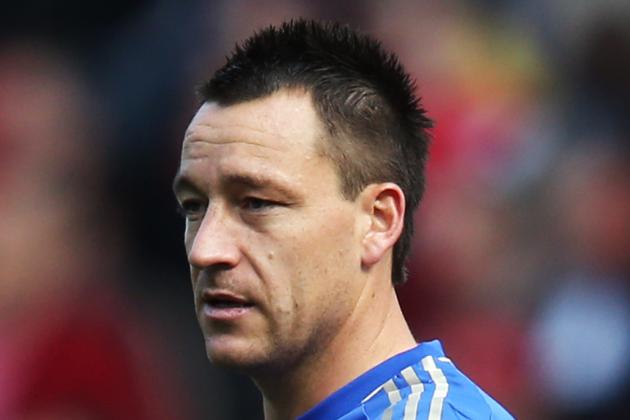 Richard Heathcote/Getty Images

With the international break at the start of September, Chelsea had to wait until September 15 for the first Premier League game of the month, where they drew 0-0 with QPR at Loftus Road. The pre-match handshake was reinstated for this fixture, having been abandoned in the two previous meetings between the clubs. Anton Ferdinand snubbed both John Terry and Ashley Cole, with the former waiting for his FA disciplinary hearing and the latter having defended Terry during his legal case.
Chelsea then began the defence of their Champions League title against Juventus at Stamford Bridge. They took a 2-0 lead with two goals from Oscar, the second of which was utterly sublime. They then conceded two goals and barely managed to cling on for a point from their first group game.
A hard fought 1-0 win at home to Stoke City followed, with Ashley Cole scoring the only goal after 85 minutes. The domestic cup campaign started next, with Chelsea drawn at home to Wolverhampton Wanderers in the Capital One Cup. Three goals in each half with six different names on the score sheet saw Chelsea comfortably through 6-0 winners.
Back to the Premier League, and Chelsea became the first team this season to beat Arsenal at the Emirates, beating the Gunners 2-1.
In off-field matters, captain John Terry announced his retirement from international football ahead of his FA personal hearing to answer the charges brought against him in July. Despite being found not guilty in a court of law. he was found guilty by the FA of using abusive and/or insulting language towards Anton Ferdinand, and given a £220,000 fine and a four-match ban, although the FA were at pains to clarify that they did not think that Terry held racist beliefs. You can read a timeline of the whole saga here (via The Telegraph) and read my report of Terry's retirement here.
Chelsea finished September as they began, top of the Premier League and with two other competitions still very much in their grasp.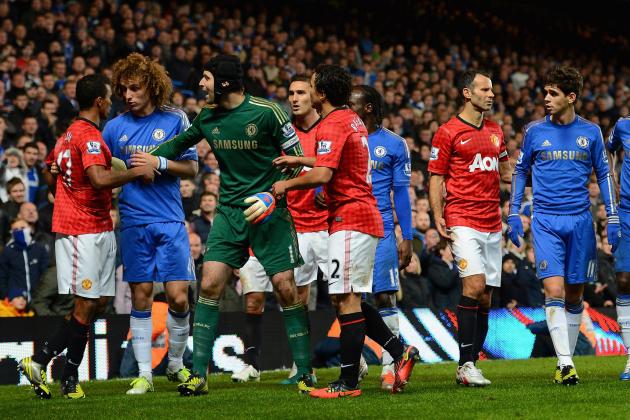 Shaun Botterill/Getty Images
Fixtures between Chelsea and Manchester United aren't known for their good-natured rivalry.
Chelsea began October with a trip to Denmark to face Champions League newcomers FC Nordsjaelland, coming away with a 4-0 victory. Next up was a Premier League tie with Norwich City at Stamford Bridge.
The Blues went behind to a Grant Holt goal before rallying to win the game 4-1. They then traveled to White Hart Lane to face Tottenham Hotspur, where they battled to a 4-2 win. Juan Mata capped an excellent performance with two goals. You can read my report of the game here.
Whilst their Premier League campaign was running smoothly, Chelsea's hopes of retaining their Champions League title were dealt a huge blow with a 2-1 defeat to Shakhtar Donetsk in the Ukraine. The scoreline flattered the Blues as they had been outclassed from the beginning and could have deservedly lost by five or six.
That result seemed to knock their confidence, which when you consider that it coincided with a week where Manchester United were two visit Stamford Bridge twice in the space of three days, it could hardly have been timed worse.
The Premier League fixture came first, with United taking a 2-0 lead through a David Luiz own goal and a Robin Van Persie strike, before Juan Mata gave the hosts hope with a goal just before the break. Ramires got the equaliser after halftime and Chelsea looked to have staged the comeback of the season so far, before Branislav Ivanovic and Fernando Torres were shown red cards within ten minutes of each other. With nine men on the pitch, it became a battle to cling on to the point they looked to have salvaged, only for Javier Hernandez to snatch a late winner.
Despite their first loss of the season, Chelsea were still top of the League and had the chance to reclaim bragging rights over United with their 5-4 (AET) win in the Capital One Cup tie on Halloween.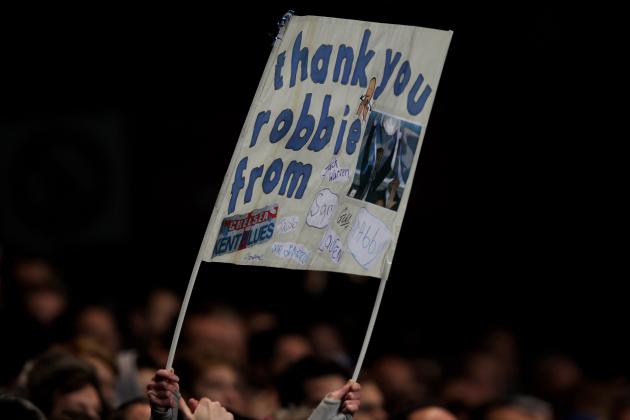 Clive Rose/Getty Images

By November, the extremely congested nature of Chelsea's fixture list began to take its toll, and a 1-1 draw away at Swansea City saw the Blues relinquish top spot in the league for the first time since August.
The reigning European Champions then had to try to overturn the defeat they'd suffered in Donetsk by beating the Ukranian side at Stamford Bridge. Fernando Torres fired Chelsea into the lead after four minutes before Willian equalised for Shakhtar a few minutes later. Oscar scored his fourth goal of the Champions League campaign to send the home side ahead again before halftime, before Willian again got himself on the score sheet just after the break. If the score had remained level, Chelsea were almost certainly out of the Champions League, so when Victor Moses fired in a header in the 95th minute, the relief at Stamford Bridge was palpable.
John Terry returned from his suspension for the game against Liverpool on Remembrance Sunday and scored his 50th Chelsea goal, before suffering a knee injury which would keep him out of the squad for the rest of the year. Luis Suarez equalised for Liverpool in the second half and Chelsea slipped down to third in the Premier League table.
A return to West Bromwich Albion for former Baggies manager Roberto Di Matteo was not a happy occasion as Chelsea lost 2-1 and looked impotent in attack. Fernando Torres was substituted after 63 minutes having failed to take a single shot at goal.
That fact, combined with his dismal form in the preceeding games, led to Di Matteo's decision to drop him from the starting 11 to face Juventus in Turin.
The penultimate group game was a must win for Chelsea to keep their fate in their own hands, but Di Matteo's decision to start without a recognised striker backfired and the Champions lost 3-0. This meant they would need to rely on Shakhtar Donetsk beating Juventus in the Ukraine to stand a chance of qualifying from the group.
If it looked bleak then, there was worse to come for Chelsea fans.
The morning of November 21 brought the news that Roberto Di Matteo had been sacked, and by the evening it was announced that former Liverpool manager Rafael Benitez would take charge until the end of the season. You can read my thoughts on the matter here and here.
Chelsea ended November third in the league following 0-0 draws with Manchester City and Fulham, and it looked like their season had completely imploded.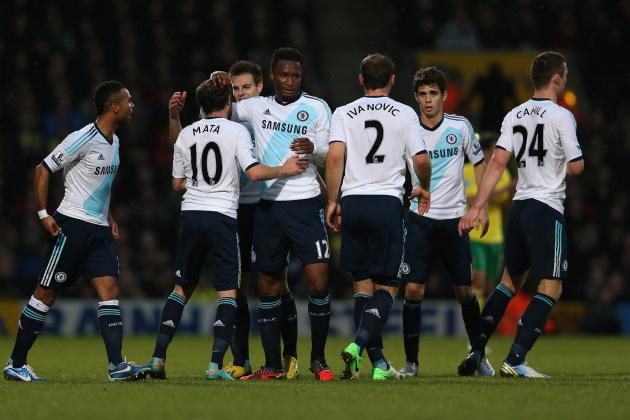 Julian Finney/Getty Images

On December 1 Chelsea visited West Ham on a run of five league games without a win. Juan Mata gave the Blues the lead, before they capitulated completely and the Hammers won 3-1.
The following Wednesday saw what turned out to be Chelsea's last game of the 2012/13 Champions League season. A 6-1 thrashing of FC Nordsjaelland meant nothing as Juventus beat Shakhtar Donetsk 1-0, making Chelsea the first defending champions to exit the competition at the group stage.
Despite that ignominious honour, things were looking brighter, as Fernando Torres' two goals boosted his confidence, and he was able to repeat the feat against Sunderland in a 3-1 victory for the Blues.
Chelsea then had to travel to Japan for the Club World Cup. David Luiz was deployed in the holding midfield role in the 3-1 semifinal win over Mexican side Monterrey, but brought back to centre-half for the final against Corinthians. The Brazilian side deployed very similar tactics to those used by Chelsea in there 2011/12 Champions League campaign and won the match 1-0, taking the title of Club World Champions.
Almost immediately after returning from the other side of the world, Chelsea played their Capital One Cup quarter-final tie against Leeds United at Elland Road. Leeds were 1-0 up at half time, but Chelsea were determined not to lose two trophies in the space of a week as they battled back to win 5-1.
Four days later, Aston Villa visited Stamford Bridge and could only watch as Chelsea ran riot, with the final score of 8-0 equaling Chelsea's record highest winning margin, and the seven different scorers set a new record.
After the Christmas festivities were over, Chelsea headed to East Anglia to play Norwich City. Most people expected a goal-fest to equal the Villa match, but they were disappointed as it ended in a 1-0 win courtesy of a Juan Mata goal.
Everton were up next as the final fixture of the 2012 calendar year, and after going a goal behind inside two minutes, two goals from Frank Lampard saw Chelsea come back to end 2012 with a 2-1 win.