Cincinnati Bengals Mock Draft: A Complete 7-Round Wish List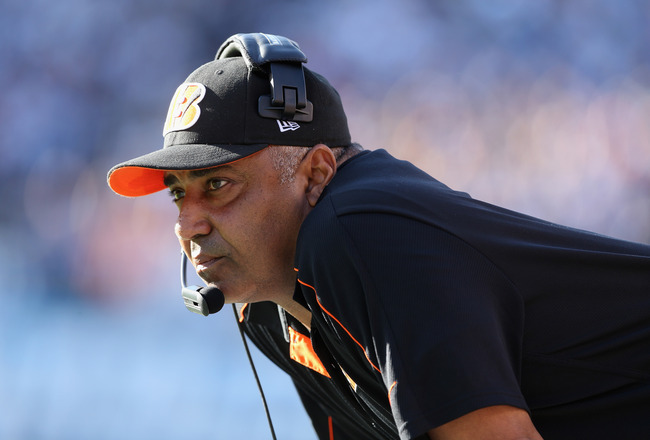 Jeff Gross/Getty Images
The Cincinnati Bengals just clinched their second straight playoff appearance, and while the glow of the postseason has yet to subside, it's never too early to look ahead to next year's draft and how the team can improve itself.
As fun as this season has been, the Bengals still have some glaring holes, among them at safety, linebacker, wide receiver, running back and guard. Those will be the positions that the team will target in April.
What follows is my wish list for all seven rounds of the draft. This list is not necessarily a prediction, but rather who I (realistically) hope the Bengals can snatch up.
Round 1: Kenny Vaccaro, S Texas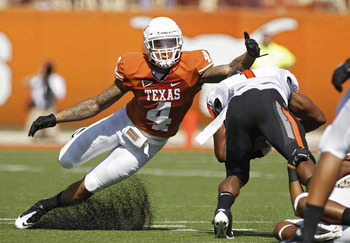 Erich Schlegel/Getty Images
Cincinnati's defense has been its strength in 2012, but the defense's performance has been even more impressive when you consider how weak the safety play has been.
The Bengals have desperately needed a playmaker on defense, especially in the backfield, and Vaccaro fits the bill. A ferocious run-stopper, Vaccaro also is an outstanding pass defender and plays with a high energy. He could become the AFC North's next marquee safety.
Round 2: Justin Hunter, WR Tennessee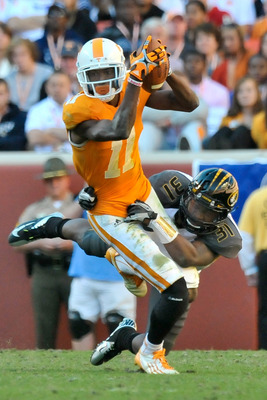 Jim Brown-USA TODAY Sports
The Bengals already have one of the NFL's elite receivers in A.J. Green. Getting a sidekick to put on the field with him should be one of their top priorities.
Thanks to the Carson Palmer trade, the Bengals should draft fairly high in the second round where Hunter may be available. He had a mixed junior season after coming off ACL surgery, but at 6'4" and 200 pounds, he mirrors Green perfectly and could be the perfect fit on the other side of the field.
Round 2: Alex Okafor, LB Texas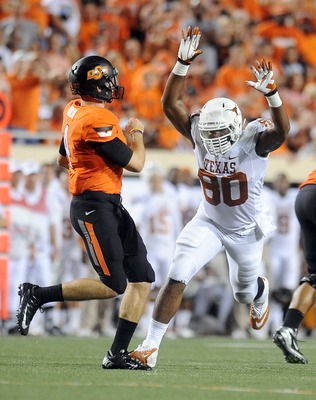 Mark D. Smith-USA TODAY Sports
The Bengals have issues at linebacker that have been masked by the stellar play of the defensive line. Throw in the fact that both Manny Lawson and Rey Maualuga are free agents, and Cincinnati will be looking for an upgrade.
Okafor is fast and strong with good instincts for the position. Whether he falls to the Bengals' second of two picks in the second round is yet to be seen, but Okafor would be a steal.
Round 3: Montee Ball, RB Wisconsin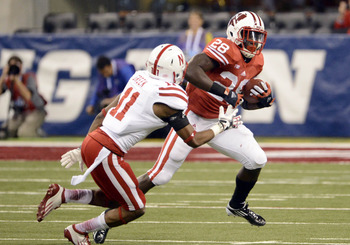 Richard Mackson-USA TODAY Sports
BenJarvus Green-Ellis has had a very nice second half of the season, but he is not the kind of back that can carry a team. Bernard Scott has shown home running ability but can't stay healthy.
The Bengals need a running back, and who better than the NCAA's all-time touchdown leader? Ball is strong and comes from a very good football program at Wisconsin. He would fit right in.
Round 4: Brandon Jenkins, DE/LB Florida State
Phil Sears-USA TODAY Sports
The Bengals have several free agents on the defensive front and will be looking to restock their stellar line. Jenkins can serve as a pass-rushing end or a linebacker, and while I tend to shy away from "hybrid" players, he would be hard to pass up.
Even though he is coming off injury, if Jenkins slid down to the Bengals in Round 4, they would have to be thrilled.
Round 5: Braden Hansen, G BYU
George Frey/Getty Images
The Bengals have been rebuilding their offensive line piece by piece, and Hansen would slide in perfectly next to Andre Smith on the right side of the line.
The offensive line has struggled at times this season, thanks to injuries and inexperience, and Hansen would help shore up those deficiencies.
Round 6: Alonzo Highsmith, LB Arkansas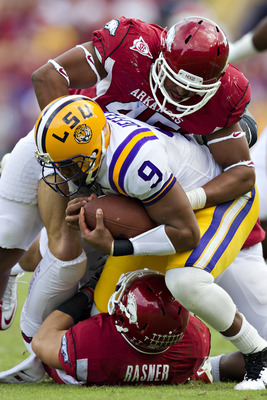 Wesley Hitt/Getty Images
The son of the former NFL running back of the same name, Highsmith has the talent and experience to succeed at the next level. He's coming off a severe foot injury which may dampen his draft stock, making him a perfect steal in the sixth round.
The Bengals will need to add more depth at linebacker, and Highsmith is a great place to start.
Round 6: Theo Riddick, RB Notre Dame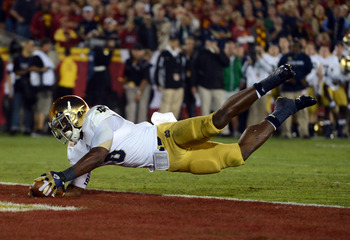 Harry How/Getty Images
Riddick is projected by several mock drafts to slide down to the later rounds, and he could be a steal. He has been a force on the national championship-bound Irish and comes into the league with momentum.
If the Bengals were able to grab both Montee Ball in the third and Riddick in the sixth, they would have completely revamped the running back position.
Round 7: Dan Conroy, K Michigan State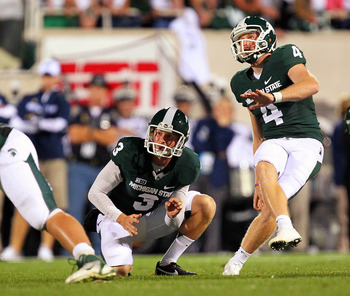 Mike Carter-USA TODAY Sports
Mike Nugent and Josh Brown have been solid for the Bengals this season, but it never hurts to bring in a young gun to push the regulars. Conroy has a big leg, is accurate and would be a nice addition to the team.
Keep Reading

Cincinnati Bengals: Like this team?