Boston Red Sox: Four Critical Factors to Reclaim the MLB Throne in 2013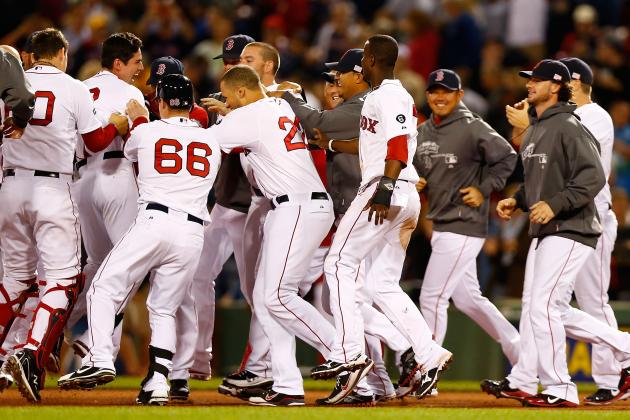 Jared Wickerham/Getty Images
The Red Sox celebrate a walk-off win over the Yankees in September. A key player for 2013 drove in the winning run.
The Boston Red Sox are much closer to reclaiming the MLB throne than you think.
Yes, the same team that lost 93 games in 2012 could be dominant again in 2013. And yes, the same team that blew a historically huge division lead in 2011, while allegedly enjoying fried chicken and beer in the clubhouse, could be one of the league's best teams again next season.
The Red Sox signed seven free agents this offseason and will pay them $61.1 million in 2013.
However, the new players will not make the biggest difference with the team this upcoming season.
The returns of recently injured stars and the hopeful bounce backs of recently struggling stars are the biggest factors for the Red Sox to reclaim the MLB throne in 2013.
However, two of the new additions will certainly add personality to the clubhouse.
The following slides will reveal four critical factors for the Boston Red Sox to dominate again in 2013.
Begin Slideshow

»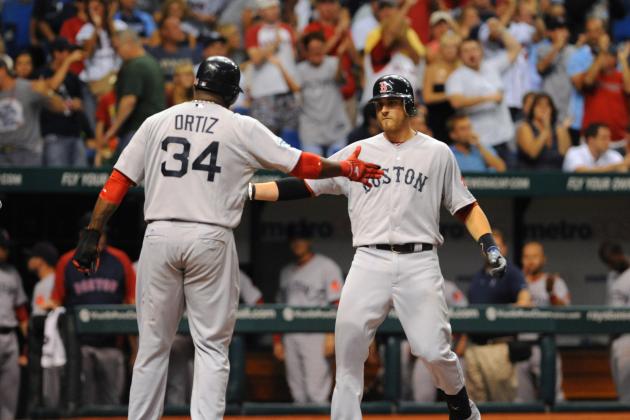 Al Messerschmidt/Getty Images
David Ortiz and Will Middlebrooks played just 166 games combined in 2012.
The Red Sox had 27 different players on the disabled list in 2012.
On top of that, the team also set a club record for using 56 different players last season.
Instead of having Jacoby Ellsbury, Carl Crawford, David Ortiz and Will Middlebrooks in the lineup from April to October, the Red Sox resorted to numerous Triple-A players and veterans throughout the 2012 season.
The Red Sox used Daniel Nava in 88 games, Pedro Ciriaco in 77, Nick Punto in 65, Scott Podsednik in 63, Ryan Lavarnway in 46, Darnell McDonald in 38, Mauro Gomes in 37, Marlon Byrd in 34, Danny Valencia played 10 games and Che-Hsuan Lin was used in nine. Aaron Cook had 19 starts and Franklin Morales started nine games..
On October 1 against the Yankees, the Red Sox batting lineup consisted of Ciriaco, Nava, Cody Ross, Gomez, Lavarnway, Jarrod Saltalamacchia, Valencia, Lin and Jose Iglesias.
If the Red Sox's best players can remain healthy and be every day starters, Boston can rise from the basement of the AL East to one of the best teams in baseball in 2013.
David Ortiz and Will Middlebrooks played just 166 games combined in 2012. Big Papi slugged .611 over 90 games and the 24-year-old slugged .509 over 76 games.
If both Ortiz and Middlebrooks can stay healthy, the lefty and righty back-to-back could be one of the better slugging duos in the league.
If they throw in a healthy Mike Napoli, who's slugged .710 over 19 career games at Fenway Park, and the Red Sox could have one of the best hitting trios in the league.
Napoli played just 108 games in 2012, but now that he's playing a less physically demanding position, moving from catcher to first base, the new addition should play many more games and be a major contribution for the Red Sox in 2013.
Ortiz, Middlebrooks and Napoli played a total of 274 games in 2012, averaging just 91.3 games each. The Red Sox will have a potent offense and have a significantly better chance of reclaiming the throne if the three of them and other regular starters are healthy in 2013.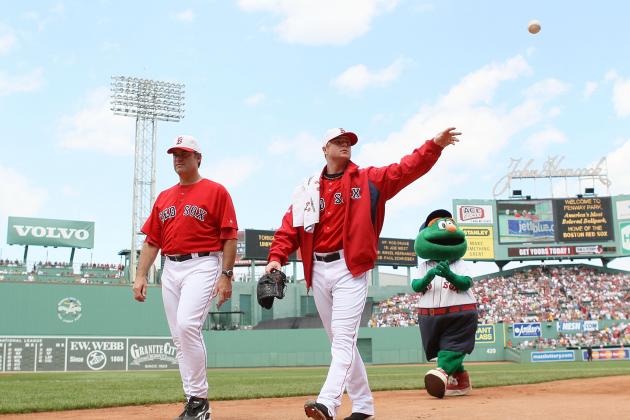 Elsa/Getty Images
Jon Lester is one of two pitchers who needs to bounce back and dominate again under John Farrell.
The Red Sox starting rotation was statistically one of the league's worst in 2012.
Two of the team's former aces pitched arguably the worst seasons of their young careers.
Jon Lester posted a 9-14 record, 4.82 ERA, 1.38 WHIP and .273 BAA in 2012. He had career-worst numbers in losses, ERA, WHIP and BAA since becoming a full-time starter in 2008.
On top of that, the soon-to-be 29-year-old southpaw even struggled at Fenway Park. Lester posted a 3-10 record, 6.31 ERA, 1.59 WHIP and .302 BAA in front of his home crowd last season.
His teammate, Clay Buchholz, who also struggled last season, posted an 11-8 record, 4.56 ERA, 1.33 WHIP and .263 BAA. His ERA, WHIP and BAA numbers were his worst since his 2008 season, which just his second year in the majors.
The 28-year-old wasn't so terrible in 2012. From June through September, Buchholz recorded a 2.95 ERA and 1.07 WHIP. He even posted a 2.40 ERA and 1.00 WHIP in June and a 2.45 ERA and 0.85 WHIP in July.
But prior to 2012, both starters pitched like aces.
From 2008 to 2011, Lester posted a 65-32 record with a 3.33 ERA and 1.24 WHIP and averaged 196 strikeouts per season.
On top of that, Buchholz had a 6-3 record with a 3.48 ERA and 1.29 WHIP over just 14 starts in 2011. But in 2010, he posted a 17-7 record with a 2.33 ERA and 1.20 WHIP.
John Farrell returning to the team as the new manager will certainly help Lester and Buchholz return to their dominant form. Both starters thrived with their old pitching coach.
The Red Sox need both Lester and Buchholz to bounce back and pitch like No. 1 and No. 2 aces again for the team to reclaim the throne in 2013.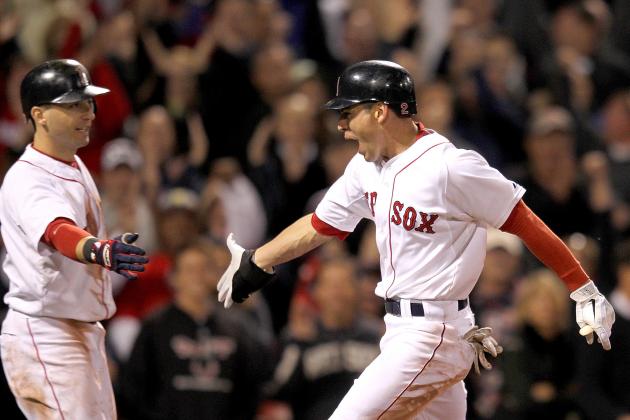 Jim Rogash/Getty Images
The Red Sox need another big season from their center fielder, Jacoby Ellsbury. He financially needs it too.
If Jacoby Ellsbury wants to sign a long-term expensive contract, he needs a healthy and dominant season, similar to the one he had in 2011.
The center fielder played just 74 games in 2012, batting .271 and slugging .370.
The year before, the 2011 Gold Glove Award and Silver Slugger Award winner played 158 games and was the AL MVP runner up.
Ellsbury hit .321 and slugged .552 with 119 runs, 46 doubles, 32 home runs, 105 runs batted in and 39 stolen bases in 2011.
The All-Star center fielder also ranked first in extra base hits (83), second in wins above replacement (8.0), third in hits (212), third in runs scored, eighth in AVG and 10th in OPS (.928) in the entire league that season.
Ellsbury needs another season like that in order to sign a hefty contract next offseason. Having Scott Boras as his agent will certainly help, but he needs the numbers to pad his resume and impress potential suitors.
Boston's success will positively correlate with Ellsbury's health and success in 2013 and maybe beyond. The potential prized free agent needs another MVP-like season and the Red Sox definitely need Ellsbury to be elite to reclaim the throne.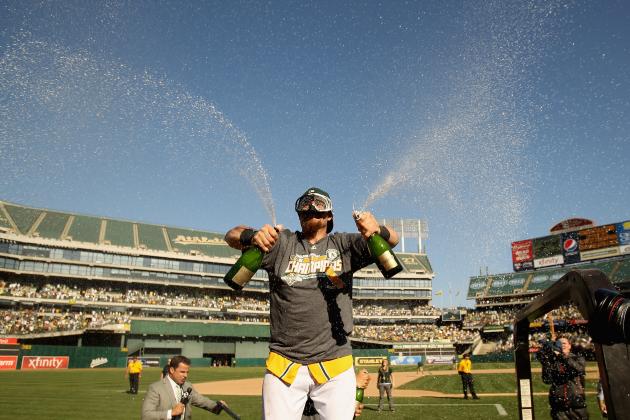 Ezra Shaw/Getty Images
Jonny Gomes' wild personality and a unique clubhouse atmosphere will benefit the Red Sox in 2013.
Remember the unique clubhouse atmosphere that the 2004 World Series champions had? The Red Sox could have another harmonious clubhouse full of lively personalities in 2013 too.
The Red Sox immediately improved clubhouse moral by replacing Bobby Valentine with John Farrell at manager this offseason.
Several pitchers, like Lester and Buchholz, will get to work again with their former pitching coach. Lester immediately tweeted his excitement to work with Farrell again.
The team's two biggest leaders and personalities, Dustin Pedroia and David Ortiz, will also greatly benefit from the managerial switch.
The 29-year-old second baseman, who spoke negatively of Valentine in April, noted that Farrell commands "instant respect," according to ESPN Boston.
The 37-year-old designated hitter said in November that his former manager has "mental issues." Ortiz also said that the new manager will "increase the way things are around here," according to ESPN Boston, as well.
The two lively veteran Red Sox leaders praising the new manager and two new additions will also bring character to the clubhouse.
Jonny Gomes and Shane Victorino are two great additions, but for their lively personalities more than for their skills.
Gomes has a "really good reputation" in the clubhouse and wants to be "the foundation."
"How does a big machine run? A big machine runs with a lot of grease. You get a tall building with all kinds of fancy windows," the new outfielder said, according to The Boston Globe. "It's that foundation that keeps that building up. I always say I represent the grease that runs the machine, not the machine. I represent the foundation, not the star at the top."
Victorino is also focused on turning the team around and bringing a "fun" and "loud" personality.
"If there's one thing you're going to get with me, you're going to get me. I'm going to be fun," the second new outfielder said in his press conference, according to MLB.com. "I'm going to be loud. I'm going to talk a lot, as you can tell from this press conference. You're going to get what you get."
The Red Sox won the World Series with a clubhouse full of "idiots" and unique personalities in 2004. Regaining a clubhouse full of lively personalities and harmony is a major step in the right direction for the Red Sox to reclaim the throne.