Redskins Mock Draft: A Complete 7-Round Wish List
Patrick McDermott/Getty Images

The Redskins keep on rolling and have a legitimate shot at an NFC East crown for the first time since 1999. If they beat the Cowboys next week, not only will they make the playoffs but they'll wind up with a home game against a wild-card team like Seattle, Chicago, Minnesota or New York—all winnable games.
While all the headlines go to Robert Griffin III (and deservedly so), one of the more intriguing stories is how Jim Haslett and the Redskins have kept one of the worst defenses in history statistically playing so well through so many games.
The Redskins have huge question marks at free safety and cornerback as well as the uncertainty at the right tackle position. If they can fix those problems through the draft and free agency, this team could take the next step and become a true juggernaut.
I see the draft playing a huge part in rebuilding the 'Skins defense, with most picks going toward the secondary. But knowing Mike Shanahan, that could be completely wrong.
As we all know, Washington traded next year's first-round pick to St. Louis in the RGIII trade, so really this is more like a six-round mock draft. Knowing Shanahan and Bruce Allen, there's sure to be some wheeling and dealing to grab some more picks in the later rounds, but here's a projection based on what they have as of today.
Begin Slideshow

»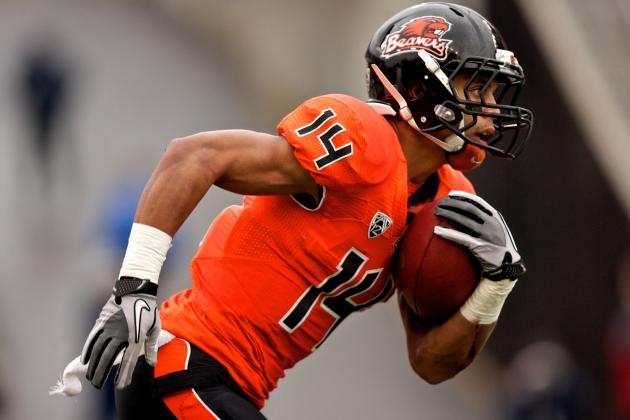 Craig Mitchelldyer/Getty Images

While Josh Wilson has been pretty solid this year on the outside, he's missing a true bookend for the other side.
DeAngelo Hall is a better fit for the slot and might be cut to save cap room this year ($8.3 million cap hit in 2013), while D.J. Johnson, Richard Crawford and Cedric Griffin have all been inconsistent, the latter receiving a four-game suspension to finish his regular season.
Enter Jordan Poyer.
Poyer is a phenomenal athlete who really developed his coverage skills during his senior year. He racked up three picks against Washington State and totaled seven on the year. He has good size and speed for the position and should have no problem contributing at the next level.
If the 'Skins take Poyer in the second, I could see him playing either on the outside or in the slot. He'll need to get better against the run to fit into their defense, but he would definitely be able to step up and play.
While I think safety is a bigger concern heading into the draft, if Poyer is on the board I think they have to take him. There's no guarantee that Chase Minnifield is going to ever fully recover from his injury, and even if he is and Crawford starts to develop this group is still too thin if Hall gets cut.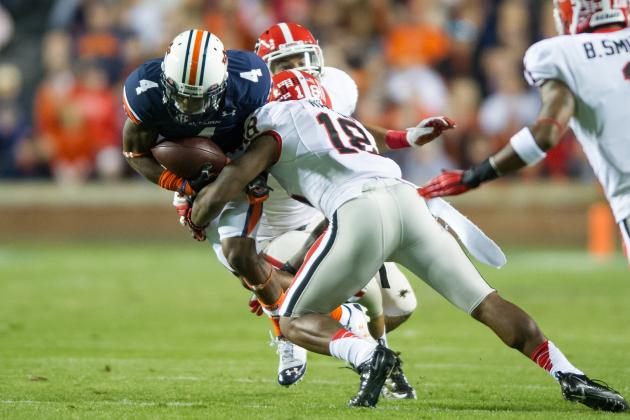 Michael Chang/Getty Images

I've been a Bacarri Rambo fan for a long time. This guy can flat-out play, and he has the talent to be a star free safety at the next level. However, off-field issues caused Rambo to miss four games this year and will most likely cause him to drop into the third round. Good news for the Redskins.
Madieu Williams has probably been the worst starter on the defense this year. Not only is he slow, but he's slow to react. That's not a good combination.
Rambo has great speed and good instincts. If you watch him play, he's constantly flying to the ball and laying the wood. He's exactly the kind of playmaker the Redskins defense needs in the secondary.
With Rambo and Poyer in the fold, the secondary should be completely revamped. Those two should help solidify the free safety and cornerback positions, the two biggest areas of concern.
Brandon Meriweather signed a two-year deal, so he'll be back and healthy enough to hold down the strong safety spot. In limited action this year he brought a ton of energy to the defense and really made everyone around him play better. With him and Rambo on the back end, this secondary could become something special.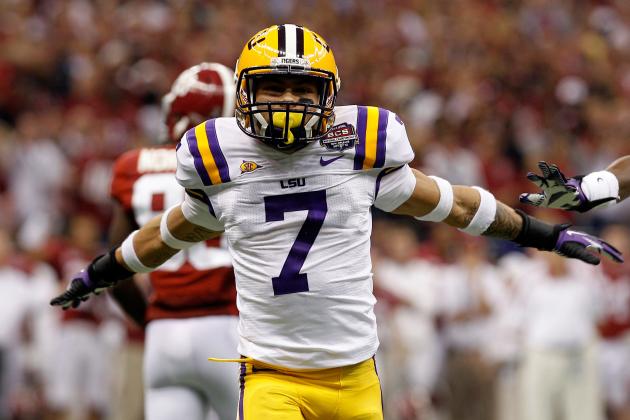 Chris Graythen/Getty Images

Before all his drug problems, Tyrann Mathieu was a Heisman contender and sure-fire first-round pick. He can wreak havoc in the slot and contribute on special teams as a returner. He has major character concerns, but if someone is willing to take a shot on him they could get the steal of the draft in return.
The Honey Badger is the perfect kind of hybrid player for a defense that relies on varying schemes and disguising blitz packages. He would fit perfectly in the slot with Josh Wilson and Jordan Poyer outside, or he could slide outside or even back to one of the safety positions in a Cover 3 or Cover 2. The possibilities are endless.
Ultimately, Mathieu is a stud with major concerns. He's the definition of a boom-or-bust prospect. If he can come in and stay clean, the Redskins will continue to build a secondary based on speed and play-making ability to complement a strong front seven.
If he can't stay clean, he'll likely be out of the league before he ever gets started. I think that's a fair gamble for a fourth-round pick.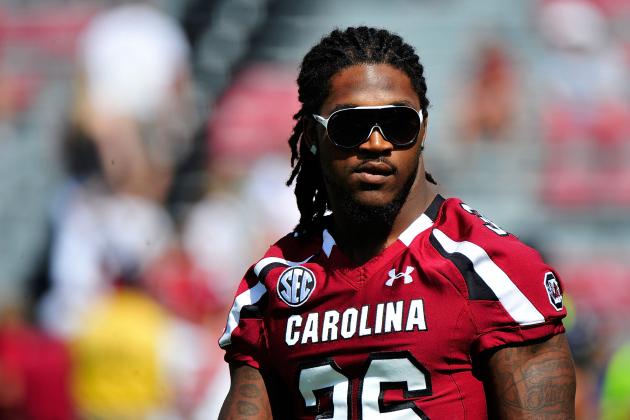 Grant Halverson/Getty Images

Thanks to the Albert Haynesworth trade with the Patriots, the Redskins own two fifth-round picks in the 2013 draft, and could pick up two high-quality sleeper prospects.
Tanner Hawkinson is still a bit raw, but is a perfect fit for Mike Shanahan's zone-blocking scheme. While he's somewhat lacking in strength, he has quick feet and plays fast. He's played mostly left tackle in his collegiate career, but he should be able to move to the right side of the line with relative ease.
If Hawkinson can pick things up quickly, I think he can come in and play right away. Jammal Brown isn't getting any better and shouldn't be on the team next year, and Tyler Polumbus has been a turnstile all year. Rookie Tom Compton is a bit of a wild card, but hasn't seen the field at all this year and doesn't seem ready yet.
With the other fifth-round pick, I'd go with D.J. Swearinger out of South Carolina.
Swearinger has decent speed and instincts, and could be a good sleeper pick to develop down the road. I could see him playing a backup role for Washington next year, and possibly even earning a starting spot later in the season if Brandon Meriweather's knee injury flares back up and he has to miss time.
You're not likely to find starters this late in the draft, but depth is still a major concern for the Redskins, and this is the place to build it. Swearinger and Hawkinson both have great upside but probably need some time before they can contribute regularly.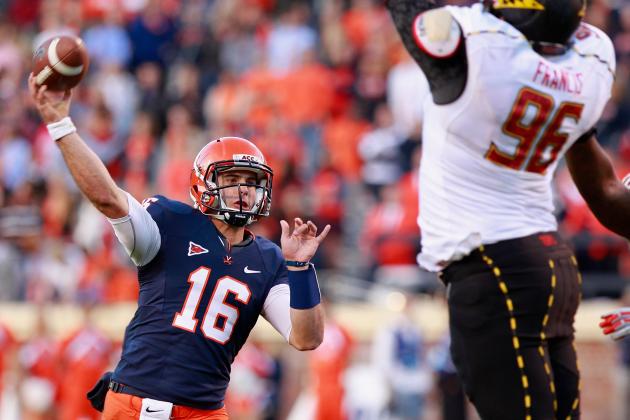 Geoff Burke/Getty Images

A.J. Francis is a developmental prospect but could turn into a good rotational player at the next level. He has pretty good size, but needs to get stronger if he wants to see the field.
This is a bit of a luxury pick for the 'Skins since they already have some good depth on the defensive line. But as we saw with Adam Carriker, injuries can change everything in the NFL. Francis will likely see the practice squad for his rookie year as he bulks up and learns the game, but he could surprise in camp.
Despite Maryland losing four quarterbacks to year-ending injuries throughout the season, their strong defense kept them in most games largely because of the play of the front seven. Francis, along with Joe Vellano, led a great defensive line to a lot of big games. He can play nose or end.
Francis is a high-character guy with a passion for the game. He fits the mold for a Mike Shanahan team and the smarts to pick up the game (he won three straight Academic All-ACC honors).
But if there's one reason to draft Francis, it's for his prowess on Twitter, for which he was named in Sports Illustrated's Twitter 100.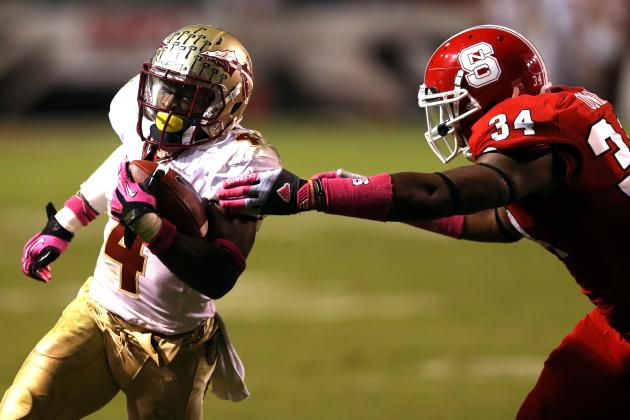 Streeter Lecka/Getty Images

It's pretty much guaranteed that Shanahan will take a running back in the later rounds no matter who he has starting. Alfred Morris has been pretty much everything you can hope for in a first-round pick, let alone a sixth-round pick. But he could benefit from having a change of pace back to give him a breather every now and then.
Chris Thompson is an absolute blazer, but suffered a slew of injuries that will likely kill his draft stock. Before he tore his ACL, he was averaging 7.5 yards per carry. The year before he broke his back, ending his season prematurely.
It seems more like Thompson has been unlucky with his injuries, rather than having the same nagging injury. He's a bit undersized, but not frail.
I'd like to see Thompson used in a utility role like Brandon Banks was in some packages this year. I think he'd be a great fit in the option game and could help keep defenses honest. He has more experience carrying the ball than Banks, so fumbling shouldn't be as big of an issue.
And that's it! Seven guys who can come in and improve this team in some way. As previously stated, the majority of the picks went to help the defense. With the offense playing as well as they are–and the defense playing equally as bad–that seems to make sense.
The new secondary should look something like Josh Wilson and Jordan Poyer on the outside, Tyrann Mathieu playing the slot, Baccari Rambo and Brandon Meriweather handling the two safety spots with D.J. Swearinger and Dejon Gomes as the backups. That seems like a much-improved group on paper, even if it is mainly rookies.
Offensively, I think Tanner Hawkinson can come in and start over Tyler Polumbus right away if Tom Compton still isn't ready. Trent Williams obviously holds down the left tackle spot, and the inside of the line should remain the same as this year as Adam Gettis and Josh LeRibeus continue to develop.
But if history has taught us anything it's that mock draft attempts rarely hit the mark on what NFL coaches are thinking, especially Mike Shanahan. Let us know who you will be looking for in the 2013 NFL draft.