San Diego Padres: The All-Time Padres Starting Lineup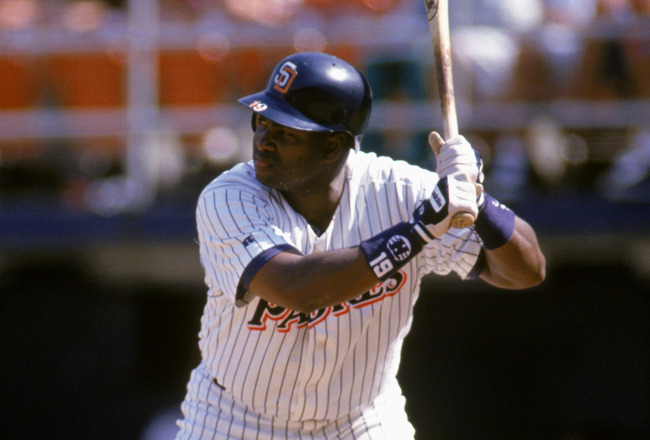 Stephen Dunn/Getty Images
The San Diego Padres have had a long list of talented players that have worn their jersey throughout the years.
Players like Greg Maddux, Rickey Henderson, Ozzie Smith and Willie McCovey (just to name a few) have all spent time—whether short-lived or not—in a Padre uniform. All great players, but none played in San Diego long enough to be considered for this list.
It is a shame that the Padres culture for so many years included trading away and letting their best players walk through free agency. With that in mind, it was not entirely easy putting this list together.
Fire sales and free-agency aside, let's take a look at the all-time lineup for the San Diego Padres with longevity, offensive and defensive production and leadership all factored into the decision.
First Base: Adrian Gonzalez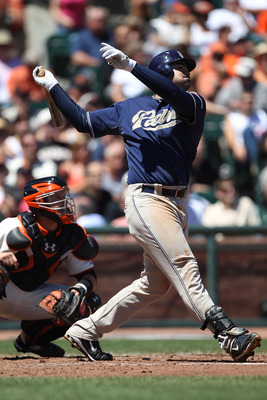 Adrian Gonzalez
Jed Jacobsohn/Getty Images
Adrian Gonzalez may play for the rival Los Angeles Dodgers now, but when he was with the San Diego Padres he was a huge offensive and defensive contributor.
While in San Diego, Gonzalez appeared in three All-Star games, won two Gold Gloves and received MVP votes in four consecutive years (2007-2010).
He also averaged 32 home runs and a 100 RBI per season in five years with the team.
Honorable mention: Ryan Klesko
Second Base: Roberto Alomar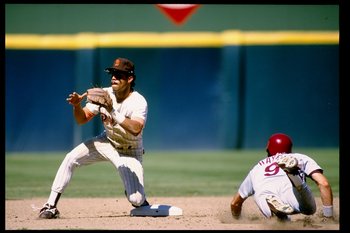 Roberto Alomar
Sean Haffy/Getty Images
Roberto Alomar may not have been with the Padres for long, but he was a consistent player at second base when he was.
Alomar finished fifth in the Rookie of the Year voting in 1988, was an All-Star in 1990 and averaged 30 stolen bases per year in three years with San Diego. He also had an incredible glove at second base.
Though he may not have had the opportunity to further grow and develop with the team, he was a solid contributor for the Padres and laid the foundation for what turned into a solid 17 year career.
Honorable mention: Mark Loretta
Third Base: Ken Caminiti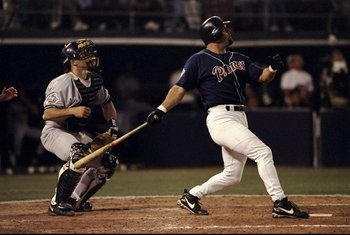 Ken Caminiti
Doug Pensinger/Getty Images
The late Ken Caminiti was the full-package at third base.
Caminiti won three-consecutive Gold Gloves, appeared in two All-Star Games and won a Silver Slugger and the National League MVP Award in 1996 (.326, 40 home runs, 130 RBI, 109 runs scored) for the Padres.
It is sad he passed at such a young age (41), but his four years playing third base for San Diego were better than any other player at that position.
Honorable mention: Gary Sheffield
Shortstop: Khalil Greene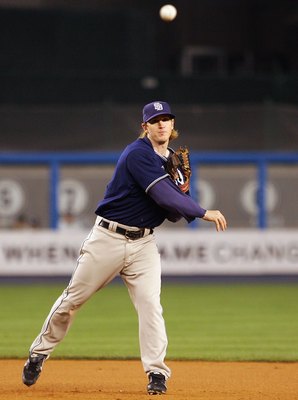 Khalil Greene
Jim McIsaac/Getty Images
This one was a tough call, but I have to give the nod to Khalil Greene.
Though he suffered from fits of anxiety, Greene made some plays at shortstop that are still permanently burned into my memory. Not only did he have an incredible glove, but he also had some decent pop to his bat—though he struggled to hit for average.
It's unfortunate that Greene couldn't get over his own inner demons, but when weighing in all options at shortstop, he still goes down as the best at his position.
Honorable mention: Garry Templeton
Left Field: Dave Winfield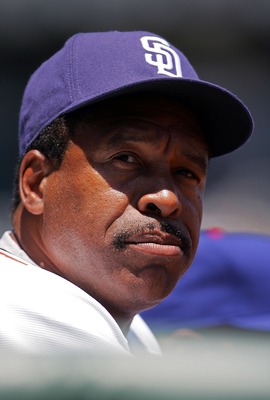 Dave Winfield
Jeff Gross/Getty Images
Yes I know, Dave Winfield was primarily a right-fielder—but he did play some left field as well. There's just one other guy (cough, cough) that I have to reserve the right field position for.
Hall of Famer Dave Winfield, was a four-time All-Star with the San Diego Padres. He won back to back Gold Gloves (1979-80) and received MVP votes in both 1978 and 1979. He also led the league in RBI, total-bases and OPS in 1979.
Winfield was the first Padre inducted into Cooperstown and without a doubt, earns a spot on the all-time lineup.
Honorable mention: Bip Roberts
Center Field: Steve Finley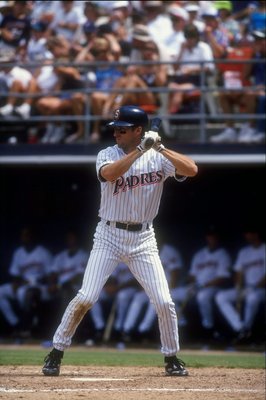 Steve Finley
Tom Hauck/Getty Images
Steve Finley was probably the most exciting center fielder the Padres have ever had.
Finley won back-to-back Gold Gloves in 1995 and 1996, was an All-Star in 1997 and finished 10th in MVP voting in 1996. He was an aggressive and athletic center fielder, but also added power and speed to the center of the San Diego lineup.
After four seasons with the Padres, Finley ended up spending time with every other National League West team, but when looking back—he was still the best center fielder we've ever had.
Honorable mention: Mike Cameron
Right Field: Tony Gwynn
Tony Gwynn
Stephen Dunn/Getty Images
Do I really need to say anything about "Mr. Padre", Tony Gwynn?
Anthony Keith Gwynn Sr., was a 15 time All-Star, a five time Gold Glover, a seven time Silver Slugger—and though he never won a MVP award—finished with a lifetime .338 batting average and 3,141 hits.
Not only that, but he was and still is an amazing human being.
Honorable mention: Brian Giles
Catcher: Benito Santiago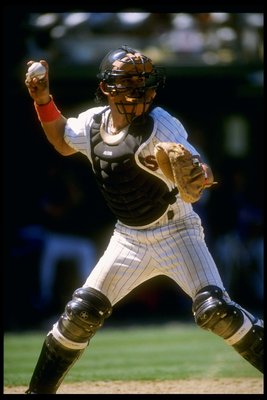 Benito Santiago
Stephen Dunn/Getty Images
The former 1987 National League Rookie of the Year, Benito Santiago had a nice catching career with the San Diego Padres.
He appeared in four consecutive All-Star Games (1989-92), won four Silver Sluggers and three Golden Gloves in seven years with the Padres.
Though he was never consistent throughout his career, Santiago was a great player while with the Padres.
Honorable mention: Terry Kennedy
Starting Pitcher: Jake Peavy
Jake Peavy
Stephen Dunn/Getty Images
I still really miss seeing Jake Peavy in a Padre uniform.
The 2007 Cy Young Award winner was dominant as the Padres ace over eight years in San Diego. He led the majors twice in ERA (2004 and 2007), the National League twice in strikeouts (2005 and 2007) and led the league in wins in 2007 with 19.
Peavy had lightning stuff and is one of the best pitchers to ever wear a San Diego jersey.
Honorable mention: Randy Jones
Relief Pitcher: Trevor Hoffman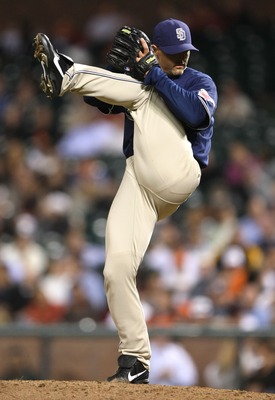 Trevor Hoffman
Jed Jacobsohn/Getty Images
Is there anything bad to say about Trevor Hoffman?
The seven-time All-Star ended his career with a 2.87 ERA with 601 saves—good for second all-time. Hoffman also finished in the top-six or above in Cy Young Award voting four times and garnered National League MVP votes five times.
Don't you miss hearing "Hell's Bells"?
Honorable mention: Heath Bell
Keep Reading

San Diego Padres: Like this team?