5 Decisions the Phillies Will Have to Make Before Spring Training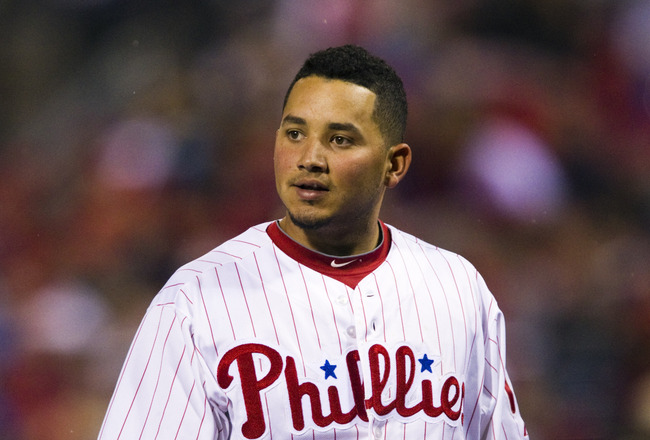 Howard Smith-USA TODAY Sports
The Philadelphia Phillies entered the offseason with a handful of questions that needed answering and have managed to address nearly all of them while keeping their payroll at a reasonable level.
General manager Ruben Amaro Jr. was able to address the team's needs at third base and center field through the trade market, and found an eighth inning reliever and fifth starter for the rotation through free agency.
However, these moves, and lack thereof, have led to a new set of questions heading into spring training.
By having not yet acquired another corner outfielder, and preferably someone who bats from the right side, the Phillies currently have only one starter in their outfield set in stone for next season. Are the Phillies comfortable heading to spring training with the corner outfielders currently on the roster as their only options?
By trading for Michael Young from the Texas Rangers, the Phillies were able to strengthen their bench by moving Kevin Frandsen into a reserve role. But where will Freddy Galvis now start the season?
Are Michael Martinez and Pete Orr really the best candidates for the reserve infielder roles?
These are some of the questions that the Phillies now face as the offseason continues and rosters further take shape. However, unlike those questions that will be answered once the season starts, such as whether or not Chase Utley can remain healthy for a full 162 game schedule, the new set of questions represent decisions that must be made much sooner.
Once spring training begins, an offseason's worth of strategizing will culminate in a battle for 25 roster spots, but the key pieces must be put in place beforehand.
Here are five decisions that the Phillies will have to make before spring training.
Who Will Compete for the Corner Outfield Spots?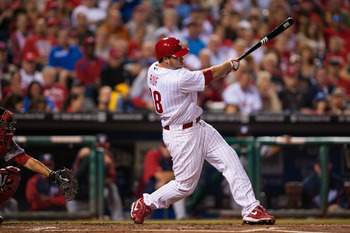 Howard Smith-USA TODAY Sports
The Phillies recently saw two of the remaining free agent corner outfielders find new teams, leaving few, if any, starting caliber options at the corner outfield spots still available.
According to a tweet by Mark Feinsand, Cody Ross has reached an agreement with the Arizona Diamondbacks, while Nick Swisher reached a deal with the Cleveland Indians, according to another tweet by Feinsand.
These moves came on the heels of Amaro recently saying that the Phils could stand pat in terms of outfielders and use a double platoon next season in an article by Corey Seidman on CSNPhilly.com:
We're still trolling through the possibility of adding another piece [in the outfield] Amaro said Tuesday. And we're also considering the possibility of going with a double platoon. That's a possibility as well. We've done some things that have helped our club on a couple different levels, and I don't think the process of trying to help our club ever stops.
As of now, Darin Ruf, John Mayberry Jr., Domonic Brown and even Laynce Nix will be competing to join Ben Revere as starting outfielders.
Are these the only players who will be competing?
Jon Heyman recently tweeted that the Phils could be targeting free agent Scott Hairston, a right handed batter who hit 20 home runs in 134 games this season.
The Phils could also turn to the trade market again to add another outfielder to the mix. However, the Phillies must first decide whether they are truly comfortable sticking with their current set of corner outfielders. The longer they wait the better the chances are that the remaining options will decrease even further.
Regardless of the outcome, the Phillies will have to decide who will be competing for the corner outfield spots so as to avoid showing up to spring training and watching lackluster performances.
What to Do with Freddy Galvis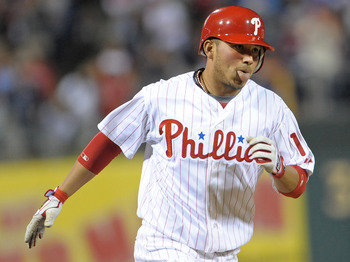 Eric Hartline-USA TODAY Sports
Freddy Galvis was the Phillies' Opening Day starter at second base this past season, but where he plays next season is now a question mark heading into spring training.
Galvis moved to second base from shortstop to fill in for the injured Chase Utley, and may have been a candidate to start at third base at the beginning of this offseason.
However, with the addition of Michael Young, the infield is set barring injuries.
And with Kevin Frandsen now available to come off the bench, the Phillies will enter spring training with two players capable of playing third base.
Where does that leave Galvis?
Galvis batted just .226 with three home runs this season, but made just one error in 49 starts defensively.
However, since Galvis has already been an Opening Day starter at the major league level, it's reasonable to think that he will fit into the Phillies lineup at some point. But where will he start next season?
At 23 years old, would the Phillies keep him on the major league roster as a backup infielder all season? Or will they send him to Triple-A so that he can play every day and be ready as a call up for an injured player?
Regardless of how well Galvis does in spring training, he is blocked from starting at any infield position. Therefore, the Phillies must decide beforehand where he will start the season, whether on the major league bench or at Triple-A.
Even more intriguing will be what position he primarily plays in order to gain insight into what the Phillies are thinking.
Who Will Compete to Become Backup Infielders?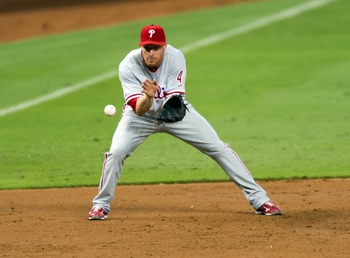 Steve Mitchell-USA TODAY Sports
Speaking of backup infielders, the Phillies have focused more on the starting lineup this season and less on the bench, and rightfully so.
But besides Kevin Frandsen, which players will make up next season's bench, or even compete to fill out the roster?
Freddy Galvis could be an option, but at 23 years old the Phils may decide that they want him to play every day in the minor leagues.
Outfielders John Mayberry Jr. and Darin Ruf can also backup Ryan Howard at first base if they make the roster, and even Michael Young could play there from time to time.
But when it comes to backing up shortstop and second base, are the Phillies really comfortable only letting Michael Martinez, Pete Orr and Andres Blanco compete?
Martinez batted .174 and had a .208 OBP in 45 games this season, and has yet to bat over .200 in a major league season. Orr batted .315, but only played in 35 games and did not hit a home run. Blanco is a non-roster invitee to spring training, but did not play in the major leagues this season and has three career home runs.
The Phillies must decide whether these players are adequate candidates for competing to back up Jimmy Rollins and Chase Utley, or if more options are needed.
Between the ages of the Phillies infielders and their injury history, the team must have players capable of coming off the bench and starting for extended periods of time.
And, more importantly, producing.
A player such as Kelly Johnson will likely be too expensive, but a player such as Adam Kennedy or a low-risk option in Chone Figgins could provide experience and a batting average over .200 (at least in Kennedy's case).
If Young is unable to remain healthy in his first season back as a regular on defense, the Phils could find themselves with a lack of depth quickly.
In the meantime, there has to be a way to bring in more competition before spring training.
Is a Veteran Left-Handed Reliever Needed?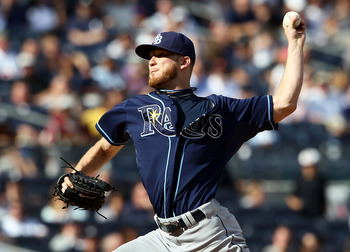 Alex Trautwig/Getty Images
The Phillies entered this offseason knowing that a right-handed reliever was needed to pitch in the eighth inning, and they managed to sign Mike Adams to fill that role.
But what about a left-handed reliever?
According to Bill Ladson on the Washington Nationals' website, the Phillies are interested in left-handed reliever J.P. Howell.
Howell had 42 strikeouts and a 3.04 ERA in 55 games for the Tampa Bay Rays this season. Howell struggled in 2011 after missing all of 2010 following shoulder surgery, but had a 2.53 ERA in 2008 and 2009 combined while striking out 171 batters during that span.
If finding a right-handed reliever wasn't too high on the Phillies priority list, acquiring a left-handed reliever certainly isn't a necessity.
With Antonio Bastardo, Jake Diekman, Jeremy Horst and Raul Valdes, the Phillies have several left-handed relievers who have the potential to contribute significantly to the bullpen's success. Bastardo struck out 81 batters this season, Diekman had 35 strikeouts in 27.1 innings, Horst had a 1.15 ERA and Valdez walked just five batters all season.
However, none of these pitchers has been able to find consistency in the major league just yet, or will have to prove that this past season was not a fluke.
This isn't the first left handed reliever that the Phillies have been mentioned to have interest in, as Jon Morosi had tweeted that the Phils were looking at Sean Burnett earlier in the offseason.
The Phillies will have to decide whether these two left-handed relievers just sparked their interest, or if a veteran is needed before spring training since few options exist after Howell besides Mike Gonzalez.
Although another reliever is not a necessity, it would be interesting to see the Phillies bullpen with Jonathan Papelbon, Adams and a veteran left hander along with a combination of young pitchers such as Diekman, Horst, Bastardo, Phillippe Aumont, Michael Stutes or Justin De Fratus.
It's one thing if the Phillies were just kicking the tires on adding another reliever, but if the team wants to acquire a veteran left hander, they will have to do so before spring training.
How Should Chase Utley, Roy Halladay and Ryan Howard Be Monitored?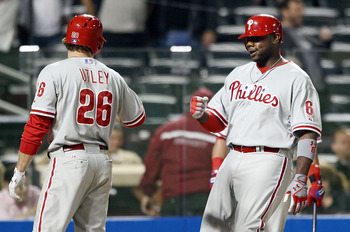 Alex Trautwig/Getty Images
Few additions this offseason would have made a significant impact on the team single handedly.
For most acquisitions, their success and the success of the team as a whole is dependent upon Chase Utley, Roy Halladay and Ryan Howard coming back healthy and playing a full season, or as close to a full season as possible.
Each player missed significant time this season.
However, according to a tweet by Jayson Stark:
Chase Utley's agent, Joel Wolfe, describes Utley as a man on a mission this winter: "If the season started in 2 weeks, he'd be ready to go."

— Jayson Stark (@jaysonst) December 4, 2012
If Utley is healthy, the Phillies will have their No. 3 hitter to start the season and will not lose infield depth by having to turn a backup infielder into a full time starter.
Howard's absence led to an even larger shortage of RBI for the Phils. If Howard hits how he did after returning this season, batting .219, including a .181 average in September, it won't matter who else the Phils acquire during the offseason.
By trading Vance Worley to the Minnesota Twins as part of the deal for Ben Revere, the Phillies saw their starting pitching go from a strength to an area with a lack of depth. If Halladay is not healthy once again, an unproven player such as Tyler Cloyd or Jonathan Pettibone will have to step up for an extended duration.
It will also make Halladay's contract situation even more interesting.
However, by designing workouts and charting each of these players' workloads prior to spring training, the Phillies can hopefully set themselves up for a full season featuring all three players.
Charlie Manuel would then have his Opening Day lineup intact and could begin experimenting with Ben Revere, Young and even Darin Ruf at different spots in the batting order throughout spring training.
Rather than playing it by ear during spring training, the Phillies will have to be proactive and decide on how best to monitor Utley, Halladay and Howard beforehand.
Keep Reading

Philadelphia Phillies: Like this team?