Handing Out Game Balls for Every Game After NFL Week 16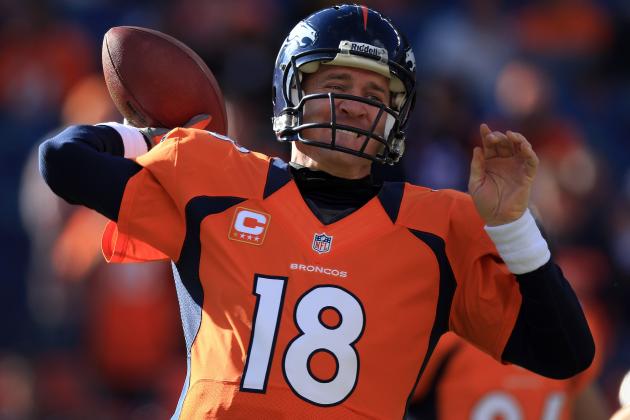 Doug Pensinger/Getty Images

With every victory in the NFL comes a sacred tradition—the awarding of game balls. This, of course, doesn't change in Week 16.
Whether it was Aaron Rodgers in a blowout victory or Drew Brees in an overtime win, each game had one player who stood above the rest, ensuring his team's victory.
Week 16 was a huge week with drastic playoff implications. As a result, each individual performance was especially crucial.
So who were the players to step up in this critical week?
Begin Slideshow

»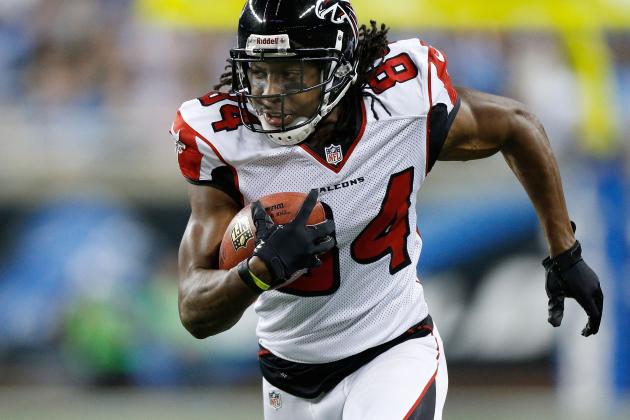 Gregory Shamus/Getty Images

Game Ball: Roddy White
It's tough to not give this to Matt Ryan—he is the quarterback, and he had a fantastic game—but White was the altogether more impressive player.
With eight catches for 153 yards and two touchdowns, White was simply unstoppable. Calvin Johnson received all the attention in this game, and rightfully so, but White was just as impressive on the field.
As Atlanta put up 31 points, White stood out as the key player for the Falcons offense.
Streeter Lecka/Getty Images

Game Ball: Cam Newton
Who else?
Newton didn't have a particularly dominant game, but he was still the key player for the Panthers, accounting for both the team's touchdowns. No other Panther really stood out as overly impressive.
The former No. 1 overall pick has been on a roll lately, and even in a "down" game, he carried his team to victory. He was Carolina's offense.
Many criticized Newton earlier in the year, but that isn't the case now.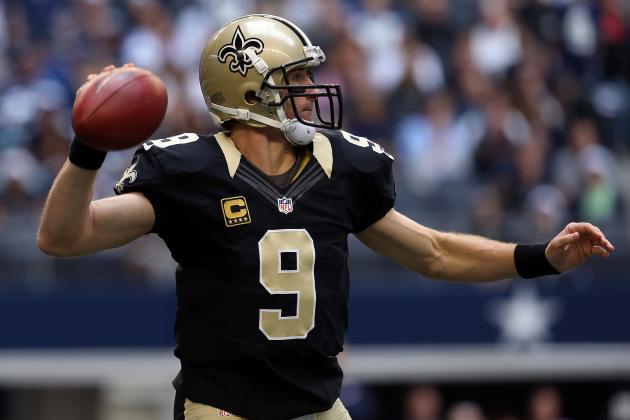 Tom Pennington/Getty Images

Game Ball: Drew Brees
This is the Brees we know and love.
With 446 yards and three touchdowns, Brees simply had an incredible game. He led the New Orleans offense to 34 points as the team toppled Dallas in overtime.
It wasn't a great game for the Saints, who allowed the Cowboys to attempt a comeback, but Brees was still able to bring home the win. A few receivers had big games, but they didn't compare to Brees' performance.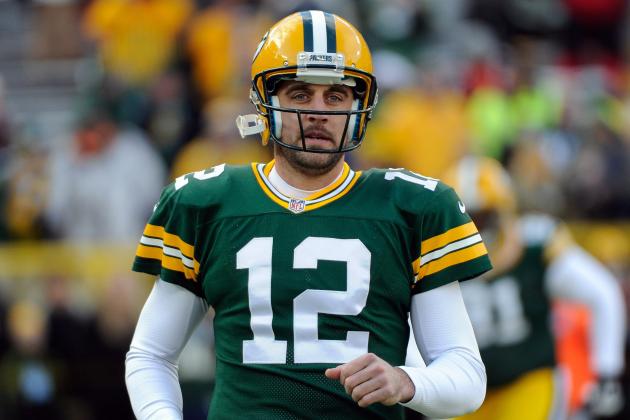 Benny Sieu-USA TODAY Sports

Game Ball: Aaron Rodgers
Honestly, who did you think would get this?
In a huge blowout, Rodgers put up some excellent numbers, completing 27 of his 38 passes for 342 yards, three touchdowns and no interceptions—not bad by any means.
The amazing thing is how well Rodgers once again spread the ball around. Eight players recorded a reception, and only three of them were above 50 yards.
Rodgers' success wasn't because of a receiver dominating. It was because he dominated.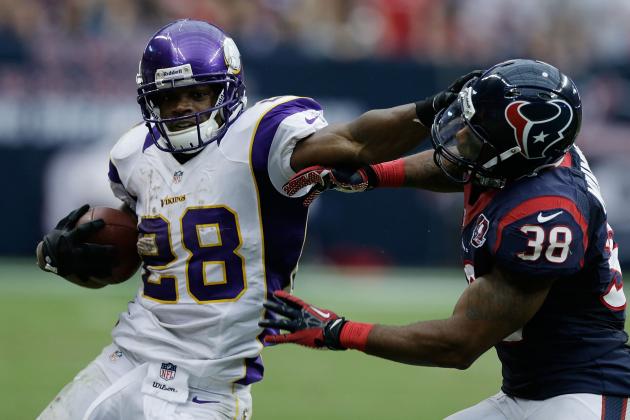 Scott Halleran/Getty Images

Game Ball: Adrian Peterson
This was the first time in the last nine games Peterson didn't break 100 yards, and even without a touchdown, he was still the most important player to the Vikings' victory.
Peterson's numbers weren't great (86 yards on 25 carries). However, Houston was completely focused on stopping him, which opened up Minnesota's passing game and allowed Christian Ponder to find some success.
This wasn't a game in which Peterson's impact showed on the stat sheet, but it still made an impact on the scoreboard.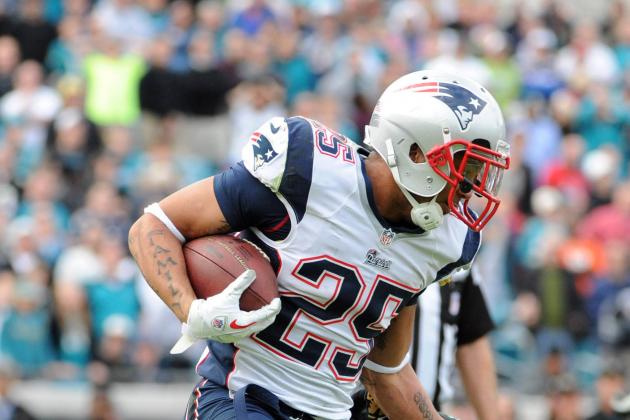 USA TODAY Sports

Game Ball: Patrick Chung
This was a much worse New England performance than was anticipated. There is perhaps one team in the NFL that shouldn't beat the Jaguars by more than seven points, and it's not the Patriots.
In such a disappointing offensive effort, New England didn't really have any offensive standouts. The team did, however, have a defensive star in Chung.
Chung hauled in two interceptions, which were key in securing the victory. After getting off to a hot start, Jacksonville ended up with just 16 points. Chung was a big part of that.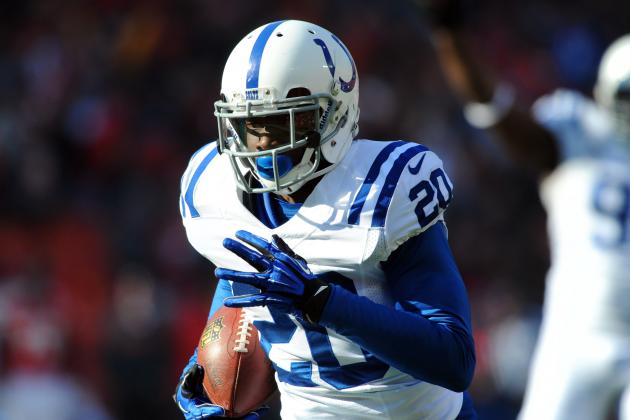 USA TODAY Sports

Game Ball: Darius Butler
This goes to Butler because I have no clue who else to give it to.
No Colt stood out in any aspect of the game besides Butler, whose main contribution was a pick-six in the first quarter. He was easily the biggest standout for Indianapolis.
Andrew Luck and Reggie Wayne both had modest games, and it's rare that another offensive Colt stands out, which is why this goes to the defense and, in turn, Darius Butler.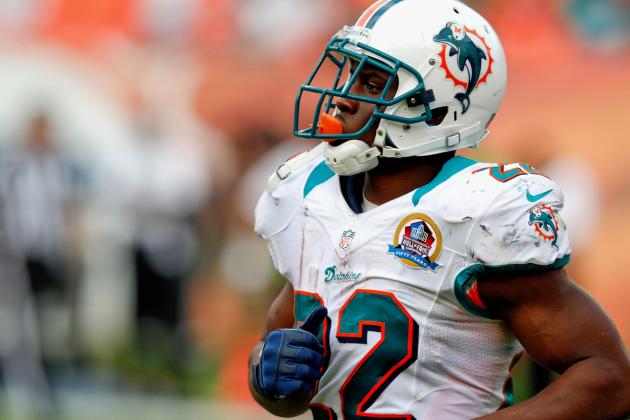 USA TODAY Sports

Game Ball: Reggie Bush
As he accounted for all three of Miami's touchdowns, Bush was the easy pick here. However, his total yardage was far from jaw-dropping.
Bush picked up just 65 yards on 19 carries, though his 42 receiving yards do make his total numbers more impressive. The key, though, is that Bush came up big with touchdowns when the Dolphins needed them.
A couple of defensive players warranted consideration, but Bush's scoring efforts made him the easy pick.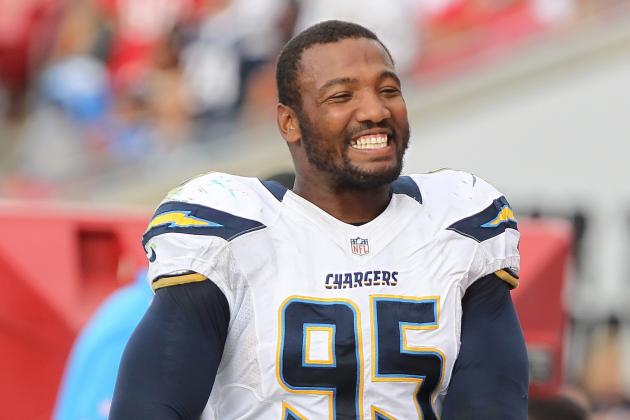 Kim Klement-USA TODAY Sports

Game Ball: Shaun Phillips
Though Kendall Reyes actually had one more sack than Phillips did, the latter gets the game ball due to a forced fumble and recovery. His 2.5 sacks on the game were far from shabby as well.
San Diego put up 27 points, but no offensive player stood out as having an especially strong game. On the defensive side, several did. Phillips was simply the best of them.
This game ball could have easily gone to the entire Chargers defense—the team had 11 sacks—but Phillips' impact was too great to overlook.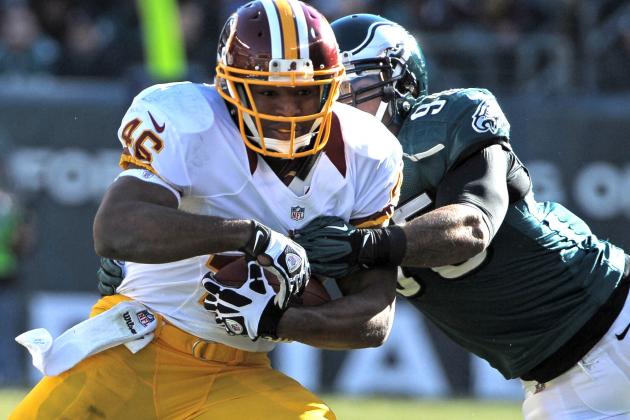 USA TODAY Sports

Game Ball: Alfred Morris
With Robert Griffin III clearly hurting, Morris needed to step up for the Washington offense, and he did. Morris has had bigger statistical games than this, but never was he more needed.
Morris' 108 total yards and touchdown accounted for much of the Redskins offense. The Eagles could afford to stack their defense against the run with Griffin at less than full strength, but Morris still produced.
Ryan Kerrigan (two sacks) would have been a worthy selection here. However, Morris was the key to Washington's offense, so he gets the game ball.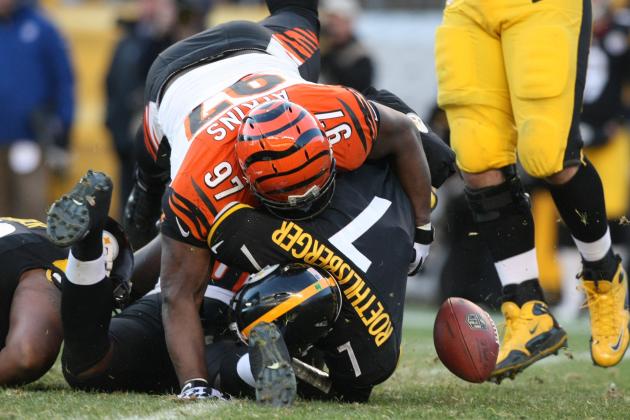 USA TODAY Sports

Game Ball: Geno Atkins
Matching up against rookie guard David DeCastro, Atkins likely left Ben Roethlisberger with nightmares. Atkins finished the game with 2.5 sacks and a forced fumble.
Throughout the entire game, Atkins was in Pittsburgh's backfield, disrupting plays. If not for Atkins, the Steelers likely would have scored significantly more points.
The hype this year has been all about J.J. Watt, but this game will help Atkins get some much-deserved recognition for his superb play.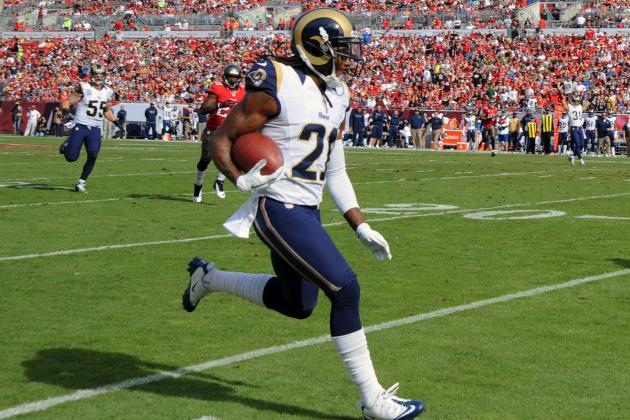 Al Messerschmidt/Getty Images

Game Ball: Janoris Jenkins
In this win over the Buccaneers, Jenkins came up with his fourth defensive touchdown of the year. The rookie cornerback hasn't been perfect, but he has certainly made plays.
Jenkins picked off Josh Freeman in the second quarter, returning it 41 yards for the score. This made for St. Louis' first points of the game and was the start of the team's roll.
A couple other players were worthy of consideration as well. Lance Kendricks had a big game, and Steven Jackson played well overall. Neither was quite as crucial as Jenkins, however.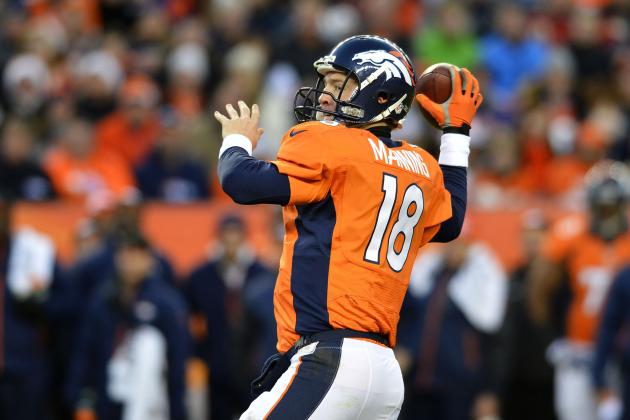 Ron Chenoy-USA TODAY Sports

Game Ball: Peyton Manning
Outside of one interception, Manning was essentially perfect against the Browns. He picked apart the Cleveland defense with ease, completing 30 of his 43 passes for 339 yards and three touchdowns.
Manning also allowed Knowshon Moreno to find success, as the Cleveland defense focused exclusively on the veteran quarterback. Even so, the Browns couldn't stop him.
This was an easy victory for the Broncos solely because of Manning's dominance.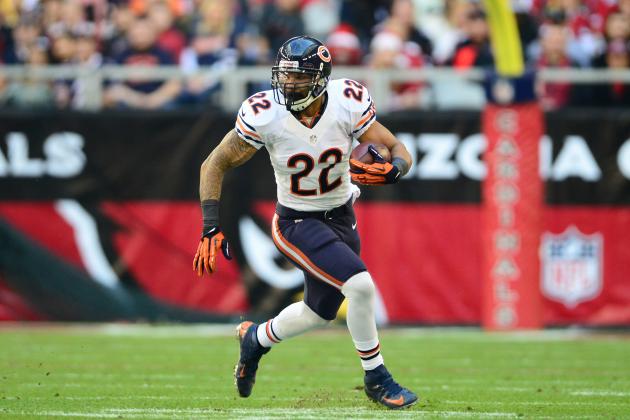 Mark J. Rebilas-USA TODAY Sports

Game Ball: Matt Forte
Before the game, Chicago's defense was expected to shut down the Cardinals on offense, so it's hard to really credit any defensive Bears.
Forte, on the other hand, wasn't expected to dominate like he did.
His opportunities were somewhat limited, but Forte ended the game with 88 yards on 12 carries—over seven yards per carry. Arizona's run defense isn't great, but this is still an impressive performance.
The only other real considerations here were defensive. Julius Peppers came away with three sacks, and Charles Tillman had a pick-six.
But weren't those two expected to do that?
Mitch Stringer-USA TODAY Sports

Game Ball: Bernard Pierce and Ray Rice
These two can share the game ball.
Pierce and Rice combined for 281 yards rushing and receiving. That's nearly as many yards as Joe Flacco had in an excellent performance.
Flacco was certainly worthy of the game ball, but Pierce and Rice combined were simply exceptional. They dominated New York's defense in an unexpected offensive spurt.
When Baltimore's run game is going, its offense can be nearly unstoppable.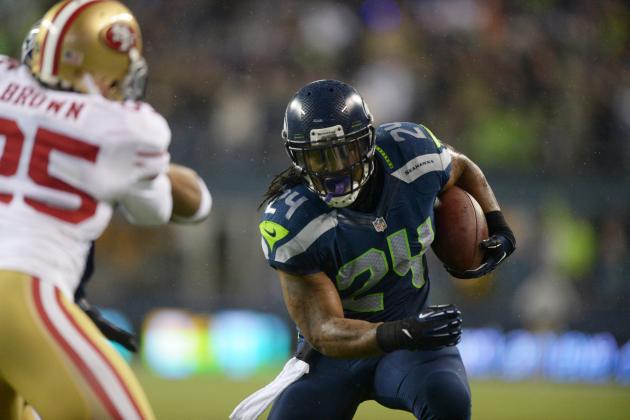 USA TODAY Sports

Game Ball: Marshawn Lynch
It's tough to pass on Russell Wilson here, but Lynch deserves it.
With 130 total yards and two touchdowns, Lynch shredded a superb defense. The 49ers simply could not stop the star running back, as he helped Seattle put up 42 points.
Wilson had a great game, but he mostly just punched the ball in the end zone. Lynch was more important to the Seahawks' ball movement down the field, and he had two touchdowns himself.