20 NFL Players and Coaches Who Deserve a Lump of Coal for Christmas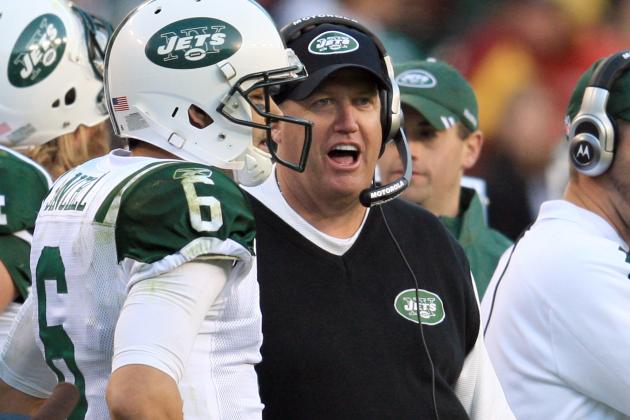 Rob Carr/Getty Images

As Christmas Day quickly approaches, the 2012 NFL regular season nears its conclusion with just one week left in the year. While there were a lot of players who were on my good list this holiday season, there are quite a few players and coaches who are receiving coal this Christmas.
Whether it was players failing to live up to high expectations, or coaches not putting their teams in the best situation to win, there are plenty of people who wish the last game couldn't have come soon enough.
However, there are 20 guys who won't be getting any presents during this holiday season.
Begin Slideshow

»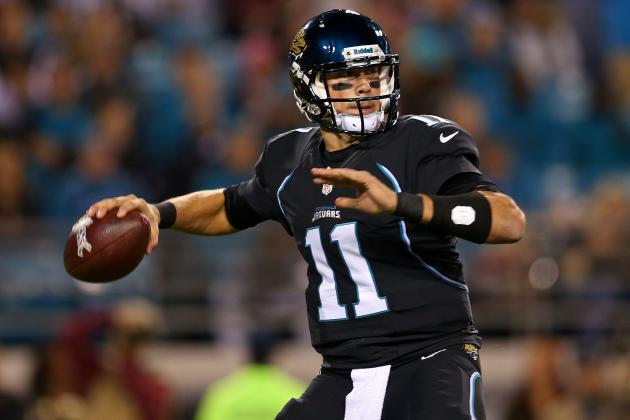 Mike Ehrmann/Getty Images

The Jacksonville Jaguars had high hopes for quarterback Blaine Gabbert, who hoped to bounce back after a disastrous rookie season.
Unfortunately for Gabbert, his play did not warrant much praise from the organization, and for good reason.
He has since ended up on IR, and has been forced to watch Chad Henne lead the Jaguars offense to new heights, which included close losses to both the Texans and Patriots.
In fact, he's been bad enough that the Jaguars appear primed to acquire Tim Tebow in the offseason. Gabbert, you deserve all the coal you are going to receive.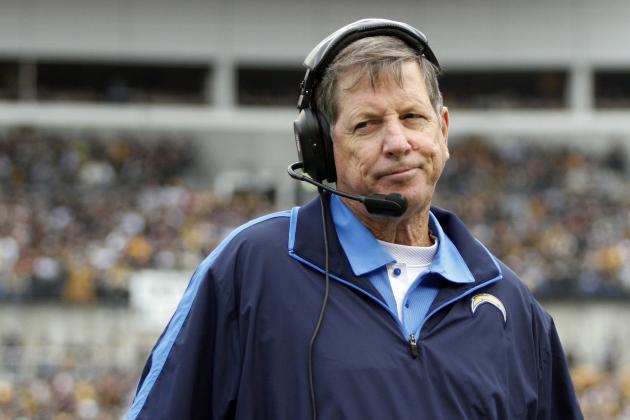 Justin K. Aller/Getty Images

Norv Turner's is beginning his last week as head coach of the Chargers, barring another shocking decision by ownership.
Turner has underachieved for quite some time as a head coach during his tenure in San Diego. For the early part of his coaching tenure, he had at his disposal arguably the league's most talented team with a quarterback in his prime.
However, after the disappointing finishes in the playoffs, Turner will likely receive the pink slip after missing the postseason for three straight seasons.
For Turner, it will be no big deal. After all, he may already has the Jets offensive coordinator position in sight!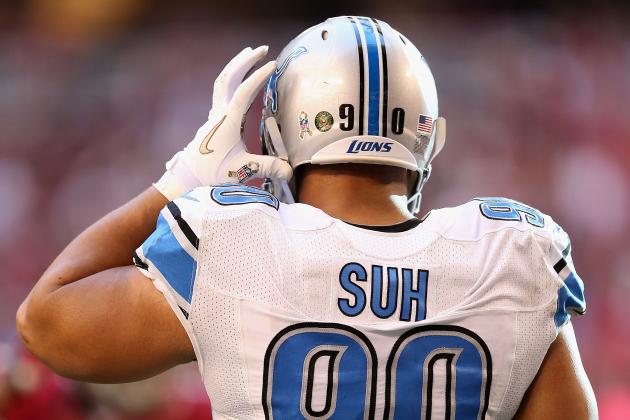 Christian Petersen/Getty Images

As the Lions endure another disappointing season in the franchise's recent history, Ndamukong Suh wasn't exactly the definition of a choir boy.
Suh's reputation as the dirtiest player in the game carried with him throughout this season, most notably with his kick to the groin of quarterback Matt Schaub on Thanksgiving night.
On the field, Suh continued to disappoint for the second straight season. His inability to give a full effort on a weekly basis and elevate the play of the Lions defense leads to many questions for the franchise this offseason.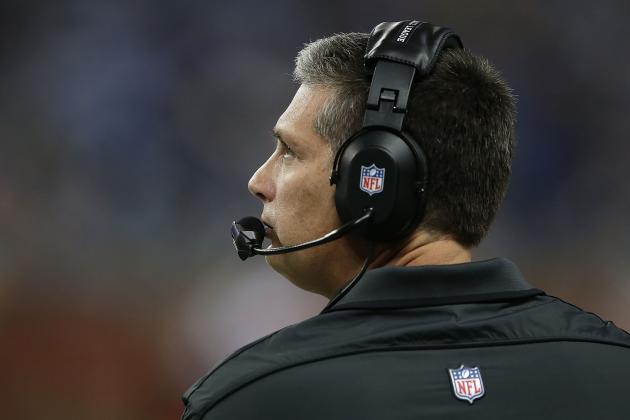 Leon Halip/Getty Images

Speaking of the Detroit Lions' struggles, Jim Schwartz won't have the happiest holiday season after his team regressed dramatically in 2012.
Coming off a 10-win season that included a playoff berth, the Lions have been undisciplined on both sides of the football. The defense has continued to struggle in all facets of the game, and Matthew Stafford regressed mightily after appearing to having turned the corner last year.
The responsibility ultimately falls on Schwartz, who has his work cut out for him in the offseason.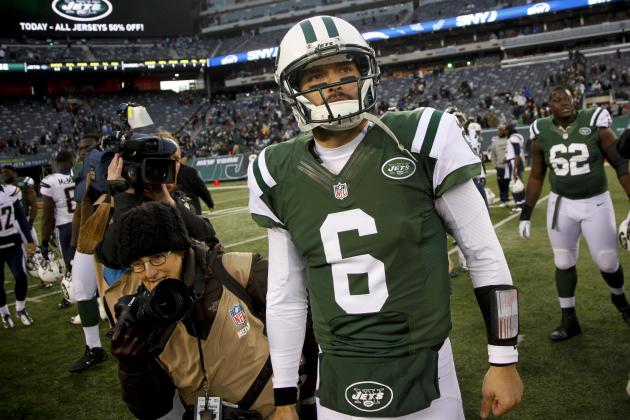 Jeff Zelevansky/Getty Images

Mark Sanchez didn't receive a lot of magic this season with the New York Jets, as his season remains up in the air.
Sanchez's inability to protect the ball continued to become an issue this season. With 50 turnovers in the last few seasons, his time as starter ran out after the Monday night debacle against the Titans.
Those two AFC championship appearances are a distant memory for Sanchez, who won't have any presents under his stocking after two straight disastrous seasons as the Jets quarterback.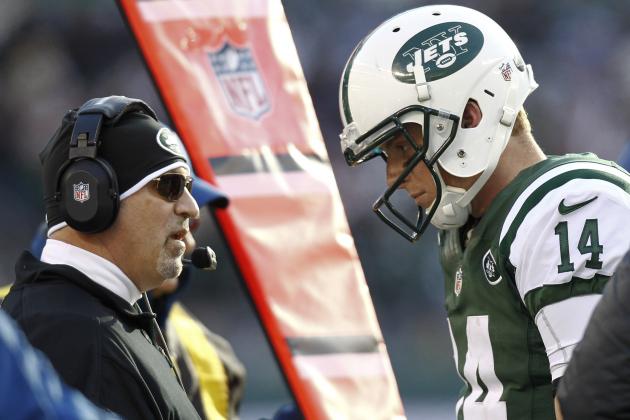 Jeff Zelevansky/Getty Images

The Jets' demise this season comes in large part due to the lack of success on the offensive side of the football.
Tony Sparano won't be given any gifts from the Jets this year besides a flight out of town in about a week.
From his misuse of Tim Tebow, to the lack of improvement with Mark Sanchez, Sparano is coaching like a coordinator who never called plays on a consistent basis prior to this season.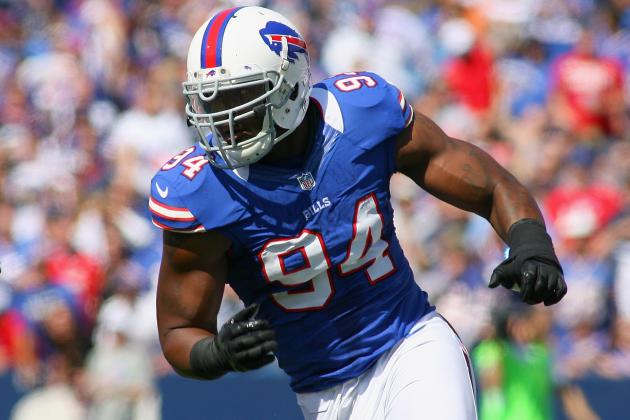 Rick Stewart/Getty Images

Mario Williams deserves nothing but lumps of coal and empty stockings after becoming a non-factor in his first season with the Bills.
After signing the blockbuster contract in the offseason, Williams couldn't elevate a young Bills defense that continued to struggle in all phases this season.
Although Williams had 10.5 sacks on the season, his lack of production in almost half the games doesn't warrant much praise amongst the Bills faithful this offseason.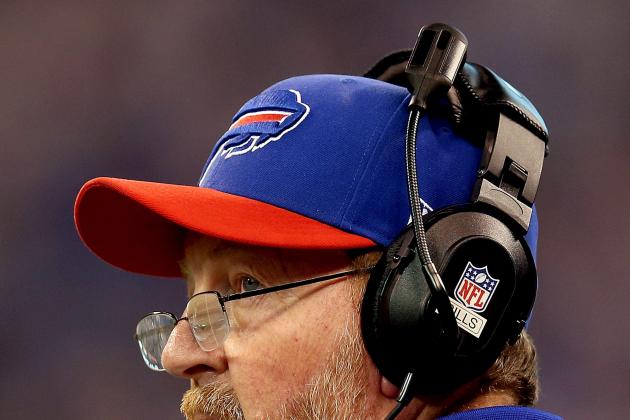 Matthew Stockman/Getty Images

The Buffalo Bills will finish with another losing record despite the high expectations after a quality draft and signing Mario Williams in free agency.
Chan Gailey could be on his way out of a job, and for many reasons. His willingness to stick with Ryan Fitzpatrick the last few seasons and help convince Bills management to make him the franchise quarterback will ultimately set this franchise back quite a few years.
Gailey's play-calling has also come into question this season, most notably with running back CJ Spiller in the last half of the season. His inability to allow his most promising young star to flourish in the offense has resulted in a Bills offense that proven to be inconsistent from the start of the season.
There's a sense that he won't get many thank-you cards this offseason after another disappointing season as head coach.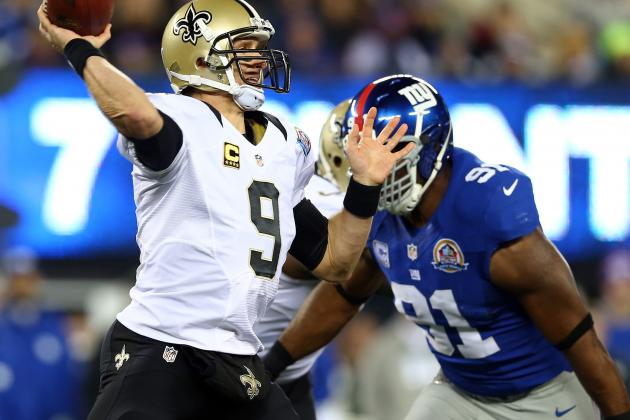 Elsa/Getty Images

Justin Tuck has become a victim of old age and has quickly lost his ability to be an effective pass rusher with the Giants.
As New York is primed to miss the postseason after winning last year's Super Bowl, the future of the veteran lineman is in question.
It's fair to say that Tuck has been highly overrated this season, as his inability to stay healthy, along with his lack of speed as a pass rusher, makes him very expendable for the Giants in the offseason.
Tuck may always remember how he helped the Giants to two championships in the past decade. Unfortunately, his tenure may not end as he originally hoped.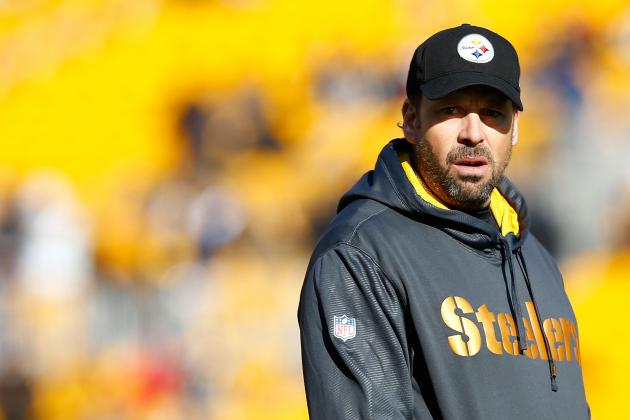 Jared Wickerham/Getty Images

Head coaches aren't the only personnel that are not on the good list this Christmas.
Pittsburgh Steelers offensive coordinator Todd Haley didn't appear to be an ideal fit when joining last offseason, and the tension with Ben Roethlisberger came to a boiling point this past weekend.
Despite Haley's success of running offenses, he never adjusted to the strength of Roethlisberger and the surplus of receivers by creating big plays down the field.
The Steelers defense did its job this season, as they currently rank as the best defense in football. However, it was Haley who ultimately held this offense back from making a bigger impact this season.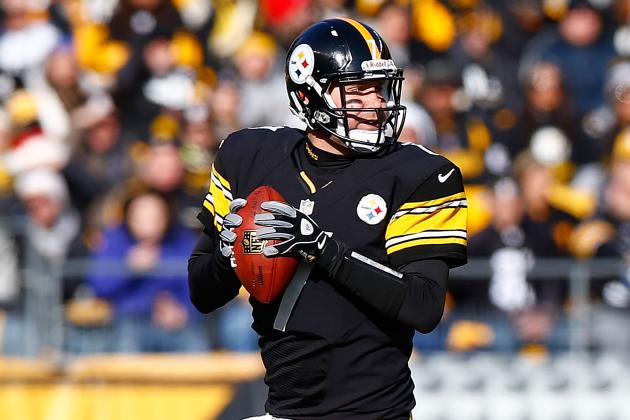 Jared Wickerham/Getty Images

Todd Haley may deserve the majority of the blame for the Steelers struggles, but Ben Roethlisberger played his worst football in his career down the stretch.
Since returning from injury, the Steelers have dropped three straight under Roethlisberger. For the past two weeks, both losses occurred as a result of the poor decision making by the veteran quarterback.
It's evident that the lack of quality pass protection is beginning to catch up with him. However, there is no excuse on his part to make critical mistakes that ultimately keep his team out of the playoffs.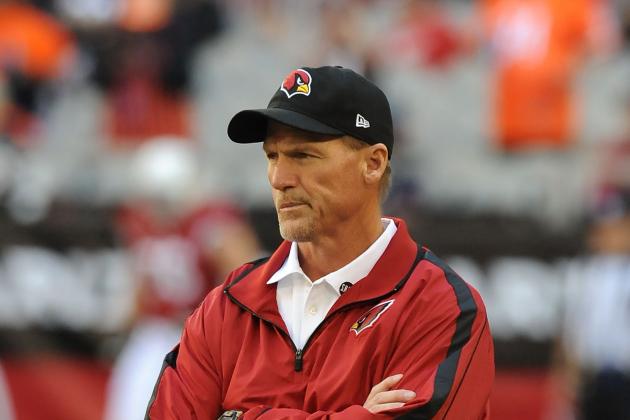 Norm Hall/Getty Images

Ken Whisenhunt deserves tons of coal for not only his poor coaching this season, but also the last few years. It's evident that Whisenhunt hasn't found success since Kurt Warner was the quarterback for the Cardinals.
His inability to find a reliable replacement to Warner could eventually lead to his firing at the end of the season. Kevin Kolb hasn't lived up to expectations, and his usage of John Skelton and Ryan Lindley warrants all the criticism he is receiving right now in Arizona.
Hopefully, he isn't expecting any presents from Larry Fitzgerald, whose career is being wasted away by the putrid play at the quarterback position.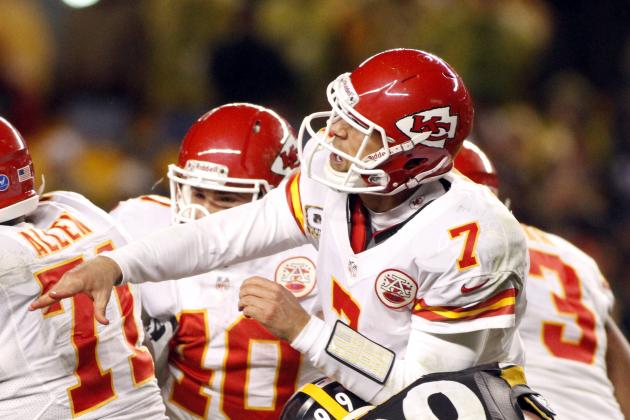 Justin K. Aller/Getty Images

The Kansas City Chiefs are now 2-13 on the season, and Matt Cassel's time as quarterback wasn't the brightest in their historic franchise.
It's clear that Cassel is a product of the dynamic offensive game plan of the New England Patriots, and he has never elevated his game to the level that both the organization and their fans were expecting.
He is among the many USC quarterbacks who have struggled at the pro level, and has shown no signs of becoming a capable starter in the NFL
Cassel won't receive much holiday cheer from the Kansas City faithful, who have let their thoughts on their quarterback be known.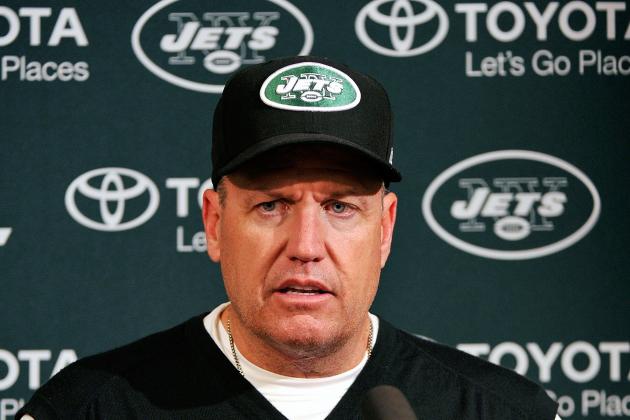 Frederick Breedon/Getty Images

Rex Ryan shoulders the blame for the disastrous season that the New York Jets are enduring in 2012.
Ryan won't receive too many gifts this holiday season, especially after lying to the media and his entire fanbase. His belief of this year's Jets team being the best one he has coached is just one example of his attempt to bring attention to his franchise.
He accomplished that with the acquisition of Tim Tebow, who not only created controversy around the franchise but also led to the demise of Mark Sanchez.
There is not one employee whose job is safe with the Jets, and that includes Ryan.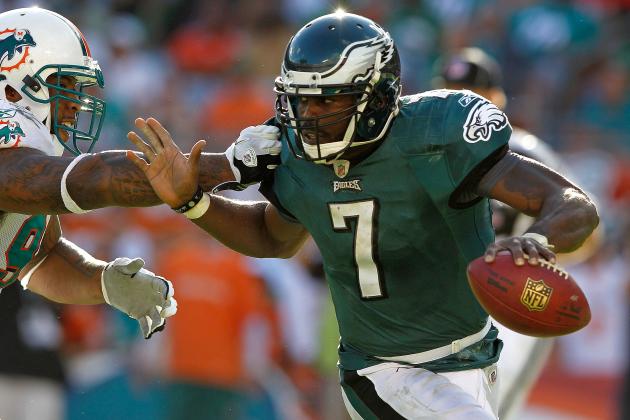 Mike Ehrmann/Getty Images

Mike Vick made plenty of proclamations the past two seasons, as he managed to call the Eagles a future "dream team" and "dynasty" in a matter of a year.
The result: two straight disappointing seasons which includes no postseason and will lead to a new head coach in a few months. More importantly, Vick's tenure with the Eagles appears to be winding down as the organization intends to go with Nick Foles or another quarterback.
Vick has been injury prone and committed plenty of turnovers during his time as a starter. Eagles fans have shown their frustrations towards Santa in the past. I can't imagine what treatment Vick will receive before his time in Philadelphia comes to an end.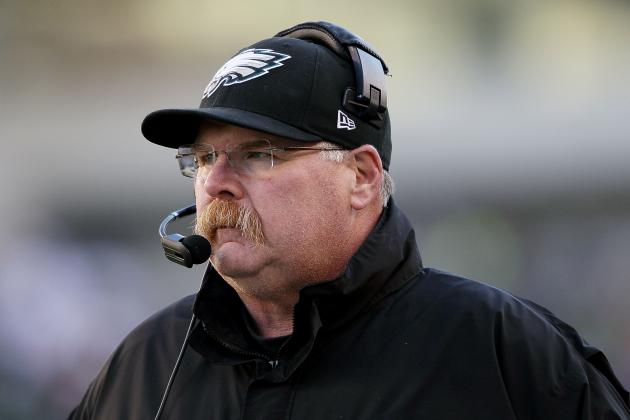 Alex Trautwig/Getty Images

It doesn't feel right to give out coal to a coach like Andy Reid, a man who has built a culture of winning in Philadelphia only to come up short of winning a championship.
Though, his last two seasons in the city of Brotherly Love didn't go quite as expected. The inconsistency of quarterback Mike Vick, combined with the struggles from the veteran defense, will likely leave him without a job in a few weeks.
He had plenty of great memories, most of them coming with Donovan McNabb. This year, his offensive playcalling was vanilla, as his inability to get his best playmaker LeSean McCoy the football on a consistent basis led to the many struggles this veteran bunch has faced in the past two years.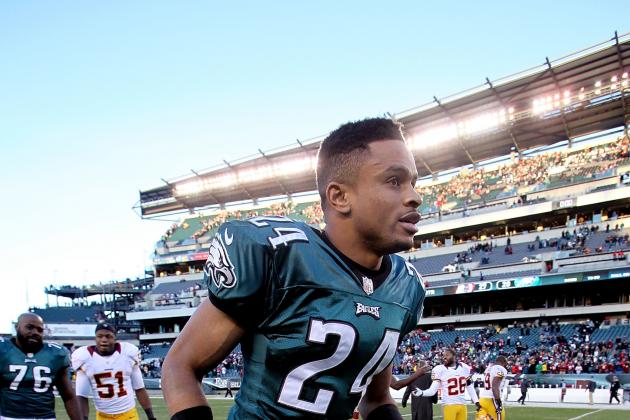 Alex Trautwig/Getty Images

Nnamdi Asomugha doesn't need any gifts this holiday season after cashing in on a huge payday in 2011.
Since then, the Eagles cornerback has failed miserably to live up to his talent that once happened with the Oakland Raiders.
Age appeared to be a big sign for Asomugha, who struggled competing in single coverage against the young, elite receivers in today's game.
His contract created limited flexibility for the Eagles to improve other areas of the team. He, alongside Vick, are two of the highest paid Eagles players who are likely to be released in the offseason.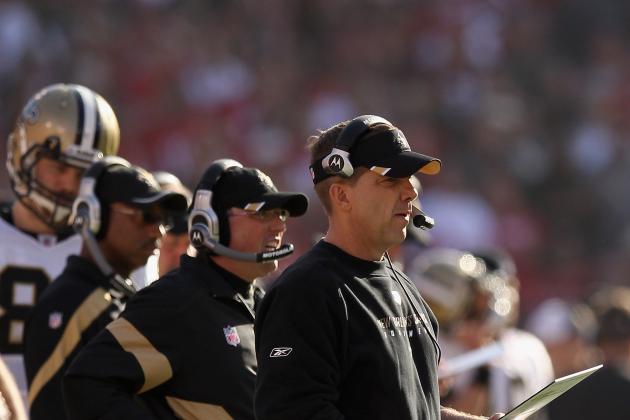 Ezra Shaw/Getty Images

Sean Payton has been naughty these past few winters, as he was aware of the bounty scandal that rocked the New Orleans Saints and the NFL as a whole.
As a result, Payton missed an entire season, which put the Saints at a clear disadvantage. While Drew Brees has put up nearly 5,000 yards passing through 15 games, the lack of leadership was missing early on for the Saints during their rough stretch to begin the season.
Payton was missed in the Saints offense, who has produced quite impressive numbers during his tenure as head coach. New Orleans will have to watch another team win a Super Bowl in their own stadium, wondering how the season could have turned out if their head coach was calling the shots this year.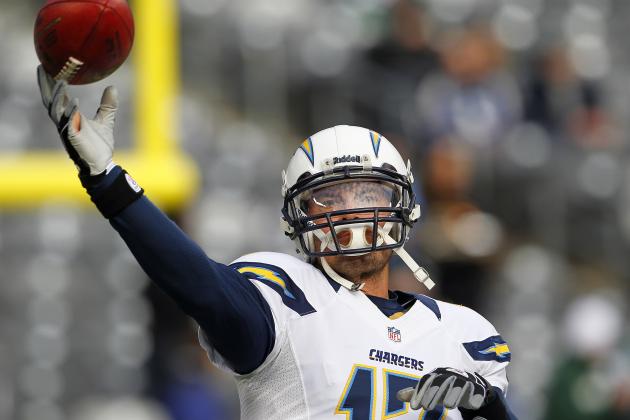 Rich Schultz/Getty Images

Philip Rivers has never been the easiest quarterback to root for, as his feisty and arrogant personality has hurt him during the worst of times with the Chargers.
His regression has been alarming, especially since he was mentioned among the elite quarterbacks in the league a few years ago. Rivers' arm strength has significantly decreased, and his inability to be an accurate pocket passer has led to three straight seasons without the playoffs for the Chargers.
His coach, Norv Turner, will be gone after the season, and fans may not be disappointed if he somehow departed from the team as well.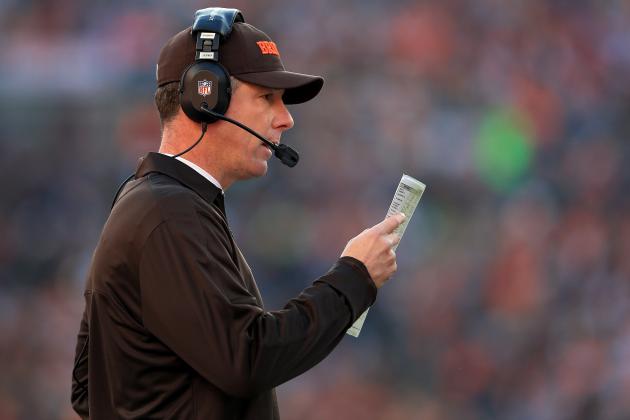 Doug Pensinger/Getty Images

Pat Shurmur appears to be nearing the end of his time with the Cleveland Browns after two seasons. Although there is new ownership taking control of the franchise, Shurmur's decision making both on and off the field clearly brings concern to management.
The biggest mistake in Shurmur's career could be the fact that he wanted Brandon Weeden to become the next quarterback in Cleveland despite Weeden being at the age of 29.
In his rookie season, Weeden hasn't impressed in comparison to the four other rookie quarterbacks who started this season.
Cleveland fans have always displayed loyalty to their respective franchises, but their displeasure for Shurmur has escalated in recent months.