NFL Mock Draft 2013: Most Ideal First-Round Picks for All 32 Teams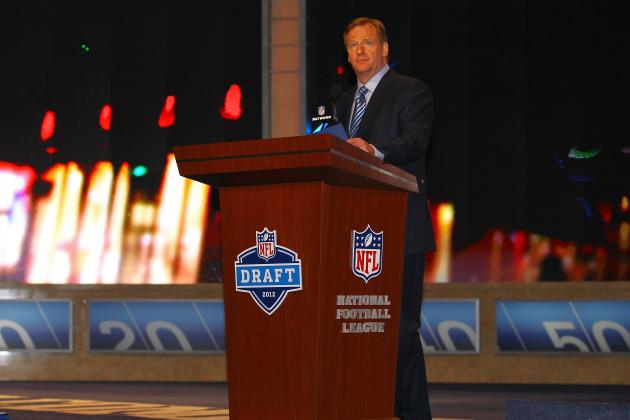 Al Bello/Getty Images
Who will Roger Goodell announce as your team's first pick of my mock draft? Read on to find out!
It's always a drag when the NFL season is winding down. However, with one week left in the regular season, the top of the NFL draft board is getting closer to being set. After next week, we'll know the top 20 picks for sure and the remaining 12 spots will belong to teams entering the playoffs. As it stands now, here is the currently draft order for the 2013 NFL draft:
1. Kansas City Chiefs (2-13)
2. Jacksonville Jaguars (2-13)
3. Oakland Raiders (4-11)
4. Philadelphia Eagles (4-11)
5. Detroit Lions (4-11)
6. Buffalo Bills (5-10)
7. Cleveland Browns (5-10)
8. Arizona Cardinals (5-10)
9. Tennessee Titans (5-10)
10. San Diego Chargers (6-9)
11. Tampa Bay Buccaneers (6-9)
12. New York Jets (6-9)
13. Carolina Panthers (6-9)
14. Pittsburgh Steelers (7-8)
15. Miami Dolphins (7-8)
16. New Orleans Saints (7-8)
17. St. Louis Rams (7-7-1)
18. Dallas Cowboys (8-7)
19. New York Giants (8-7)
20. Chicago Bears (9-6)
21. Minnesota Vikings (9-6)
22. Cincinnati Bengals (9-6)
23. St. Louis Rams via Washington Redskins (9-6)
24. Seattle Seahawks (10-5)
25. Indianapolis Colts (10-5)
26. Baltimore Ravens (10-5)
27. San Francisco 49ers (10-4-1)
28. Green Bay Packers (11-4)
29. New England Patriots (11-4)
30. Denver Broncos (12-3)
31. Houston Texans (12-3)
32. Atlanta Falcons (13-2)
Regardless of where your favorite NFL team currently stands in the draft, every team has needs. In this mock draft, I will evaluate each franchise and pick a player based upon their greatest needs. Who will your favorite team select? Read on to find out!
Begin Slideshow

»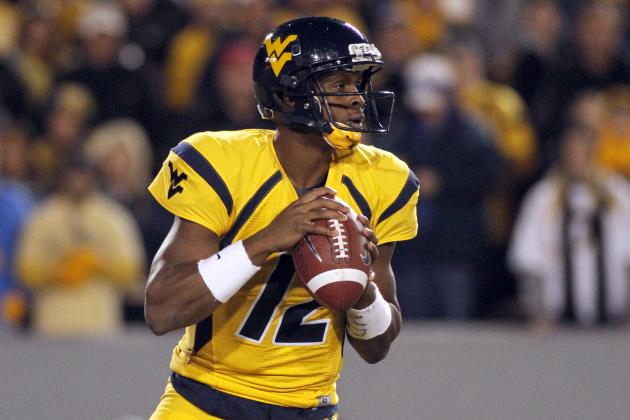 Justin K. Aller/Getty Images
Kansas City selects Geno Smith.
Unless someone skyrockets up the draft board at quarterback, or the Chiefs really like an impending free-agent QB, then the team is going to select Geno Smith.
Smith is the most dynamic QB available in this year's draft class. Currently, the Chiefs have Matt Cassel and Brady Quinn as their quarterbacks. There is no question that the team is lacking in talent at the most crucial position in the NFL.
Also, with Scott Pioli and Romeo Crennel likely on their way out, a new GM and coach will want their own franchise QB. In a QB class with many questions, Geno Smith is the safest pick at the position.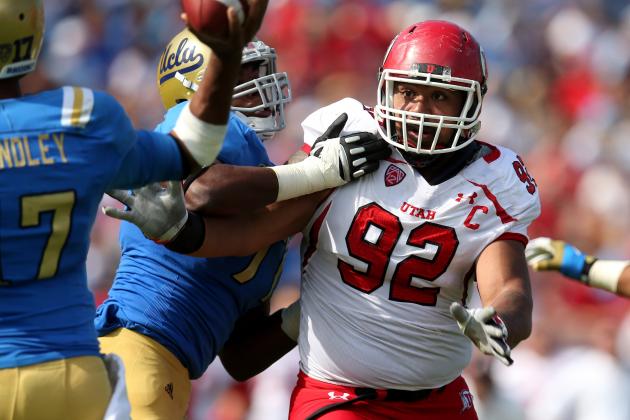 Stephen Dunn/Getty Images
Jacksonville takes the top defensive player in the draft.
The Jaguars have plenty of needs. Quarterback is one position where the Jaguars need to upgrade, but other than Geno Smith, no QB is ranked high enough to go off the board at this point.
Also, with the Tim Tebow to Jacksonville rumors, the team may not be looking to draft a quarterback as much as people believe.
For that reason Jacksonville will look to the defensive side of the ball and take the top defensive player in the draft, Star Lotuleiei.
Lotuleiei will upgrade the defensive line in Jacksonville and start from day one.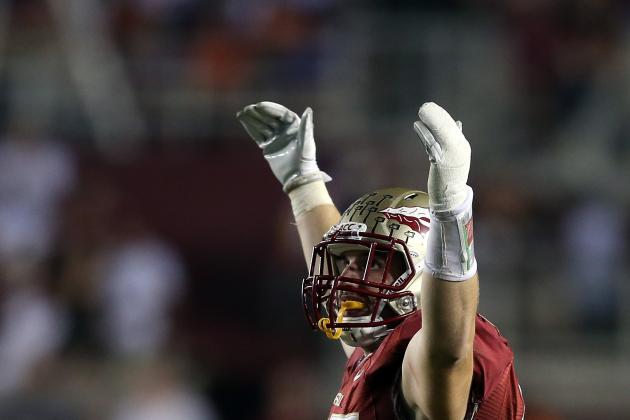 Streeter Lecka/Getty Images
Oakland adds the top pass-rushing DE in the draft.
The Oakland Raiders are a disaster. They have needs across the board. The team could take a QB like Tyler Wilson here, but the team would be wise to address its defense and take the highest-rated defensive end on the board, Bjoern Werner.
Werner is the ACC's Defensive Player of the Year. At the end of his junior season, Werner had tallied 13 sacks and 18 tackles for loss.
By adding Werner, the Raiders take a step in the right direction by adding a player who can get to the quarterback in a division that has Peyton Manning and will likely add Geno Smith.
Kevin C. Cox/Getty Images
Partnering Milliner with Asomugha would give the Eagles an excellent tandem at CB.
Philadelphia has a few needs they could address in Round 1, and cornerback and offensive tackle are two positions the team may address. At left tackle, King Dunlap and Demetress Bell have left plenty to be desired.
However, the Eagles are expecting Jason Peters to return in 2013. Peters is a very skilled LT, and for that reason, the team will look to upgrade their secondary with Dee Milliner.
Milliner is the best CB in the draft and will replace impending FA Dominique Rodgers-Cromartie. Pairing Milliner up with Nnamdi Asomugha will give the Eagles an excellent cornerback duo for many years to come.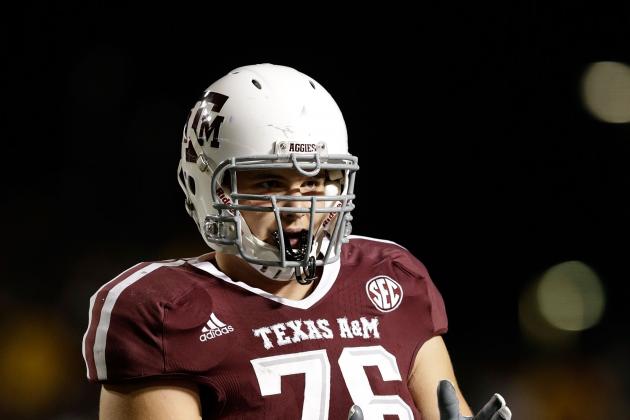 Scott Halleran/Getty Images
Detroit is thrilled that Luke Joeckel is still on the board.
The Lions will have a tough decision to make in Round 1: Take Manti Te'o, the best ILB available in the draft, or Luke Joeckel, the top OT in the draft.
In the end, the Lions will make the correct choice and take Joeckel.
In terms of talent, Joeckel is the top prospect available in the 2013 NFL draft. He'd be too good of a deal to pass up for the Lions and give the Lions a replacement for Jeff Backus, a 12-year NFL vet.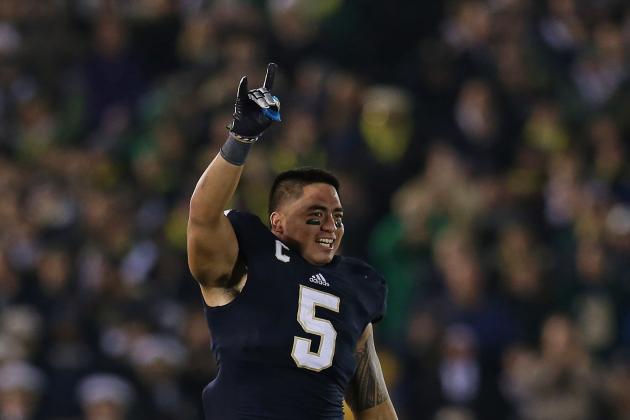 Jonathan Daniel/Getty Images
The Bills need help at ILB and Te'o is the best MLB in the draft.
Buffalo could select Tyler Wilson or Manti Te'o in the six spot. Both are positions of need for Buffalo as Ryan Fitzpatrick is certainly not a franchise QB and Kelvin Sheppard has been a disappointment as the team's starting MLB.
With the sixth pick of the draft, the Bills will select Manti Te'o.
Te'o's talent cannot be ignored and he'll instantly upgrade Buffalo's front seven. Heading into the final week of the season, the Bills defense has given up 426 points, 28.4 points per game on average.
The team needs as many difference-makers as possible on defense and that is exactly what Te'o brings to the table.
Ed Zurga/Getty Images
Cleveland selects a defensive playmaker in Jarvis Jones.
In his first NFL draft as owner of the Cleveland Browns, Jimmy Haslam will want to take a game-changer on defense.
Enter Jarvis Jones.
Jones will leave the Georgia Bulldogs to enter the Dog Pound in Cleveland.
Jones finished Georgia's regular season with 77 tackles. Of the 77 tackles, 22.5 went for a loss. Jones notched 12.5 sacks on the season and had seven forced fumbles on the season.
Jones will help apply pressure to division QBs such as Ben Roethlisberger, Andy Dalton and Joe Flacco and upgrade a defense that has some talent in place.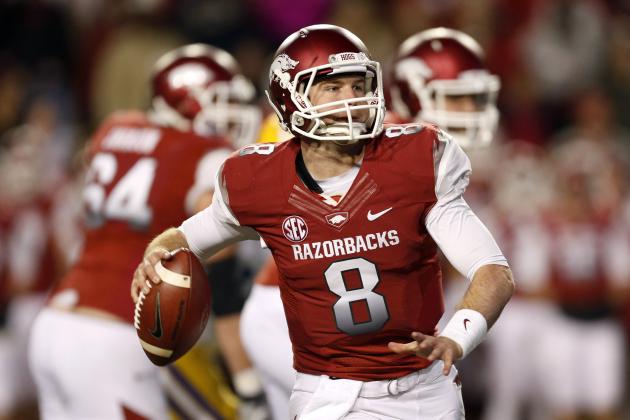 Wesley Hitt/Getty Images
Arizona is desperate for a QB and is happy that Wilson is still on the board.
The Arizona Cardinals will sprint to the podium with Tyler Wilson's name on their draft card.
Actually, Larry Fitzgerald himself will make the run to the podium for the team.
After watching Kevin Kolb, John Skelton and Ryan Lindley, it's apparent that Arizona desperately needs a franchise QB.
Tyler Wilson will be the easy choice for the Cardinals.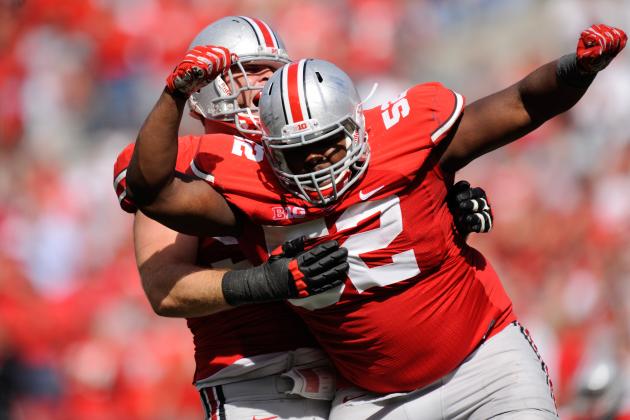 Jamie Sabau/Getty Images
Hankins instantly upgrades a below-average Tennessee Titans defense.
The Tennessee Titans currently have the worst defense in the league in terms of PPG allowed. The team has given up 451 points on the season, an average of 30.1 points per game.
There is no doubt that the Titans need to address their defense in Round 1 and Johnathan Hankins gets the nod. Hankins, a second team All-American, would be a significant upgrade on the Titans defensive line.
The Titans need to start somewhere on the defense, and Hankins is a great start.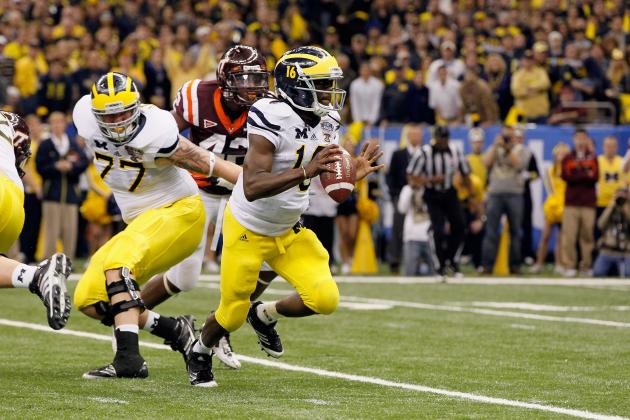 Kevin C. Cox/Getty Images
Philip Rivers would be thrilled with Taylor Lowan as one of his OTs.
San Diego's offensive line is an absolute disaster. For that reason, the team will select Taylor Lewan, OT, Michigan.
Lewan has everything you look for in a franchise LT, and if you give Philip Rivers time to throw, I do believe he can still be a highly effective starter in the NFL.
At 6'8" and 305 pounds, Lewan is known for playing with a mean streak. It's exactly what the Chargers need.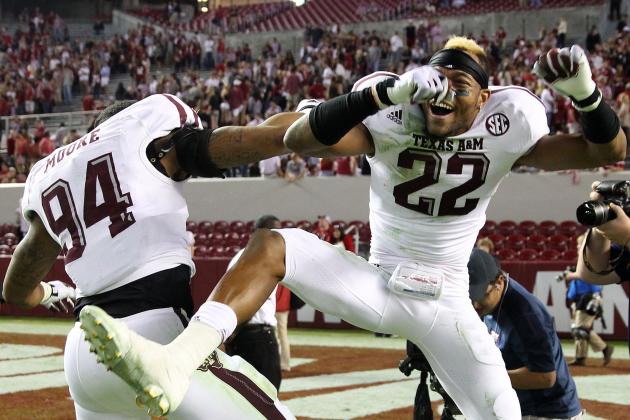 Mike Zarrilli/Getty Images
Demontre Moore's burst and ability to get to the QB is exactly what the Buccaneers need.
Tampa Bay's season had plenty of promise. On offense, the team has a decent QB in Josh Freeman and plenty of talent at RB with Doug Martin and WR with Vincent Jackson and Mike Williams.
Defense is what the Buccaneers need to address, and for that reason they'll select Damontre Moore, DE, Texas A&M.
The Buccaneers take Moore to start at right defensive end. The team currently has Daniel Te'o Nesheim at the position and truly he is not a quality NFL DE. Nesheim replaced Adrian Clayborn, who tore his ACL.
Defensive end is a spot where you need plenty of burst, and for that reason, Moore is Tampa Bay's choice.
Jake Matthews takes over Austin Howard's job at RT. Photo Credit: US Presswire
The Jets have to start somewhere and have plenty of needs. Many draft pundits believe the Jets will select a wide receiver in Round 1, but Keenan Allen, the top-ranked WR is not seen as a game-changer.
For that reason, the Jets select Jake Matthews, OT, Texas A&M.
Austin Howard has been a nice story for the Jets, but he is not a quality NFL starter. Jake Matthews, the son of NFL veteran Bruce Matthews, is an immediate day one starter at RT and will give the team two excellent offensive tackles.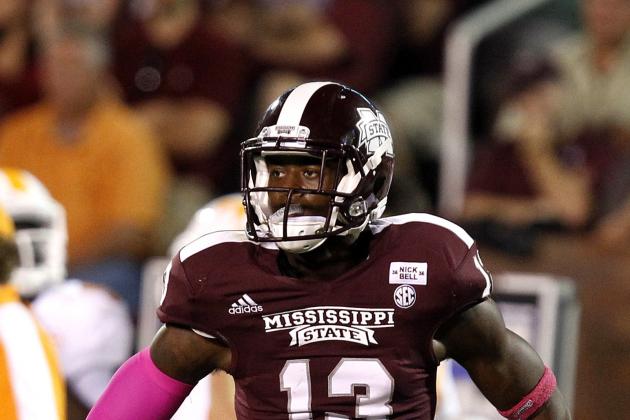 Butch Dill/Getty Images
Banks instantly upgrades the Panthers secondary.
At pick 13 the Carolina Panthers take the second cornerback off the draft board in Johnthan Banks.
Banks is an excellent corner and has a knack for making big plays.
By adding Banks, the team addresses one of its biggest needs. It never hurts to add a top corner in division where you'll be playing Matt Ryan and Drew Brees a total of four times.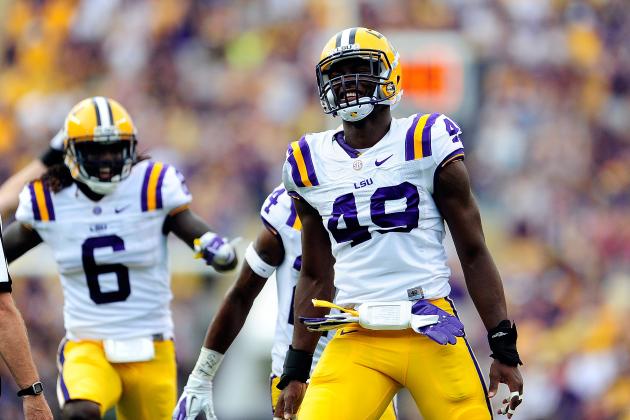 Stacy Revere/Getty Images
Pittsburgh would be happy to add Barkevious Mingo to its defense.
The Steelers are giddy that Mingo is available when they pick in Round 1.
Mingo adds youth to the Steelers defense and his athleticism is exactly what the team seems to be lacking this season.
Eventually, Mingo takes over James Harrison's job at ROLB.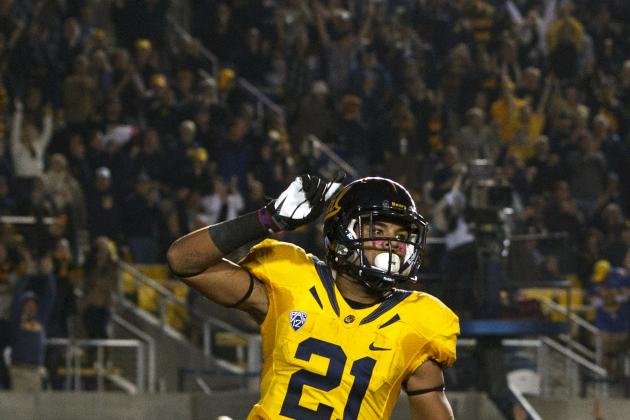 Jason O. Watson/Getty Images
Keenan Allen would be another weapon for Ryan Tannehill.
The first wide receiver comes off the board at pick 15.
Keenan Allen has all of the intangibles you look for in a No. 1 WR, but he isn't cut from the same mold as recent first-round WRs like A.J. Green and Julio Jones. I'm not even sure he's on Justin Blackmon's level.
That said, Miami needs to add weapons for Ryan Tannehill, and Allen will get every opportunity to prove his worth as the team's No. 1 receiver.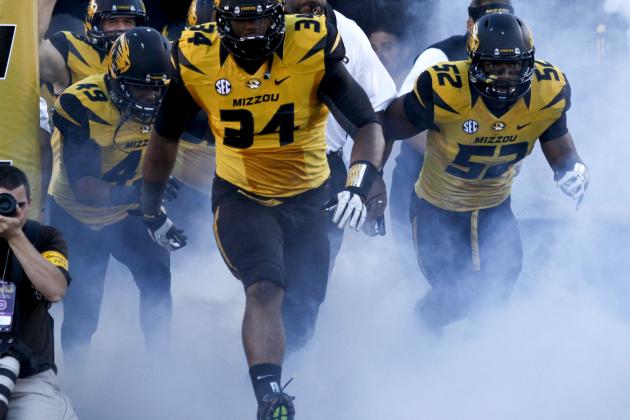 Ed Zurga/Getty Images
Sheldon Richardson would upgrade the Saints defensive line.
The Saints have plenty of offensive firepower and need to look for help on defense. Sheldon Richardson, a defensive tackle out of Missouri, gets the nod for the Saints.
Richardson is a very talented DT who would replace Brodrick Bunkley on the Saints and upgrade the team's defensive line with his uncanny athleticism.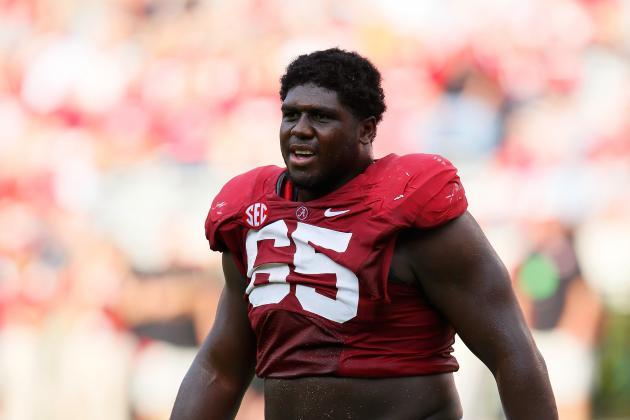 Kevin C. Cox/Getty Images
St. Louis adds the best OG in the draft to its team.
Offensive guards aren't as coveted as offensive tackles, but Chance Warmack is too good to pass up for the Rams at pick 17.
The team has shown drastic improvement under Jeff Fisher but needs further talent on the offensive line. By taking Warmack, the team is getting one of the top 10 players in the 2013 NFL draft.
Warmack will provide Sam Bradford extra time in the pocket and open lanes for whomever the Rams have starting at RB in 2013.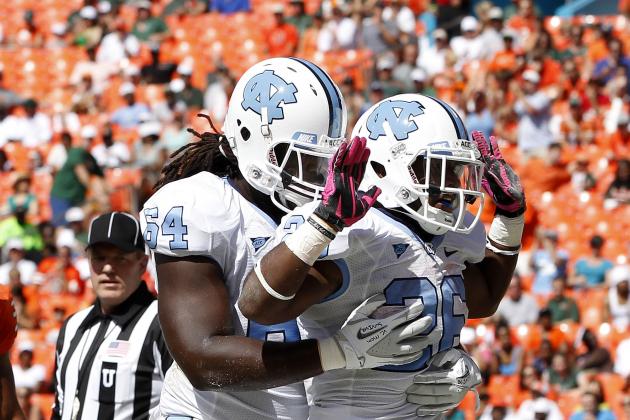 Joel Auerbach/Getty Images
Jonathan Cooper would help improve the Cowboys interior line.
The Cowboys need help on their offensive line, especially on the interior portion of their line. For that very reason, the team should select Jonathan Cooper out of North Carolina.
Cooper is the second-highest rated guard in the draft. Known for his excellent footwork and balance, Cooper upgrades a position of need for the Cowboys.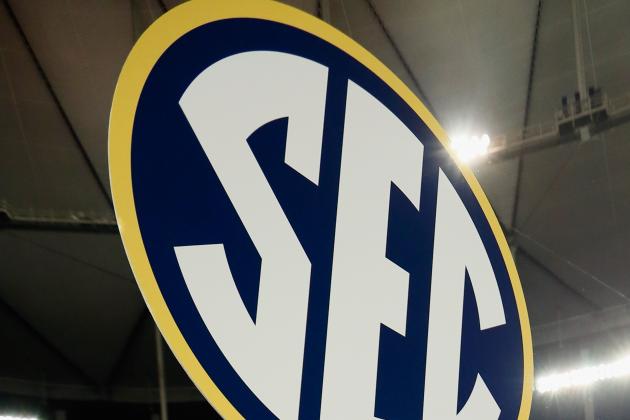 Kevin C. Cox/Getty Images
Jesse Williams, the guy with the crazy face, would help improve the Giants defensive line.
The New York Giants have excellent defensive ends, but they need help in the middle of their defensive line.
Jesse Williams of Alabama helps the team solve one of its biggest problems.
Williams is known for his incredible upper body strength (he bench presses 600 pounds), technique and use of hands.
Rob Rang of NFLDraftScout.com likens Williams' skill set to Vince Wilfork. I'm sure the Giants would be thrilled to add a player with this type of potential.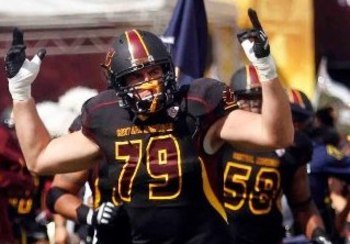 Fisher would improve a weak Chicago Bears offensive line. Photo Credit: beyondthecombine.com
I'm sure Jay Cutler will plead to the Chicago Bears to get him help on the offensive line.
In free agency the team may pursue Jake Long and Andy Levitre if they become available, but if the team wants to draft an OT, Eric Fisher of Central Michigan may be its man.
Fisher is seen as having first-round talent with excellent balance and coordination.
At worst, Fisher would make for a great RT and replace the turnstile that is Jonathan Scott.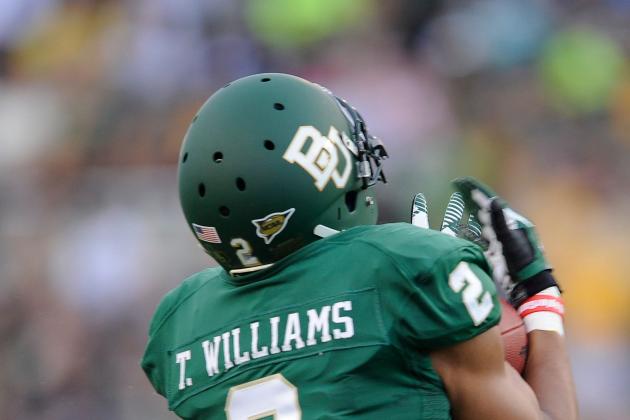 Jerome Miron-USA TODAY Sports
Williams is exactly what the Vikings need at WR.
Terrance Williams and the Vikings seem like a match made in heaven. The Vikings have one of the best backs in the game in Adrian Peterson, a young QB in Christian Ponder and a dynamic wide receiver in Percy Harvin.
That said, the team needs to add another weapon at WR, especially in when it is in the same division as the Green Bay Packers. Terrance Williams of Baylor has all the makings of an NFL receiver and should be able to contribute immediately. He and Harvin would make for an excellent one-two punch.
If the Vikings part ways with Percy Harvin following the 2013 season, the team would also have someone to fill his role in 2014.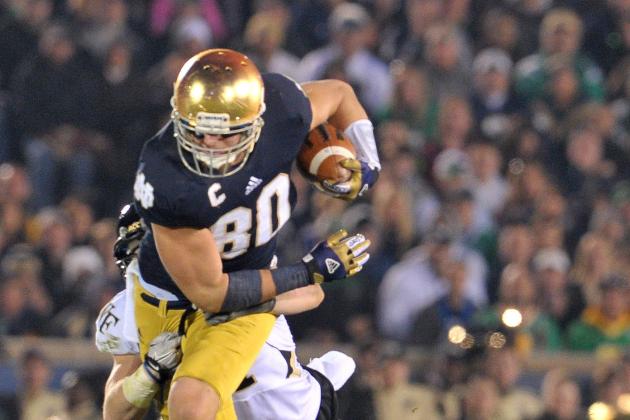 Matt Cashore-USA TODAY Sports
Cincinnati adds the top TE in the draft to their potent offense.
The Bengals have the potential to be one of the top offenses in the league. They have a very young QB-WR duo in Andy Dalton and A.J. Green, a decent RB in BJGE and a solid TE in Jermaine Gresham.
With these pieces in place, the Bengals are in a prime position to add another weapon for Dalton in Tyler Eifert of Notre Dame.
Eifert is by far the best available tight end in the draft, and he and Gresham would make for one of the best TE duos in the league.
By adding the Notre Dame TE, the Bengals would have the best offense in their division by far.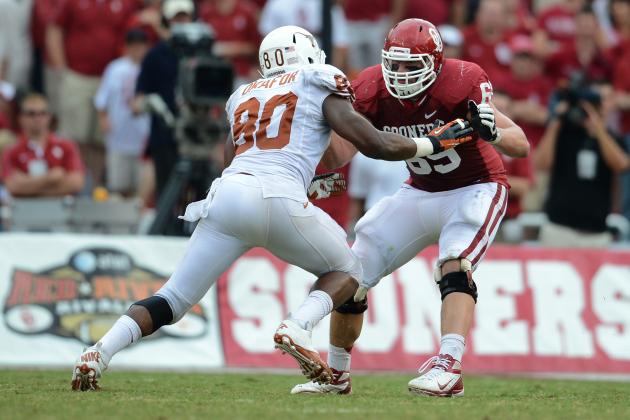 Matthew Emmons-USA TODAY Sports
Lane Johnson has all the makings of a starting OT.
I'm sure St. Louis didn't expect Washington to have such a great season this season. This pick is a part of the deal that helped the Redskins net RGIII.
At pick 23, the Rams once again go to improving their offensive line by drafting Lane Johnson out of Oklahoma.
Johnson is a raw prospect who is expected to be drafted in the late first or early second round. He plays with a mean streak and has all of the intangibles that teams look for in offensive tackles.
Johnson may need one or two seasons to develop, but there aren't many players with his potential available this late in the first round.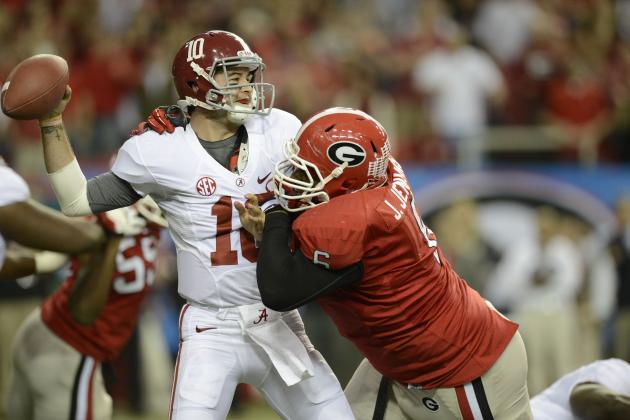 USA TODAY Sports
John Jenkins would improve an already terrific Seahawks defense.
As of this writing on Christmas Eve, no team is hotter than the Seattle Seahawks. On offense the team has plenty of weapons, but it could look at rookie wide receivers.
However, I have the team addressing its DT position. Alan Branch isn't a bad player by any means, but John Jenkins of Georgia would add depth to the position and Jenkins would be an immediate contributor.
Jenkins would add plenty of talent to a line already full of talent in Chris Clemons and Red Bryant. Seattle has all of the makings of a young franchise on the rise and adding Jenkins would only add to its talent.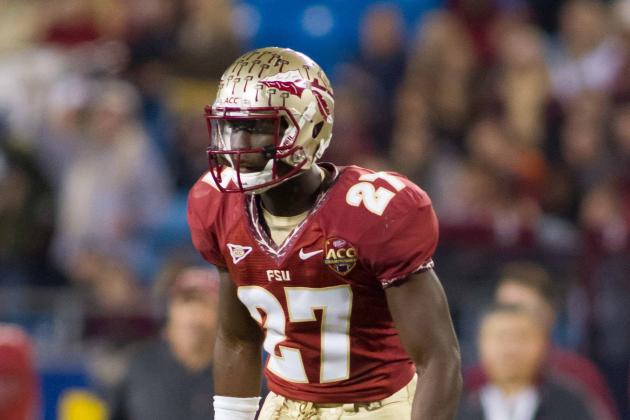 Jeremy Brevard-USA TODAY Sports
Xavier Rhodes would improve the Colts secondary.
The Colts' record is a bit misleading. I'm taking nothing away from their team, but they've almost always won close games that they've been involved with. This won't always be the case and the team does have many holes regardless of its record.
One area the Colts need to add talent is at cornerback.
Xavier Rhodes of Florida State fits the bill for their need. Projected as a late first/early second round pick, Rhodes would add talent to the Colts secondary. Rhodes could help the team immediately in the slot and eventually take over for Darius Butler as the team's second cornerback.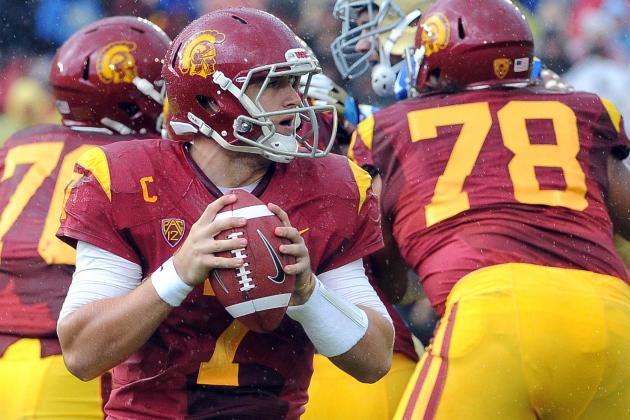 Jayne Kamin-Oncea-USA TODAY Sports
Matt Barkley's stock has taken a hit, but Baltimore can't pass up on his talent at pick 26.
With the Ravens and Joe Flacco not being able to reach an agreement on an extension, the team will likely franchise Flacco to see if he is worth a long-term investment.
If Flacco regresses in 2013, the team may cut ties with its signal-caller and it would be wise to have someone waiting in the wings.
I don't think the Ravens could ask for a better option than Matt Barkley at pick 26.
Entering the 2012 season, Barkley was seen as the first overall pick of the NFL draft and Heisman Trophy front-runner. Unfortunately for Barkley, his senior season at USC did not go as expected, but he still has first-round talent.
By going to Baltimore, Barkley will receive a year on the sidelines with a clipboard before possibly getting a chance to win the starting job in 2014. At worst, the team has a very talented backup quarterback that it could trade in the future.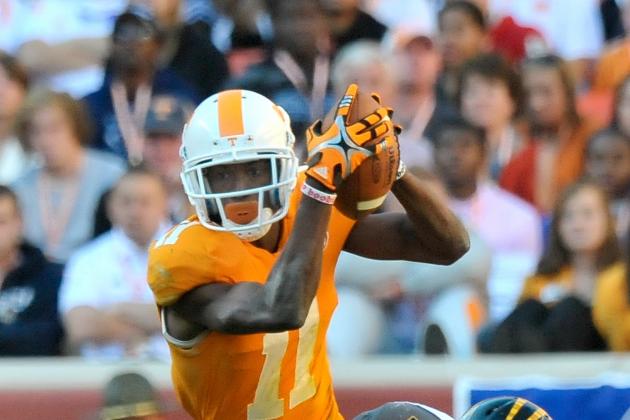 Jim Brown-USA TODAY Sports
Justin Hunter's combination of size and speed is too good for the 49ers to pass on.
Colin Kaepernick needs some WR weapons at his disposal. Michael Crabtree and Vernon Davis are solid options and Mario Manningham is fine as a third option, but the team needs a No. 2 receiver.
For that reason, Justin Hunter is my pick for the San Francisco 49ers. Currently, Tavon Austin and DeAndre Hopkins are both ranked higher than Hunter, but Hunter has the size you look for in an outside reciever. At 6'4", Hunter possesses speed, agility and big-play ability for a team with a scrambling quarterback.
I certainly expect to hear Hunter's name called on the first day of the 2013 NFL draft and wouldn't be surprised if the 49ers selected him here.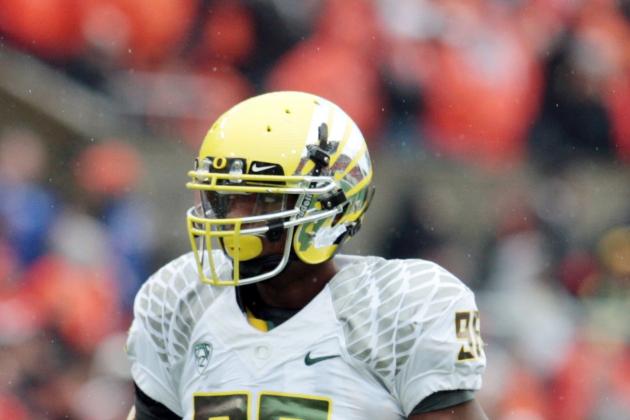 Scott Olmos-USA TODAY Sports
Dion Jordan would add another player who can apply pressure on the QB for the Packers.
Dion Jordan is a freakish athlete who would fit in well in with the Green Bay Packers. Jordan is 6'6" and 243 pounds. He is known for his athleticism and fast hands at Oregon.
On the season, Jordan recorded 44 tackles; 10.5 of Jordan's tackles went for a loss and he notched five sacks for the Ducks.
Jordan would be a disruptive force for the Packers and help upgrade the team's front seven.
Right now, Jordan is seen as a late first-round prospect, but I wouldn't be shocked if he rose up the draft board much like Bruce Irvin did in 2012.
Nelson Chenault-USA TODAY Sports
Eric Reid is the top FS in the draft and an instant upgrade to the Patriots defense.
At pick 29, the Patriots take the top free safety off the board in Eric Reid.
Reid, a junior at LSU, has first-round talent although his play has been inconsistent at times for the Tigers.
Reid is known for aggressiveness and big hits, something the Patriots would certainly welcome to their team.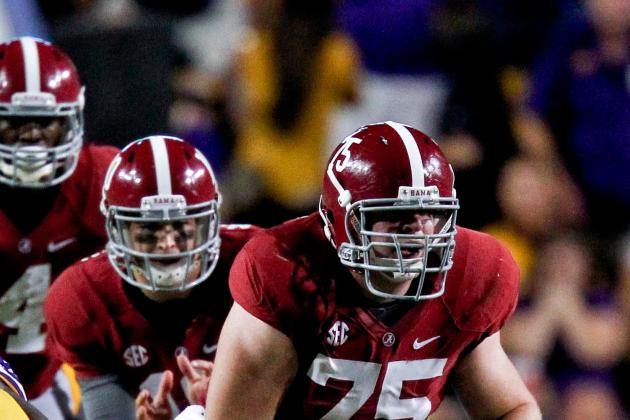 Derick E. Hingle-USA TODAY Sports
The Broncos take the top center in the draft.
The Denver Broncos currently have Dan Koppen as their starting center. Koppen signed a one-year deal with the Broncos in September, and while I'm sure he and the team will discuss him returning, Barrett Jones is too intriguing to pass up at pick 30.
Jones, the highest ranked center in the draft, has had an excellent collegiate career at Alabama and has the ability to be a starter from day one if need be.
I'm sure Peyton Manning wouldn't be against adding Jones to the Broncos offensive line.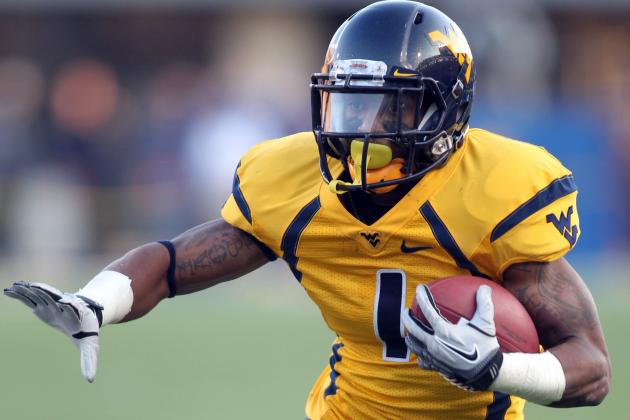 Charles LeClaire-USA TODAY Sports
Austin may not be the biggest WR, but his speed is unbelievable.
At pick 30, the Houston Texans address their number two receiver position. Kevin Walter is a fine player, but he is in his 10th season in the league and the Texans would be wise to add a receiver who would complement Andre Johnson.
Tavon Austin of West Virginia is exactly that player. Austin has blazing speed as he's been recording running the 40-yard dash at 4.38 seconds and would be a playmaker across from Johnson.
I'm not insulting Austin when I call him a poor man's DeSean Jackson, but I think it's a good comparison.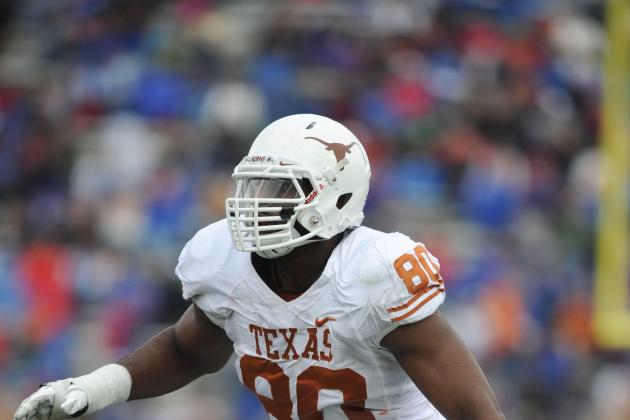 John Rieger-USA TODAY Sports
Alex Okafor is an upgrade to Kroy Biermann and could take over for John Abraham.
With the last pick of the first round, the Atlanta Falcons upgrade their defense by selecting Alex Okafor out of Texas.
Okafor is known most for his power and ability to knock offensive linemen backwards. He plays very well against the run and pass, and at pick 32, the Falcons can't ask for much more.
Talent-wise, Okafor is an upgrade over Kroy Biermann, and he could be the heir apparent to John Abraham at right defensive end.
Plenty will change between today and the 2013 NFL draft, but give me your thoughts below or contact me on Twitter.