Georges St-Pierre vs Nick Diaz: 4 Things That Could Derail Their UFC 158 Bout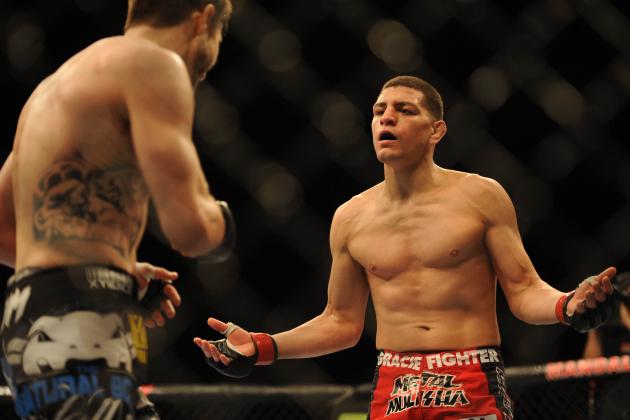 Kelvin Kuo-USA TODAY Sports

UFC welterweight champ Georges St-Pierre and outspoken challenger Nick Diaz will finally face off at UFC 158 early next year—well, hopefully.
It's been a tumultuous process scheduling this bout, which was originally slated for UFC 137 and then UFC 143, as injuries to St-Pierre and Diaz's myriad of troubles have caused some serious setbacks. While both men are healthy and ready to finally square off, there are a few issues that could potentially derail this fight.
Here are four things that might hinder this title bout.
Begin Slideshow

»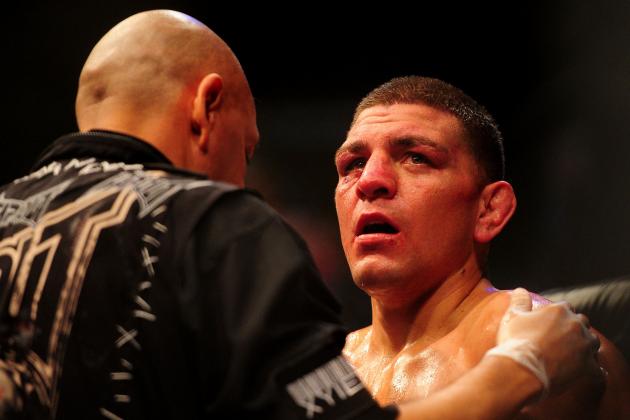 Mark J. Rebilas-USA TODAY Sports

What pretty much derailed their first scheduled meeting was Diaz's unwillingness to participate in several media events, causing UFC president Dana White to take away his title shot.
It seemed like the pressure got to Diaz as he finally got a chance to showcase his skills on MMA's biggest stage.
Constantly a fiery personality who plays by his own rules, as this bout gets closer, the pressure may again be too much for the Stockton bad boy to handle.
Kelvin Kuo-USA TODAY Sports

Stemming from his inability to deal with the pressure, Diaz's second attempt at a UFC title at UFC 143 was similarly disappointing.
While many fans believe that he beat Carlos Condit during their interim championship bout, the outcome was cemented as a loss for Diaz once he tested positive for marijuana metabolites in the post-fight drug test.
Diaz has had a history of failing drug tests over the years, so I wouldn't be surprised if it happened again.
Eric Bolte-USA TODAY Sports

This list has been pretty Nick Diaz heavy so far—and for good reason—but there is always the chance that the champ does something to derail this fight.
Prior to his eventual domination over Carlos Condit at UFC 154, St-Pierre was originally set to face him at UFC 137 and then UFC 143, but was forced out of both fights due to an ACL tear.
While St-Pierre is back to 100 percent strength now, who knows what kind of bumps and bruises he may sustain in the lead-in to UFC 158. One small tweak to the knee may scrap this fight entirely...again.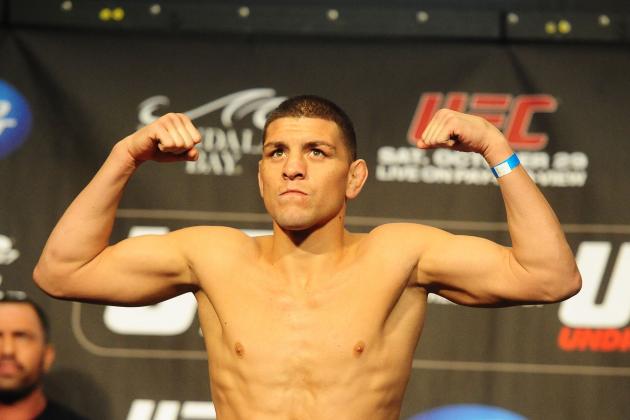 Mark J. Rebilas-USA TODAY Sports

At the end of the day, however, the only way this fight doesn't happen this time is if Nick Diaz does something, well, really Nick Diaz-like.
Whether it's pot, missing media appearances or a host of other controversial actions that the Stockton bad boy may take, it's really up to him whether this fight happens or not.
I'm sure Johny Hendricks would be happy if Diaz decides that the pressure's too much to face St-Pierre.
Be sure to like me on Facebook or follow @MattJuulMMA