5 No-Brainer Choices to Replace Mike Mularkey as Jaguars Head Coach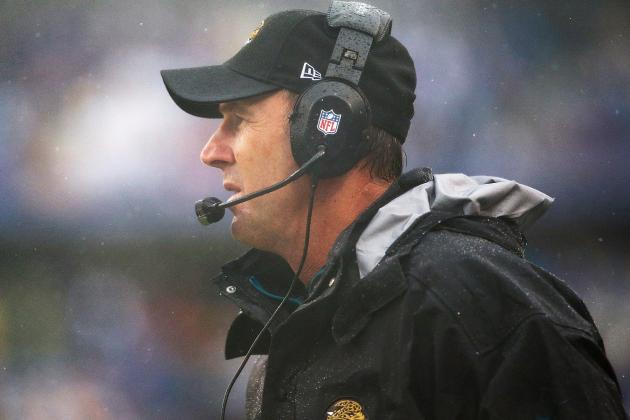 Tom Szczerbowski/Getty Images

With their loss to the New England Patriots, the Jacksonville Jaguars have fallen to 2-13 on the season, which possibly means the end of Mike Mularkey as the Jaguars head coach.
The reasons for Mularkey to get fired are almost endless, but what replacements should Jacksonville consider for him?
There are quite a few that belong in the no-brainer category for Jacksonville, and here's the list of the five most likely no-brainer candidates.
Begin Slideshow

»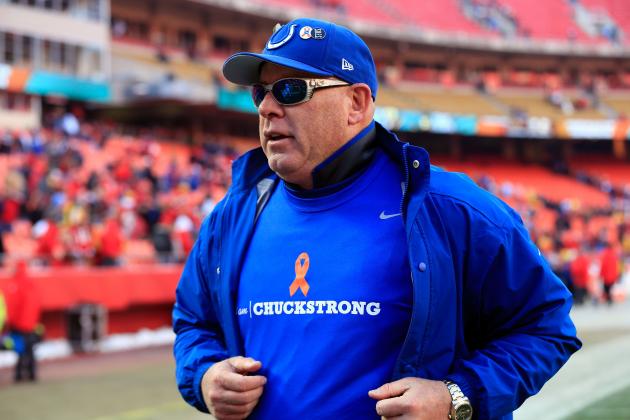 Jamie Squire/Getty Images

Bruce Arians has proven as interim head coach of the Indianapolis Colts that he would be a great permanent head coach in the NFL.
Since Arians took over for Chuck Pagano in September, the Colts have won nine out of their last 12 games, resulting in a 10-5 record and a wild-card berth in what was supposed to be a rebuilding season.
With Pagano feeling better after undergoing chemotherapy to treat cancer, he will regain the reigns in Indianapolis as early as Week 17. Arians will likely be a hot commodity in the NFL, and he makes more than perfect sense for the Jaguars.
That is assuming Arians decides to leave the Colts—that's not even guaranteed.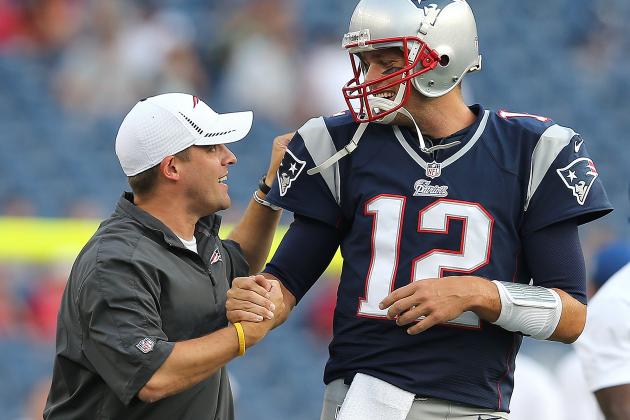 Jim Rogash/Getty Images

So far, if the Mike Mularkey-era has taught us anything, it's that Shad Khan won't be afraid to give a head coach a second chance if he fails elsewhere.
Wouldn't Josh McDaniels be more deserving of a second chance than Mularkey?
McDaniels is already being mentioned as a potential head coach in 2013, so the Jaguars wouldn't be the only team likely to give the Patriots offensive coordinator another shot at head coach. After two years working as an offensive coordinator (with one of those seasons back under Bill Belichick), there's a good chance that McDaniels has matured a bit from his first time around in Denver.
Then there's the Tim Tebow situation that will be the elephant in the room with the Jaguars until it's decided whether Tebow will be in Jacksonville or not. According to Chris Mortensen, Tebow is almost certain to be a Jaguar in 2013.
Just keep in mind that it was Josh McDaniels who drafted Tebow while he was in Denver and who would be most likely to use him as the starting quarterback.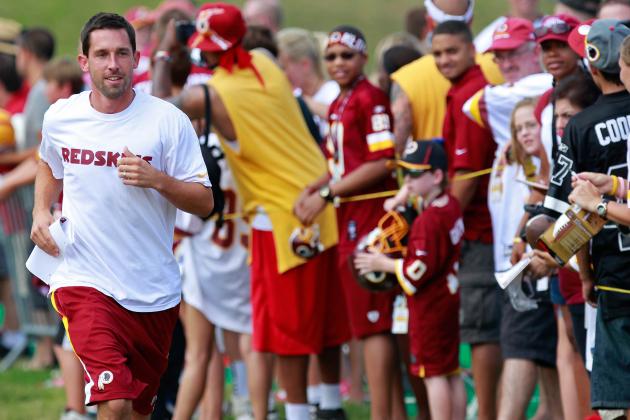 Geoff Burke-USA TODAY Sports

Of all of the assistant coaches in the NFL, Kyle Shanahan would be the best one.
It's not because of the lineage, since that hasn't exactly worked out well in the past (David Shula, Rex Ryan and Mike Nolan come to mind).
It's not simply because of the efficient offense the Redskins have run this year with Robert Griffin III, although it is a big factor.
But Kyle Shanahan would also bring a quarterback to Jacksonville in the form of Redskins backup Kirk Cousins.
Here's NFL.com's Michael Lombardi's take on Shanahan-Cousins:
Any team that hires Shanahan as its next coach might be able to pry away Cousins for a modest price -- considering he was just a fourth-round pick in last April's draft -- addressing two huge problems at once. Every father wants his son to succeed. Thus, if Kyle does land a head-coaching job, he would have a great in with his dad and the 'Skins in terms of making a trade for Cousins -- as long as it is an AFC team that hires Kyle. I strongly doubt that Kyle would ever take a job in the NFC East to compete against his father. (Imagine how awkward the holidays would be in the Shanahan home ...) But going to an AFC team makes sense, and makes the trade for Cousins seem doable.
Unless the NFL decides to undergo a radical realignment, Jacksonville is in the AFC, which would make a pairing very possible.
It would actually be Jacksonville's best hope for the future. Also keep in mind, Kyle Shanahan has been calling the majority of the plays for the Redskins.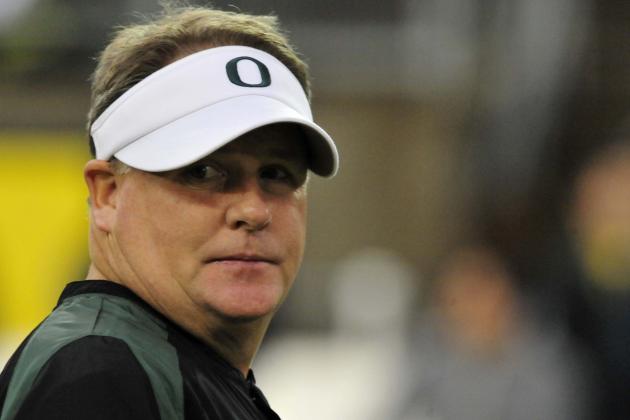 Steve Dykes/Getty Images

Oregon's Chip Kelly will likely be the hottest available coaching commodity in the NFL come the offseason, and thus should be mentioned for the Jaguars.
But the question is, will the offensive visionary get wooed by Jacksonville? Owner Shad Khan will likely be willing to pay for Kelly, and if he does, it's a very intriguing fit.
If Chris Mortensen's report on Tim Tebow coming to Jacksonville is indeed correct, how fun would it be to see a Tim Tebow-led Chip Kelly spread offense? How would Justin Blackmon and Cecil Shorts fare?
Would he keep Maurice Jones-Drew?
So many potential possibilities and so much buzz would surround this hire that it actually does feel like a no-brainer.
USA TODAY Sports

In the end, Jacksonville is an SEC town. So if they go toward college for a head coach, it would likely be an SEC coach.
And if you're going to hire an SEC coach, it should be the best one, which is Nick Saban.
Saban's name has been brought up a lot in terms of him going back to the NFL, but mainly with the Cleveland Browns.
But why not Jacksonville instead? It wouldn't be too far of a move for Saban, and it would be someplace that he is well familiar with in terms of recruiting.
Now for the hidden benefit: taking Saban away from Alabama eliminates one of Florida's biggest threats in the SEC.
This is a win-win for the Jaguars and for Jacksonville; the only question is will Saban be willing to jump back into the NFL, and how much money would it take for him to make the jump?
If he's willing, this hiring is a no-brainer. You won't likely see a repeat of Miami with Saban in his second go-around in the league.