2013 NFL Mock Draft: Teams That Should Consider Trading Down in First Round
December 24, 2012

Jamie Squire/Getty Images
Every year trades shake up the NFL draft, and 2013 will be no exception.
Whether teams are trying to move up to get a specific player or down to collect assets, there will inevitably be some movement in April's first round.
Today we will focus on teams that should consider moving down the board. While it's impossible to know who will do what on draft day, there's a good possibility that the featured teams in this mock draft will trade down.
* Featured teams are highlighted with an asterisk
1. * Kansas City Chiefs: Star Lotulelei, DT, Utah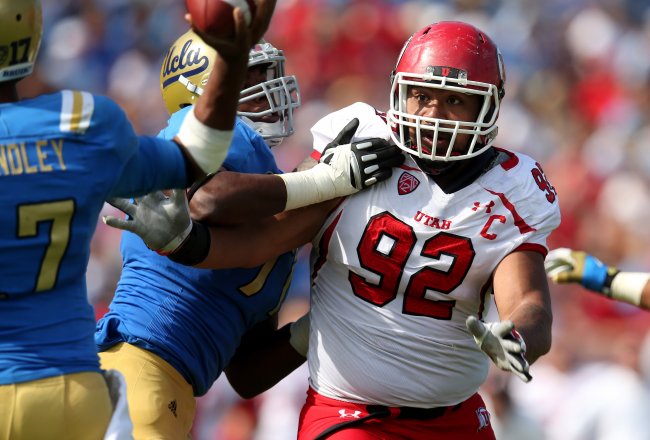 The Chiefs desperately need a new quarterback, but it's unclear if Geno Smith or Matt Barkley is worthy of the first overall pick. Neither signal-caller is leaving school with the pedigree of Andrew Luck and Robert Griffin III, and they will likely be available a little later in the draft.
If Kansas City stays put, Lotulelei is the best prospect available and he fits a need. Just don't be surprised if the Chiefs trade down a couple spots and select Smith or Barkley.
2. * Jacksonville Jaguars: Damontre Moore, DE, Texas A&M
Jacksonville is in the same boat as Kansas City, as they need an immediate upgrade over Blaine Gabbert and Chad Henne. But also like the Chiefs, they may be able to trade down, pick up a couple additional assets and still get the QB they want.
If they keep the pick, Moore is a great option. He's a versatile pass-rusher and would instantly improve a Jags defense that is last in the NFL in sacks (15).
3.  * Oakland Raiders: Barkevious Mingo, DE, LSU
The 4-11 Raiders need help all over the field, so it would make sense for them to trade down to get multiple draft picks. If they stay at No. 3, Mingo is an incredibly explosive defensive end who would certainly be welcome in Oakland. The Raiders rank 31st in the NFL in sacks (21).
4. Philadelphia Eagles: Luke Joeckel, OT, Texas A&M
The Eagles' roster is already loaded with talent, but they could use some help on the offensive line. Joeckel's size and versatility make him the perfect option here.
5. Detroit Lions: Manti Te'o, ILB, Notre Dame
Like Philly, Detroit underachieved this season. Still, they have plenty of talent and are a player or two (as well as some discipline) away from making the postseason.
Te'o would be a smart addition for the Lions, who are allowing 27.4 points per game this season
6. * Cleveland Browns: Bjoern Werner, DE, Florida State

The Browns were just terrible this season, and they have glaring needs at both quarterback and along the defensive line. They could address either issue here, but I think the better idea would be to stockpile draft picks and add multiple pieces. 
The St. Louis Rams, who have 16th and 20th picks, could be a potential trading partner.
7. Buffalo Bills: Geno Smith, QB, West Virginia
I would be surprised if Smith fell this far, but since I'm not adjusting the mock for trades that haven't happened, this is where I have him landing.
If the Chiefs or Jags trade down a few slots, or the Cardinals or Jets move into the top five, Smith will definitely be gone. If the board stays pretty similar to where it is now, then the Bills wouldn't be able to pass on Smith, who has far more potential than Ryan Fitzpatrick.
8. Tennessee Titans: Johnathan Hankins, DT, Ohio State
The Titans have some promising young offensive players, but until their defense improves, they will continue to miss the playoffs. Hankins would be a solid pickup for the Titans, who are allowing 28.3 points per game this season.
9. Arizona Cardinals: Matt Barkley, QB, USC
The Cardinals may be hesitant to draft another USC quarterback after Matt Leinart failed miserably. Unfortunately for Arizona, even Leinart would probably be better than their current trio of Kevin Kolb, John Skelton and Ryan Lindley.
I doubt he will be a Pro Bowl regular, but Barkley is smart, accurate and athletic. He should be a quality starting quarterback for a long time.
10. San Diego Chargers: Taylor Lewan, OT, Michigan
The Chargers' offense sputtered this season, ranking 22nd in passing yards and 27th in rushing yards. Beefing up their offensive line would help both problems, and Lewan is the best tackle available after Joeckel.
11. Carolina Panthers: Sylvester Williams, DT, North Carolina
The 6-9 Panthers are 18th in the league in rushing yards allowed this season. Williams, a 6'2", 320-pound senior, would definitely help in that area.
12. * Tampa Bay Buccaneers: Dee Milliner, CB, Alabama
Tampa Bay's defense was so miserable this season that one new defensive back likely won't solve their problems. The Bucs are last in the league in opponents' passing yards (310.6 per game) and tied for 31st in passing touchdowns allowed (27).
If they stay put, Milliner would be a great fit. They may be better off trading down and getting multiple DBs, though.
13. New York Jets: Jarvis Jones, OLB, Georgia
The Jets definitely need a quarterback, but I don't think they reach for Landry Jones or Tyler Wilson here. Look for them to add another playmaker to their defense instead.
If Jarvis Jones is still available here, the Jets would emerge with the steal of the draft.
14. Miami Dolphins: Keenan Allen, WR, California
Ryan Tannehill was solid in his rookie season, but his development will be stunted if the Dolphins don't give him another receiver. Brian Hartline and Davone Bess or solid, but the Dolphins' receiving corps isn't exactly deep. Their third best pass-catcher, tight end Anthony Fasano, has just 289 yards this season.
15. New Orleans Saints: Johnathan Jenkins, DT, Georgia
The Saints are the worst defensive team in the league, ranking 31st in both opponents' passing yards (287 per game) and rushing yards (146.3 per game). The absolutely massive Jenkins (6'4", 343 pounds) would help fix both problems. 
16. Pittsburgh Steelers: Sheldon Richardson, DT, Missouri
The Steelers used their first two picks on O-linemen last season. Look for them to switch it up and add a defender in the first round this year. 
Richardson, with his tenacity and quickness, would be a perfect fit in Pittsburgh.
17. St. Louis Rams: Eric Fisher, OT, Central Michigan
Sam Bradford is never going to reach his full potential if he can't stay on his feet. Fisher, a 6'7", 297-pound tackle who excels in pass protection, would be a great addition to the Rams.
18. Dallas Cowboys: Kenny Vaccaro, S, Texas
Dallas added cornerback Morris Claiborne in last year's first round. Given the poor health of their secondary this season, look for them to add another defensive back.
Vaccaro is the best safety available, and with his coverage skills he should improve a Cowboys pass defense that allowed 446 yards and three touchdowns to Drew Brees in Week 16.
19. New York Giants: Tyler Eifert, TE, Notre Dame
The Giants' offense has been terrible the last two weeks, scoring just a combined 14 points. Giving Eli Manning another weapon could be just what they need to get back on track next season.
20. Cincinnati Bengals: Dion Jordan, DE, Oregon
The Bengals don't have many needs, but they could use a versatile DE/OLB. Jordan is frighteningly explosive off the line of scrimmage, and he would form a menacing duo with Michael Johnson, who has 8.5 sacks this season.
21. Minnesota Vikings: Chance Warmack, OG, Alabama
Despite being the most one-dimensional team in the league, the Vikings look like they will be playoff-bound this season. Still, they can't keep relying this much on Adrian Peterson. Look for them to pick up Warmack, which will allow Christian Ponder to be more comfortable in the pocket.
22. St. Louis Rams: (from Washington) Jonathan Cooper, OG, North Carolina
Don't be surprised if the Rams add Cooper here to solidify their line for the future.
23. Chicago Bears: Jake Matthews, OT, Texas A&M

The Bears need help on the O-line, as they've allowed the sixth most sacks in the NFL this season (41).
24. Indianapolis Colts: Johnthan Banks, CB, Mississippi State
The Colts could use some help in the secondary as they rank 20th in the NFL in opponents passing yards (241.6 per game). Banks is a tall cornerback (6'2") with good natural instincts. He also likes to get involved in run stopping, making him an attractive option for the Colts.
25. Baltimore Ravens: Corey Lemonier, OLB/DE, Auburn

The Ravens' defense hasn't been as scary as usual this season, ranking 21st in opponents' passing yards and 26th in opponents rushing yards. Adding another young defender makes sense, and Lemonier's nasty on-field demeanor would make him an excellent fit in Baltimore
26. Seattle Seahawks: Justin Hunter, WR, Tennessee
Russell Wilson could use another weapon next season. Hunter, with his size, speed and big-play ability, would be a great option.
27. San Francisco 49ers: Louis Nix III, DT, Notre Dame
The 49ers have one of the best defenses in the league, but as Justin Smith's absence on Sunday Night Football proved, they are a little thin on the D-line. Look for them to add Nix, who has been a key to Notre Dame's run to the BCS National Championship Game.
28. Green Bay Packers: Anthony Barr, OLB, UCLA
Green Bay's defense gets shredded on a regular basis, so adding a quality linebacker like Barr would be a good idea. Barr is an explosive and hard-hitting athlete with a consistent motor.

29. New England Patriots: Tavon Austin, WR, West Virginia
Austin is one of the most versatile players available, as he can do serious damage in the passing game, out of the backfield and on kickoff returns. He will be one of the best returners in the league one day, and New England's potent offense would be even more dangerous with him in the slot.
30. Denver Broncos: C.J. Mosley, OLB, Alabama
Mosley is a frightening athlete who would instantly improve any defense. He would provide depth to the Broncos' linebacking corps, and could start if they get rid of D.J. Williams, who missed nine games this season because of suspensions.
31. Houston Texans: Robert Woods, WR, USC
Houston has absolutely no depth at wide receiver, as only two of their top six pass-catchers are wideouts. They really need someone opposite Andre Johnson to draw some attention away from the Pro Bowler.
Woods was one of the most productive receivers in college football this season, and I think he'll eventually be the best receiver in this class. Houston would be smart to pick him up here.
32. Atlanta Falcons: Sam Montgomery, DE, LSU
Despite their 13-2 record, the Falcons rank 22nd in opponents' passing yards (243.7) and 20th in rushing yards (121.8). Montgomery, a massive defensive end who excels at stopping the run, would be a good fit.