Report-Card Grades for Dirk Nowitzki's Return from Injury
Ronald Martinez/Getty Images

Dirk Nowitzki returned back to the Dallas Mavericks from knee surgery in an embarrassing 129-91 blowout in San Antonio Sunday night.
As the Spurs were rampaging on the Mavericks, hitting seemingly every shot they took, Nowitzki was quietly making his presence felt in the limited minutes that he saw.
Sure, feeling his presence in a game in which the Mavericks lost by 38 points necessitated nothing more than a solid rebounding performance and good shot selection, but Dirk was able to do just that and put a positive impact on the game regardless.
Dirk ended this one with just eight points, but he did so on 3-of-4 shooting in his 20 minutes of action. And offensively, Dirk may have been the most effective member of the Mavericks in the loss. His defense has a bit of catching up to do, but that's the Dirk we've known for years.
Let's take a look at the game from Nowitzki's viewpoint and break it down bit-by-bit with some grades.
Begin Slideshow

»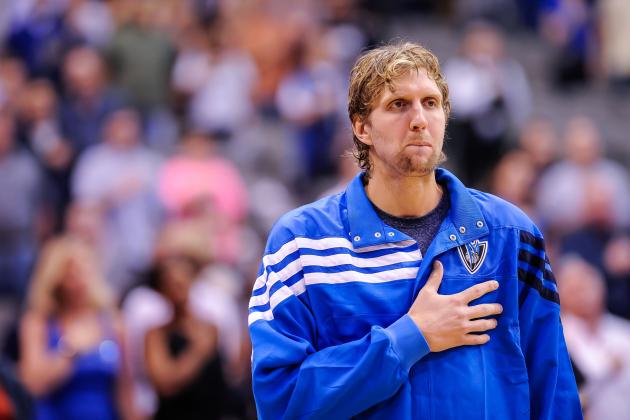 Jerome Miron-USA TODAY Sports

Dirk Nowitzki was not expected to play a majority of this game, and once the rout was on, he was even less likely to get extended minutes.
The plan was to get his feet wet, maybe have him wade in up to his knees and get him right back out of there, which is what they did:
RT @eks_mavsnba: Being told don't expect a large role. In fact, a very small role, but it looks like Dirk will play tonight.

— NBA (@NBA) December 23, 2012
So how did Dirk deal with his 20 minutes in this up-tempo game? He was pretty good.
As would be expected, he was slow for the majority of the night, constantly having to chase guys around on defense, but that's got more to do with knee strength than endurance.
He was able to play what seemed to be the same game all the way through, looking as spry in the third quarter as he did in the first.
There are some things that are going to need some work as the season rolls along, but it seems like shooting is just like riding a bicycle for Nowitzki.
Not only did he knock down three of the four shots, one of them was a nice, deep three-pointer to get our blood going early on in the game:
Dirk for 3. It's pretty. It's sooooo pretty.

— Earl K. Sneed (@EKS_MavsNBA) December 24, 2012
Nowitzki was able to find the right lanes to cut through when he was getting to the rim, and once he had the ball in his hands, he was able to make the right decision, as one of the few members of the Mavericks who played the game without a turnover.
His ball-handling looked a little shaky throughout, as did his ability to actively defend, but that's likely going to come back once his knee strengthens.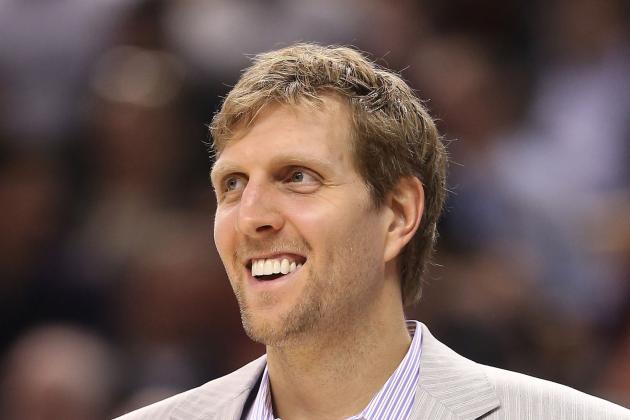 Tom Szczerbowski-USA TODAY Sports

What could we really expect of Dirk in his first game back? The guy is a 34-year-old seven-footer who has been playing professional basketball since 1998 and is coming off of knee surgery.
Of course he's not going to be agile.
If we were to grade him in terms of the agility your average NBA player should have, he fails horribly. Even still, if we were to grade him on a curve, he cannot squeak by with a passing grade.
The first hint of his dreadful agility came in the first few seconds that he was on the floor. Dallas got the ball, but ended up coughing it up to Kawhi Leonard as they transitioned to the other side of the floor.
The big German was still running down the court behind everyone else, but when he realized the play was going the other way, he had to slow down with a few steps before he could turn around. There was no stopping on a dime in this one.
Once his knee strengthens, Dirk is going to look a lot better, but he was near-Frankensteinian in this one.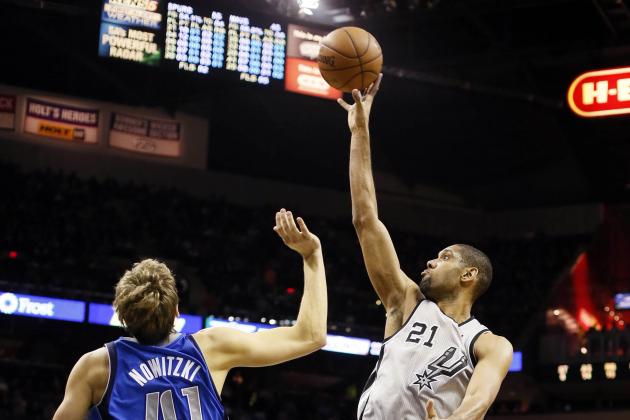 USA TODAY Sports

"Dirk Nowitzki" and "defensive presence" aren't usually used in the same sentence together. Historically speaking, Dirk is a smart defender who happens to be tall, but he doesn't have the instincts or the presence of mind to really make many positive defensive impacts on the game.
This game was no different.
Assigned with the task of running out to the free-throw line and various other spots outside the paint in order to check Tim Duncan, Dirk was ineffective at his best.
He could get a hand up and close out a bit, but there was a lot more hoping and praying than thanking and praising.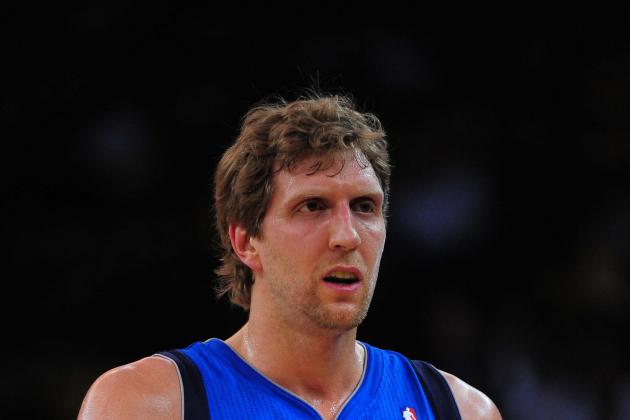 Kyle Terada-USA TODAY Sports

I'm not sure how much we could have expected Dirk to accomplish in terms of leading his struggling Mavs team and inspiring them to take down the mighty San Antonio Spurs, but it didn't really happen.
Surely, everybody was glad to see Dirk back, but to think of him as a leader Sunday night, in a game where he and the Mavericks were completely annihilated by the Spurs, seems to be a bit of a crazy thought.
Dirk was making the right passes and helping to create the effective ball movement, but the fact is nobody was hitting their shots. The offense was just too stagnant and borderline unlucky for Dirk's leadership to have any play in the game.
Once he and the team gets into the flow of things, Nowitzki should end up leading the team more effectively in the future.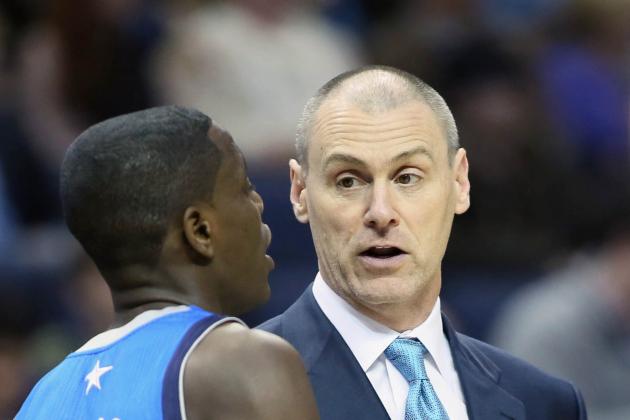 USA TODAY Sports

Despite the fact that this was the first time he played with this particular group of guys, Dirk Nowitzki seemed to know what he was doing with the guys on the floor.
He and Chris Kaman were consistently rotating together onto Tim Duncan to double-team him in the post (to varying degrees of success), and he was never hesitant to reverse the ball back out to a shooter.
Nowitzki worked a very fine perimeter game with O.J. Mayo in which Dirk was used mostly as a decoy.
Dirk getting the ball on the wing and dribbling so that Mayo's defender would run into the big German in a kind of makeshift pick as he handed the ball off to Mayo was a play Dirk ran beautifully with Jason Terry the past few seasons.
Dirk has been around for a long time—he knows how to play with a multitude of different players.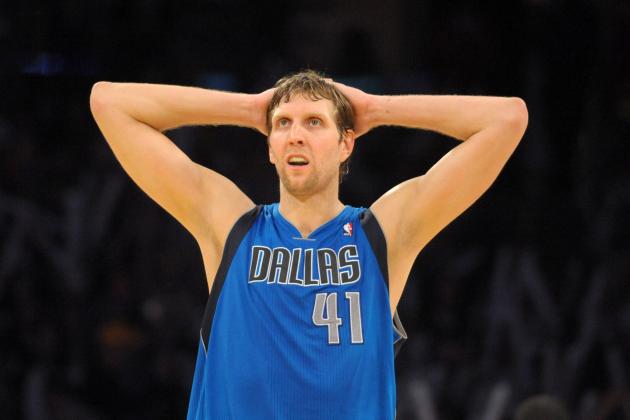 Kirby Lee-USA TODAY Sports

There was some good and some bad, but in the end, it seems like it was just a positive to see Dirk Nowitzki in a uniform rather than a suit.
Dallas had just one way to win this game, and it would mean cranking up the pace to keep up with the Spurs while playing an efficient and decent defensive game.
They couldn't do that in San Antonio Sunday night.
There is a positive takeaway from this game, however. Even though they lost by 38 points and were thoroughly embarrassed on the road, Dirk was efficient, effective and able to put in a solid performance for his first game back.
Nowitzki should improve as his knee strengthens, and as the Mavs star works his way into the starting lineup, this team should start getting a lot better.