The 20 All-Time Fan-Favorite Lightweights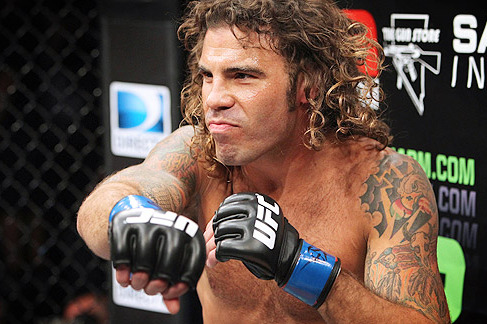 Josh Hedges/Zuffa LLC/Getty Images
With 2012 coming to a close, we look back on all of the greatest moments of MMA, and it's hard to overlook the tremendous impact made in the lightweight division.
The year kicked off with Edson Barboza wheel kicking Terry Etim into a coma.
Shortly after, lightweights Jim Miller and Melvin Guillard headlined the first UFC on FX event.
2012 saw three title fights, a new champion crowned and the emergence of several new contenders.
When we look ahead, we can see that two champions from other organizations could be entering the UFC in the first quarter of 2013. That fast-forwarding into the division has caused us to take a look at the evolution of lightweights and all of our favorite fighters to compete at 155 pounds.
The division has long been considered the most competitive in all of mixed martial arts. With a diverse cast of fighters who are dangerous in all avenues of the sport, there is not a single fighter currently ranked who is incapable of winning gold at some point in his career.
Here is a look at the 20 all-time fan-favorite lightweights of MMA.
For more reading from this series, check out the following articles:
20 All-Time Fan Favorite Welterweights
20 All-Time Fan Favorite Light Heavyweights
20 All-Time Fan Favorite Heavyweights
Begin Slideshow

»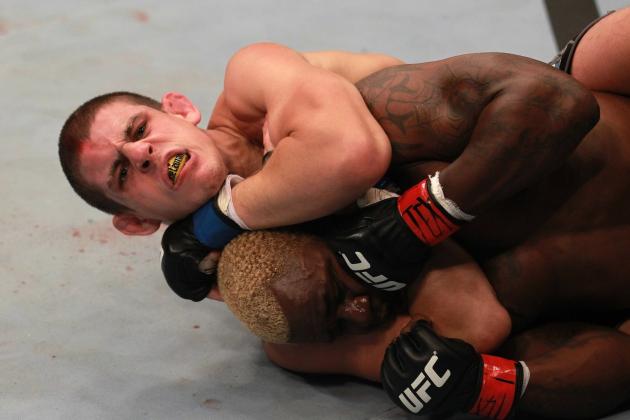 Photo: Yahoo Sports
Greatest Achievements: Second most Fight Night bonuses in history (11), knockout win over Jens Pulver
Joe Lauzon might just be the most exciting lightweight in the history of the UFC. To this day, the only fight of his professional career that went to the scorecards came against the nearly un-finishable Sam Stout.
In all but two of his UFC wins, Lauzon took home either Submission of the Night or Knockout of the Night honors, and he has four trophies for Fight of the Night.
Lauzon has come up short when facing the elite fighters at 155, losing to Kenny Florian, Anthony Pettis and George Sotiropoulos. He gets the opportunity on Saturday night to change that trend as he meets Jim Miller in UFC 155's co-main event.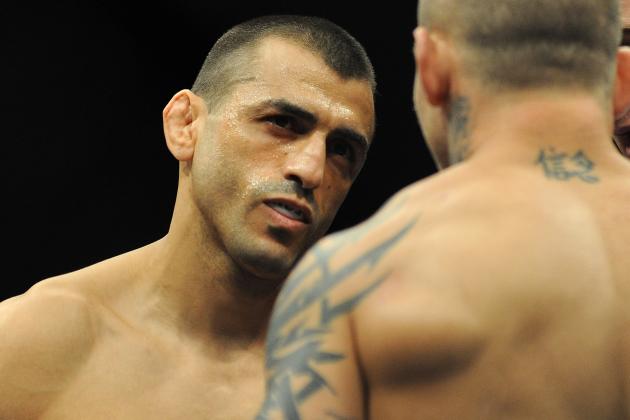 Matt Roberts/Getty Images

Greatest Achievements: The Ultimate Fighter: The Smashes coach, seven consecutive UFC wins, submission win over Joe Lauzon
While the momentum of Sotiropoulos has fallen off a cliff in the last two years, he remains Australia's most beloved homegrown star.
Aussie George made his way into the public eye during season six of The Ultimate Fighter. He was a favorite to win the tournament but lost in the semifinals by knockout only moments after being poked in the eye.
Sotiropoulos won seven consecutive fights to get himself in contention for the title with notable wins over Joe Stevenson, Joe Lauzon and Kurt Pellegrino.
Joe Camporeale-USA TODAY Sports

Greatest Achievements: Two-time UFC lightweight title contender, eight consecutive UFC wins
Although originally being viewed as little more than a lighter version of Jon Fitch, Gray Maynard has truly come into his own over the last two years.
A pair of Fight of the Year candidates against Frankie Edgar may not have concluded with "The Bully" wrapping gold around his waist, but he gained the adoration of many skeptical fans.
With a newfound aggression, Maynard chased down opponent Clay Guida in his most recent outing and was surprisingly more popular with the fans, despite competing against a man who ranks much higher on this list.
Maynard was originally scheduled to meet Joe Lauzon on Saturday night but pulled out due to a knee injury.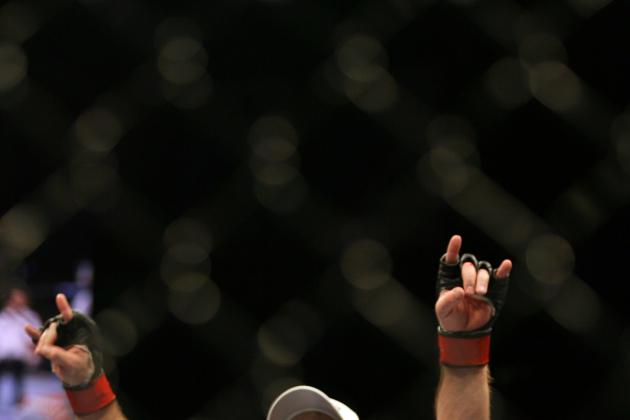 Tasos Katopodis/Getty Images

Greatest Achievements: UFC lightweight champion (one defense), UFC welterweight title contender, went 8-0 in 2004
Former UFC champion Sean Sherk may not be the most likable guy in terms of personality, but he looks like a shrunken version of the Juggernaut and fights with tremendous intensity from bell to bell.
Those attributes have helped to make him largely popular inside the cage.
Sherk hurt his star power when he tested positive for steroids when defending the UFC lightweight championship against Hermes Franca. He was stripped of the belt, and his legacy was forever tainted.
An incredible point of note is that Sherk has only lost four times in 41 professional contests. All four came against world champions and/or Hall of Famers: Matt Hughes, Georges St-Pierre, BJ Penn and Frankie Edgar.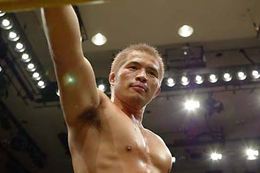 Photo: MMAtko.com
Greatest Achievements: 2005 Pride Lightweight Grand Prix finalist, Shooto welterweight champion, UFC welterweight title contender
A pioneer of Japanese mixed martial arts, Hayato Sakurai began his career in 1996. His pugilistic pursuits saw "Mach" undefeated through his first 20 bouts as a pro.
After his first loss (at the hands of Anderson Silva), Sakurai was involved in a major car accident that forever changed him. Upon returning to the ring, his focus and spirit seemed depleted and he delivered inconsistent performances over the next several years.
In 2005, Sakurai rose back to prominence when he defeated Shinya Aoki, Jens Pulver and Joachim Hansen within a 40-day period. The latter two wins earned him a spot in the finals of the 2005 Pride Lightweight Grand Prix, where he unsuccessfully engaged in a war with Takanori Gomi.
Sakurai may not have gotten paid for it like fellow fighter Jon "War Machine" Koppenhaver, but he partook in a brief amateur porn career in recent years.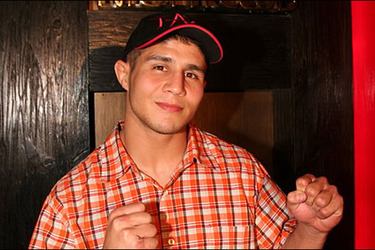 Photo: dailyfiasco.com
Greatest Achievements: The Ultimate Fighter season two winner, UFC lightweight title contender, KOTC lightweight champion
From the very beginning of The Ultimate Fighter season two, fans pegged Joe "Daddy" Stevenson as the favorite to take home the tournament crown.
After all, he was the first pick of coach Matt Hughes and looked dominant in the early stages. Anyone who witnessed The Scarecrow Challenge was blown away by not only is athletic ability but his incredible endurance.
With a wicked guillotine choke and a 4-0 record in the newly re-established lightweight division, Stevenson was the first TUF winner to challenge for a UFC championship.
Not only is he a skilled fighter, but Daddy is also exciting to watch. His tournament final against Luke Cummo is considered one of the best in the show's history, and he would go on to win three Fight of the Night bonuses.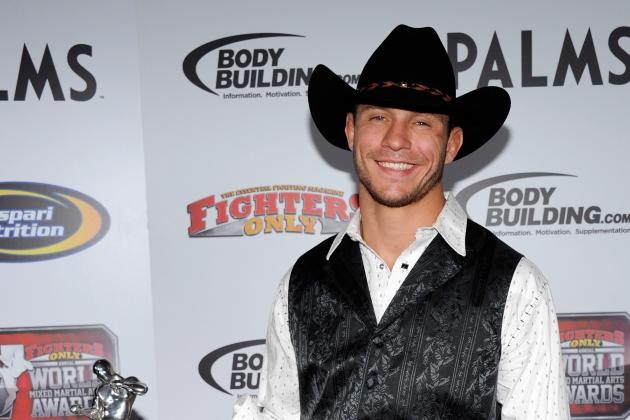 Ethan Miller/Getty Images

Greatest Achievements: 11 Fight Night awards (six UFC and five WEC), three-time WEC lightweight title contender
There is something to be said for a blue-collar workhorse like Donald Cerrone.
After transitioning into the UFC, "Cowboy" wasted little time in picking up his first several wins. Less than nine months into his organizational tenure, Cerrone had fought four times, won each bout and scored the Knockout, Submission and Fight of the Night trifecta.
While Cerrone was a lightweight favorite in the WEC, most fighters from that promotion weren't in the public eye until transitioning over into the UFC. While in the WEC Cerrone was a three-time title contender and put on an incredible fight with Benson Henderson that topped many year-end lists.
If viewing all Zuffa events as equals, Cerrone is currently tied for second place in all-time Fight Night bonuses. His five awards with the WEC complement the six that he has picked up since transitioning to the UFC.
If he can pick up one more against Anthony Pettis next month, he will tie Anderson Silva's record.
Photo: CagedInsider
Greatest Achievements: Bellator lightweight champion, Bellator season one lightweight tournament winner, 2011 Fight of the Year (vs. Michael Chandler)
For a modern-era fighter who doesn't compete in the UFC to make this list, he has got to have his name on everyone's tongue for an extended period of time. In fact, he has to be so popular that he can lose a fight but still be considered one of the best in the world.
The fighter whom I have in mind is none other than former Bellator champion Eddie Alvarez.
With a combination of power, charisma and the skill set that saw him unanimously sneak into top 10 rankings across the MMA universe, Alvarez is currently playing the waiting game that will determine his future.
He recently finished up his commitments to Bellator and has a UFC offer on the table. Due to a contract stipulation, if Bjorn Rebney's organization can match the figure offered by Zuffa, Alvarez will have no choice but to stay put.
If the UFC signs Alvarez, it will be one of the biggest roster additions available. Stay tuned to Bleacher Report MMA over the next two weeks for the latest info on this story as it breaks.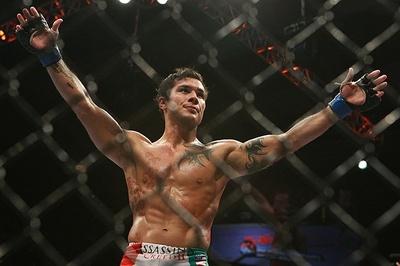 Photo; MMAconvert
Greatest Achievements: Six consecutive UFC wins, Bellator season five lightweight tournament semifinalist, 2007 Fight of the Year (vs. Clay Guida)
When the UFC reinstated its lightweight division, it was quickly evident that the competition was fierce. With lesser-known guys like Spencer Fisher, Sam Stout and Jorge Gurgel making waves, it would take something special for a lower-tier fighter like Roger Huerta to stand out above the rest.
Winning his first six fights (including three Fight of the Night awards), Huerta graced the cover of Sports Illustrated back in 2007. You can read the accompanying article at SI.com.
Huerta lost only one of his first 23 fights, and that came when he suffered a broken jaw in his third fight of the evening.
His enormous momentum led him into a title eliminator against Kenny Florian at UFC 87, but "The Matador" came up short in the decision.
If you didn't love him before, Huerta gained international exposure through TMZ.com in 2010 when a nightclub confrontation was caught on tape by a cellphone camera.
When a large Texan reportedly knocked out a woman, a nearby Roger Huerta didn't take kindly to it. The two got into a brief verbal confrontation before a then-shirtless Huerta left his enormous foe lying bloodied and waiting for ambulance assistance.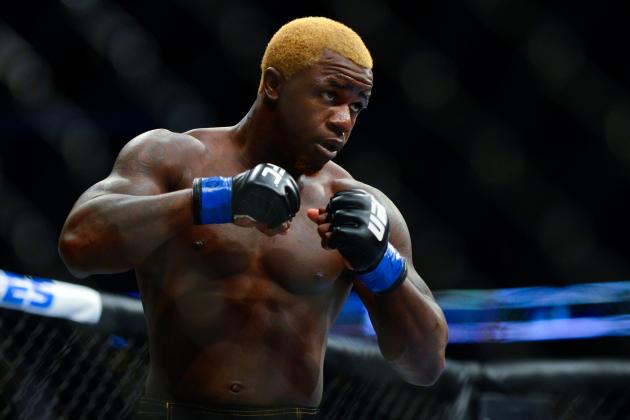 Ron Chenoy-USA TODAY Sports

Greatest Achievements: Knockout wins over Evan Dunham, Shane Roller and Dennis Siver
It takes a lot of courage to pull a prank of UFC president Dana White, but Melvin Guillard didn't hesitate to have a little fun while filming season two of The Ultimate Fighter.
With contestants dropping out of the show due to a lack of heart, White was already fed up with some of the casting choices that were made. Guillard was well aware of the situation, and with coach Rich Franklin behind him, he scheduled a meeting with the boss.
Right before his weigh-in, Guillard emotionally told White that fighting wasn't for him and that he wanted to go home. With a look of pure shock on his face, White was clearly out of sorts.
When "The Young Assassin" started cracking up, White was aware he had just been pranked, and a popular new star emerged from the program.
Guillard has gone on to become one of the most popular knockout artists in lightweight history. His punching power has led to wins over notables like Evan Dunham, Shane Roller and even kickboxer Dennis Siver.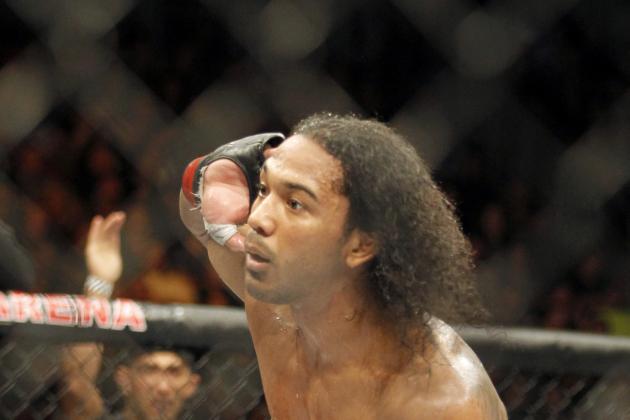 Joe Nicholson-USA TODAY Sports

Greatest Achievements: UFC lightweight champion (two defenses), WEC lightweight champion (one defense), WEC interim lightweight champion, six consecutive UFC wins, 2009 Fight of the Year (vs. Donald Cerrone), 2010 Fight of the Year (vs. Anthony Pettis)
Welcome back to the WEC portion of this countdown.
Former WEC lightweight champion Benson Henderson came into the UFC without any momentum. In fact, he had just lost his belt to Anthony Pettis on the final fight card in WEC history and was put against lower-tier grappler Mark Bocek in his promotional debut.
And then he exploded.
Henderson spent his first year in the UFC putting his electric dominance on display against the best fighters in the division including Clay Guida and Jim Miller.
It was enough to turn many heads and earn the adoration of UFC fans who had long considered WEC fighters to be lesser competitors unworthy of a shot in the big leagues.
After two wins over champion Frankie Edgar (one of them deemed controversial by many) and one over Nate Diaz, Henderson sits on top of the world's toughest division until someone can force him from his spot.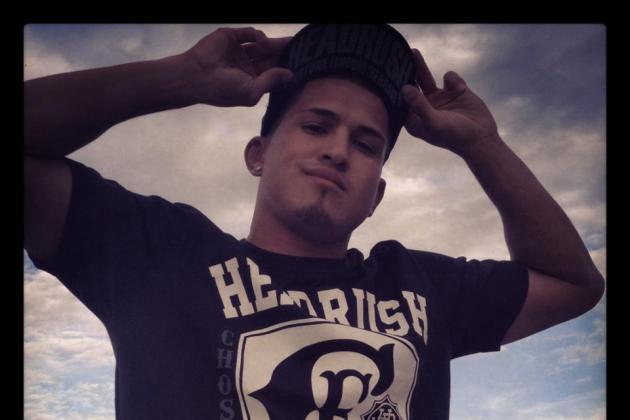 Photo: Anthony Pettis' Facebook
Greatest Achievements: WEC lightweight champion, 2010 Fight of the Year (vs. Benson Henderson)
As the WEC closed its doors in 2010, Benson Henderson was widely expected to enter the UFC as the organization's final lightweight champion. That all changed when Anthony Pettis showcased his captivating striking and unleashed The Showtime Kick.
Pettis is exactly the type of fighter whom MMA fans love. He is young and athletic and can deliver brutal knockouts with a single strike. "Showtime" displayed that skill at UFC 144 when he head kicked Joe Lauzon into a coma.
Should Pettis score a victory over Donald Cerrone in January, there is a high likelihood that he will get a title shot against Benson Henderson.
Can lightning strike twice and Pettis beat Bendo once again? Maybe we will find out.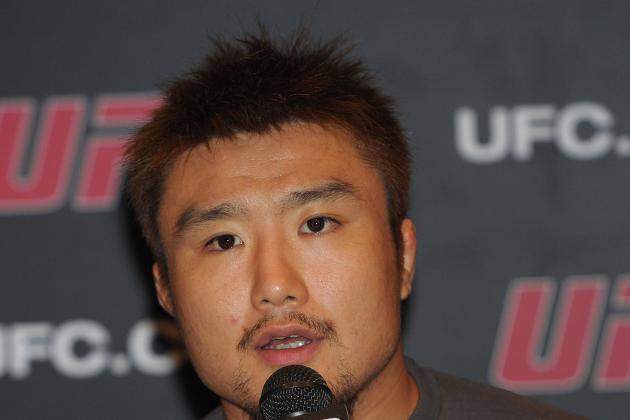 Koki Nagahama/Getty Images

Greatest Achievements: Pride lightweight champion, 2005 Pride Lightweight Grand Prix winner, 10 consecutive Pride wins
If we can say one thing about Japanese fight fans, it's that they have a love and respect for mixed martial arts that cannot be duplicated anywhere else in the world.
Sure, Americans, Canadians and Brazilians have significant populations who are passionate about it, but you'll never hear a Japanese crowd threaten death to fighters or boo fighters who are utilizing a technical strategy instead of slugging it out.
Takanori Gomi is not only a former Pride champion, but he is also a Japanese legend in MMA. Under the Pride banner, Gomi won the 2005 Lightweight Grand Prix and lost only one of 15 fights.
"The Fireball Kid's" ridiculous punching power put to sleep the stigma that lightweight fighters are incapable of knockouts—he holds 13 victories by this method.
To this day, he has three Octagon victories including an incredible KO of Tyson Griffin that many felt was the best of the year.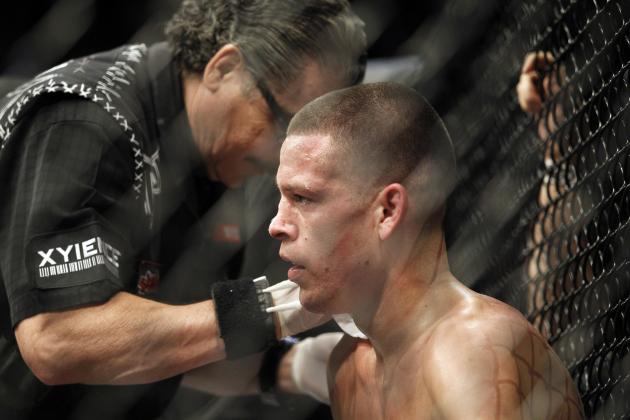 Joe Nicholson-USA TODAY Sports

Greatest Achievements: UFC lightweight title contender, The Ultimate Fighter season five winner, 10 Fight Night bonuses
I would love to rank Nate Diaz higher on this list due to the intense love that his fans have for him. Unfortunately, because the Cesar Gracie camp also has an enormous number of detractors, I have to balance it out a little bit.
With 10 Fight Night bonuses to his credit, Diaz is regarded as one of the most exciting fighters of all time. Whether it be his never-ending supply of trash talk, deadly submission skills or his high-volume combination of strikes, he is always fun to watch.
The younger Diaz brother is a slightly less controversial version of his brother Nick. Nate may not be one for cameras or interviews, but he is a willing participant when they are necessary. In fact, he made his way into the UFC through The Ultimate Fighter, where he won the fifth season.
Diaz may have come up short in his title bid against Benson Henderson earlier this month, but his fan support is unwavering.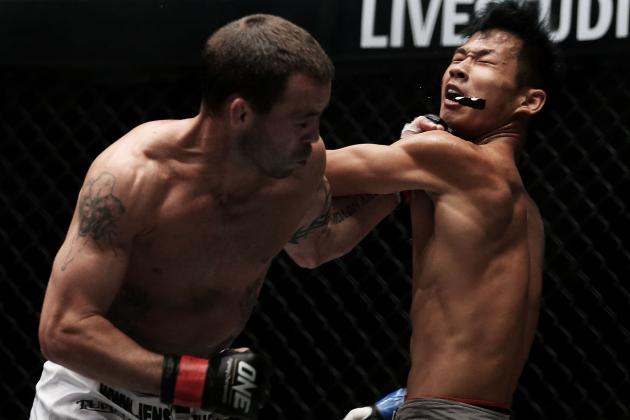 Chris McGrath/Getty Images

Greatest Achievements: UFC lightweight champion (two defenses), WEC featherweight title contender
As the original UFC lightweight champion, Jens Pulver was able to set the tone for the entire division.
At a time when contenders were in short supply, "Lil Evil" defeated all of them. BJ Penn, Caol Uno and Dennis Hallman all fell short in their attempt to take the belt from Pulver and helped the champion improve his UFC record to 6-0-1.
Pulver left the UFC after his defense against Penn, and the belt was vacated. He wouldn't return until more than four years later.
For fans who didn't get interested in the sport until The Ultimate Fighter, they only got a taste of Pulver when he coached season five opposite Penn in 2007. His coaching skill was tremendous, and he ended up having two of his fighters in the tournament finale.
Pulver later dropped to featherweight and moved into the WEC. Although he won his first contest, it was all downhill from there. Lil Evil dropped his next six fights, which included five consecutive stoppages.
These days, Pulver has won five of his last eight fights against regional talent, but many fans are hoping that their one-time idol will find his peace and retire before doing further damage to his body.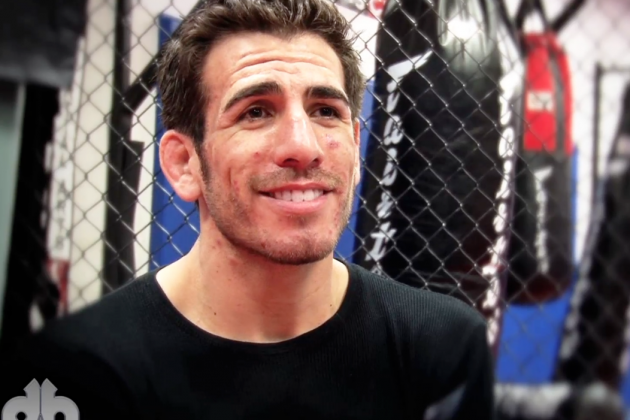 Photo: mmadiehards.com
Greatest Achievements: The Ultimate Fighter season one finalist, two-time UFC lightweight title contender, UFC featherweight title contender, only fighter in UFC history to compete in four different weight classes
While Kenny Florian famously competed in four weight classes, he called the lightweight division home for the longest period of time.
"Who wants to see fights finished in here at 155? I finish fights. I'll knock you out, submit you, anything to finish the fight."
That quote comes directly from Florian in a post-fight interview with Joe Rogan.
And he's not just whistling Dixie either. Florian won 12 fights inside the Octagon and 10 of them came by way of stoppage. When you factor in that he finished fighters such as Clay Guida, Takanori Gomi and Joe Stevenson, it is an incredible testament to his talent.
These days Florian is retired from in-cage action but serves as a commentator and analyst on multiple UFC programs.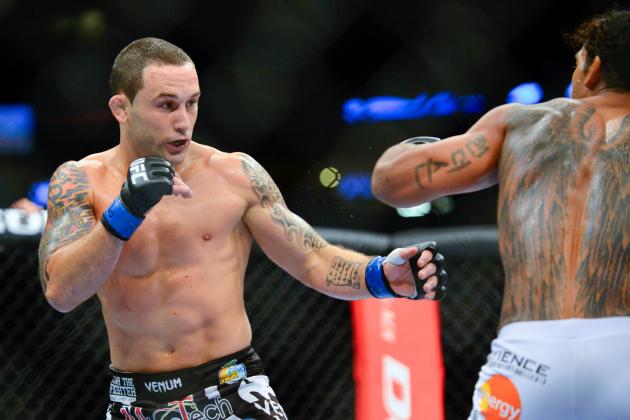 Ron Chenoy-USA TODAY Sports

Greatest Achievements: UFC lightweight champion (three defenses), two wins over BJ Penn, wins over Sean Sherk, Gray Maynard and Jim Miller
I have often wondered how many times Frankie Edgar must have read The Little Engine That Could as a child. With more heart than most fighters can ever dream of, Edgar overcame the odds time and time again to capture and thrice defend the UFC lightweight championship.
Edgar first turned heads when he defeated Tyson Griffin in his promotional debut, but he exploded onto the scene with an upset victory over former champion Sean Sherk in 2009.
"The Answer" won a pair of battles against BJ Penn, but the biggest show of his character came in his wars against Gray Maynard.
In each fight, Maynard hurt the champion badly to the point where no one would have blamed the referee for stepping in. However, Edgar persevered, fighting back to earn a draw in the first title fight and a TKO victory in the rematch.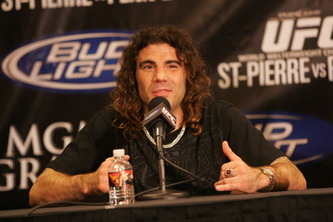 Photo: MusclePharm
Greatest Achievements: Strikeforce lightweight champion, 2007 Fight of the Year (vs. Roger Huerta), 2009 Fight of the Year (vs. Diego Sanchez)
When talking about popular lightweights, it's impossible to leave out Clay Guida.
Like a lion driving a car at Daytona, "The Carpenter" comes out of the gate with ferocious aggression at 100 mph and keeps that pace until the checkered flag is waved.
Guida has twice won Fight of the Year honors for the relentlessly frenetic pace that characterizes his fighting style.
Many point to Guida's poor record against elite fighters as a reason to claim that he isn't worthy of contender status; however, his losses to Gray Maynard, Diego Sanchez and even champion Benson Henderson were ridiculously close affairs that could have gone either way.
Guida has recently dropped to featherweight and will meet Hatsu Hioki next month in hopes of earning his first title opportunity inside the Octagon despite being a 16-fight UFC veteran.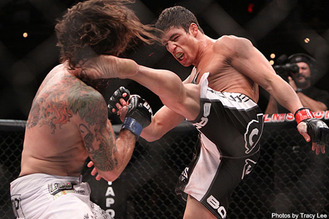 Photo: Tracy Lee
Greatest Achievements: UFC lightweight title contender, The Ultimate Fighter season one winner, KOTC welterweight champion, six consecutive UFC wins, 2006 Fight of the Year (vs. Karo Parisyan), 2009 Fight of the Year (vs. Clay Guida)
After an 8-2 run at welterweight, Diego Sanchez dropped down to 155 pounds in hope of earning a title shot. With notables Joe Stevenson and Clay Guida posing as hurdles along that path, Sanchez defeated two of the lightweight division's top stars in order to get a crack at BJ Penn.
Like Guida, Sanchez has the pedal-to-the-metal style of fighting that is undeniably popular. It twice won him Fight of the Year honors against Clay Guida and Karo Parisyan, and many fans think that his 2005 bout with Nick Diaz could have earned him a third trophy.
To this day, Sanchez also has six Fight of the Night honors.
Sanchez was unsuccessful in his bid for the division's top honor but feels that he might fare better against the current crop of competition than when Penn ruled the division.
"The Nightmare" makes his return to lightweight after a three-year absence when he meets Takanori Gomi in March.
Jon Kopaloff/Getty Images

Greatest Achievements: UFC welterweight champion, UFC lightweight champion, UFC 41 lightweight tournament finalist, 2008 Beatdown of the Year (vs. Joe Stevenson)
Will someone please convince BJ Penn to return to the lightweight division?
While his pursuit of greatness in multiple weight classes is commendable, he is mortally wounding his legacy by absorbing beatdowns at the hands of Rory MacDonald, Nick Diaz and Jon Fitch.
To illustrate the devastating impact that fighting in the wrong weight class has had on his career, we need point only at "The Prodigy's" record.
In the lightweight division, only two men have ever bested him: Jens Pulver and Frankie Edgar. However, BJ has nine career losses including one against former UFC light heavyweight champion Lyoto Machida.
His warrior spirit shines through without any interference, and Penn remains one of the most popular stars ever seen in MMA. He is synonymous with the lightweight division and was the most dominant champion in the history of the division.