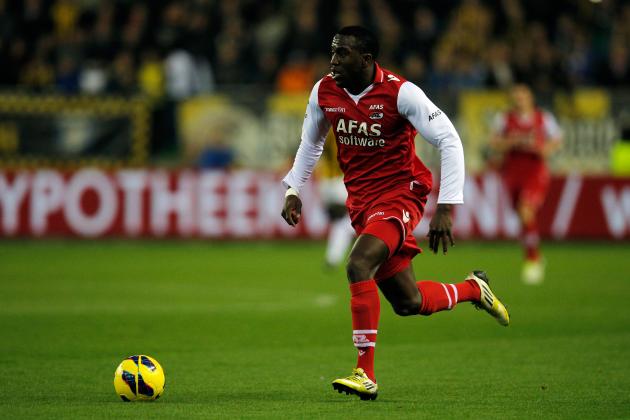 Dean Mouhtaropoulos/Getty Images

It was an interesting week for Americans abroad with a number of wild scenarios playing out for the Yanks in Europe.
Notably, Eric Lichaj and Brad Guzan were involved in Aston Villa's embarrassing 8-0 defeat to Chelsea, Clint Dempsey was a surprise scratch in Tottenham's 0-0 draw against Geoff Cameron's Stoke City, and Tim Howard was involved in Everton's crazy 2-1 win at West Ham which finished with each team only fielding 10 players.
Check out how this weekend's action went down in this week's edition of Americans Abroad.
Begin Slideshow

»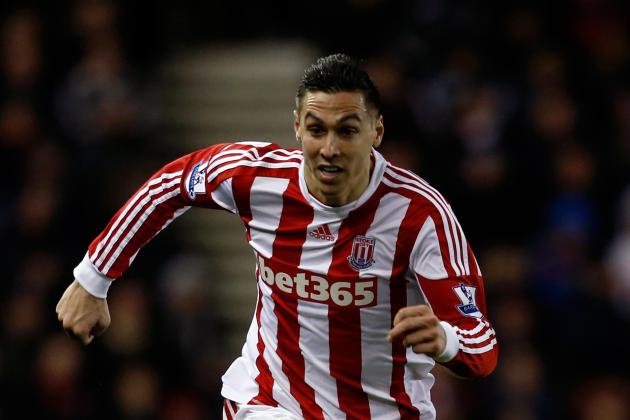 Paul Thomas/Getty Images

In a match that had the possibility of four Americans playing and most U.S. fans expecting at least two, only Geoff Cameron saw the field in the matchup between Tottenham and Stoke City.
It wasn't altogether shocking that Clint Dempsey wasn't in the starting XI for Spurs, especially considering that Dempsey had been fairly anonymous in Tottenham's match against Swansea last weekend and that Gareth Bale was returning from injury.
However, when Dempsey wasn't even on the bench for Spurs, there was some concern among American fans who immediately wondered how Dempsey had fallen that far out of favor with manager Andre Villas-Boas so quickly.
It was then revealed that Dempsey had been a late scratch from the teamsheet due to a groin injury.
With Hugo Lloris still being preferred to Brad Friedel for Tottenham and Maurice Edu once again being left out of the 18 for Stoke, Potters' back Geoff Cameron was the only American to take the field on Saturday.
And, being the only American on the field, Cameron put in a worthy performance, perhaps the best of his short Stoke career.
Matched up against two of the more dangerous wingers in Europe in Gareth Bale and Aaron Lennon, Cameron did particularly well.
On various occasions throughout the game, Cameron dispossessed Bale, Lennon and Tottenham striker Jermaine Defoe and beat Tottenham's other striker, Emmanuel Adebayor, in one key aerial duel in the six-yard box.
Cameron also got involved in Stoke's attack, putting Kenwyne Jones in behind Tottenham's defense on one occasion and creating perhaps Stoke's best chance to score in the game.
In the 59th minute, Cameron dispossessed Lennon and then made a strong run down the right flank. Cameron found Ryan Shotton inside the penalty area for a chance that Shotton wasted with a poor effort at goal.
In the end, Cameron's strong play on Stoke's right side helped Stoke keep the shutout as the two teams drew 0-0.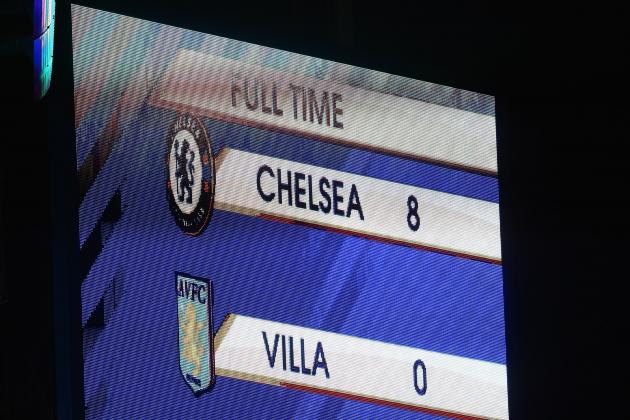 Clive Rose/Getty Images

Is it possible to play well as a goalkeeper and still lose 8-0?
Probably not, but if it is, then Brad Guzan may be the first example of it happening.
On a day when Chelsea put together a highlight film of goals, there was little Guzan could do to stop them.
Chelsea's goals were a collection of beautifully struck volleys, headers, free kicks, put-backs and penalties, almost none of which Guzan could do anything about.
Guzan finished the game with seven stops, including one on a penalty late in the game.
Eric Lichaj played 56 minutes before being replaced early on in the second half.
Overall, it is a day to forget for the Villans, who had been on a good run of form not losing in league play since November 17.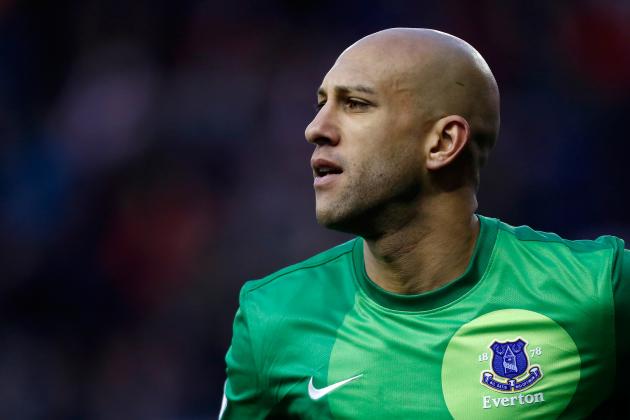 Paul Thomas/Getty Images

Tim Howard and Everton were part of one of the more bizarre games on the weekend.
Early in the first half, Howard was beaten on a nice low-driven shot at his near post by Hammers striker Carlton Cole.
However, Everton once again showed their penchant for the comeback, leveling the game in the 64th minute courtesy of a Victor Anichebe header.
Then, in the 67th minute, Carlton Cole was sent off after being shown a straight red for a challenge on Leighton Baines. Certainly, Cole has his boot high on the play, but a straight red seemed very harsh as the challenge appeared to lack any harmful intent.
Just a few minutes later, Steven Pienaar touched home a second goal for Everton, who managed to hold on for all three points.
For good measure, Toffees midfielder Darron Gibson decided to add a high-booted challenge of his own in the 92nd minute and was sent off just before the final whistle.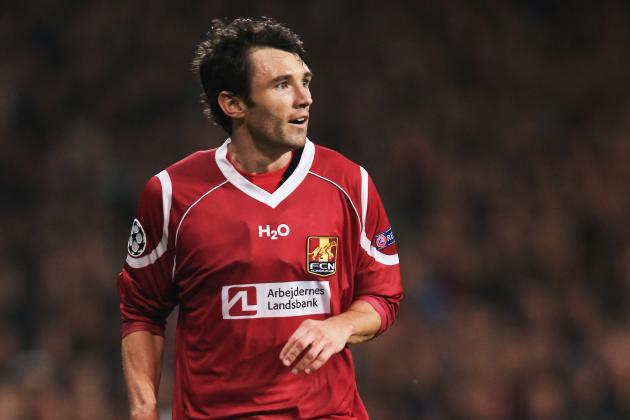 EuroFootball/Getty Images

The Bundesliga entered its winter break this week, but there is still plenty of news to report.
Timothy Chandler and Nurnberg will have a new coach once they return from break with manager Dieter Hecking departing to take over Bundesliga competitor Wolfsburg.
Also, it was announced this week that American Michael Parkhurst will be joining Bundesliga side Augsburg.
It's certainly a big step up for Parkhurst, who had been playing for Danish champions Nordsjaelland. The transfer will also be a challenge as Augsburg sits firmly in the relegation zone in Germany.
The break couldn't have come soon enough for Hoffenheim and Americans Danny Williams and Fabian Johnson, who also sit in the relegation zone and will be hoping for a better campaign after the break.
Finally, when the Bundesliga does kick off again after the New Year, Jermaine Jones will still be suspended. In a situation eerily familiar to last year for USMNT fans, the suspension may once again make Jones eligible to participate in the Americans' January camp, which does not fall within the dates of the FIFA international calendar.
In Bundesliga 2, the winter break extends into February, so don't be surprised to see Americans John Anthony Brooks, Joe Gyau or Bobby Wood called into the January camp.
Ben Hoskins/Getty Images

Will Packwood started and went the distance for Birmingham in their 2-2 draw with Burnley. This was the first 90-minute effort for the 19-year-old Massachusetts native.
Jonathan Spector was not in the 18 for Birmingham.
Zak Whitbread and Leicester lost 1-0 to Cardiff, with Whitbread going the distance. Leicester still remains in position to make the Championship promotion playoffs.
In yet another worrying sign for Tim Ream's dwindling USMNT hopes, he was again left on the bench as Bolton lost 5-4 to Peterborough.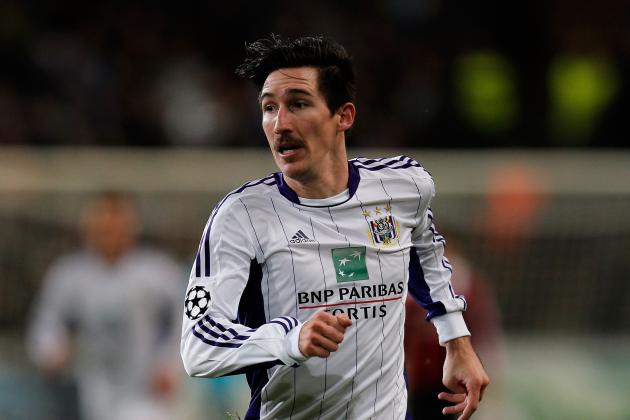 Dean Mouhtaropoulos/Getty Images

Carlos Bocanegra went the distance in Santander's 1-1 draw with Guadalajara.
Oguchi Onyewu was an unused substitute in Malaga's 3-2 win over Real Madrid.
Michael Bradley started and played all 90 minutes in Roma's 4-2 win over AC Milan.
Sacha Kljestan and Anderlecht beat Genk 4-2, with Kljestan going the distance. The win is great for Anderlecht, but Kljestan's girlfriend is probably not loving his postgame pledge regarding Anderlecht's winning streak.
Mustache stays until our winning streak ends. Could be handlebars by January!

— Sacha Kljestan (@SachaKljestan) December 23, 2012
Jozy Altidore played the full match in AZ Alkmaar's 3-0 loss to Twente. Despite the loss, Jozy made a classy gesture during the game playing the match with the names of the Newtown massacre victims written on his boots.
Terrence Boyd and Rapid Vienna have started their winter break and don't return until February.
The Scandinavian contingent of Mix Diskerud, Josh Gatt, Alejandro Bedoya, Conor O'Brien and Clarence Goodson are all still on hiatus.
The Diskerud-to-MLS talk has died down since last week, but he may still make a move.
Conor O'Brien is also expected to make a move soon.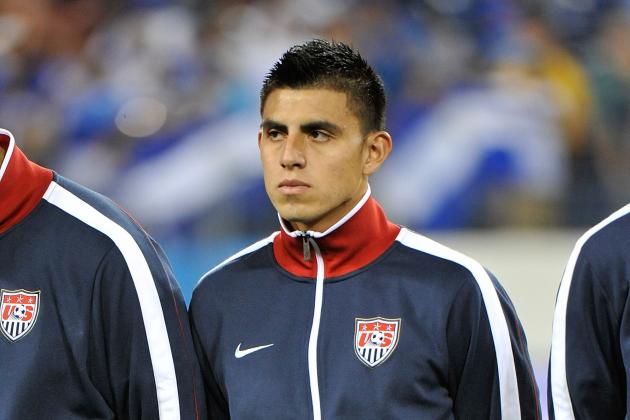 Frederick Breedon/Getty Images

The Mexican Liga MX is still on winter break, but teams have begun preseason training.
Joe Corona posted this picture of him and his Tijuana teammates doing beach training, before undoing some of his hard work with a stop at the In-N-Out.
IN-N-OUT it is 🍔

— Joe Corona (@JoeCorona15) December 23, 2012
Follow me on Twitter @AmerTouchline
Follow me on Facebook www.facebook.com/AmericanTouchline