UFC 155: Full Fight Videos for Junior dos Santos and Cain Velasquez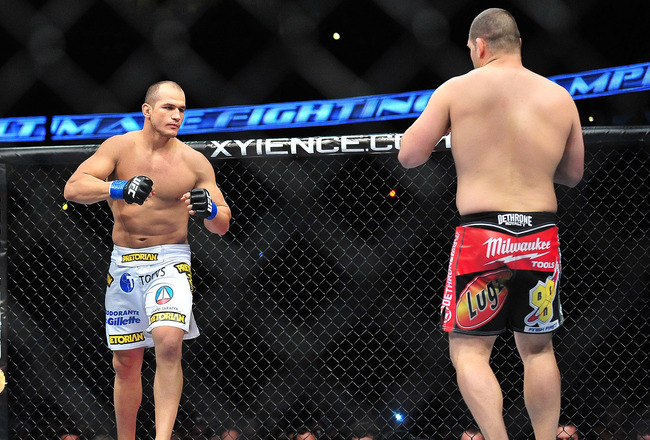 Gary A. Vasquez-USA TODAY Sports
We are less than one week away from the UFC's final event of the year and barring any type of zany, last-minute injury, the card, UFC 155, will be headlined by a heavyweight title bout between champion Junior dos Santos and the man he took the title from, Cain Velasquez.
These two heavyweights have a combined record of 25-2. Velasquez's sole loss came to Dos Santos in November 2011, while Dos Santos has not lost since a 2007 armbar submission defeat to Joaquim Ferreira while competing in Brazil.
The UFC has been kind enough to make eight complete fights available from these fighters, including each fighter's UFC debut as well as their title-winning bouts.
Check 'em out, share 'em with your family over the holiday season. Get Grandma and Grandpa fired up to see these two compete on Dec. 29.
UFC 90: Junior dos Santos vs. Fabricio Werdum
Junior dos Santos entered the UFC with a record of 6-1. UFC matchmaker Joe Silva must have had a good feeling about the kid because he threw him in against Fabricio Werdum for his UFC debut at a time when Werdum was being talked about as a possible title contender.
The odds were heavily stacked against dos Santos as Werdum came into the cage as a -1000 favorite. Translated to a percentage, that put Werdum as more than a 90 percent favorite to win the fight.
One huge uppercut later, those odds were rendered meaningless, and the heavyweight division had another fighter to look out for.
UFC Live: Junior dos Santos vs. Gabriel Gonzaga
After defeating Werdum, dos Santos ran over Stefan Struve, Mirko Cro Cop and Gilbert Yvel, running his UFC record up to 4-0, with all four wins coming via stoppage. Only Cro Cop would make it out of the first round.
In March 2010, dos Santos would be matched up against Gabriel Gonzaga. Like the four UFC fighters before him, Gonzaga would not make it through the fight. Dos Santos dropped Gonzaga with a left hook and proceeded to pummel him on the ground to earn "Knockout of the Night" honors.
UFC on FOX: Cain Velasquez vs. Junior dos Santos
In his next two fights, dos Santos would do something he had never done over the course of his career—go to a decision. Both those fights went dos Santos' way, as he scored unanimous decision victories over Roy Nelson and Shane Carwin.
Those victories earned him a shot at the UFC heavyweight title, held at the time by Cain Velasquez. The fight was brief, ended by a big overhand right that halted Velasquez's UFC title reign.
UFC 146: Junior dos Santos vs. Frank Mir
In his first defense of his title, dos Santos was matched up against former UFC champion Frank Mir.
Mir, a dangerous grappler, had no luck taking the fight to the ground and was forced to spend the entire fight exactly where he didn't want to be—on his feet against one of the most feared strikers in the sport.
Mir lasted into the second round, but he was never really in the fight, and as the contest progressed, it was clearly a matter of when and not if the end would come for Mir, which it did at the 3:04 mark of the second stanza.
UFC 83: Cain Velasquez vs. Brad Morris
Cain Velasquez made his UFC debut in April 2008, joining the promotion for his third professional MMA bout. His opponent was the 10-2 Brad Morris, a fighter that was also making his debut in the UFC.
It was clear very early on that Morris was no match for Velasquez, and the fight ended early in the first round with Morris beaten bloody by the striking of Velasquez.
Be sure to count how many different pronunciations we get of Velasquez's first and last names.
Ultimate Fight Night 17: Cain Velasquez vs. Denis Stojnic
Velasquez's second fight in the UFC ended much like the first, with a first-round TKO win. For his third bout inside the Octagon, Velasquez was matched up against Denis Stojnic, a 5-1 fighter making his UFC debut.
Stojnic gets some points for taking this fight to the second round, something that no other fighter had done up to that point, but he was outclassed from the get-go by the quickly developing Velasquez.
UFC 110: Cain Velasquez vs. Antonio Rodrigo Nogueira
After the Stojnic bout, the UFC decided to up the level of competition for the All-American wrestler and matched him up against Cheick Kongo. Velasquez went the distance in that fight, but he came away the winner by unanimous decision.
Following the Kongo win, Velasquez got back to ending fights, earning a second-round TKO win over veteran fighter Ben Rothwell.
The Rothwell victory saw Velasquez take another step up the heavyweight ladder for his next bout when he was matched up against Antonio Rodrigo Nogueira at UFC 110.
This was Velasquez's coming-out fight, as he became only the second fighter to stop Nogueira, earning the knockout victory at the 2:20 mark of Round 1 and putting himself in line to face Brock Lesnar for the UFC heavyweight title.
UFC 121: Brock Lesnar vs. Cain Velasquez
If the win over Nogueira was Velasquez's coming-out fight, his matchup against Brock Lesnar was the bout that put his name on the lips of hardcore and casual fans alike. The UFC 121 pay-per-view card had over one million buys, making it one of only seven pay-per-views to crack that magic number.
Since Velasquez's victory over Lesnar that night in October 2010, no pay-per-view has hit one million buys.
This fight was the beginning of the end for Lesnar's MMA career, as Velasquez put a beating on Lesnar, leaving him bloodied, defeated and one fight away from retirement.
Keep Reading