Oklahoma Football: Projecting the Sooners' 2013 Offensive Depth Chart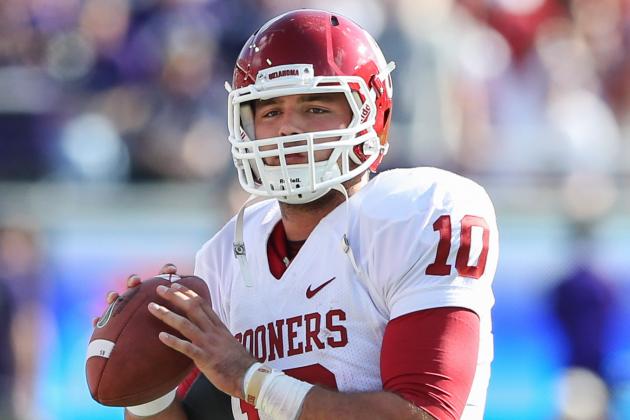 Kevin Jairaj-USA TODAY Sports
Blake Bell
The Oklahoma Sooners offense could be a very different animal in 2013. With the sure departure of Landry Jones, multiple offensive linemen and possibly a couple receivers, it will be intriguing to see which players inhabit the depth chart next season.
Of chief importance to many is the quarterback position. Will it be Blake Bell, or will Drew Allen steal the job? Only time will tell.
Beyond quarterback, numerous positions figure to have interesting personnel. Here are the projected starters and backups for the 2013 Sooner offense.
Begin Slideshow

»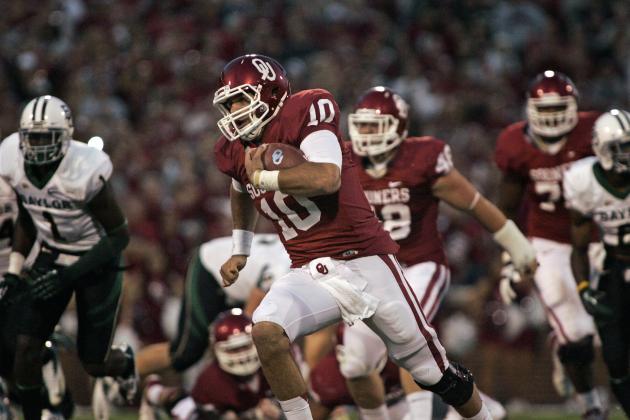 Brett Deering/Getty Images
Blake Bell
Starter: Blake Bell
Backup: Drew Allen
Current sophomore Blake Bell has taken advantage of his opportunities in the "Belldozer" package and has served as a key piece of OU's red-zone offense, scoring 24 touchdowns in his first two seasons.
With star senior Landry Jones departing, the 6'6", 254-pound Bell seems to be next in line to take the reins at quarterback.
Bell has proved he's an explosive runner; the real question is whether he can be a great passer like his predecessors. Coach Bob Stoops lauded Bell for his arm strength in a recent press conference (via Soonersports.com). If he proves to be an effective passer, he will be difficult for opposing defenses to slow down.
At this point, it's intuitive to believe Drew Allen will be Bell's backup. Allen will be a senior in 2013 and has seen action in 12 games since 2010, and he has been a fixture on the depth chart.
OU also has freshmen Trevor Knight and Kendal Thompson waiting in the wings; it will be interesting to see if the touted dual-threat quarterbacks get any action.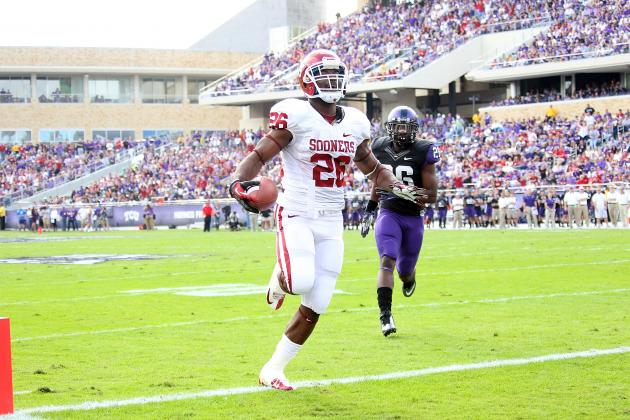 R. Yeatts/Getty Images
Damien Williams
Starter: Damien Williams
Backup: Brennan Clay
The Sooners will have a strong running back corps next season with leading rushers Damien Williams and Brennan Clay returning. Williams, a JUCO transfer, had an impressive debut season in Norman, running for 905 yards and 11 touchdowns and adding 301 receiving yards and a score.
With Dominique Whaley's prospects uncertain after suffering a season-ending ankle injury in 2011, Williams stepped up and proved to be the Sooners' most reliable and explosive tailback, running for touchdowns of 65, 66, 89 and 95 yards, the latter coming against Texas in one of the most memorable plays of the season.
Also expected to return to Norman is current junior Brennan Clay, who ran for 511 yards and six touchdowns this season. He should continue to complement Williams nicely and round out a balanced rushing attack.
Additional players who could see time include Roy Finch, who will be a senior next season, as well as current freshman Alex Ross.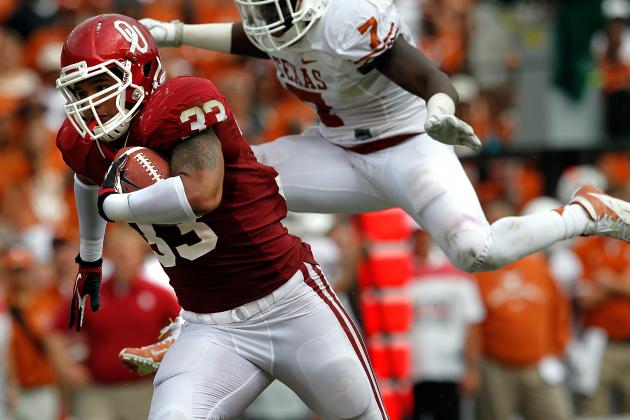 Tom Pennington/Getty Images
Trey Millard
Starter: Trey Millard
Backup: Aaron Ripkowski
It remains to be seen if dynamo fullback Trey Millard will return for his senior season. If he does, he should prove once again he's one of the most valuable fullbacks in the country.
Millard has been effective as a blocker, runner and receiver in his three seasons, and he will be a key part of the offense's success as long as he dons the crimson and cream.
Millard's backup (or the starter if Millard leaves) should once again be Aaron Ripkowski. The sophomore has played in 20 games and started the 2012 game against Texas. He will have big shoes to fill as Millard's heir apparent. At 6'1", 260 pounds, he shows promise as a blocker.
Justin K. Aller/Getty Images
Kenny Stills
Starter: Kenny Stills
Backup: Trey Metoyer
Kenny Stills is another junior who could potentially bolt for the NFL after this season. If he stays, expect him to once again be a top target for Blake Bell (or whoever else starts at quarterback).
Stills has lived up to his lofty expectations as a wideout, hauling in 197 passes for 2,527 yards and 24 touchdowns in three seasons.
If Stills decides to forgo his senior season, expect another highly touted recruit, Trey Metoyer, to step up and produce immediately. Metoyer is listed directly behind Stills on the depth chart and has considerable potential.
In fact, one of the surprises of the 2012 season was Metoyer's relative irrelevance in the receiving corps. But that is a reflection of the bevy of talent at the position and not a negative reflection of Metoyer. He is destined for greatness as a Sooner.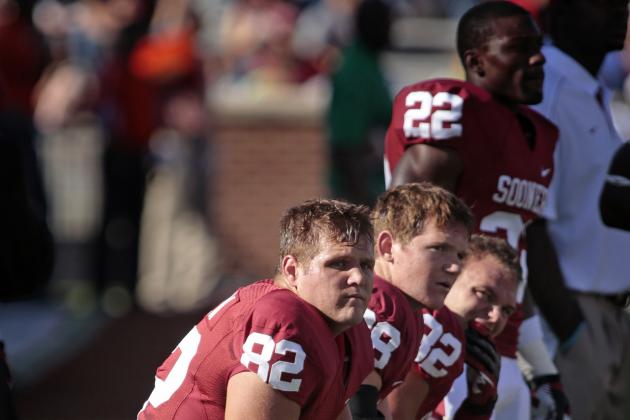 Brett Deering/Getty Images
Brannon Green
Starter: Brannon Green
Backup: Taylor McNamara
Brannon Green, another JUCO transfer, was another surprisingly quiet player in 2012. He is currently the only tight end listed on the depth chart, and the Sooners barely used him in the receiving game. Green did score one touchdown, however.
With a host of talent at wide receiver, the Sooners haven't used the tight end in the passing game recently, departing from years past when players like Trent Smith, Jermaine Gresham and James Hanna were key factors in the aerial attack.
It will be interesting to see if Green is more of a factor for his senior season in 2013, or if he continues to be used only occasionally as a blocker.
Behind Green on the depth chart should be Taylor McNamara, who started the season opener in 2012 as a true freshman but had a season-ending shoulder injury and earned a medical redshirt.
McNamara, a highly touted prospect, should see plenty of action as long as he recovers from shoulder surgery.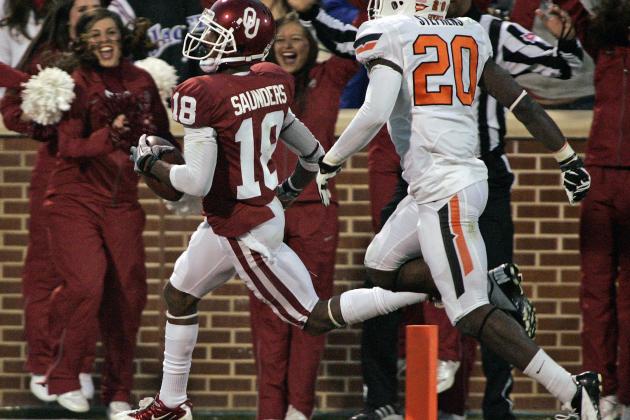 Brett Deering/Getty Images
Jalen Saunders
Starter: Jalen Saunders
Backup: Sterling Shepard
Former Fresno State wideout Jalen Saunders was arguably the offensive MVP for the Sooners this season. He acclimated very quickly and recorded 53 catches for 766 yards and three touchdowns in only eight games. He also took back a punt for an 81-yard touchdown in the Bedlam Game against Oklahoma State.
Backing up Saunders should be Sterling Shepard, a promising target who played in all 12 games as a freshman in 2012. Shepard caught 41 passes for 578 yards and three touchdowns.
Shepard will get plenty of reps as long as he's healthy, and he is one of several young wideouts brimming with potential.
Also keep an eye on Durron Neal, yet another viable option who has three seasons of eligibility ahead of him.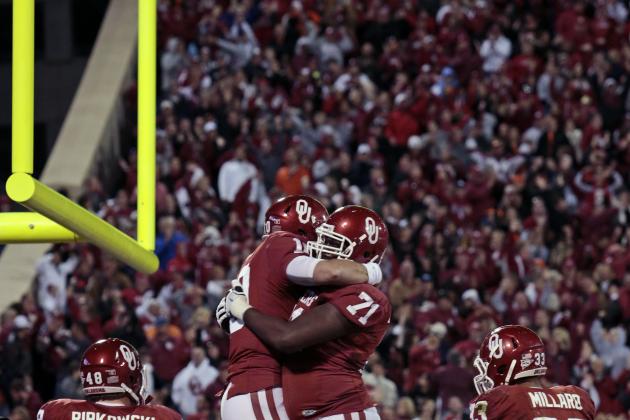 Brett Deering/Getty Images
Tyrus Thompson (71)
Starter: Tyrus Thompson
Backup: Derek Farniok
Tyrus Thompson will be a redshirt junior in 2013 and has logged considerable experience on the O-line. At this point, it's logical to expect him to take over the left tackle position from the departing Lane Johnson.
Johnson was very reliable and will be missed, but Thompson has the capability to be effective in defending the next Sooner quarterback's blind side.
It's difficult to say who will be Thompson's backup, as the Sooner O-line in general has been like a jigsaw puzzle in recent seasons, with many players seeing action and the rotation subject to constant change due to injury.
However, Derek Farniok, a 6'9" redshirt freshman, is currently listed as the second-string right tackle and could win the backup left tackle role. If he doesn't, a sizable pool of linemen could compete for the position.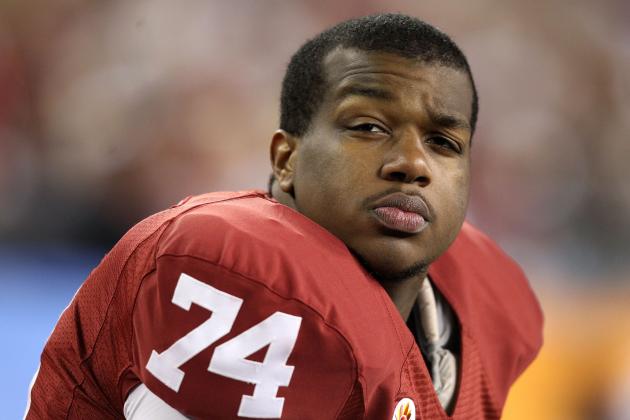 Christian Petersen/Getty Images
Adam Shead
Starter: Adam Shead
Backup: Austin Woods
Adam Shead started every game of the 2012 regular season at left guard and should retain his role on the first string in 2013.
Shead, a 6'4", 307-pound sophomore, has had plenty of experience in his young career; he also played in 10 games with five starts as a redshirt freshman in 2011.
Behind Shead should be Austin Woods, a long snapper and Academic All-Big 12 first-team selection in 2011.
Although he may not see much of the limelight on the gridiron, Woods is an inspiration for football players of all ages. He has managed to continue playing football while undergoing chemotherapy for Hodgkin's lymphoma. He recently learned the cancer is in remission, and he continues to bravely don a Sooner uniform (via Newsok.com).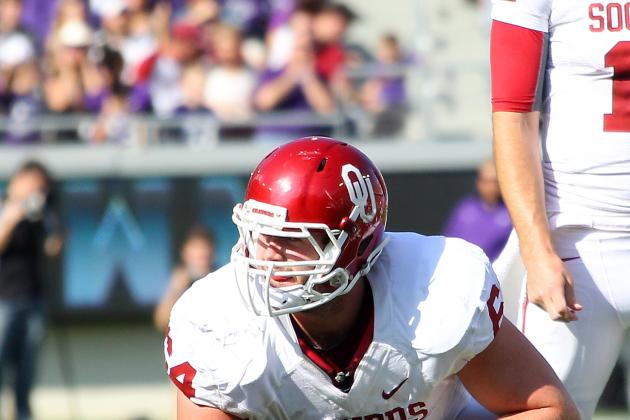 R. Yeatts/Getty Images
Gabe Ikard
Starter: Gabe Ikard
Backup: Ty Darlington
Gabe Ikard has been a rock at center for the Sooners the past three seasons. He recently received All-Big 12 first team honors for the second consecutive year. Perhaps more impressive is his three Academic All-Big 12 first team selections and 4.0 GPA.
Ikard has succeeded at both center and guard and has started 36 games for the Sooners. His presence will be key for the Sooners once again next season, assuming he resists the NFL.
Behind Ikard should be Ty Darlington. Darlington, the former No. 2 center recruit (according to Scout) and a U.S. Army All-American, should shine whenever he gets consistent playing time. Look for him to inherit the starting job after Ikard departs.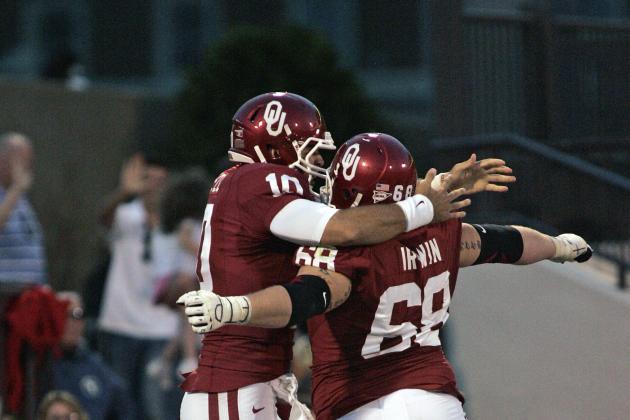 Brett Deering/Getty Images
Bronson Irwin (68)
Starter: Bronson Irwin
Backup: Austin Woods
Bronson Irwin will bring reliability, size and experience to the right guard position once again next season. The 6'5", 307-pound junior started every game in 2012 and has had valuable experience since his freshman season in 2010.
In addition to being backup left guard, Austin Woods is also listed as Irwin's backup. Another player could work himself into the mix, but right now it's safe to assume Woods will be the backup at both guard positions.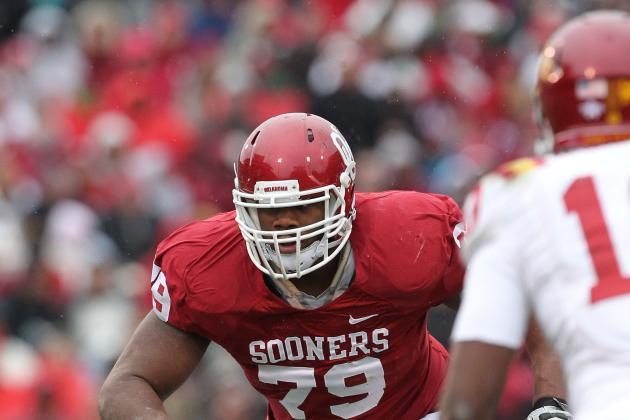 Matthew Emmons-USA TODAY Sports
Daryl Williams
Starter: Daryl Williams
Backup: Tyrus Thompson
Daryl Williams started all but the last two games of the 2012 regular season at right guard, and he is in line to be the starter at left tackle next season.
His first priority, however, is regaining his health. He is currently nursing a knee injury and will miss the upcoming Cotton Bowl matchup with Texas A&M.
Tyrus Thompson is currently filling in for Williams and should start at right tackle in the Cotton Bowl. Thompson will probably start at left tackle next season, so ideally another lineman will take his spot as the backup right tackle.
Possibilities to inherit this role include John-Phillip Hughes, Nila Kasitati and Derek Farniok, among others.