Browns vs. Broncos: Denver's Biggest Winners and Losers from Week 16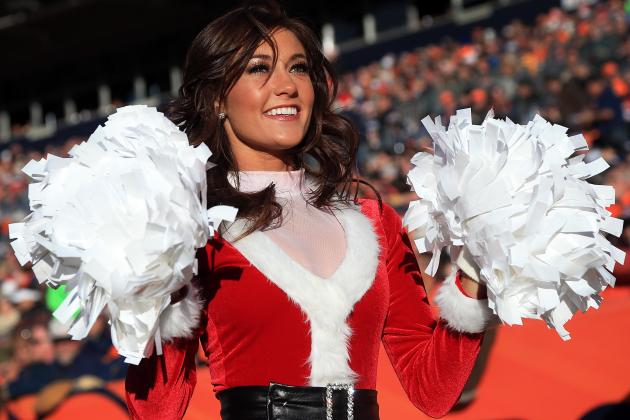 Doug Pensinger/Getty Images

The Denver Broncos continued their winning ways by beating the Cleveland Browns today, 34-12.
The win improved the Broncos' win streak to 10 and their season record to 12-3.
With the playoff picture really beginning to take shape, the win keeps Denver in the hunt for home-field advantage and a first-round bye.
Denver is currently playing as well as anyone in the NFL. Its 10-game streak is the best in the league, and it seems to playing its best football down the stretch.
Over the past month the Broncos have outscored their opponents by a total of 125-65.
If the Broncos can beat their divisional rival Kansas City Chiefs next week, they will qualify at worst for the No. 2 seed in the AFC.
Here are the biggest winners and losers from Week 16.
Begin Slideshow

»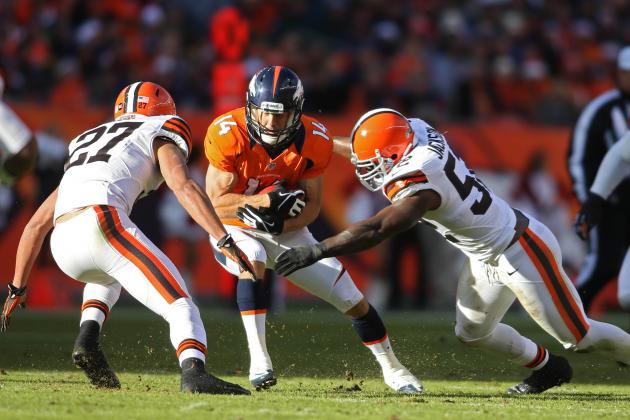 USA TODAY Sports

What's the big deal with a 5-yard pass interference penalty?
The Broncos ended up converting a first down. So who cares?
It was a dangerous play.
With just under five minutes in the second quarter, the Broncos faced a 3rd-and-5 on their 11-yard line.
Denver quarterback hit wide receiver Demaryius Thomas for a 32-yard pass play to convert the third down.
But the play was called back on an offensive pass interference penalty against Bronco receiver Brandon Stokely.
The Broncos were backed up five yards and replayed the down. Manning hit running back Knowshon Moreno for 12 yards and converted the first down.
Replays showed Stokely lining up Cleveland cornerback Sheldon Brown and blasting him with an illegal blind-side hit that freed up Thomas.
Not only was the play illegal. It was dangerous.
Stokely may be cutting a check to the NFL this week.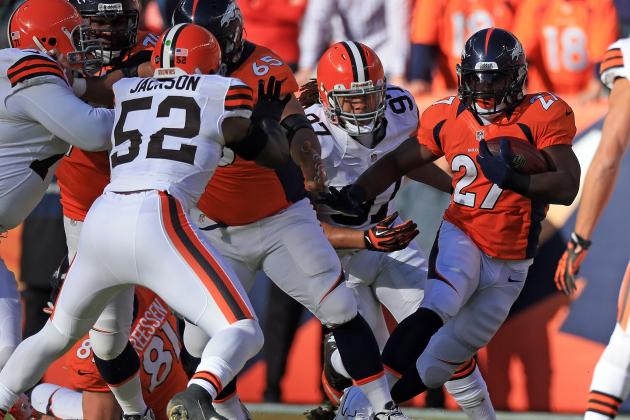 Doug Pensinger/Getty Images

Knowshon Moreno has been born again.
When Willis McGahee went down with a knee injury in Week 11, there was some concern as to whether the Broncos could find any way to replace his productivity.
Moreno started modestly rushing for 85 yards against Kansas City and then just 69 against Tampa Bay.
But Moreno has been on a tear lately.
He ran for 119 yards against Oakland, then last week he picked up 118 at Baltimore.
He only had 78 yards today but he ran hard. Oh, and he caught 5 passes for 49 yards.
It isn't that Moreno is breaking huge gains every week, but he is running extremely hard. He is punishing the defense, and he is holding on to the football.
Keep an eye on Knowshon next week. He averages 108 yards per game against Kansas City.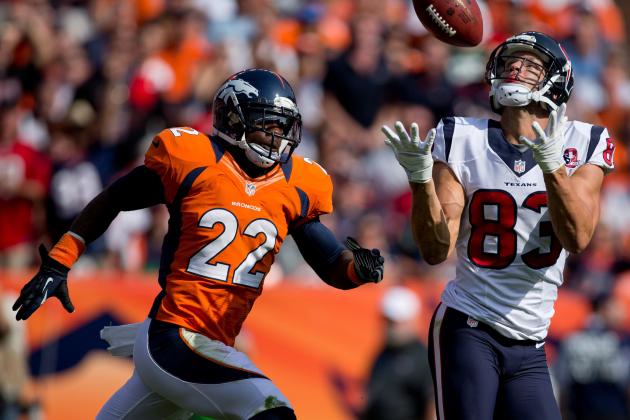 Justin Edmonds/Getty Images

You have to feel bad for Denver cornerback Tracy Porter.
Out since Week 5 with seizure symptoms, Porter returned today only to leave the game after just three plays with a concussion.
Forget football.
Here's hoping that Porter can recover and return to full health.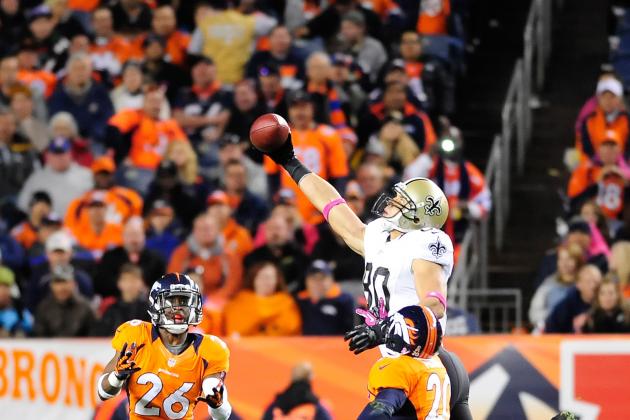 Byron Hetzler-USA TODAY Sports

These two have been a major of concern for me all season.
They played very well today.
Moore had two solo tackles and broke up a pass. He nearly had an interception for a touchdown early in the second quarter. Moore seems to be improving each week.
Adams had a very nice game today against his former teammates.
He logged four tackles and broke up two passes.
Adams also registered a big hit on Browns backup quarterback Colt McCoy on a safety blitz in the fourth quarter.
The Broncos safeties have been a weak link on this defense.
If their play continues to improve, it is going to make things very tough for Denver opponents.
Doug Pensinger/Getty Images

Another penalty makes our list, but this one is for completely different reasons.
On the opening drive of the third quarter, Browns quarterback Brandon Weeden faced a 2nd-and-1 on the Bronco 46 yard line.
Weeden dropped back to pass then scrambled for two yards and a Cleveland first down before sliding feet first to escape a hit and a possible injury.
As Weeden slid, Bronco cornerback Champ Bailey dropped down to cover Weeden and prevent him from gaining any additional yardage.
There was no hit involved.
Bailey simply covered Weeden lightly.
The game officials threw a flag on Bailey for a personal foul and penalized the Broncos 15 yards which put them in field-goal range. The Browns gained one more yard before settling for a 53-yard field goal by kicker Phil Dawson.
I understand the concerns that the NFL has about player safety.
I understand that they are trying to keep quarterbacks healthy.
Bailey basically gave Weeden a soft hug.
This had nothing to do with player safety. This was simply the officials feeling that they had to follow the rules despite common sense.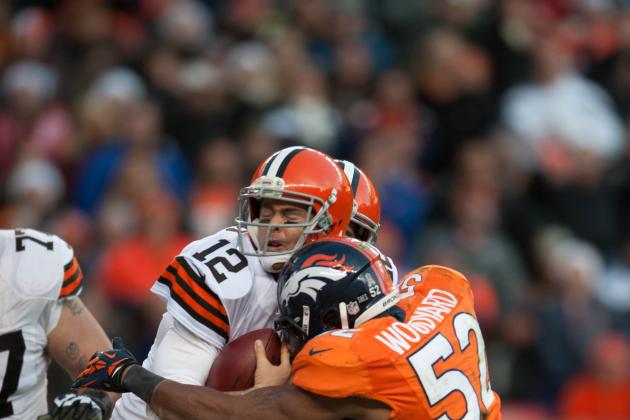 Dustin Bradford/Getty Images

Wesley Woodyard turned in yet another top-notch performance.
Woodyard has gone from primarily a special-teamer to a major defensive force.
He finished the game today with eight tackles, 1.5 quarterback sacks, one tackle for loss and two quarterback hits.
That's a pretty full day.
On the year, Woodyard has a team-leading 113 tackles and 5.5 sacks.
He is a major reason for the Broncos improvement defensively this season.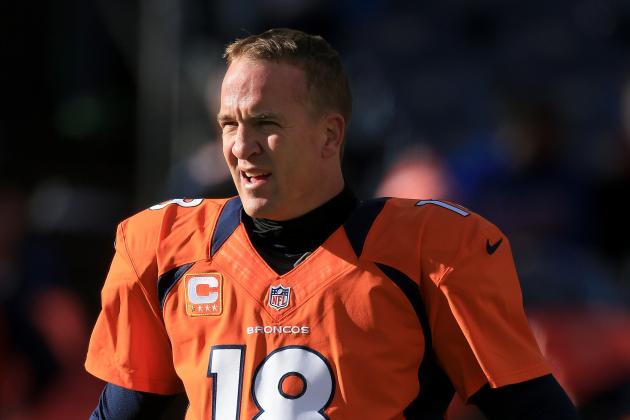 Doug Pensinger/Getty Images

OK, so maybe Peyton is human after all.
Late in the second quarter, the Broncos held a 14-3 lead. The Broncos offense had driven to the Cleveland 10-yard line and were looking to extend their lead.
Peyton Manning forced an ill-conceived pass intended for Knowshon Moreno that was intercepted by Cleveland safety Usama Young. The Browns were able to take a knee and end the half.
Sure it only cost the Broncos some momentum today.
But the stakes are going up each week.
At worst, Denver should have gone into halftime leading 17-3.
Sometimes the best play a quarterback can make is the one they don't make.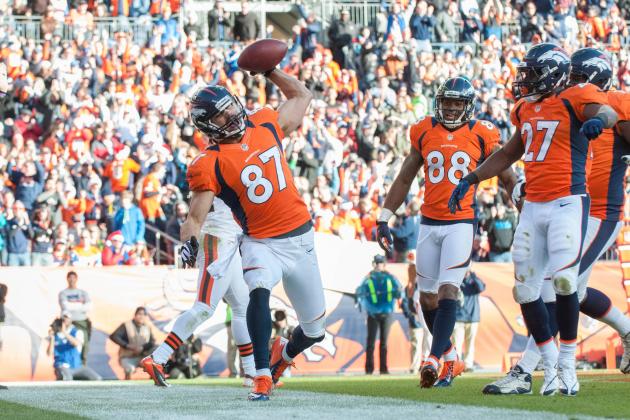 Dustin Bradford/Getty Images

I had initially thought this slide would be dedicated to a single receiver.
But which to choose?
Demaryius Thomas bounced back in a big way from a mediocre performance last week. Thomas finished today's game with nine catches for 102 yards and a touchdown.
Tight end Jacob Tamme had just two catches but both were big gains. He finished with 69 yards.
Eric Decker continued his hot streak, grabbing six balls for 65 yards and yet another touchdown.
Brandon Stokley had a very productive game with five receptions for 32 yards. His catch of a pass that deflected off Decker's hands may have saved a potential interception.
The Denver wide receivers stepped up big today and dominated the Cleveland secondary.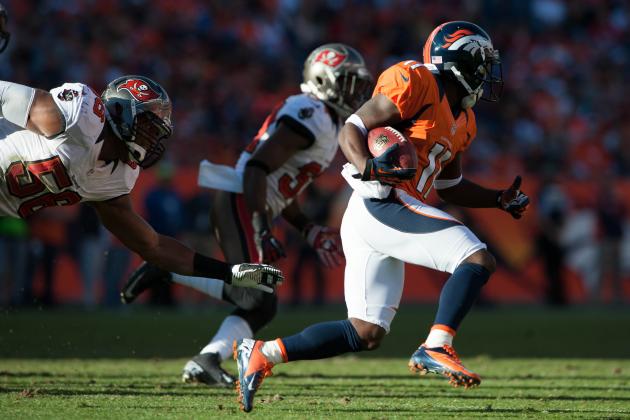 Dustin Bradford/Getty Images

This group makes the loser section again.
Britton Colquitt punted three times for a 49-yard average.
Matt Prater was perfect on the day going 2-of-2 on field goals and 4-of-4 on extra points.
Lance Ball even recovered a fumble on a muffed punt by Browns returner Josh Cribbs.
So why the negative feedback?
Well for starters they did allow Cribbs two sizable returns. Cribbs returned two kickoffs for a 30-yard average.
But it is primarily for the Denver returners.
It seems to be feast or famine for the Bronco returners.
Midway through the second quarter, the coaches sent veteran Jim Leonhard in to field a punt. Leonhard is primarily used in cases where the ball will be caught deep, so ball security is very important.
Leonhard muffed the punt and was forced to recover the ball on the Denver 6-yard line.
Trindon Holliday was sent out for a in the fourth quarter. A poor punt allowed Holliday to field it at the Cleveland 33-yard line.
Another muffed punt.
Fortunately Chris Harris was there and recovered the loose ball.
The Broncos special teams have got to tune up their game for the playoffs or they could cost this team in a big way.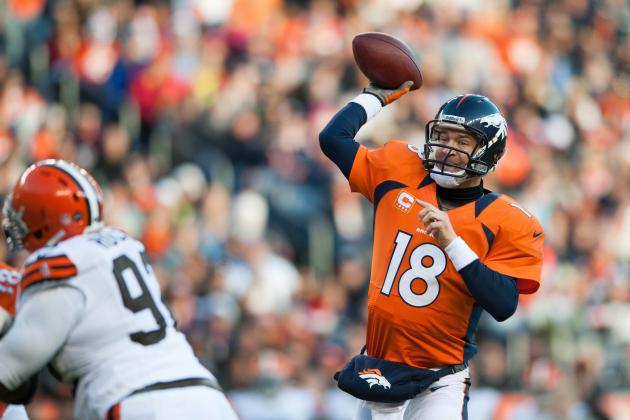 Dustin Bradford/Getty Images

Yes, Manning did have the red-zone pick.
But he absolutely controlled this game.
Manning finished the game 30-of-43 for 339 yards and three touchdowns.
Even his interception seemed to make him even more focused and intense.
Peyton Manning carved up the No. 24-ranked defense.
The Browns are allowing 247 yards per game. Manning had over 300 in just three quarters.
He is completing 68 percent of his passes this season, and he has broken the Broncos' single-season record for passing touchdowns with 31.
And he still has another week to add more.
Manning was incredibly sharp on Sunday.
On a day when both Patriot quarterback Tom Brady and the Texans' Matt Schaub struggled, Manning looks to be in playoff form.
That is great news for Bronco fans.