10 Ways to Improve the WWE Product in 2013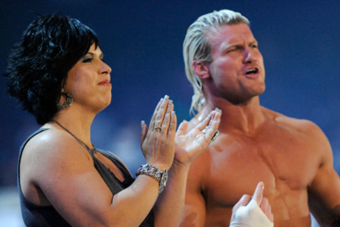 Photo courtesy of WWE.com
Everyone knows that the WWE is far from perfect.
The company made some big improvements in 2013, like giving its World champions lengthy title runs and improving the tag team division.
But it still has a ways to go.
In 2013, the WWE will have to continue to make improvements to its product by changing the way it goes about certain things.
There are some major issues that will take a lot of time to fix, but there are other more minor ones that could be fixed rather easily.
Here are 10 ways to improve the WWE product in 2013.
Begin Slideshow

»
One of the most frustrating things about the WWE is the way it turns its superstars face or heel without giving us an explanation as to why it happened.
A couple of examples: Primo and Epico and Alicia Fox.
Primo and Epico turned face against the Prime Time Players earlier this year, but not long afterward, they were back to being heels again.
Did I miss something? Because I don't remember seeing any explanation for their turn whatsoever. They seemed to turn just to turn.
Similarly, Alicia (and Divas like Natalya as well) flip-flopped from heel to face so many times that it's next to impossible to know whether she's a villain or a fan favorite when she comes out for a match.
Whenever a turn happens without an explanation, it only does so because the creative team is too lazy to give us an explanation.
But if someone suddenly goes from aligning himself with faces to being paired with heels, a simple explanation would suffice.
Most of the WWE's attempts at "comedy," well, simply aren't very funny.
One obvious exception to that rule, however, has been Team Hell No, as Kane and Daniel Bryan performed in some of the funniest segments in years in 2012.
Hilarious skits involving those two that come to mind including the "stress balls" segment on SmackDown and Kane's story about his childhood, which was probably the funniest WWE skit we saw all year.
After seeing the great effort put into these Kane/Bryan skits, I have to ask: Why can't all of the WWE's comedy segments be this good?
Clearly, the creative team can come up with entertaining material when it wants to. The "anger management" skits prove that.
Since comedy will always be a major part of the WWE, the company needs to look to the Team Hell No segments as examples of what type of comedy actually works.
If the WWE could have legitimately funny comedic segments like these more often, Raw and SmackDown would be much more entertaining.
The WWE must think that we have short-term memory loss.
That's the only possible explanation (OK, not really) as to why we get overloaded with replays throughout episodes of both Raw and SmackDown.
Raw is particularly ridiculous with showing about a hundred replays of events that transpired earlier in the show. Meanwhile, SmackDown uses far too much time showing replays, sometimes in the form of entire segments, from the same week's Raw.
It's fine to show some replays as a way to focus on some of the bigger storylines. But the WWE often goes overboard with them.
Remember seeing this great Brock Lesnar promo about 10 times in one Raw episode? That was absurd.
Just because something is deemed important by the WWE, that doesn't mean we need to see it five, six or seven times in one show.
Once or twice is certainly enough.
Just look back at how many superstars made their WWE debuts/returns in 2012 by squashing enhancement workers.
Brodus Clay, Ryback, Damien Sandow, Antonio Cesaro and Wade Barrett all did this, and it got really old really quickly.
Seeing so many superstars debut/return in the same exact way made it much more difficult for these guys to stand out right away and is nothing more than a sign of laziness from the creative team.
On the opposite side of the spectrum, just look at The Shield. They debuted as part of a major storyline, and roughly a month into the group's main roster, it has already made a huge impact in the company.
If the WWE were to have its debuting/returning superstars come back as part of some sort of angle rather than in squashes, it would do much more for that particular star.
Having a guy come back and squash people for a few months is the WWE's way of saying, "This guy could be important, but we're not exactly sure what to do with him yet."
But having a guy come back or debut in an upper midcard or main event-caliber feud says, "You better pay attention to this dude. He's going to be a big deal."
There are very few things that are more frustrating for wrestling fans than seeing the same feud over and over again.
But in 2012, we still saw plenty of rivalries that we've already seen before.
Wade Barrett vs. Kofi Kingston, John Cena vs. The Big Show and Cena vs. CM Punk are just a few examples of recycled feuds that we saw in 2012 despite already seeing them at least once before then.
The WWE now has enough talent on its roster where there should be very few, if any, feuds that seem stale or repetitive.
With a ton of up-and-coming stars hovering on the borderline of the main event, we should see plenty of rivalries that have a fresh feel to them in 2013.
There's no reason to keep having the same guys feud multiple times anymore. With a suddenly stacked roster, t's time to do something different.
How many matches do you feel like you saw at least five or 10 times this year? Probably a lot, huh?
There has been a ridiculous amount of matches that, quite simply, happened way too often in 2012.
Alberto Del Rio vs. Zack Ryder, Santino Marella vs. David Otunga, Sheamus vs. Dolph Ziggler, Wade Barrett vs. Randy Orton, Barrett vs. Sheamus, Brodus Clay vs. JTG, The Miz vs. Kofi Kingston.
The WWE made a really bad had habit out of having the same TV matches far too many times. In the case of many of those repeat matches, like Sheamus vs. Ziggler, they were not part of any real extended rivalry.
The repeat matches cause two main problems: They ruin possibly fresh feuds before they could happen, and they bore us to death.
In the case of something like Sheamus vs. Barrett this could have been a World title rivalry down the road, and a really entertaining one at that. But because the match happened quite a few times on TV this year, it won't feel so special anymore.
Here's an idea, WWE: Stop booking the same match over and over again, especially if it's not part of an actual feud/storyline.
A big part of pro wrestling is the drama that is created by its feuds, storylines and matches.
Unfortunately for the WWE, if often creates some really bad soap opera-like drama that is best reserved for daytime TV.
Angles with soap opera elements that immediately come to mind are the AJ/Cena "scandal," the "who done it?" mystery surrounding the attack on Kaitlyn and the "embrace the hate" catastrophe.
It's not a coincidence that these storylines all ranked among the WWE's worst angles of the year.
They were too over-the-top, corny and, honestly, unbelievable, and as a result, they had a very limited appeal.
The older male demographic isn't going to be all that interested in a story that looks like it should be taking place on Days of Our Lives rather than Monday Night Raw.
The WWE always will have certain elements of drama in its storylines, and it should. But it also should limit the amount of bad "drama" that seems like a cross between a soap opera and a horribly-written teen flick.
Despite what those within the WWE obviously believe, the company does not need on-screen authority figures.
Both Raw and SmackDown have devoted an absurd amount of TV time to its GMs or "Managing Supervisors" in 2012. Yet, those positions are completely necessarily.
Here's why: If matches and segments take place without the GM making them, then the GM never has to make them.
For example, why would Dolph Ziggler have a match with Sheamus on Raw if his manager, Vickie Guerrero, is the one who's running the show?
The logic gaps here are huge, and it's resulted in a WWE hierarchy of power that, to be frank, just doesn't make any sense whatsoever.
There's no reason to have on-screen authority figures if Triple H and Vince McMahon can all come in and override their decisions despite technically being removed from positions of power in the past.
No one needs to run Raw or SmackDown. The show can run itself, and it would probably be better off if that was the case.
The Big Show's current dominant run is a perfect example of what a heel can accomplish if the WWE books him the right way.
Far too often, the company books its heels to be cowards. For the most part, it hasn't done that with Big Show.
Big Show has looked like an unstoppable beast over the past few months, and that's happened in large part because he picked up two huge PPV victories over Sheamus, a babyface who almost never loses.
Now, just imagine what it would do for a guy like Dolph Ziggler or Wade Barrett to be pushed like that..
If Barrett, Ziggler or any other up-and-coming heel were booked to win on a more consistent basis, the WWE would be better off because of it.
The heels would look like equals to the babyfaces rather than inferiors, and the WWE would have a much more evenly-balanced playing field.
One of the WWE's biggest problems is that its top faces look far too strong. But if more heels were booked like Big Show has been, that could easily change.
Especially in the latter half of 2012, the WWE booked itself into a corner far too often.
Much of that booking dealt with Ryback and the WWE Championship picture, when the WWE put itself into a situation where Ryback couldn't win the WWE title but couldn't afford to lose it, either.
That's just one example, though. There have been far too many times when the WWE screwed itself over with its own booking, which has been really detrimental to the WWE product.
A lot of that has to do with the lack of long-term planning.
If the WWE planned out its feuds and storylines further in advance, then it could work backward and have a better idea of what it should do week in and week out.
But because the WWE books its angles on the fly, it forces itself into awkward situations where, no matter the outcome, someone will be worse off because of it.
The WWE has to correct that in 2013.
For the sake of the company's long-term future, it can't book itself into a corner and then do something stupid to get out of it. Not anymore.
Drake Oz is a WWE Featured Columnist for Bleacher Report. Follow him on Twitter!