Going Old School: Giving a Name to Every UFC Pay-Per-View Card from 2012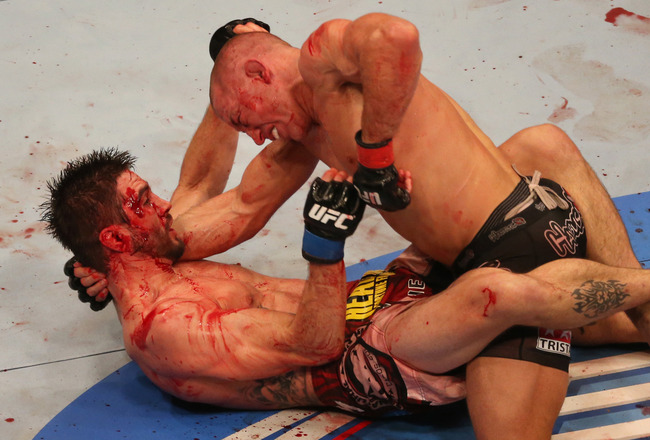 Tom Szczerbowski-USA TODAY Sports
The old-school days of the UFC saw the company name its pay-per-views with a word rather than who was fighting in the main event (i.e. dos Santos vs. Velasquez).
These days, you never see UFC pay-per-views get a specific, oddball type of name like the old days. Perhaps that's a good thing, but either way, here are some names from every pay-per-view card of 2012.
UFC 142: Celebration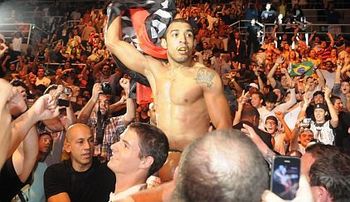 sbrforum.com
In looking at the name I just gave UFC 142, it is seemingly a stupid name (like most were in the old days). However, in hindsight, the name is quite appropriate.
After the main event, Jose Aldo ran out of the cage and continued to have the most epic celebration in MMA history.
Therefore, the name makes sense now.
UFC 143: NBK vs. 209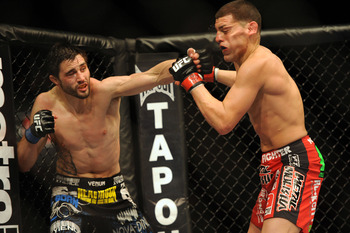 Kelvin Kuo-USA TODAY Sports
It's hard to really think of a moniker for UFC 143, so I just made it Nick Diaz's area code vs. Carlos Condit's nickname initials.
Nothing fancy, just numbers and letters.
UFC 144: Champion Rising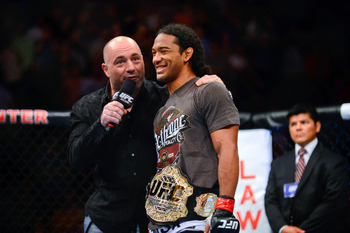 Ron Chenoy-USA TODAY Sports
Japan is the "Land of the Rising Sun." At UFC 144, the UFC returned to Japan.
In Japan, at UFC 144, Benson Henderson became the lightweight champ by beating Frankie Edgar.
So, UFC 144: Champion Rising is what I came up with.
Get it? Good.
UFC 145: Betrayal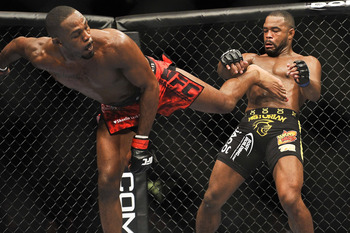 Paul Abell-USA TODAY Sports
Jon Jones and Rashad Evans had a bitter, long-standing rivalry due to what Rashad Evans saw as betrayal and back-stabbing.
UFC 145 brought their feud to a physical level.
Whether or not they swore to never fight each other, "betrayal" is the best event name to go with.
UFC 146: Heavy Hitters II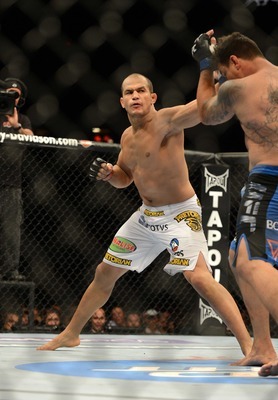 Ron Chenoy-USA TODAY Sports
UFC 146 had a main card with all heavyweight fights. It was a gamble, but it sure worked out.
All five of the fights on the main card were finishes. Four of those were knockouts.
UFC 146: Heavy Hitters II is almost too obvious to use.
UFC 147: Champion's Pride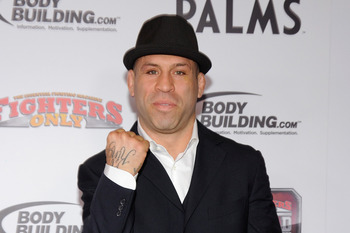 Ethan Miller/Getty Images
Former UFC middleweight champion Rich Franklin stepped up on late notice to take on former Pride champion Wanderlei Silva in the main event of UFC 147. The fight was a rematch from their earlier encounter in the UFC.
This fight really had no implications of pushing either man forward in their career. It was simply put on to please the fans.
Both men fought for pride more than anything.
UFC 148: Grudge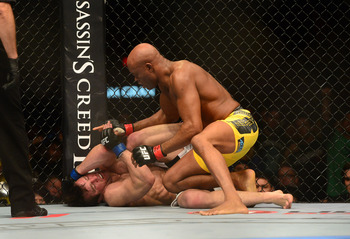 Mark J. Rebilas-USA TODAY Sports
If there was ever a grudge match in UFC history, you could choose either of the Anderson Silva-Chael Sonnen encounters.
Both men seemingly hated each other guts. It was an intense feud that provided seven rounds of excitement.
UFC 149: Clinch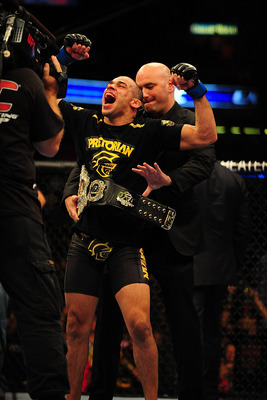 Anne-Marie Sorvin-USA TODAY Sports
The only things I remember about UFC 149 is that the pay-per-view was boring and there was a lot of clinch work against the cage.
That's about it.
UFC 150: Rocky Mountain Rematch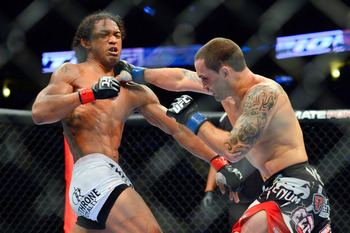 Ron Chenoy-USA TODAY Sports
UFC 150 saw a rematch from UFC 144 for the lightweight title, as Frankie Edgar met Benson Henderson in Colorado.
Colorado is the Rocky Mountain state, hence "Rocky Mountain Rematch."
UFC 152: Gold and Leather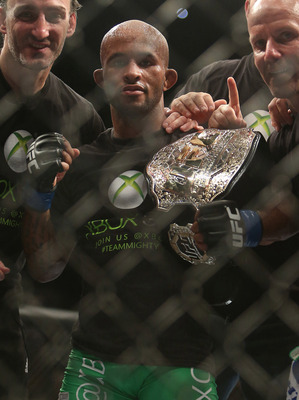 Tom Szczerbowski-USA TODAY Sports
UFC 152 had two championship bouts on the card. Jon Jones defeated Vitor Belfort to retain the light heavyweight strap, while Demetrious Johnson edged Joseph Benavidez for the inaugural flyweight belt.
Gold and leather was abundant in Toronto.
UFC 153: Heroes Return
Tom Szczerbowski-USA TODAY Sports
UFC 153 looked to be doomed when the big fights on the card were scratched.
Behold the power of fighting in your home country, as Anderson Silva and Antonio Rodrigo Nogueira both stepped up and took the top two fights on the card to salvage what could have been a big loss.
They were heroes for saving the card, and they were home-country heroes fighting in front of their countrymen.
UFC 154: Return of the King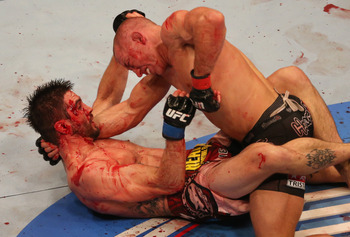 Tom Szczerbowski-USA TODAY Sports
Georges St-Pierre is undoubtedly the king of the welterweight division. He is also a king of pay-per-view buys for the UFC.
UFC 154 marked his long-awaited return from injury, when he defeated Carlos Condit.
UFC 155: New Year's Revolution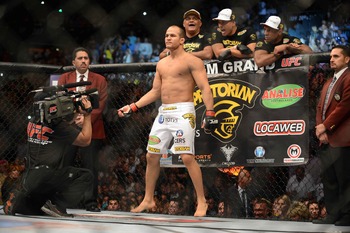 Ron Chenoy-USA TODAY Sports
UFC 155 is coming up this weekend, so a name based on hindsight is impossible.
However, it is the last card of the year and is close to the new year.
UFC 155: New Year's Revolution is an easy choice here.
Keep Reading