NFL Week 16 Told Through GIFs, Tweets and Instagrams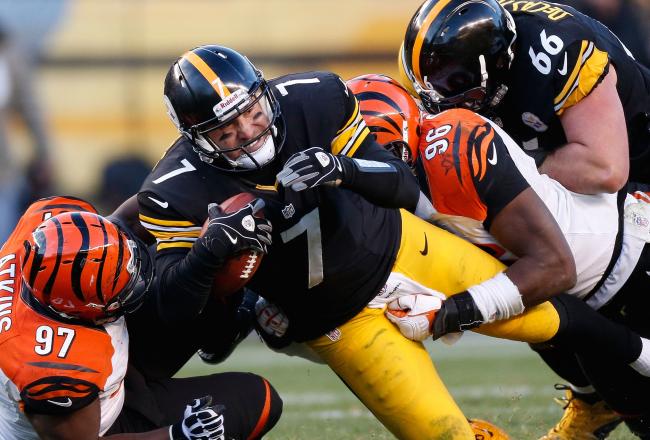 Gregory Shamus/Getty Images
If Week 15 was statement week, Week 16 could be called elimination week. A few teams had their playoff hopes officially extinguished.
The Pittsburgh Steelers and St. Louis Rams can prepare for the offseason, and the New York Giants and Dallas Cowboys are on the brink.
Those games are a part of the week's featured stories, but first...
My GIFs to You
Jacoby Jones Wins the Award for Best TD Dance...But it Didn't Count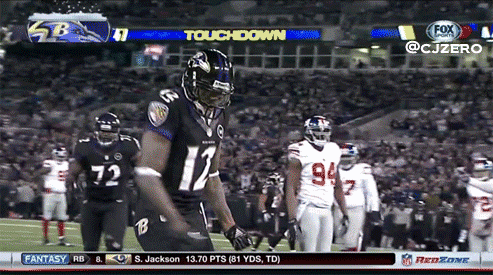 Boom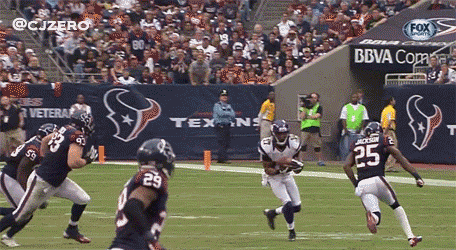 David Wilson Still Flipping Out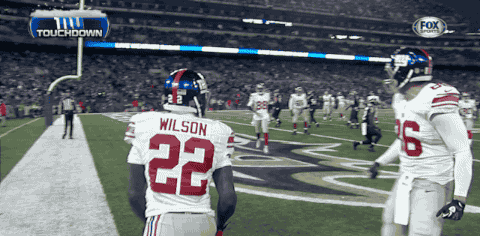 Patrick Peterson Isn't Interested In Anything Written On That Paper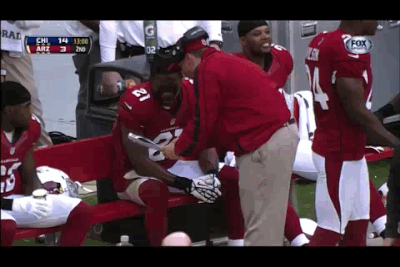 The Top Stories
The Super Bowl Champs are Almost Done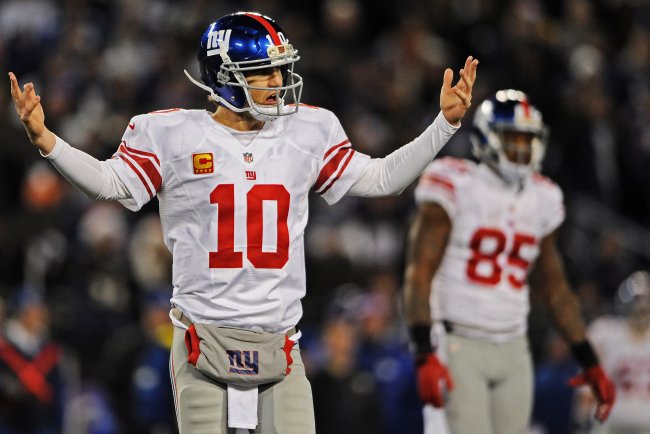 Patrick Smith/Getty Images
Will the Giants make the playoffs?
The New York Giants have gone from hoisting the Lombardi Trophy, to nearly eliminated from the playoffs the following season. Their 33-14 loss to the Baltimore Ravens on Sunday has all but knocked them out of the NFC playoff picture for good.
The Ravens got off to a great start with a 24-7 halftime lead, and they never allowed the Giants back into the game.
The Giants' defense was victimized on the ground all day. Both Bernard Pierce (123 yards) and Ray Rice (107 yards) hit the 100-yard mark. The Ravens clinched the AFC North with the win.
At 8-7, the Giants can be eliminated in Week 17 by a variety of scenarios. Because of their loss on Sunday, just defeating the Philadelphia Eagles in Week 17 won't get them in. They need tons of help if they hope to have a shot at defending their title.
My, how the mighty have fallen.
SOURCES: The plants outside #Giants CB Corey Webster's house always die every winter. He's still trying to figure out how to cover them.

— NOT SportsCenter (@NOTSportsCenter) December 23, 2012
Tom Coughlin and Ahmad Bradshaw giving us the #Giants #StruggleFace twitpic.com/bonhyt

— CJ Fogler (@cjzero) December 24, 2012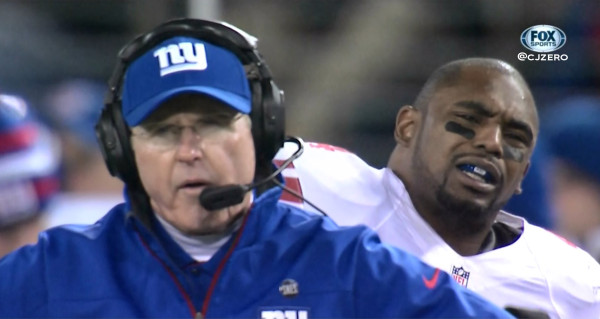 RGIII Returns and the Skins Are In Control in the NFC East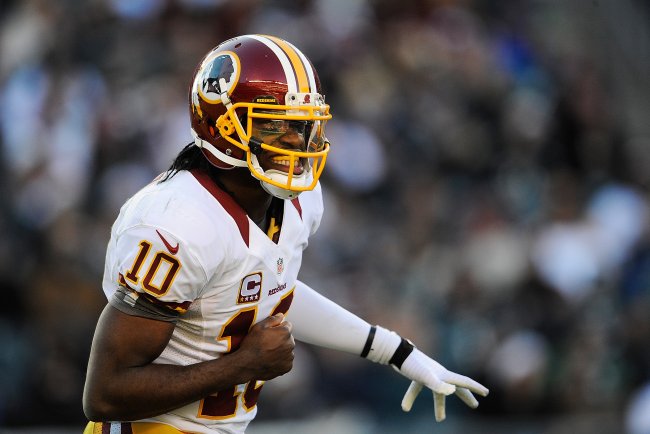 Patrick McDermott/Getty Images
Where should RGIII rank in the MVP race?
The Washington Redskins are firmly in control of their destiny in the NFC East. With both the Dallas Cowboys and Giants losing on Sunday, Robert Griffin III has his team in position to grab a very unlikely division crown.
RGIII threw two touchdowns en route to an impressive 27-20 road victory over the Philadelphia Eagles. It was the Skins sixth win in a row.
Rookie running back Alfred Morris chipped in 91 yards and a touchdown in what has been a great season. The Eagles had an opportunity to tie the game at the end of regulation, but Nick Foles was called for an intentional grounding on the last play of the game.
With reports that Andy Reid will be fired at the end of the season, per Fox News, this was likely to be his last home game as coach of the Eagles.
#Redskins fans waved this banner in Philly. Thank you to all of our fans for their support today. #HTTR #WeWantDallas twitter.com/Redskins/statu…

— Redskins (@Redskins) December 23, 2012
Nick Foles has been ok taking what defenses give him, the trouble comes when the #Eagles need him to make the play. #TheyNeedAQB

— Ryan Lownes (@ryanlownes) December 23, 2012
Dallas Comes Up Short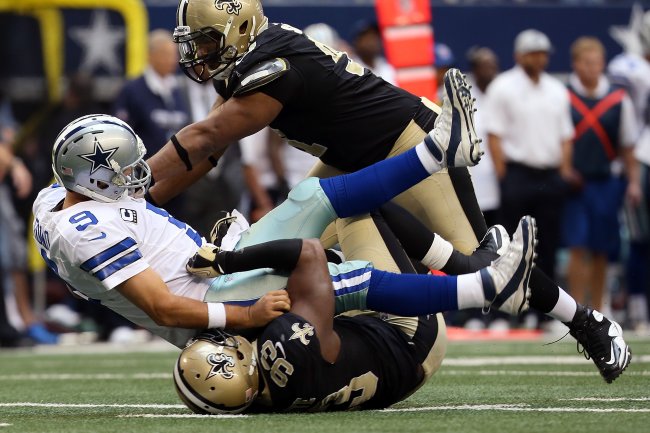 Tom Pennington/Getty Images
Despite a furious 14-point comeback in the fourth quarter to force overtime, the Dallas Cowboys came up short in the extra session.
The Cowboys had the ball first, but were forced to punt the ball to Drew Brees and the Saints' offense. They wouldn't see it again.
Brees drove the offense into field goal range, and Garrett Hartley nailed a 20-yard field goal for the 34-31 win. Brees threw for 446 yards and three scores in a masterful performance.
The Cowboys are now set for an epic showdown against the Redskins in Week 17. The winner will be the NFC East champion.
In my Bart Scott voice: "can't wait."
The #Cowboys struggle pose #StruggleFace twitpic.com/bommza

— CJ Fogler (@cjzero) December 23, 2012
#Cowboys: Jerry Jones 'real pleased' with Jason Garrett, has 'no thoughts' of replacing him as head coach:bit.ly/V47z3N

— Cowboys Report (@cowboysreport) December 24, 2012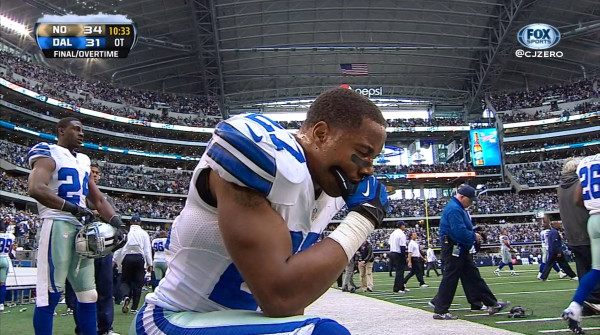 Bengals Claim their Spot and Eliminate the Steelers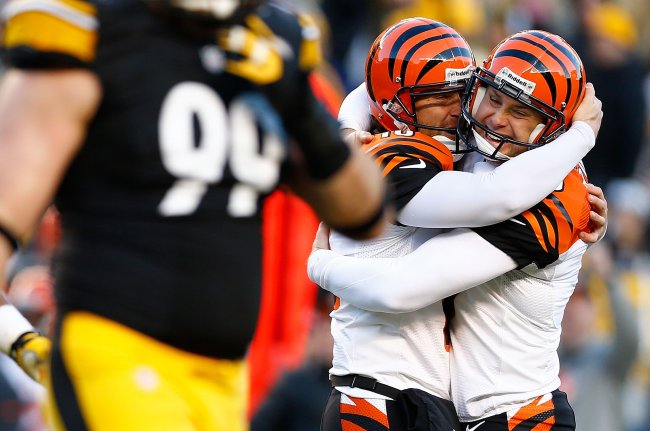 Jared Wickerham/Getty Images
What do the Steelers need to do to return to the playoffs in 2013?
The Cincinnati Bengals took advantage of their opportunity to claim a playoff spot with a 13-10 win. In the process, they officially eliminated the Pittsburgh Steelers from contention.
It was a physical game—as expected—but the Bengals' defensive line controlled the game.
Although Andy Dalton was dumped six times, the Bengals got to Ben Roethlisberger four times, and many of them came to stamp out crucial drives. A huge interception from Reggie Nelson late in the fourth quarter gave Dalton a chance to get his team in position for a game-winning field goal.
He didn't disappoint, and Josh Brown 43-yard field goal sent the Bengals into the postseason and the Steelers searching for answers.
#Bengals fans are handling playoff berth with grace. #Steelers fans doing equivalent of setting Twitter on fire.

— Matt Miller (@nfldraftscout) December 23, 2012
FIX: #Steelers now 7-8 in 2012 (lost 3 straight). Will be first non-winning season under head coach Mike Tomlin (2007-12)

— Russell S. Baxter (@BaxFootballGuru) December 23, 2012
Vikings Come Up Big in Texas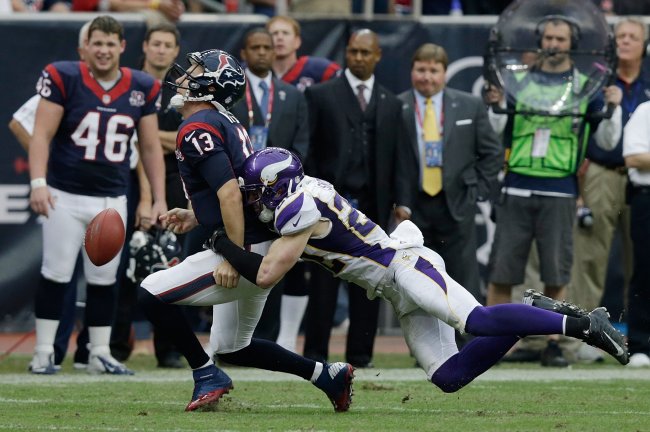 Scott Halleran/Getty Images
Are the Texans really and elite team?
The Minnesota Vikings grabbed the biggest road win of the season on Sunday: going into Houston and defeating a Houston Texans team that still had something to play for is impressive.
What was even more noteworthy was the fact that the Vikings did it without a monster game from Adrian Peterson. AP ran for a human 86 yards, but the Vikes' defense held the Texans attack in check.
The result was a dominating 23-6 victory for the Vikings.
Peterson is now 208 yards away from breaking Eric Dickerson's single-season rushing record, but more importantly, the Vikings can make the playoffs with a win in Green Bay on Sunday.
It's okay, #Texans Santa.Maybe next time. #Vikings #Skol #MINvsHOU twitter.com/VikingsFootbal…

— Minnesota Vikings (@VikingsFootball) December 23, 2012
Clearly #Texans decided not to show up against #Vikings. Arian Foster has been on bench forever, T.J. Yates in for Schaub w/ game in reach.

— Exavier Pope (@exavierpope) December 23, 2012
Colts Complete Amazing Turnaround With Playoff Berth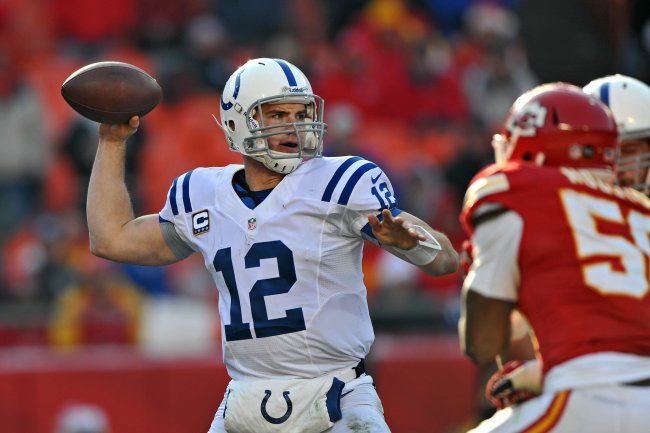 Peter Aiken/Getty Images
How far will theColts advance in the playoffs?
After going 2-14 in 2011, the Indianapolis Colts have responded with an inspired season. They clinched a playoff berth a year after securing the league's worst record.
The Colts' victims on Sunday can only hope to emulate their success in 2013.
The Kansas City Chiefs fell to 2-13 after the 20-13 defeat. The Chiefs came up short despite a great performance from Jamaal Charles. The Chiefs RB had 226 yards and one touchdown on the ground in a losing effort.
1 word means so much... PLAYOFFS.. Chuck's back.. We got a spot in the dance.. I love this team so much.. #CHUCKSTRONG #Colts

— Pat McAfee (@PatMcAfeeShow) December 23, 2012
#Colts are 2nd team to win at least 10 games a season after losing at least 14 (2008 Dolphins)

— ESPN Stats & Info (@ESPNStatsInfo) December 23, 2012
Other Scores
Packers 55, Titans 7
#Titans owner Bud Adams: "I like Mike (Munchak). But liking him and getting the job done are two different things." tnne.ws/RdDnFY

— Jim Wyatt (@jwyattsports) December 24, 2012
Dolphins 24, Bills 10
Very simply 32 losses in three seasons Should be unacceptable in every NFL city including Buffalo #Bills

— Mike Catalana (@MikeCatalana) December 23, 2012
Chargers 27, Jets 17
Mark Sanchez is selling peanuts in the stands this morning. He's thrown 5 bags bought by #Jets fans to #Chargers fans. He's still got it.

— NOT SportsCenter (@NOTSportsCenter) December 23, 2012
Rams 28, Buccaneers 13
The #Bucs have not won a game in December since 2010... #Rams get the road win, 28-13.#NFLSunday

— FOX SPORTS: NFL (@NFLONFOX) December 23, 2012
Panthers 17, Raiders 6
#Raiders now 4-11 in 2012, 8th time in last 10 seasons team has lost 11 or more games #NFL

— Russell S. Baxter (@BaxFootballGuru) December 23, 2012
Patriots 23, Jaguars 16
The #Patriots finished today's game tied for the @nfl all-time record for 1st downs in a season with 416.

— New England Patriots (@Patriots) December 24, 2012
Broncos 34, Browns 12
#Broncos have won 10 in row for 1st time since 1998. They've also won 10 straight vs the Browns

— ESPN Stats & Info (@ESPNStatsInfo) December 24, 2012
Bears 28, Cardinals 13
#Bears Brandon Marshall has set the club record for receiving yards in a season, surpassing the mark previously set by Marcus Robinson.

— ESPN Stats & Info (@ESPNStatsInfo) December 23, 2012
Follow Brian Mazique and Franchiseplay on YouTube and Twitter for reactions, analysis and news from the world of sports and sports video games
This article is
What is the duplicate article?
Why is this article offensive?
Where is this article plagiarized from?
Why is this article poorly edited?