NFL Hot Seat Update: Coaches Under Pressure After Week 16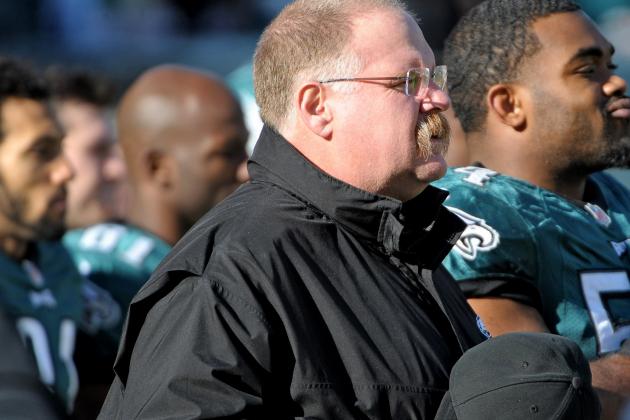 USA TODAY Sports

With only one more week of regular-season action remaining, the coaches' Hot Seat status has become even more severe for a few unlucky head coaches out there.
This slideshow ranks in order from "Warm" to "Burnt to a Crisp" all the head coaches who are either currently on the hot seat or are warming up to it.
Almost half of the NFL head coaches managed to make this dreaded list, so find out who has cooled down a bit and which coaches remain on their way out of town.
Begin Slideshow

»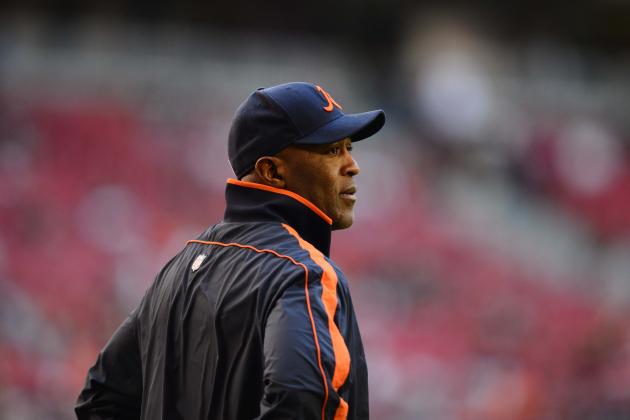 Mark J. Rebilas-USA TODAY Sports

Last Week: Warm
Lovie Smith was able to ward off some of the talk about his firing by getting an important win which snapped a three-game losing streak.
But there should be no false sense of security for Lovie, who may be using this season as an audition for the newly appointed general manager, Phil Emery.
Emery has a green light to let Smith go at any point. Missing the playoffs for the second year in a row would certainly be enough reason to hand him his walking papers. Sitting at 9-6 is respectable under most circumstances, but the Bears at one point were 7-1, so a 2-5 stretch has Lovie's seat heated up nice and warm just in time for winter.
A win next week accompanied by a playoff berth could save his skin in Chicago.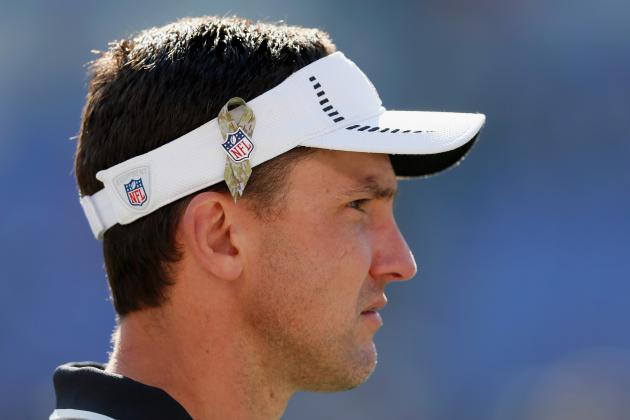 Rob Carr/Getty Images

Last Week: Warm
First-year coaches don't often have this kind of heat on their job security, but Dennis Allen can now join Mike Mularkey as the other first-year head coach in danger of losing his job. In all likelihood, Allen will return next year if only to prevent new GM Reggie McKenzie from looking bad about his first big decision since taking over.
Over the last nine years, the Raiders have been perhaps the most unstable franchise in the NFL. Coaching changes seem to be an annual ritual in Raider Nation, and the disservice this poses to player development cannot be understated.
Now sitting at 4-11 with the season all but over, Oakland has a lot of work to do if it intends on restoring the glory days of a team once known as "The Team of the Decades."
The question remains whether the youngest coach in the NFL (40) is the right guy for the job.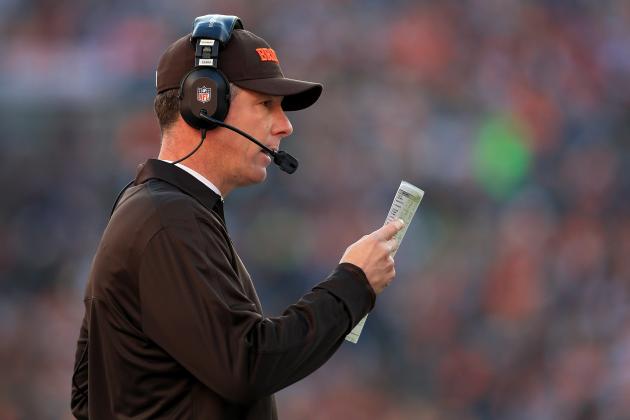 Doug Pensinger/Getty Images

Last Week: Warm
Pat Shurmur's status has fluctuated all over the board this season. Ultimately, though, an unimaginative offensive philosophy and a pattern of poor decision-making could spell the end for Shurmur in Cleveland.
The Browns are currently looking for a general manager, and depending upon whom they decide to go with, that may decide his fate.
Whoever ends up coaching the Browns in 2013 will likely be coaching one of the most talented young rosters in the league. Unfortunately for Coach Shurmur, he may not be around to see this team blossom to its full potential.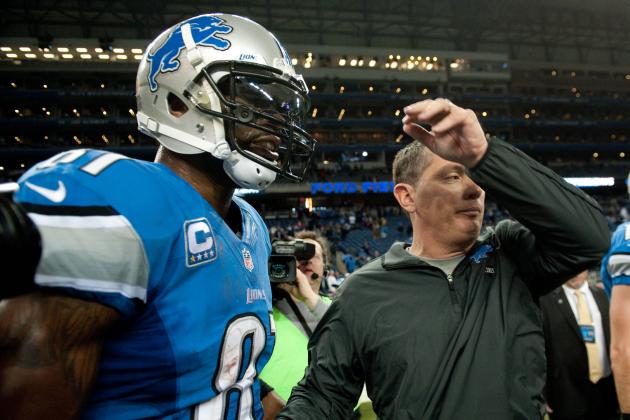 Tim Fuller-USA TODAY Sports

Last Week: Hot
Jim Schwartz might be the safest coach with a career win percentage under .400 in the history of the NFL. He took the Lions to a 10-6 record and the playoffs last year, so all of a sudden, his undisciplined coaching ways are indispensable in the Motor City.
According the Detroit Free Press, before the season started, Schwartz signed a contract extension that runs through the 2015 season. Essentially, this means that Schwartz is all but set to return in 2013 regardless of the how the last game turns out.
However, when he does return, he should do so with the expectation that the organization will not tolerate back-to-back losing seasons given his embarrassing career win percentage (.349). And for this, he sits deservedly on the Hot Seat.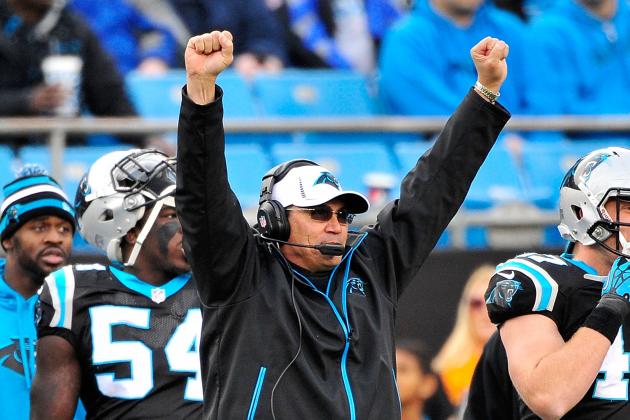 Grant Halverson/Getty Images

Last Week: On Fire
OK, so Ron Rivera and the Carolina Panthers have now won an impressive three games in a row. Have they finally figured out the winning formula?
Or is the recent success too little too late for Rivera?
Well, in Rivera's first year, he took the Panthers to a 6-10 record, which was a significant improvement from their 2-14 record the previous year. But the Panthers entered the 2012 season with high expectations considering Cam Newton's promising potential. This makes a 6-9 record seem more like a setback than progress, and rightfully so. Truth be told, the Panthers were an embarrassment nearly three weeks ago.
During that time, the Panthers decided to release their longtime general manager, Marty Hurney, and all signs pointed to Rivera's departure by season's end as well. However, the Panthers have since done a nice job dusting themselves off and continuing to fight. This display of heart could work to Coach Rivera's favor for whoever ends up being Carolina's new GM.
With that said, this final game for the Panthers is far from meaningless in the eyes of Rivera. His job just might depend on it.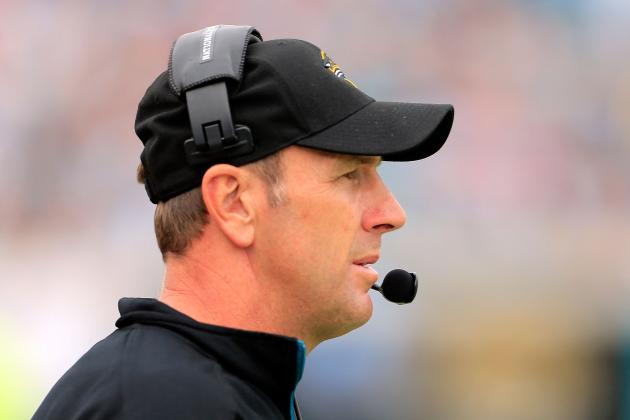 Sam Greenwood/Getty Images

Last Week: On Fire
Although Mularkey deserves credit for putting up a noble fight against the Patriots, he really hasn't been able to turn the Jaguars into anything that would remotely resemble a competitive football team. They are generally terrible in almost every major statistical category.
This may be Coach Mularkey's first year, but this isn't his first rodeo. He was the head coach in Buffalo for two years with only minimal success, going 14-18.
The Jaguars have only won two games all year, and for Mularkey's career, he has now only won 34 percent as a head coach. He may be one of those fantastic coaches who simply just doesn't belong in a head coaching role.
Given his total body of work, which is nothing to brag about, Mularkey is currently On Fire. It would be a surprise if the Jaguars bring him back for the 2013 season, but this, however unlikely, is still a possibility.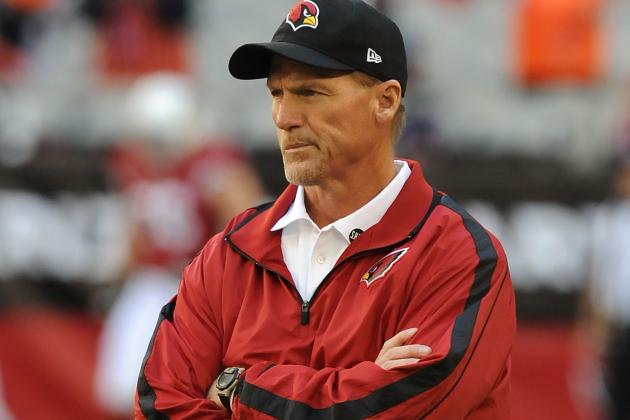 Norm Hall/Getty Images

Last Week: Hot
Whisenhunt and the Arizona Cardinals have lost 10 of their last 11 games. This is just shameful. What makes it even more disappointing is that the Cardinals started the season off at 4-0. Now, the team can't even put together a sustainable drive to save its life.
Whisenhunt does have an offensive background, yet somehow, the team's main troubles lie on that side of the ball. It really is a mystery how such an offensive-minded coach would allow for his offensive line to become so awful.
It was only four years ago that Whisenhunt was leading his unexpected Cardinals all the way to the Super Bowl. Now, they are relegated to the basement of the NFC West.
The low point of the season has to be when Arizona traveled to Seattle and was handed its worst defeat in franchise history (58-0)—at the hands of a rookie quarterback no less.
Whisenhunt's job status became more severe over the weekend, following a 28-13 loss to the Chicago Bears. Now On Fire, Whisenhunt may need to pray for a miracle if he has any desire to retain his current job.
It's been a bumpy road for Arizona this season, but Whiz has demonstrated over the years he may deserve one more season to see what he can do.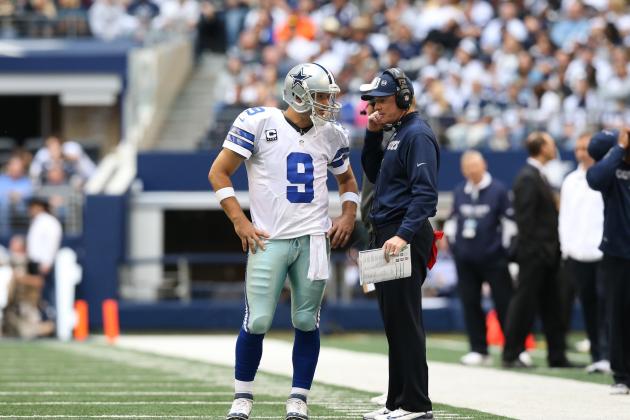 USA TODAY Sports

Last Week: Hot
Jason Garrett's status has heated up from last week considering the tough loss to New Orleans on Sunday. The Cowboys came out "guns blazing" in the first half, but missed opportunities and injuries caught up with Dallas while Drew Brees methodically exploited every weakness available.
Jerry Jones is obviously not happy with Garrett's results as head coach thus far, yet he constantly alludes to the untapped potential of his young coach. Though Garrett's potential as a coach may be valid, it doesn't mean Jones plans on waiting around for him to fully develop.
Mr. Jones has stated that the Cowboys' championship window is quickly closing with this group of players. One can then assume that Jones will likely take swift action to turn this team into Super Bowl champions by any means necessary.
If Garrett is seen as dead weight to reaching the franchise's current potential, Jones will not hesitation to send this young, mild-mannered coach home packing.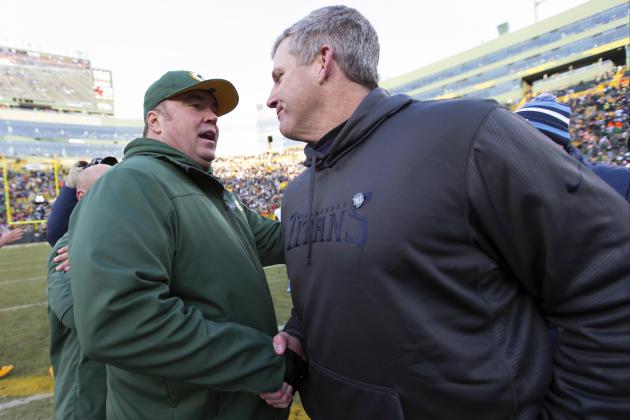 Jeff Hanisch-USA TODAY Sports

Last Week: Hot
Mike Munchak had an impressive first year as head coach of the Tennessee Titans, taking them to an unexpected 9-7 record with limited talent and very low expectations going into the season. This year, the team seems to have regressed, as it sits with a 5-10 record with one game remaining.
Munchak has been with the Titans organization his entire career. He has been the offensive line coach ever since the franchise changed its name and moved from Houston to Tennessee.
This long history with the Titans may, in fact, buy Munchak at least one more year to get this team on the right track. But blowouts like the 55-7 shellacking Green Bay put on them could put Munchak in the unemployment line by season's end.
As of now, Munchak is On Fire.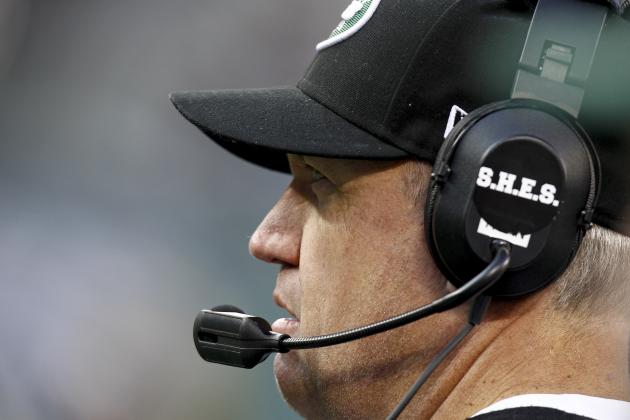 Jeff Zelevansky/Getty Images

Last Week: On Fire
I recently wrote about the current state of affairs in New York and suggested that Rex should be given one more year to get things together, this time with a better quarterback and offensive coordinator. Even though this was my personal opinion, I still think it's highly unlikely that Rex Ryan returns as head coach of the Jets.
Rex has lost too much respect in the locker room already and may not be able to get it back. Even Tim Tebow is publicly defying the coaches' wishes to use him in the Wildcat formation.
Obviously, the Jets were hit hard by injuries this year, but there still seemed to be a significant lack of cohesiveness to the team in general. This has become an atmosphere of self-serving athletes completely removed from the concept of teamwork. This poison has even managed to infect one of the league's poster boys for sportsmanship, Mr. Tebow himself.
GM Mike Tannenbaum might be on his way out of New York as well. In fact, it's quite possible that this offseason the Jets make a clean sweep all the way from GM down to quarterback.
But let us not forget this coach was a major reason for the Jets going to back-to-back conference championships. We may be selling him short.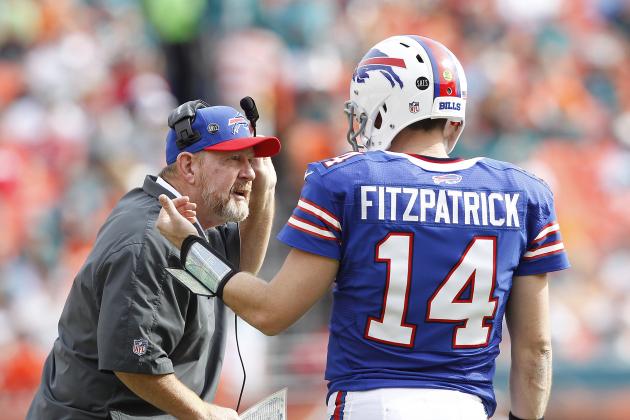 Joel Auerbach/Getty Images

Last Week: Burnt to a Crisp
Chan Gailey was the head coach for the Dallas Cowboys for two years before landing his second NFL head coaching gig. Now in his third year in Buffalo, Gailey has a career win percentage of .418. With one game remaining, the Bills are 5-10, which happens to be one win shy of tying what their record was a year ago.
This lack of true progress, despite being highly aggressive in free agency, has likely signaled the end for the Chan Gailey era in Buffalo. Actually, this is probably the last NFL head coaching job Gailey will ever get.
At this point, Gailey's firing is all but imminent. For this reason, he'll be forced to spend the rest of the season Burnt to a Crisp.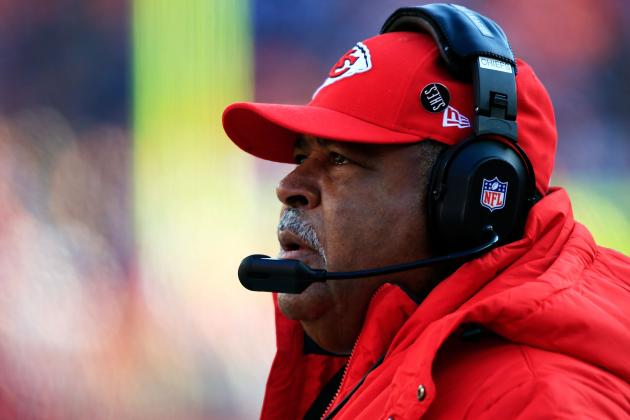 Jamie Squire/Getty Images

Last Week: Burnt to a Crisp
As the interim head coach last season, Crennel coached the final three games of the season and won two of them. This impressive finish to the season was convincing enough for GM Scott Pioli to give Crennel the reins for a complete season.
To the surprise of many, Romeo has only managed to win twice in 15 games in 2012, matching the number of games he won last year in 12 fewer attempts.
Crennel has never taken a team to the playoffs as the head guy, nor is he likely to ever get another shot at it. Week 17 will almost certainly be his last in Kansas City.
Many experts predicted the Chiefs making it to the playoffs before the season started. Whatever the explanation for the disappointing season, one thing is clear: Crennel has worn out his welcome in Kansas City.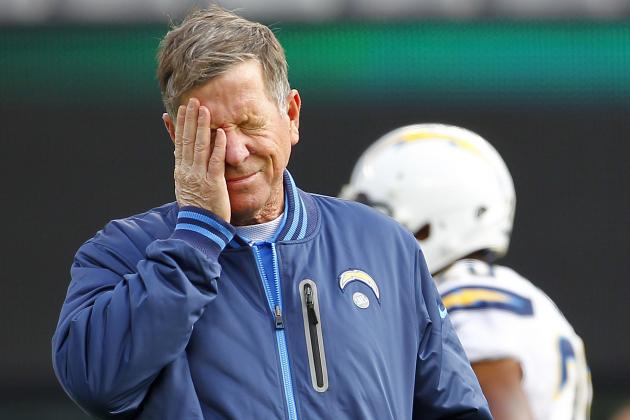 Rich Schultz/Getty Images

Last Week: Burnt to a Crisp
Norv Turner has been skating on thin ice for years now. He should write a book called How To Take Up Permanent Residence on the NFL Hot Seat.
Most people agree that Turner is an offensive genius who has always been able to put up gaudy numbers throughout his career. But what prevents him from being a great head coach is his inability to be a true leader of men.
Turner has never been much for inspiring his players. In fact, in all the games in Oakland that we went into halftime playing poorly, I never heard Turner stand up and rally the team with a speech of any kind. Football is a game of emotions, and without that element working in your favor constantly, it's hard to find consistent success in the NFL.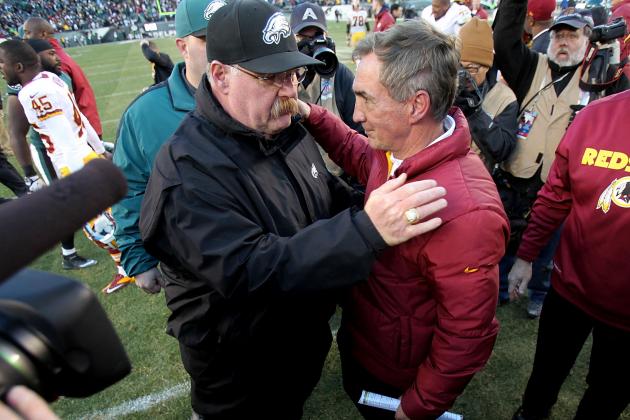 Alex Trautwig/Getty Images

Last Week: Burnt to a Crisp
Eagles owner Jeffrey Lurie has made it clear to Andy Reid that another 8-8 record was not going to be acceptable. Well, Reid answered that threat by having the worst record in the NFC at 4-11. Clearly, Reid is on his way out in Philadelphia, and according to CBS Sports Insider Jason La Canfora, the Eagles are in hot pursuit of Oregon's Chip Kelly.
Reid is probably already packing up his office rather than watching tape on his opponents. This has clearly been a terrible year for Reid after losing his son during training camp and now losing a job he has held since 1999.
Reid might end up being the head coach of another team in 2013 considering the success he's had while in Philly. His career win percentage is .586, which is better than any other coach currently on the Hot Seat. Therein lies the irony: that the most successful coach on the Hot Seat just so happens to have the most severe status.
Reid should be able to hold his head up high, as he is proof in the NFL that even great coaches get fired.