The 10 Biggest Questions That Will Be Answered in Powerhouse Christmas Showdowns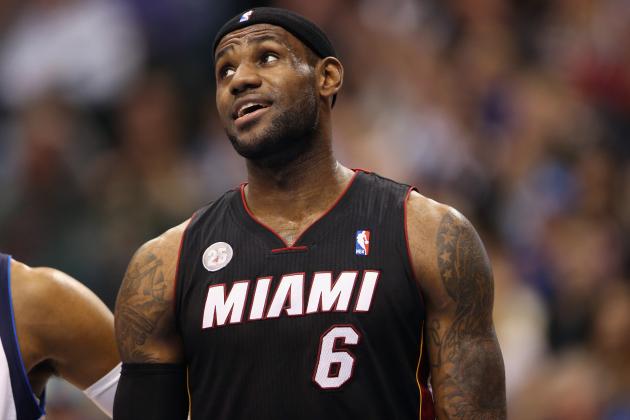 Ronald Martinez/Getty Images

As usual, we've got a terrific crop of games on tap for Christmas Day, and with that will come a lot of questions and answers in the process.
After a day off from basketball on Christmas Eve, we're in store for a quintet of games, including the Brooklyn Nets taking on the Boston Celtics, the New York Knicks traveling to Los Angeles to play the Lakers, the Oklahoma City Thunder on the road against the Miami Heat, the Houston Rockets at the Chicago Bulls and the Denver Nuggets at the Los Angeles Clippers.
There you have it. We've got a rematch of a game that elicited a fight that spilled into the stands, two games in Los Angeles, an NBA Finals rematch and a Rockets-Bulls game thrown in.
For the 284th Christmas in a row, we'll get a chance to watch Kobe Bryant's beautiful game as we imbibe some eggnog during a late Christmas lunch, topping it off with a face full of LeBron James taking on Kevin Durant.
There's very little to dislike about this lineup of ballgames.
Begin Slideshow

»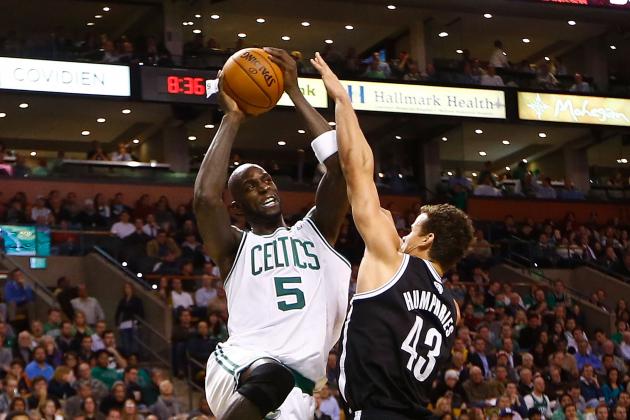 Jared Wickerham/Getty Images

The first game of the day has to be in place as to not rouse us out of our early-morning, present-opening spree with too jarring a game, but to get our blood boiling nonetheless.
Boston is a very moderately paced team, and while it's not as slow-paced as it has been in the past few seasons, it continues to remain in the bottom portion of the league in that department. Brooklyn, meanwhile, plays at the slowest pace in the NBA.
In this one, we can expect to be gently nudged awake as the Nets pull out an endless array of isolation plays and the Celtics struggle to score for stretches at a time.
Not to worry, however, there should be plenty to keep this one interesting as it drags along, but we'll get to that a bit later.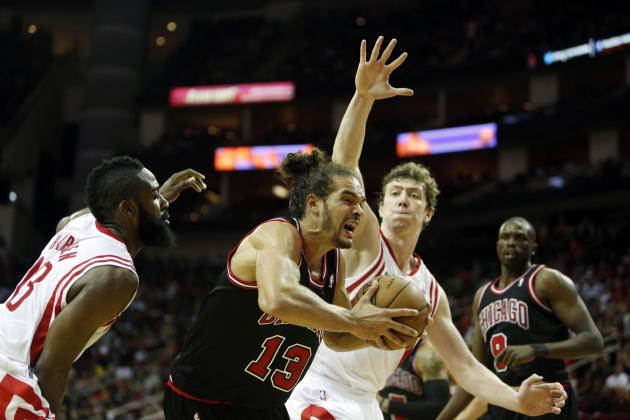 Thomas Campbell-USA TODAY Sports

Sure, it's not the biggest question that needs to be answered on Christmas Day, but it's one of the more underrated and intriguing matchups that we'll be given the opportunity to enjoy.
Not only are these two former teammates, but they share distinct skill sets, at least defensively.
Omer Asik and Joakim Noah are both tremendous rebounders, and they have a knack for playing defense. That alone should be enough for us to want to see these two big dudes throw elbows at each other for the duration of the game.
Offensively, Asik is a hot mess, but at least he's an entertaining one.
Noah should be able to do more than Asik on the offensive end, but if they come out ready to play some defense, we could have a great matchup on hand.
The last time these two played each other, there were a lot of respectable elbows and aggressive box-outs to go along with seven blocks between the two of them.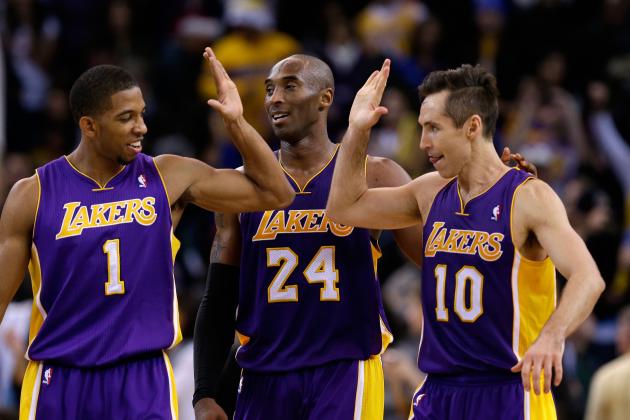 Ezra Shaw/Getty Images

With four straight victories, the Los Angeles Lakers are but a game from getting back to .500 and putting this whole mess of a 2012 portion of the 2012-13 season behind them.
Of course, to get back to .500, they're going to have to take down the last team that beat them, the New York Knicks.
Not only will it be the second game in a row in which the Lakers have taken on a playoff-caliber team, but it's a chance to take down a team that many people are calling the second-best in the Eastern Conference.
Can Steve Nash work his magic again to keep the ball moving, helping the Lakers to a win? Or are they going to fall flat defensively and struggle to keep up with the high-powered Knicks offense?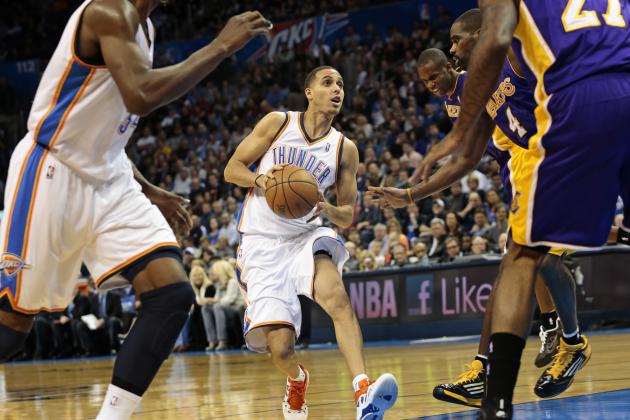 Brett Deering/Getty Images

The Miami Heat struggled in the early part of the season, letting teams run up the score thanks to three-pointers.
They've done a better job shutting down the perimeter as of late, holding opponents to just 28 percent from the three-point line over the course of the past four games, all of which they won.
With that, Miami was able to drop its opponent's three-point percentage from 36 percent down to 35 percent, good enough for 11th in the league.
Oklahoma City comes into the game after a ton of rest with the third-best three-point-shooting team in the NBA (Miami is first).
Will the threat of Kevin Durant, Kevin Martin and Russell Westbrook lead to open shots as the ball swings around the perimeter, or are the Heat finally starting to buckle down defensively?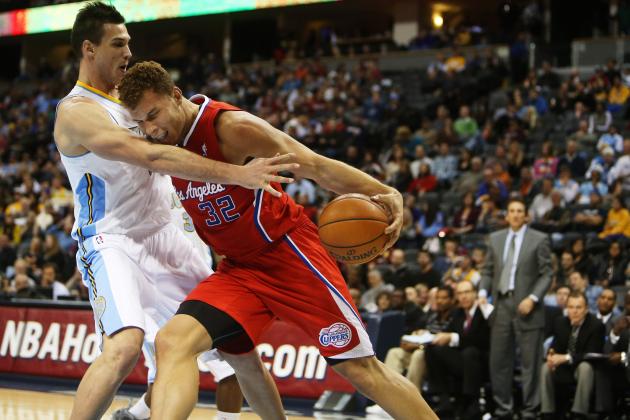 Chris Humphreys-USA TODAY Sports

Everybody's favorite preseason dark horse, the Denver Nuggets, has been a bit of an up-and-down team over the course of the season, but they're in a position to work out their troubles while situating themselves for the playoffs.
The biggest problem they've had, of course, is the fact that they can't knock down three-pointers consistently to save their lives. Three-balls are falling at a rate of just 32.5 percent.
Even with all the struggles they've had to deal with, they sit at 15-13 and are in a spot to show that they can beat good teams with a game on the road against the Los Angeles Clippers on Christmas Day.
If they can win this game, it will go a long way toward proving to the league that they can consistently beat good teams, as it will give them wins over the Clippers, San Antonio Spurs and Memphis Grizzlies in a span of six games.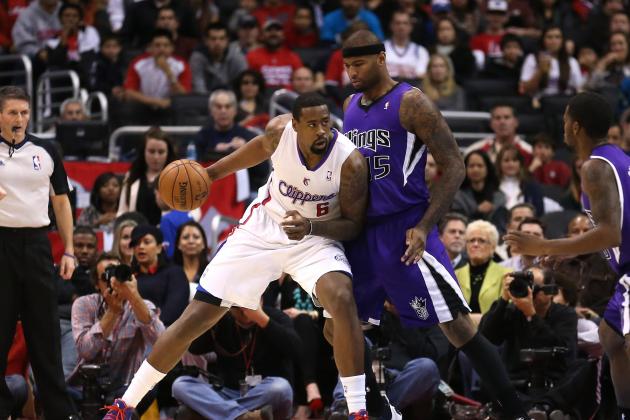 Stephen Dunn/Getty Images

It's kind of hard to believe it, but the Los Angeles Clippers remain the second-best team in the NBA on the heels of a 13-game winning streak.
Even more bizarre, Vinny Del Negro is still the coach of that team, which seems impossible.
If the Clippers can continue riding this hot streak and roll on to 14 in a row with a win on Christmas Day, it's going to be very difficult to pick nits with this team.
They're going up against the up-tempo Denver Nuggets, so they'll have to either control the pace or play Denver's game. And if they manage to do this and come away with a win, then there's a lot to be said about the streak of a lifetime for most of these players.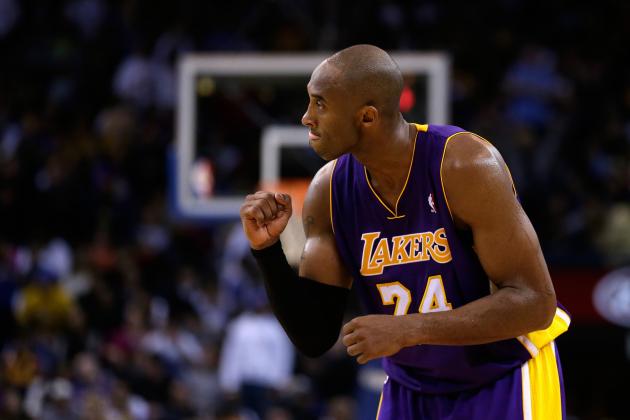 Ezra Shaw/Getty Images

In Steve Nash's first game back from a broken leg, the Los Angeles Lakers watched in awe as Kobe Bryant shot the ball 41 times.
Obviously, this number was inflated because of the overtime period and the fact that it was a game against the newly fast-paced Golden State Warriors, but that's a stunning number nonetheless.
If he would have made half of those shots, nobody would have complained. But Kobe made just 16 of his 41 attempts while getting to the line just once.
With Nash back, Kobe can't simply fall into the belief that he can play his game while Nash initiates and runs the offense. He's got to become a part of this team's offensive flow if they want to maximize what they can get out of Mike D'Antoni's scheme.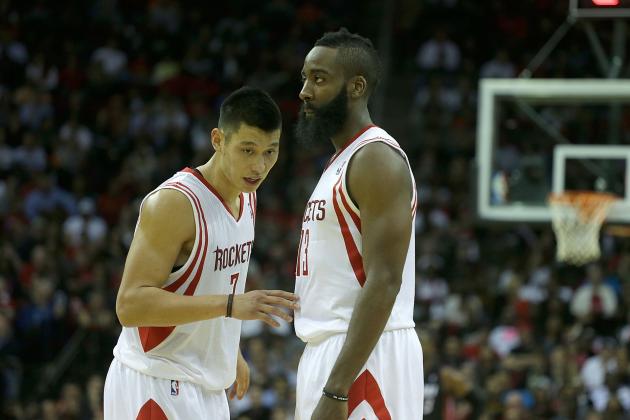 Scott Halleran/Getty Images

For the past three games, we've seen a lot of positives from Jeremy Lin and James Harden, and if they can put together another solid performance against the defensively stout Chicago Bulls, then they might have something special going on.
The thought early on was that Harden and Lin can't play to the best of their abilities together. Both are best utilized with the ball in their hands, so, according to this theory, whichever one of them is playing off the ball should struggle.
Lin and Harden have combined for an average of 49 points in their last three games (all wins) on 57.3 percent shooting to go along with 14.3 assists.
As the primary ball-handler, Lin has been the initiator of the offense, and Harden has found himself with more open looks, or lanes to the basket.
If this continues, the two of them could end up as the best backcourt duo in the NBA before the season's over.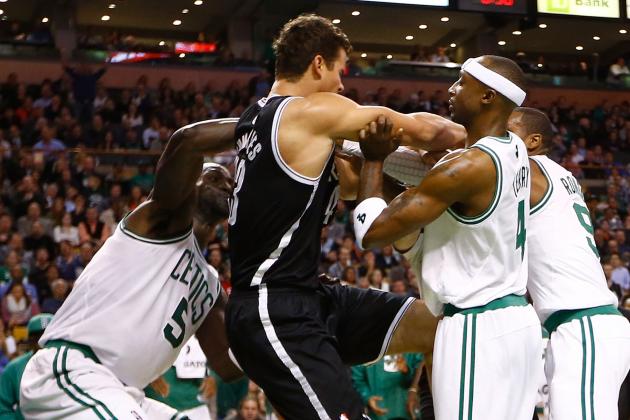 Jared Wickerham/Getty Images

In what could be the most explosive moment on Christmas Day, the Brooklyn Nets are going to have to smile and play nice as the Boston Celtics come to town to face off for the first time since the two battered each other in TD Garden at the end of November.
Both teams enter this one after a rough second half of December, with the Nets 3-3 and the Celtics 2-4 since Dec. 12.
Should points come at a premium and each team struggle to pull too far ahead, we could see the defensive intensity pick up, which means we could see another rough-and-tumble game.
Will Kevin Garnett and Rajon Rondo be bringing cookies to Kris Humphries, or are they going to try to rattle his cage and get him riled up again?
It could be a terrible black eye for the league if these two teams fight on Christmas, but it's definitely within the realm of possibility.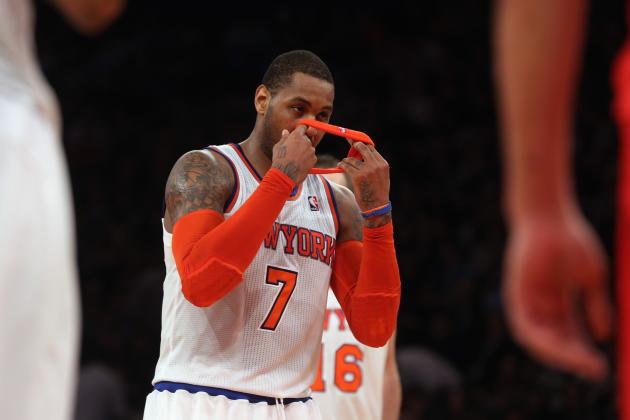 Bruce Bennett/Getty Images

Most of the people around the league have recognized that Carmelo Anthony is having a terrific season, and he's gaining a lot of steam in his campaign for an MVP award. Another solid game against the Los Angeles Lakers would surely help that bid.
Of course, Anthony is going to be going up against LeBron James in the Eastern Conference and Kevin Durant in the Western Conference, along with Kobe Bryant if this Lakers team is able to throw together a nice record while he stays efficient. That's a powerhouse lineup of players to have to compete with in an arms race like this.
One of the best ways to prove that he is the most valuable player in the league would be to once again show up Bryant.
The last time these two teams played, 'Melo was able to put up 30 points on just 15 shots as the Knicks cakewalked to a win.
If he can continue playing at such an elite level, there's going to be a lot of hype surrounding him and the Knicks going into the 2013 portion of the schedule.